German Shepherds Rehomed 65
More German Shepherd Puppies and Dogs that have found new homes
ALL OF THESE DOGS ARE NOW REHOMED
SUCCESS STORIES
|1|2|3|4|5|6|7|8|9|10|11|12|13|14|15|16|17|18|19|20|21|22|23|24|25|26|27|28|29|30|
|31|32|33|34|35|36|37|38|39|40|41|42|43|44|45|46|47|48|49|50|51|52|53|54|55|56|57|
|58|59|60|61|62||63|64|65|
MORE RESCUE DOGS REHOMED >>>>>>>
Kayleigh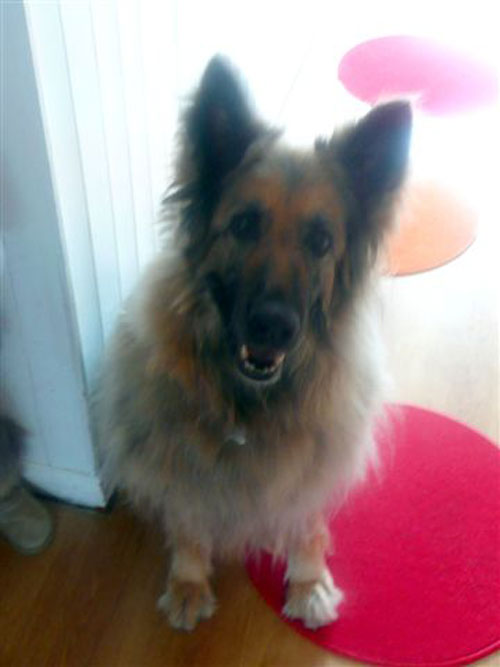 Kayley is a mature lady age 8 yrs. she will be 9 in August. Kayley is a black and tan long coat very nice girl she is vaccinated due in September. She is good with children and cats. We are told that she is not too good with other dogs although she does live with other dogs. Kayley is never let off lead as many years ago she did attack another dog this has resulted in the owner being apprehensive about letting her off lead. The volunteer who assessed her though she was a nice girl.
Bear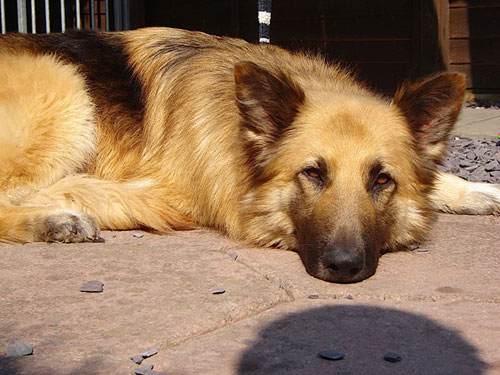 Bear is a long coated black and tan and is a quiet reserved little dog said to be around 2 years old (he is castrated).Bear came to us from the pound again going to be PTS if we hadn't taken him. He can be a little timid shy and sometimes confused when given commands, but no aggression what so ever. He is very loving and loves to play, be it with people or other dogs. He has been living with three other German shepherds with no problems. He loves to play fetch with a ball and could run all day if allowed, but is not very good at giving the ball up. I would say he would be good with children but not been in contact with any to say truthfully, not sure about cats but he is very gentle otherwise. Can pull on a neck lead but is good on a harness, Bear does sometimes bark when people enter the property but is generally very quiet. Bear is house trained and travels well in the car.
Bonnie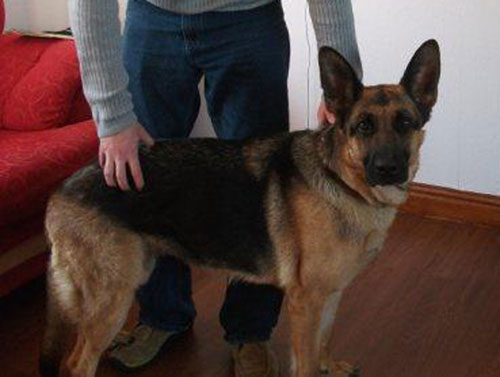 This beauty is 4 yr old, unspayed bitch, Bonnie. A really happy, friendly girl. Housetrained. Not up to date with vaccinations.Bonnie is fine with other dogs and does live with a collie. Fine with children also from babies upwards. Bonnie chases cats but could learn to live with one quite easily. Has been to basic training classes and walks well on a halti. Bonnie is a fantastic girl with no aggression in her whatsoever. Lets the children take toys/food from her. A really quick learner, Bonnie can open doors! Happy to be handled all over. Has met horses out on walks & shows no interest. Would be great for agility type activities as she has a lot of energy. Travels well in cars & on buses etc.
Tyson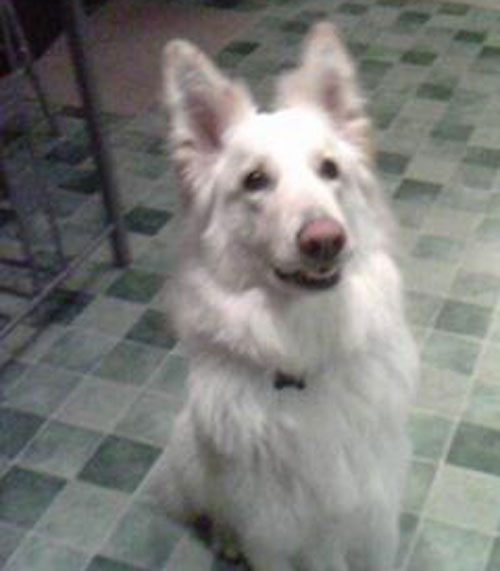 This stunner is 9-month-old entire male, , Tyson. He is a lovely, gentle boy, who has had obedience training & mixes really well with other dogs. Tyson has lived with children from 5 yrs upwar and loves being around them. Cats unknown. Housetrained. Vaccinated. Travels really well in the car. Tyson's owners are out at work all day, meaning he is left from 8am-5.30pm. Even though he is left so long, he doesn't chew or mess. Tyson loves to play & would suit a busy household.
Tilly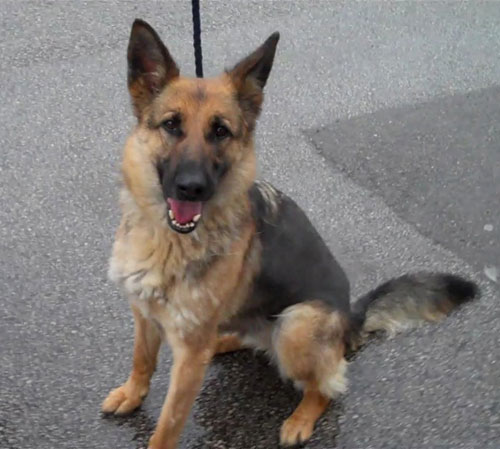 This pretty girl is Tilley. Approximately 12-18mths old, Tilley is in the pound and needs out urgently.She is very thin. A lovely friendly girl with our volunteer, she is very stressed in kennels. Tilley is fine with other dogs. Housetrained. Walks well on the lead. Cats unknown. As we don't know much about Tilley's background, will rehome with older children only. Not known if she is spayed, not microchipped.
Molly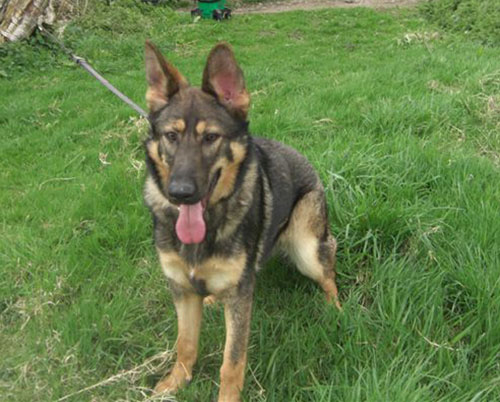 Molly (as we have named her) came to us from the pound she had done her time. We have her in kennels and she seems to be ok. We have aged her around 18 months we don't know if she is spayed or vaccinated, as we know very little about her. This is what the kennels have said. She is very affectionate with people loves to play she jumps up at you to lick you, and appears to be quite young judging by her actions. Seems to really love young children, tried to chase the hens and ducks, so don't think she would be good with cats.
Murdock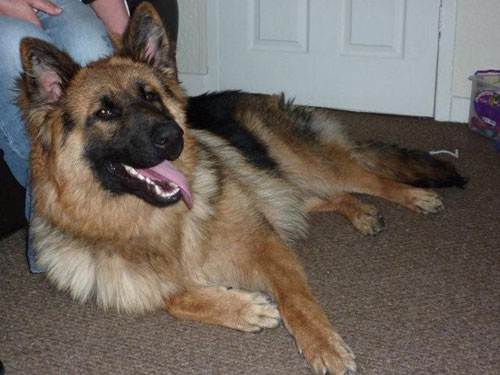 Murdock is just 12 months old. He is entire. The rest is what our volunteer has written about him when she went to visit him. This dog is very much loved by the family, the couple who have him are not in the best of health and worry about him, and his size and their blood pressure and stress, unnecessarily in the opinion of their adult daughter who has two shepherds and who is more than happy for her children to be with Murdock. Their anxiety is causing them to keep him away from social interaction with other dogs etc. This will/is having an impact. Murdock barked when I went in but calmed immediately when he was let out from behind a baby gate, I had to ask Ann to let him out. He wanted kisses and to be petted, rolled on his back to have his tummy rubbed. Brought his brush for me to brush him, took treats perfectly. Murdock was 12 months old yesterday! Is still mouthing, NOT biting, stopped when I told him to stop firmly. He appeared to be looking for the next command, kept coming back to do anything I asked for treats. When told him to sit and wait he did while I filled some of the forms in. Took him for a walk with the daughter he walked well with me, took no notice of push chairs, cars bleeping horns, traffic etc. Did not pull me but was on a head collar, I am told this is not how he normally behaves. Apparently, the husband puts a muzzle on him when he lets him off as he is so scared of what he will do, he has never done anything and this over worry/anxiety has caused Murdock not to be correctly socialised to date, the female members of this family are very aware of this. And feel awful that this is the current situation. Murdock did bark at a dog but I do not feel that this was aggressive more excitement. He has never been introduced to a dog since he was 17 weeks old when he went to live with them. He is a lovely normal 12-month-old GSD. He is not overly bouncing or noisy, he is exactly what you would expect. In my opinion, all this puppy/dog needs is more socialisation, more exercise and confident people around him. He will I am sure, make a lovely family pet.
Harry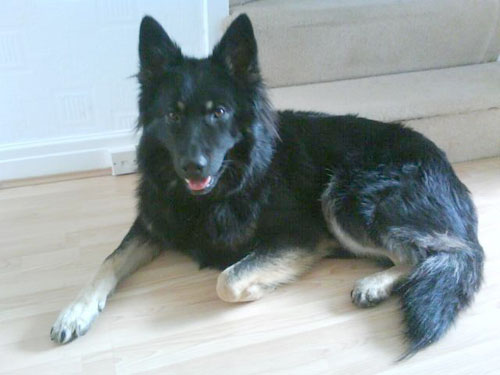 Harry is a gorgeous long coated male when I arrived Harry came bounding up and barking to greet me. He was very friendly and totally excitable. Harry has just gone 3 and is a very bonny looking dog. There is no malice in him whatsoever and his owner said he gets on very well with other dogs. Harry lives with a 2-year-old child whom he dotes on. Unfortunately, the owner has split up from her partner and works full time. Therefore she cannot give him the attention he requires. I believe that this is the reason he is so excitable - he requires long walks to burn off his excess energy. He is good with other dogs.
Tyson
Chumba - needs a new home and a new name!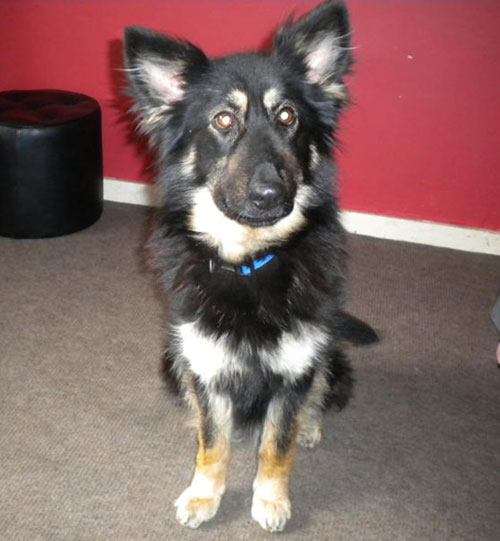 The pretty little dog has been provoked by ex partner's children and has growled and snapped in response to this. She has also been abused by said partner and shows signs of some fear aggression (but not severe aggression). The partner wanted Chumba. put to sleep Owner nervous of this reaction which is increasing dog's anxiety. She needs a home where she will get appropriate care and routine. She is being left for long periods, not walked and is harangued by unpleasant neighbours when let out in the garden. Chumba desperately needs a new home and a new name!
Jody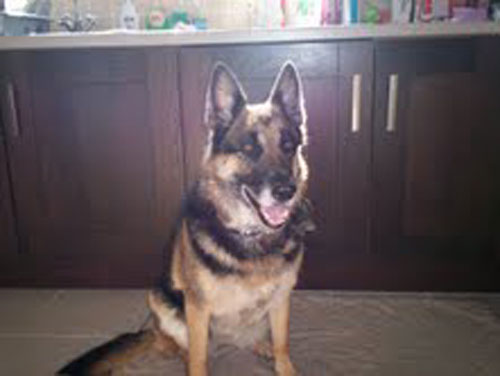 This is Jody, a 7-year-old, spayed bitch. Jody is a lovely happy girl. In good health. Loves her walks. She dislikes cats. She hasn't lived with young children, so would rehome with older children only. She is fine with other dogs and lives with 2 small ones. She really doesn't like anything coming through the postbox, and will shred it! Protective over her house, as most German Shepherds are. A really nice dog who deserves a fantastic home.
Donations are always welcome
Please help us by making a donation so that we can help re home more unwanted German Shepherd Dogs. Donations can be sent to Jayne Shenstone, German Shepherd Dog Rescue, Little Vauld, Marden Hereford HR1 3HA. We also accept Paypal payments - just click on the Paypal button below. Thankyou.