German Shepherds Rehomed 19
More German Shepherd Puppies and Dogs that have found new homes
ALL OF THESE DOGS ARE NOW REHOMED
SUCCESS STORIES
|1|2|3|4|5|6|7|8|9|10|11|12|13|14|15|16|17|18|19|20|21|22|23|24|25|26|27|28|29|30|
|31|32|33|34|35|36|37|38|39|40|41|42|43|44|45|46|47|48|49|50|51|52|53|54|55|56|57|
|58|59|60|61|62||63|64|65|
Storm SE 8years old - being kept in a garage for 9 hours a day!!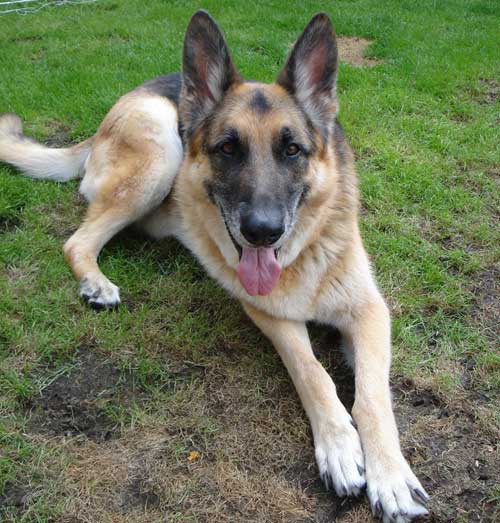 Storm is an 8-year-old, black and tan, short haired, neutered male. He is friendly, energetic and sociable, both with people and with other dogs. He is used to chickens and rabbits. He can be protective of his owner when on the lead and is not keen on cats. Storm is being kept in a garage for 9 hours a day (owner is selling her home and does not want him to mess up the house)
Kane - 4 years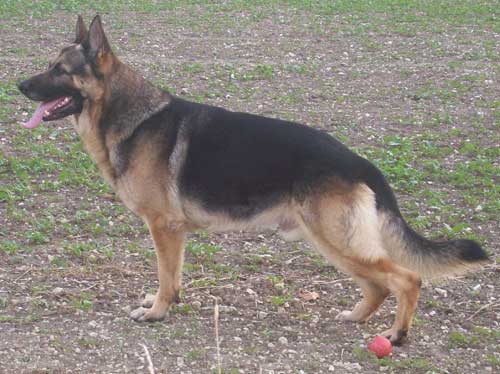 Kane is an absolutely awesome dog, everyone falls in love with him as soon as they see him. He is such a kind, a gentle old-fashioned looking chap who loves playing with his ball. Kane loves pottering around the garden with you and will happily lie down beside you. He just enjoys being with you. He would sell his soul for someone to throw a ball for him. When he is out he ignores other dogs (not keen on small dogs) and people, he has not shown any aggression but does not like other dogs that show an interest in his ball. Kane's recall is absolutely spot on 100%, he loves being with people and he deserves nothing but the best family for him. He would be happiest in a home where he was the only dog and no children so he gets the attention he so rightly deserves. Kane will make someone very happy; he is a lovely dog and is looking for his forever home with a good supply of balls.
Seth - Central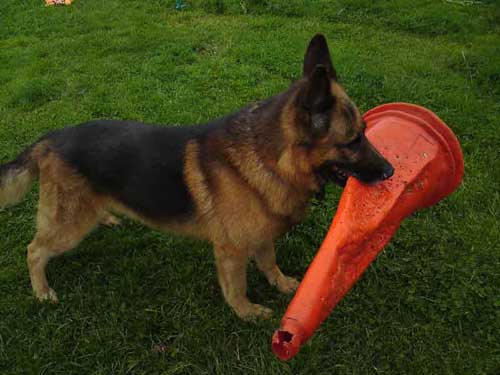 Entire male, lovely old fashioned type GSD, who is such a fun dog and desperately needs out of kennels as he is bored. Whoever gets him will be getting bags of enjoyment and will need to be fit! He is a little bit overweight but will soon run that off when he gets into his new home. Wasn't bothered with the dogs in the next kennel or the goats. He will undoubtedly guard his territory which his new owners need to be aware of. A years supply of traffic cones will be supplied FOC. Does need an experienced owner who will be the boss and a home without very young children.
Murphy and Purdy - owners emigrating end Nov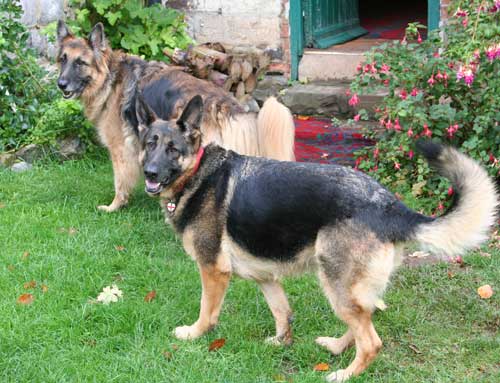 Murphy is a 6-year-old, long-haired, black and tan, neutered male. Purdy is a 4-year-old, short coated, black and tan, neutered female. These two need a home together as they adore one another, they are looking for a new home as their owners are emigrating at the end of November. Murphy is a gentle boy who loves people, gets on well with other dogs and is ok with cats. Purdy loves people and is very loving, she will tolerate another dog and is not so good with cats.
Duke 8yrs London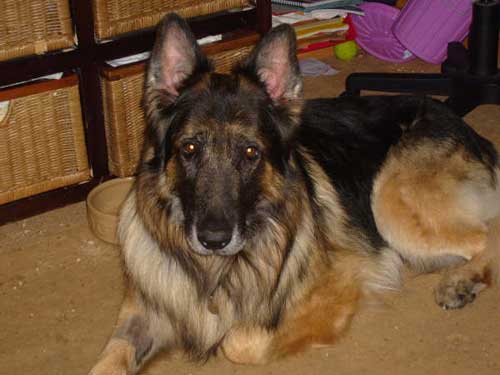 Duke an 8-year-old neutered male with hip dysplasia who was unsuccessfully rehomed but is now back with his rescue (not his fault) and is very very unsettled and stressed. He is suitable to live with dogs, as long as they are used to living with other dogs and cats. He is extremely affectionate and bonds very quickly.
Tasha and Gizmo - Buy one get one free!!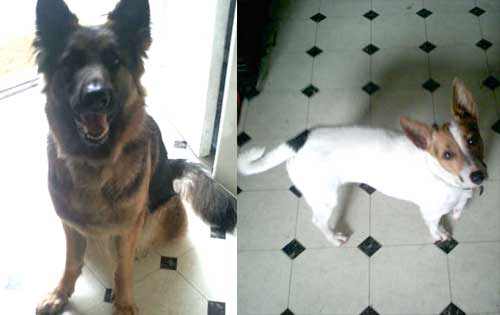 Semi coated 3 1/2 yo bitch, not spayed, very pretty little bitch. Fully house trained, good with dogs, very good with kids, cats unknown, pulls when on the lead so need some training with her recall, vacs are out of date, she is micro chipped, Would make an excellent family pet. Comes with free Jack Russell if fancied or we can surgically remove if required!!!
Gemma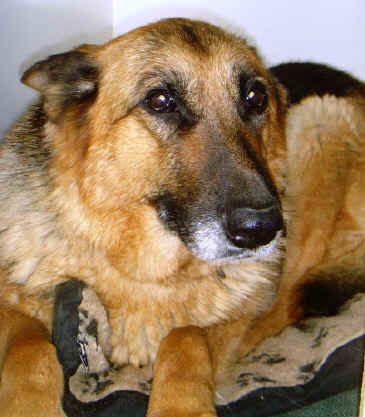 This lovely young girl was picked up as a stray, very thin and terrified. Not much is known about her but she is stressed and needs out of kennels asap. A gorgeous young girl that needs an experienced home to help her get over her ordeal.
Bear, Zeus and Wolf - Homeless as owner evicted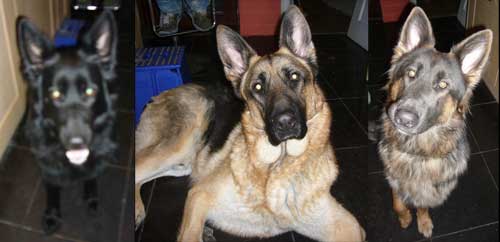 Bear is a 3-year-old, black, long coated, entire female who is the mother to Wolf. She along with Zeus and Wolf are looking for a new home as their owner is being evicted. Bear has a lovely temperament, she is an inquisitive dog and loves her walks. Bear is good with people and children, lives with a cat but will chase and is good with other dogs. Bear is an active girl and will need an experienced GSD handler who is able to give her the activity she requires.
Zeus is a 2-year-old, black and tan, short coated, neutered male who along with Wolf and Bear is looking for a new home as their owner is being evicted. Zeus is an absolute sweetie, very gentle in nature, laid back and a good all rounder dog. He is a very large lad, good with other dogs, has lived with cats and good with children. Zeus will make a great pet and if possible we would like to rehome him with Wolf his son.
Wolf is 12 months old, sable, long coated, entire male. He is a very handsome boy and is the son of Zeus and Bear. Wolf has a lovely nature, is good with dogs and children and has lived with cats but does chase. He loves to play with his dad and the play can get boisterous, if possible we would like to rehome him with Zeus.
Barney SW - Experienced owner only. AT RISK
Barney - has returned from Prison service due to lack of motivation/concentration. He is now desperate to find a good home as the rescue that owns him want to have him put to sleep!! Needs experienced handler. A lovely responsive dog once bonded with the handler strongly guards. Can be possessive over food.
Kai 1-year-old

Kai is about 1 year old, long coated, black and tan, entire male. He is looking for a new home as he does not like the resident cats. Kai is very good with people and children, but does not like dogs or cats and would be best suited to a rural home. Kai is well behaved, toilet trained, not destructive and very loving.
Blaze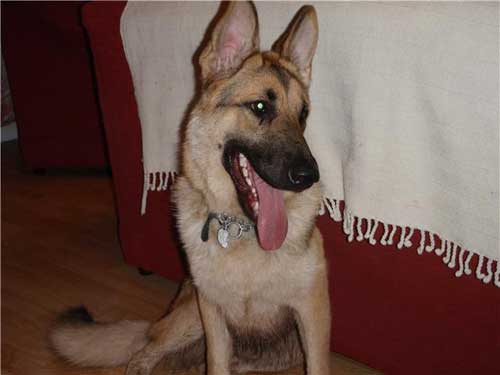 Blaze is a 1-year-old, Black and tan, short coated, neutered male. Blaze is good with children, dogs and lives with cats, although he does chase them to try to get them to play with him. Blaze is quite territorial of his home and will bark at strange visitors to the home and is nervous and wary, with people he knows he is placid and plays. He is not destructive, suffers from travel sickness, house trained and has good recall and knows his basic commands. Blaze is looking for an experienced home who will work with him and his nervousness to new people, it is thought he was abused in his previous home.
Donations are always welcome
Please help us by making a donation so that we can help re home more unwanted German Shepherd Dogs. Donations can be sent to Jayne Shenstone, German Shepherd Dog Rescue, Little Vauld, Marden Hereford HR1 3HA. We also accept Paypal payments - just click on the Paypal button below. Thankyou.