German Shepherds Rehomed 37
More German Shepherd Puppies and Dogs that have found new homes
ALL OF THESE DOGS ARE NOW REHOMED
SUCCESS STORIES
|1|2|3|4|5|6|7|8|9|10|11|12|13|14|15|16|17|18|19|20|21|22|23|24|25|26|27|28|29|30|
|31|32|33|34|35|36|37|38|39|40|41|42|43|44|45|46|47|48|49|50|51|52|53|54|55|56|57|
|58|59|60|61|62||63|64|65|
Connor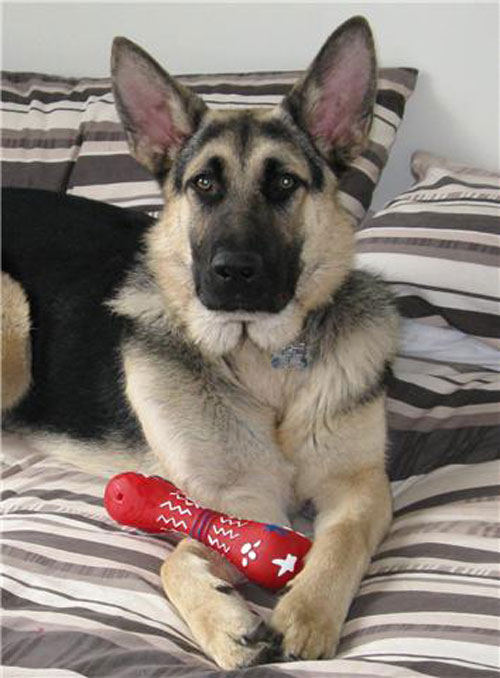 This handsome boy is 10-month-old Connor. He has been neutered & vaccinated. Connor has had several homes in his short life so now needs an active, experienced home forever. He is a little scared of children, but not in an aggressive way. Has had some basic training. A gorgeous boy who loves other dogs. Cats unknown.
Ellie-May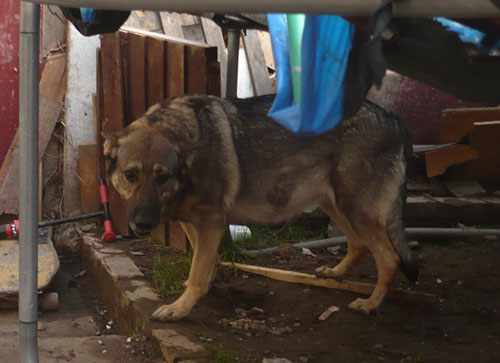 Ellie may is an 8 year old unspayed female. She is a very shy and sad looking girl who needs some big cuddles and individual attention to give her the feeling of security she so obviously needs. She is a beautiful sable coloured girl, she is good on the lead when she has got over her initial excitement. She is good with children, she is also good with cats as she just tends to ignore them. This gentle girl is truly adorable and will make a beautiful and gentle friend for whoever will let her into their life.
Bruno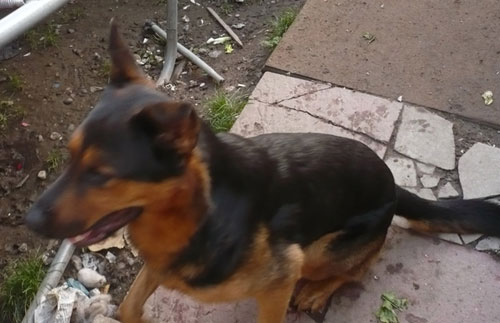 Bruno is a 4 year old black and tan neutered German Shepherd cross. He is a lovely friendly boy who adores fuss and attention. He gets on with other dogs off the lead and has a very good recall. As with most dogs, he does pull when he first starts his walk, out of sheer excitement, but soon settles down to walk at a nice steady pace. Bruno does not like cats but adores children as the assessor saw for herself when meeting him. This is a boy who would settle anywhere, he is just a lovely happy and fun boy who has also got the basic commands, sit, come, stay. He will make some lucky person a marvellous family dog.
Karla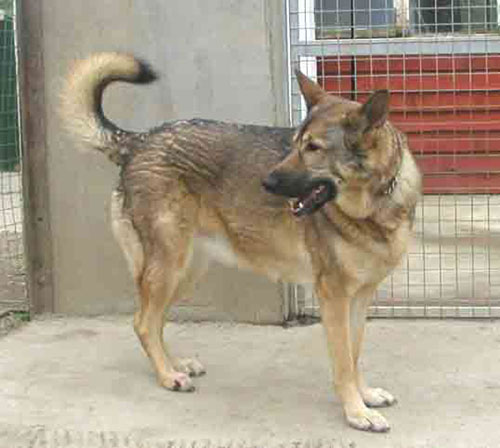 4 years old spayed. Gorgeous Karla. Has led a very spoilt life and started to dominate the home. Has been in kennels for 2 weeks and is a perfect lady. Good with cats and dogs
Max and Holly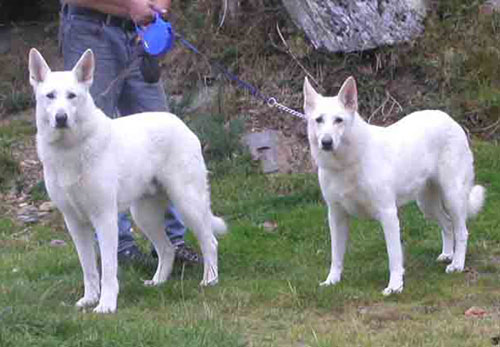 Max and Holly are brother sister and must not be separated. Very gentle and obedient. They love their walks and play time with toys. Good in the house, a stunning pair of dogs who are clean and healthy. Vaccinated and neutered. 6 years old
Megan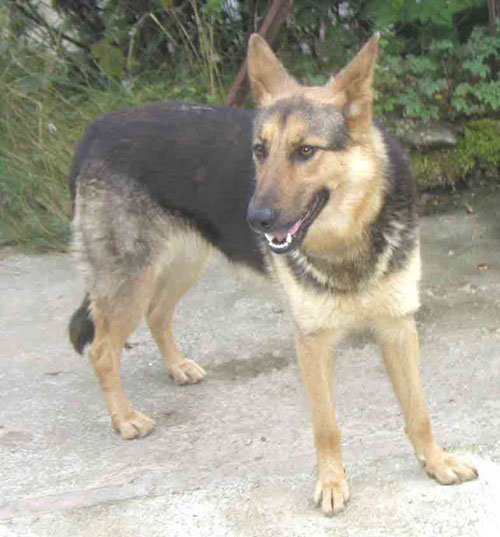 Megan is a lovely girl of 15 months who is not spayed. She is rather shy at first meeting but extremely sweet nature. Good with other dogs in fact quite submissive and good with cats
Gypsy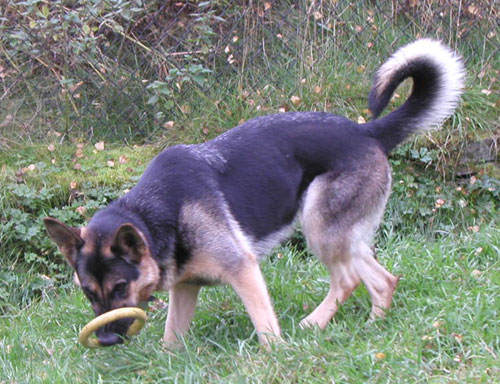 Gypsy is approx 16 months old, she is very bouncy and friendly, loves to play with her toys. She is good with cats, dogs and kids.Great fun dog, very playful. She is not spayed
Micky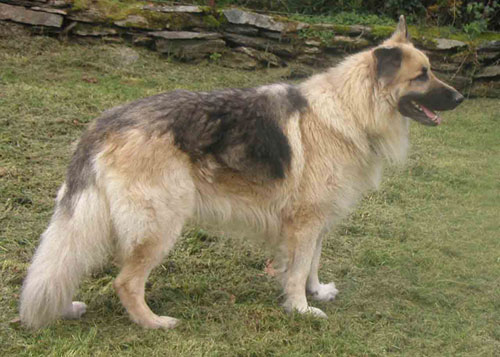 Micky is 7 years entire. He is a very big dog and is very chilled in the kennels.
Jessie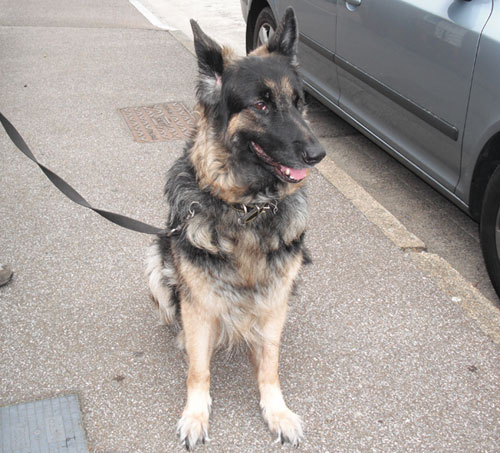 Jessie lives with a 4 year old child with no problems, she is able to take her toys from her mouth and her food from her bowl with no problem at all. She did live with another dog until he was put to sleep due to ill health, since then she has been pining and barking for company. Temperament wise, when a volunteer walked in the house she was outside, when she was let in she ran at me barking and growling, protecting her house. When ignored she walked away and eventually approached volunteer for a stroke, after that no problem at all. She is not aggressive in anyway just protecting her home. On the lead she was well behaved, a little wary of strangers but no lunging.
Misty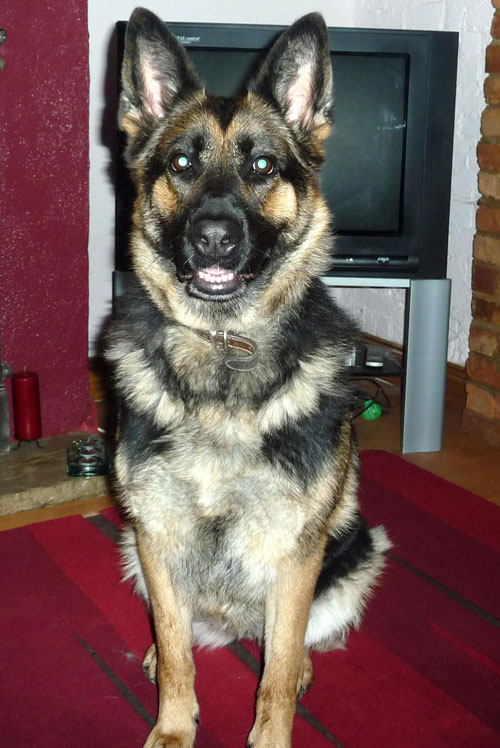 Misty is a 5 year old Black & Tan unspayed female. She is unknown with other dogs as she has never been socialized. He is not good with cats and is also unknown with children. She can be territorial in the home and does bark at people coming in, this again though is due to living in a quite home with little socialization. She is housetrained. Misty will need an owner willing to give her the patience and correct handling to bring around, once she is settled into a routine she will make a great companion. She is up for rehoming due to her current owner's bad health.
Ozzie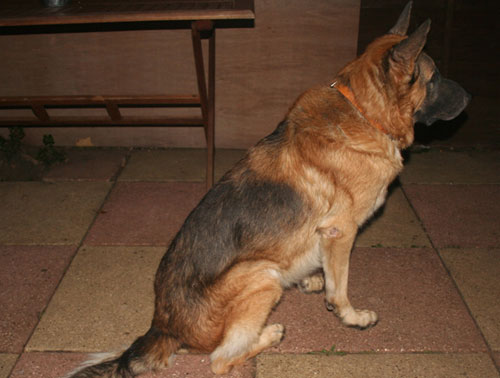 Ozzy is a 6 year old neutered Black and Tan short coated male. Ozzy is a very friendly dog and gave our assessor a lovely greeting when he visited. He is housetrained and a great family dog. However, Ozzy is not great with other male dogs although currently lives with a female. He has already been to a few homes in his life and his current owner states that although she loves the dog she is finding walking him difficult as she feels she is inexperienced. Ozzy would suit an experienced home where this introduction to dogs could be addressed. This is a problem that can be solved with patience and understanding.
Donations are always welcome
Please help us by making a donation so that we can help re home more unwanted German Shepherd Dogs. Donations can be sent to Jayne Shenstone, German Shepherd Dog Rescue, Little Vauld, Marden Hereford HR1 3HA. We also accept Paypal payments - just click on the Paypal button below. Thankyou.