German Shepherds Rehomed 38
More German Shepherd Puppies and Dogs that have found new homes
ALL OF THESE DOGS ARE NOW REHOMED
SUCCESS STORIES
|1|2|3|4|5|6|7|8|9|10|11|12|13|14|15|16|17|18|19|20|21|22|23|24|25|26|27|28|29|30|
|31|32|33|34|35|36|37|38|39|40|41|42|43|44|45|46|47|48|49|50|51|52|53|54|55|56|57|
|58|59|60|61|62||63|64|65|
Archie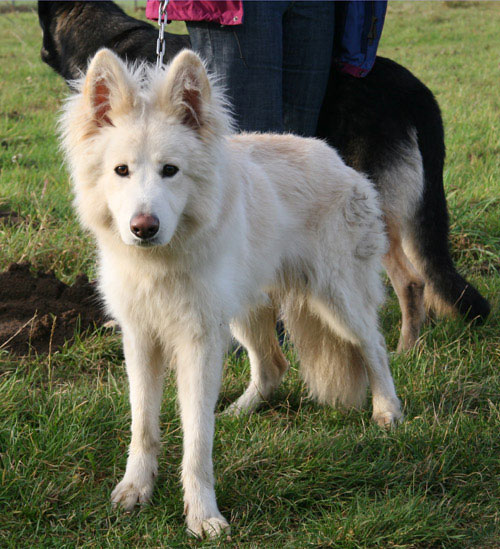 Archie is a small entire long-coated white, aged around 18 months He came to us from the pound and is quite stressed, but is settling He arrived with Lenny and both travelled together so ok with other dogs. When walking on the lead, you hardly know he's there. He ignores other dogs; don't know about cats. He is friendly and likes attention. Extremely thin, but otherwise healthy. We think he will make a lovely pet. Been treated for worms
Zeb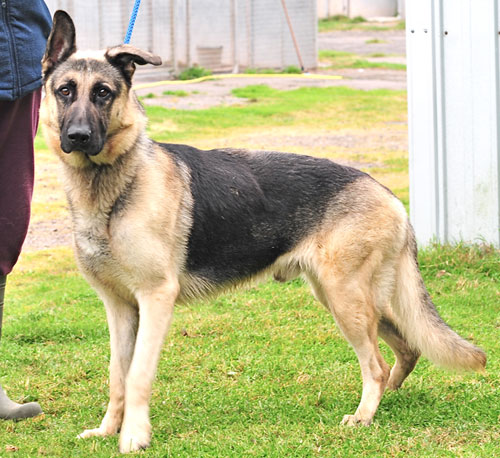 Zeb is a 2 yr old entire male with a very cute floppy ear. He came to the rescue with his brother Sabre, they are looking for separate homes. They belonged to a lady that couldn't cope because of a physical restriction on her mobility, they haven't had much socialisation and have spent a majority of their time within the confines of their home and garden and this has led to them with little confidence with anything new that they encounter but with time and patience they will make someone a very loyal companion. little is known how they are with cats and other dogs
Arnie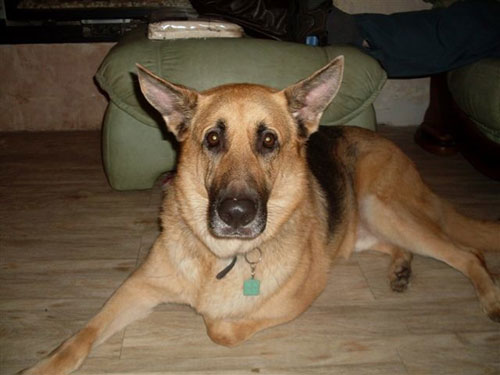 Arnie is 4 years old and a really sweet boy who loves hugs and kisses. He is in foster with lots of other dogs but he is getting a bit jealous and dominant so would perhaps be best as an only dog.
Ebby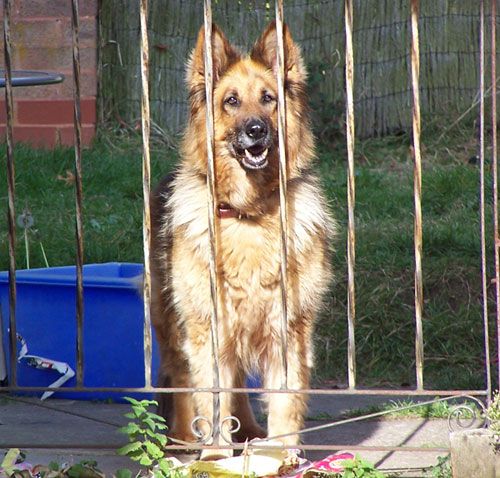 She did not bark when volunteer entered the house or at any time he was there, she showed no aggression toward me, she played quite happy in the back yard not bothered about him being there at all. She appears to be very loyal to the owner and her baby; the owner say's that Ebbey will lick the baby's face when he cries. Ebbey will need a little lead training as she will walk across you and around you on the lead and will not walk to heel when told. A volunteer walked Ebbey with his own dog with no aggression problems at all, although when we returned from the walk she did show territorial dominant aggression when his dog walked into the house which is understandable. Overall a good well-mannered dog, that would be very faithful to her new owner but could do with a bit of obedience training. Also, she needs a good grooming, don't think this will be hard to do as she let volunteer touch her all over, ears, paws, mouth etc.
Max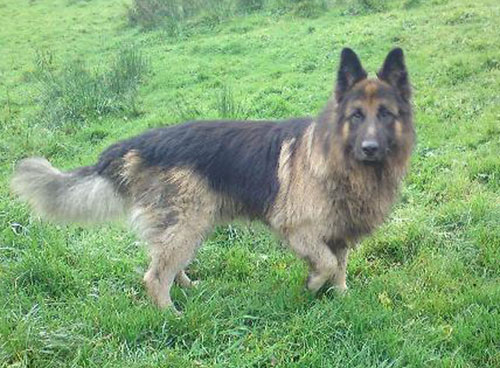 Max is a 4-year-old entire long coated male. He is a big dog, very friendly with a lovely nature. His owner died and he has been left desperately lonely. He did live with a bitch at one time so should be ok with another bitch, not sure about other male dogs or cats.
Max NE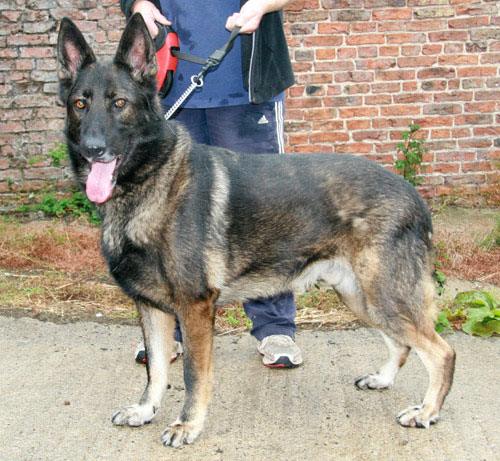 Max (3) is about 6 years old. He is calm and friendly and has lived with young children. Surprisingly perhaps, he is not as fit as you might expect as he hasn't been given enough exercise and, hence, is a bit overweight. He is an unusual colour combination – sort of dark sable mixed with black and tan – and is a stunning dog. He is entire and will not be up to date with his vac's. Max (3) is currently in kennels in the York area.
Kai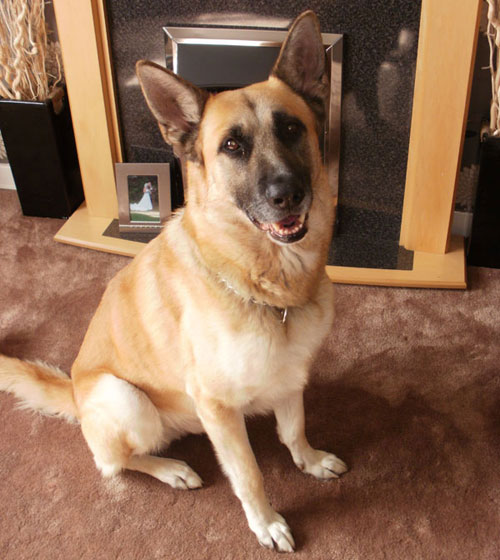 Kai is a 4-year-old entire black and tan male who is a very loving dog, good with other dogs. He has lived with young children and is fine with people. As with most GSD's, he is quite protective of his property
Shep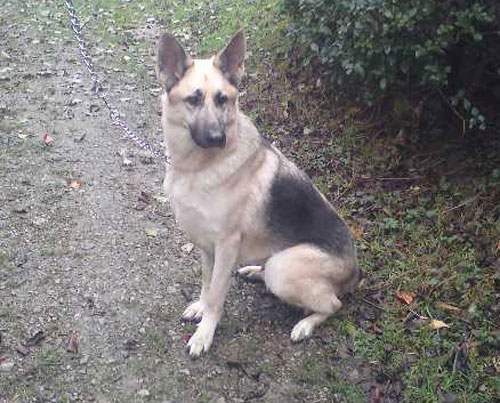 Shep is nearly 4 years old, a lovely dog, vaccinated and neutered. He is a bit timid but just needs a settled home where he will then become a very loving pet. He is Ok with other dogs, don't know about cats.
Kaiser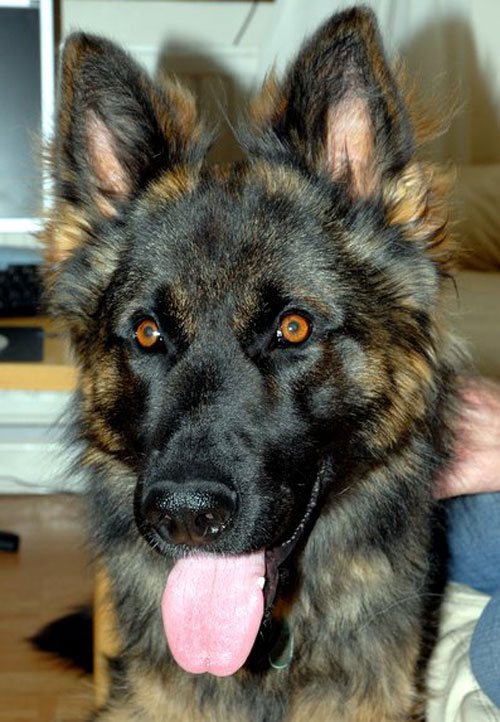 Kaiser is a gorgeous looking 2-year-old neutered male, he is a typical 2 years old still has a lot of boundless energy. He has only been in his new home for 5 weeks but unfortunately, he will pull towards all dogs he sees when out, he only wants to play. He has lived with children in the past although he doesn't currently, but because of his age, we would be happier for him to go to an all adult home or with older children. He will need to go to someone who will set him some boundaries as he will if allowed mouth occasionally to get his own way, but he has never shown any signs of aggression. Kaiser is a super looking dog who is of Germanic breeding a real stunner, he doesn't like cats. Kaiser has come back into the rescue through no fault of his own, unfortunately because he doesn't have any recall his owner is struggling walking him because he wants to run to play with everyone he meets, so he will need someone who is willing to put in the time and effort he is a great dog and will make someone very lucky.
Barney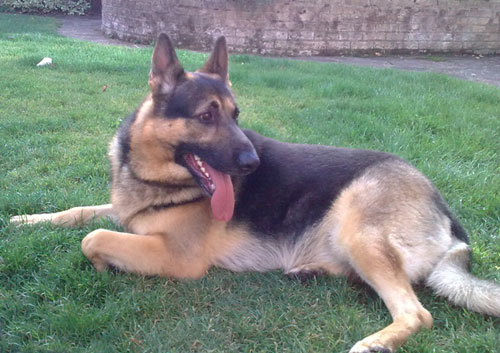 Barney is a large black & tan short haired entire male, who needs to be rehomed due to the family's ongoing health issues. This has resulted in Barney not getting the daily exercise he needs and therefore Barney pulls on the lead when he does get to go out. Once off the lead he loves running around and exploring but can intimidate small dogs because of his size. He also needs training as his recall is not very good and comes back when he feels like it. He is used to children and can be left for a few hours each day. Barney is such a gentle giant just needs a little retraining and he would make a lovely family pet.
Donations are always welcome
Please help us by making a donation so that we can help re home more unwanted German Shepherd Dogs. Donations can be sent to Jayne Shenstone, German Shepherd Dog Rescue, Little Vauld, Marden Hereford HR1 3HA. We also accept Paypal payments - just click on the Paypal button below. Thankyou.