German Shepherds Rehomed 62
More German Shepherd Puppies and Dogs that have found new homes
ALL OF THESE DOGS ARE NOW REHOMED
SUCCESS STORIES
|1|2|3|4|5|6|7|8|9|10|11|12|13|14|15|16|17|18|19|20|21|22|23|24|25|26|27|28|29|30|
|31|32|33|34|35|36|37|38|39|40|41|42|43|44|45|46|47|48|49|50|51|52|53|54|55|56|57|
|58|59|60|61|62||63|64|65|
Buster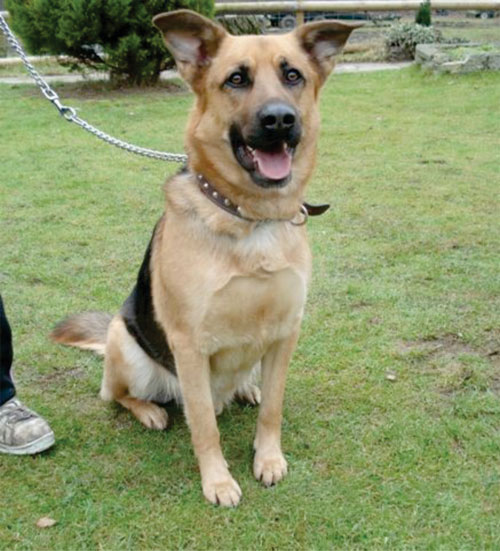 Buster is a 3-year-old neutered male. He is fully vaccinated and currently in kennels in Essex. Buster was originally being re-homed due to his family not having time for him in their busy lives. He found a new home but was finding it very busy and stressful. Buster can be very wary of men and can show aggression towards them, but this is due to nerves. He has obviously had a bad experience with a man somewhere in his life. Buster would like a nice calm household, preferably one without children, where he can relax and learn to fully trust people again.
Bailey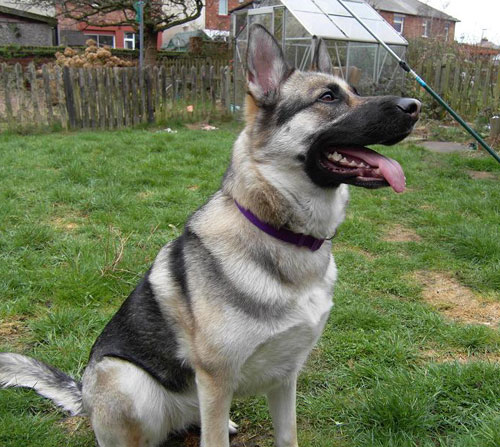 Bailey is a 2-year-old bitch, entire, she is micro-chipped and her vaccinations are up to date. She is a friendly girl and gets on with other dogs although she doesn't live with any, good with children but can be a little boisterous so better homed with older children or use to large breeds. No cats. Does not bark at the door but is excited. Some basic training commands loves nothing more than playing with her bouncy ball. Sociable on her lead but does pull so this will need correcting. She is a very friendly girl who will make the perfect family pet or life time companion. Owners moving into a flat and can't take her.
Coco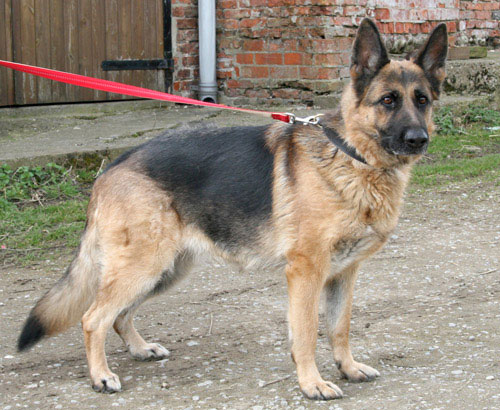 Coco is 6 years old and is micro chipped. Beautiful looking girl and is very affectionate,.We have now had Coco in a foster home for some weeks she has settled in very well she is living with 3 other GSD's and mixing ok, She has been on a camping weekend with the family and was very well behaved she enjoyed this.Coco is not good with cats as she shares the house with one and is not too happy. She was nervous when she arrived with us but seems to have gained confidence and is looking for a perm ant home.She is in good condition.
Bella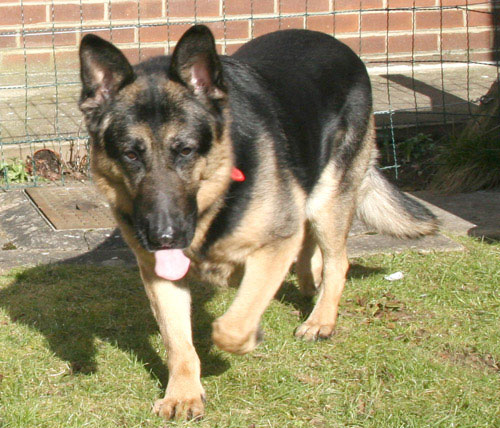 Bella is a very pretty 5-year old spayed bitch. Her owners, are reluctantly parting with her due to their ill-health.Bella was re-homed but showed aggression towards another dog she came back and was placed into a foster home. She has been in foster care with 2 other GSD's and been fine they let her know her place. She has played with the younger dog very well. She was again homed but once again she went for another dog, So poor Bella is back with us but in kennels now.We think her reaction to other dogs is due to lack of socialisation and maybe this could be overcome by an experienced owner. We think she would be best as the only dog in the house. Bella is very good around people and children, she is clean in the house and very obedient. Please, there must be someone who would give this lovely girl a great home.
Bella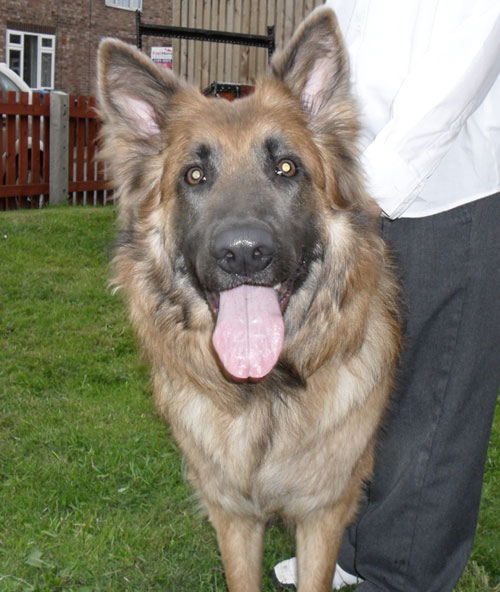 This stunner is 17 mth old, unspayed bitch, Bella. She is a long coated sable, with a blue muzzle, and very pretty. Bella is not up to date on vaccinations and is not microchipped. She is housetrained & travels really well in the car. Bella is very overweight & her nails are extremely long, so obviously never walked. She loves to be groomed, and loves her food! Bella hasn't lived with another dog before but is now in foster care with several other dogs. Apart from the odd grumble, no problems so far, but has a tendency to be a little dominant. Bella would be suitable for older children only. Will make somebody a wonderful dog.
Oscar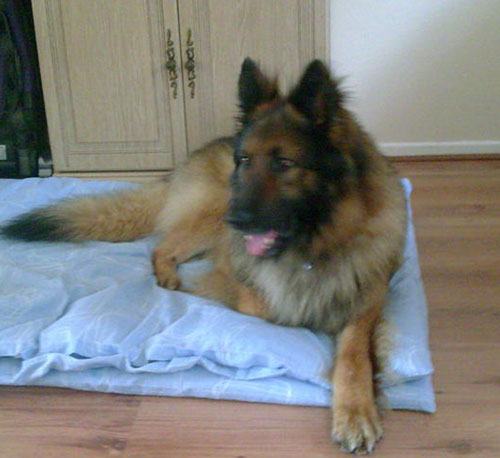 Meet Oscar a 4-year male who is one fabulous animal with a good friendly manner towards people and children. This dog was given up as his owner was working up to 14 hrs per day and Oscar was being left on his own.
Barney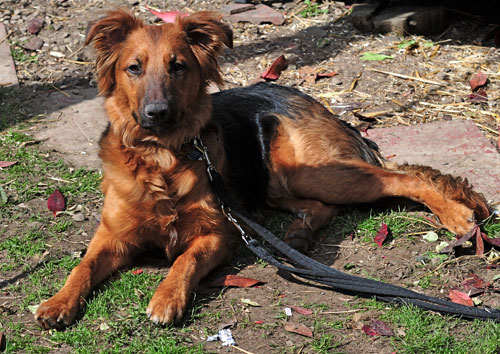 This pretty boy is 10 mth old, neutered, GSD x collie, Barney. Vaccinated and microchipped. Housetrained. Barney is fine with children over 7 yrs and loves to play. He is a bit of a digger in the garden! Strong on the lead, has been to training classes, and would benefit from those continuing. Barney hasn't lived with another dog but seems fine when out on walks. Recall needs working on! Loves a bath! Will chase cats. Being rehomed due to owners bad health. With some further training & confidence building, , Barney will blossom into a fantastic dog. A lovely mix
Tammy and Kita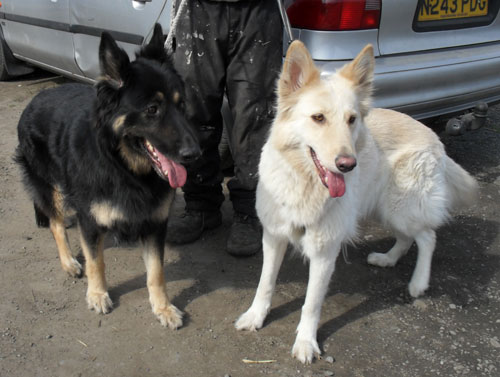 These beauties are 3 yr old Tam and 4 yr old Kita. Neither has been spayed. Neither vaccinated or microchipped. Both housetrained and both travel well. Tammy is a 3 yr old white/cream long coat. She is very friendly, loves everybody, including small children. Is scared of cats. Kita is the more reserved of the 2, she is a long coat black and tan. Kita has chased livestock before and will chase cats. Kita is 4 yrs old and has a lovely temperament also. Both girls have been left in a derelict pub for the last 2 weeks, so their coats are in need of a good groom. Take treats gently. Tammy & Kita must be rehomed together, we will not split them.
Jake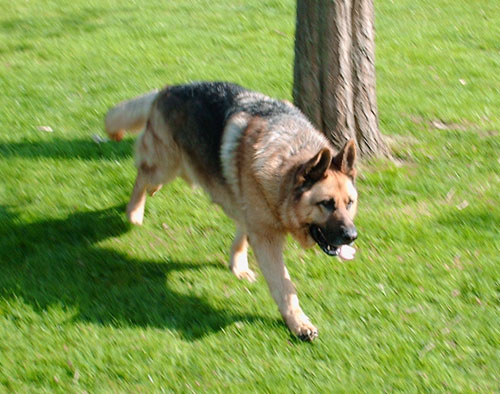 Jake is a 6y old neutered boy who is full of bounce but friendly. He lives with 3 other dogs, one male, two female and is the pack leader over them. He has never meet cats but has lived with children from 7 plus. He loves being hosed down if muddy and playing with his ball and Frisbees. Jakes also love attention just look at the photo, he can't get enough of it.
Cassie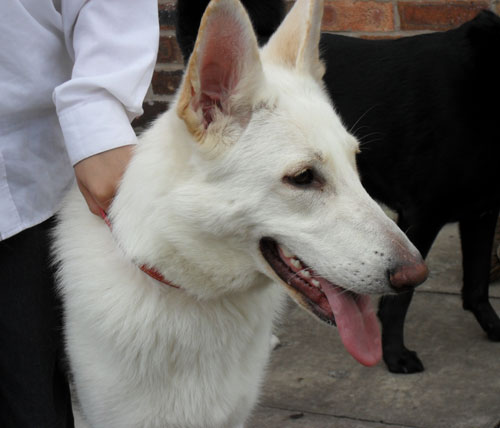 This beautiful girl, is 10 months old, unspayed bitch, Cassie. Housetrained, wormed & flea treated. Cassie is such a delightful girl, very playful, friendly, and obedient. She loves other dogs, always trying to get them to play, or just to let her snuggle up with them. Cassie was bought over the internet by a family with 5 young children & bulldogs, they were too much for Cassie so she hid under the table. Thankfully she only endured 1 week of that, then came into rescue. Cassie is lovely with children. not known how she would be with cats, but as she has such a sweet temperament, I don't think there would be a problem.
Donations are always welcome
Please help us by making a donation so that we can help re home more unwanted German Shepherd Dogs. Donations can be sent to Jayne Shenstone, German Shepherd Dog Rescue, Little Vauld, Marden Hereford HR1 3HA. We also accept Paypal payments - just click on the Paypal button below. Thankyou.