German Shepherds Rehomed 47
More German Shepherd Puppies and Dogs that have found new homes
ALL OF THESE DOGS ARE NOW REHOMED
SUCCESS STORIES
|1|2|3|4|5|6|7|8|9|10|11|12|13|14|15|16|17|18|19|20|21|22|23|24|25|26|27|28|29|30|
|31|32|33|34|35|36|37|38|39|40|41|42|43|44|45|46|47|48|49|50|51|52|53|54|55|56|57|
|58|59|60|61|62||63|64|65|
Ellie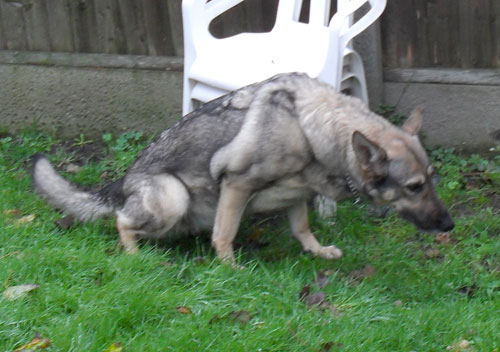 Hi, my name is Ellie. I am currently an entire female about 4/5 years old. I am fully house trained. I'm what you call a Blue from the German Line. I was underweight but have filled out as my foster mum gives me lots of food to eat. I'm good with children and other dogs. I did chase the cats in my foster home if they ran but got really scratched on my nose. I haven't chased the cats since I can tell you. I love playing football in the garden and having my belly rubbed. I do pull on the lead a bit as I wasn't taken for walks before, but I'm getting better and love going along the canal then on the big field. I don't pull coming home as I'm too puffed. I am still nervous round strangers due to me being cruelly treated, but I'm slowly getting over it and learning that all humans are not cruel. I would love to be the only dog in my new home as it is going to take time and a lot of love, but I know that with the right loving Forever home I will be able to show you just how loving and faithful I can be. My foster mum says she will help in any way she can, if you need to go on holiday she would look after me for you if you are not able to take me with you. I can also open doors as well. Love Ellie xxx
Sonny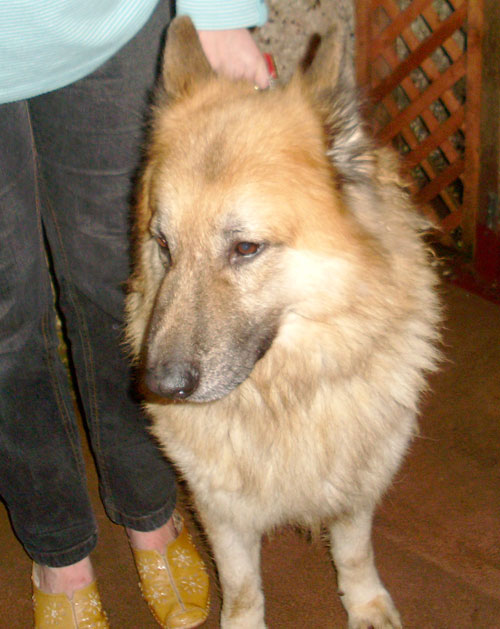 Aged 6 and entire, Sonny is in fostercare with several other dogs. He is a lovely, big, semi-long haired Black and Tan, who has settled in with his new friends. He is friendly with people, including children and is house-trained. Fine with bitches, but selective about males, he loves being groomed and playing. He needs further lead training and socialisation, poor recall. Not vaccinated, doesn't like cats. Change in his lady owners circumstances has forced his rehoming.
Major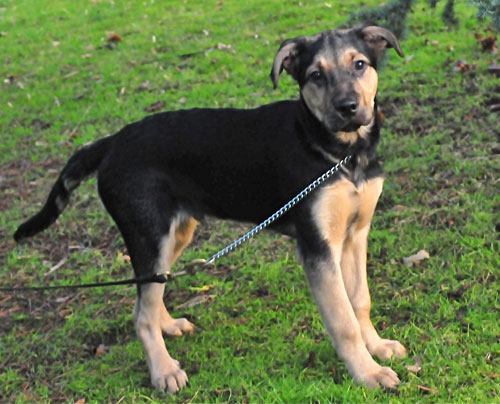 This cute little pup is Major who is 4 mths old, we are not sure if he is a cross or full GSD yet. A volunteer picked little Major up from the vets. He belonged to a polish family who brought him as advertised as a full GSD for £250, the family have two children ages 3 and 5 and they found him too much with the children so were going to have him PTS! Fortunately, he was saved and we now have him in our care.
Topaz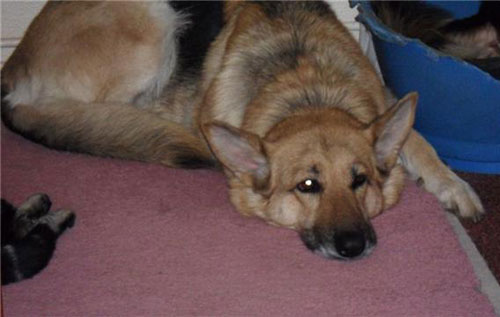 This is Topaz, a 5-year-old, spayed bitch. Topaz lives with another dog, no problem, and is also fine with cats. She is fine with children ages 2 years upwards. Housetrained. Lead trained. Loves to play ball, can open doors! Vaccinated. Has a pancreas problem which is controlled by diet. Topaz has started to chew when left, as she isn't getting the attention she is used to, since the arrival of a baby 6 months ago. She is a nice girl, needs somebody with some time to devote to her.
Duke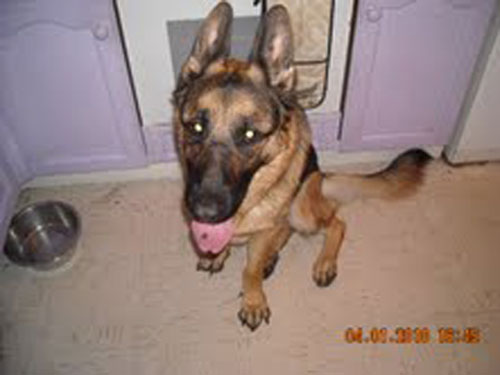 This handsome boy is Duke, thought to be around 4-5 years old. Duke has been neutered, microchipped, tattooed & vaccinated. Duke currently lives with another dog, no problems, & when walked by the volunteer played happily with other dogs off lead. Travels well. No known health issues. A really lovely laid back boy who got on the volunteer's lap for a fuss! Not known how Duke would be with young children, so a home with older children if any would be suitable. Duke is being rehomed due to a change in the owner's circumstances. Somebody will hit the jackpot when they adopt this big, beautiful boy!
Kane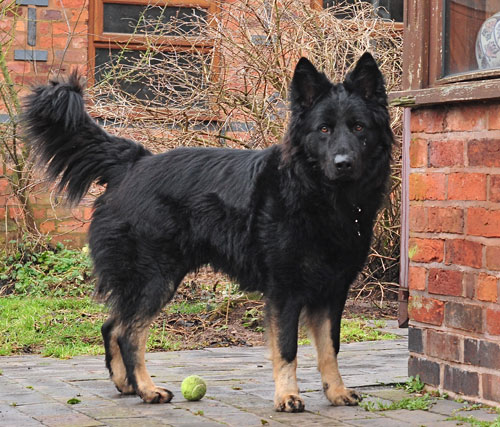 This lively young man is Kane, approximately 12 months old, entire male. He is semi-long coated, mainly black, really stunning, his pictures do him no justice! Kane has been passed around to 5 homes in his short life so far, so is very confused. He has a lot of excess energy & needs an experienced home. He is fine with other dogs if a little too playful. Little is known about his background. This gorgeous young dog deserves a forever home.
Jack and Frankie - so sad poor boys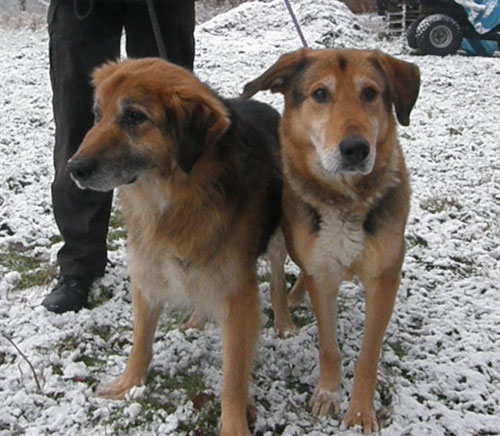 Jack is the longer haired one Frankie has the short coat - both are quite spritely for their age. We have been told they are 13 to 14 years old litter brothers both entire. All we know is marriage broke up and the guy has just had his house repossessed. We work as dog handlers for the company evicting him and have been asked to rehome the dogs.
Sophie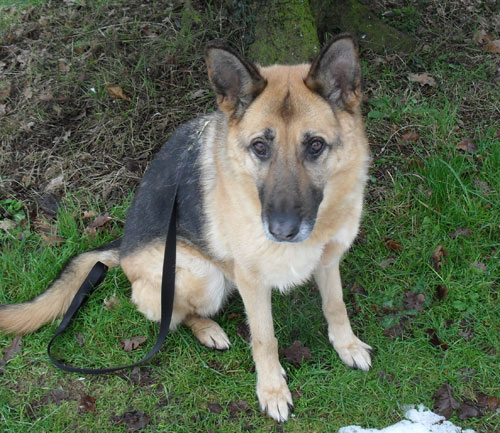 Sophie is an eleven-year-old spayed bitch. She has a really lovely nature, Ok with other dogs and cats. Good with children. She is in need of a new home due to her owners' ill health and will make somebody a lovely companion.
Hannah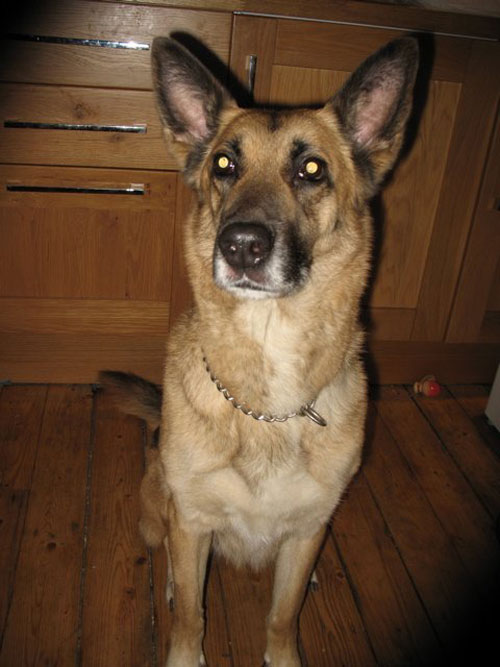 Hannah is a really nice young bitch, she is black and tan and a small girl, we think she is probably about 2 years old. She was straying and followed somebody home who took her in but couldn't keep her as she had dogs of her own. She is responsive to basic commands and appears to be Ok with other dogs, although a little nervous about them at first. She has now gone into kennels where the owners think she is absolutely gorgeous and will make somebody a lovely companion.
Charlie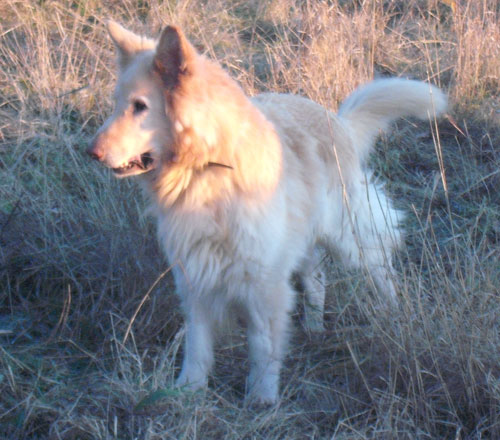 Charlie is a gorgeous entire 9-10 year old who has lived with Fiera for the past 6 years. He has lived with young children and is friendly towards them and strangers. He has not meet cats or any other livestock. He has had a tooth problem which caused him to loose weight but is now putting that back on. He lives cuddles and attention and will take any amount of fuss you show him. Fine with the horses and cats
Donations are always welcome
Please help us by making a donation so that we can help re home more unwanted German Shepherd Dogs. Donations can be sent to Jayne Shenstone, German Shepherd Dog Rescue, Little Vauld, Marden Hereford HR1 3HA. We also accept Paypal payments - just click on the Paypal button below. Thankyou.