German Shepherds Rehomed 20
More German Shepherd Puppies and Dogs that have found new homes
ALL OF THESE DOGS ARE NOW REHOMED
SUCCESS STORIES
|1|2|3|4|5|6|7|8|9|10|11|12|13|14|15|16|17|18|19|20|21|22|23|24|25|26|27|28|29|30|
|31|32|33|34|35|36|37|38|39|40|41|42|43|44|45|46|47|48|49|50|51|52|53|54|55|56|57|
|58|59|60|61|62||63|64|65|
Jess 4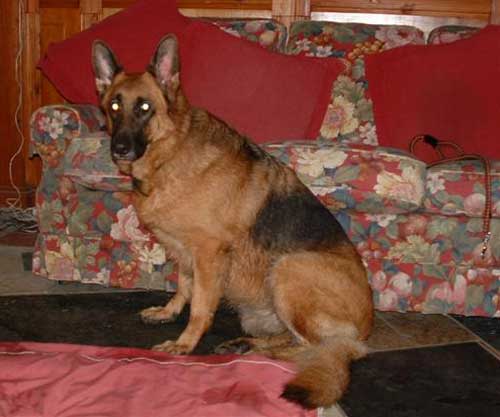 Jess is a 4-year-old, black and tan, short coated, spayed bitch. She is currently in foster and a bit porky at present as she has not been getting the exercise she needs in her previous home. Jess is very good with people and children alike, she loves playing ball and with a firm hand is well behaved and obedient. Jess is looking for a rural home where she can blossom into a lovely family dog, where she gets the exercise she requires. Jess is not good with dogs or cats, is toilet trained, travels well and is not destructive.
Sasha - SW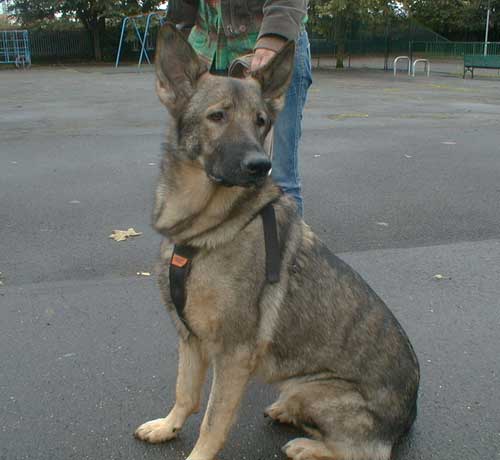 Sasha is a 4-year-old, sable, short haired, bitch. It is not known whether she is spayed or not - the owner has had her for 18 months and she has not had a season. She came from a rescue in a poor state and was quite depressed but she has now been nursed back to health. She is a very placid dog and in the lasts 3 months, she has started to enjoy playing with a ball. She is a sensitive dog and does not like loud noises or a busy environment. She can be wary of men. Sasha does not like to be left alone - she gets on well with other dogs and children but does not like cats. Sasha is being rehomed due to her owners' health problems.
Archie 3 - AT RISK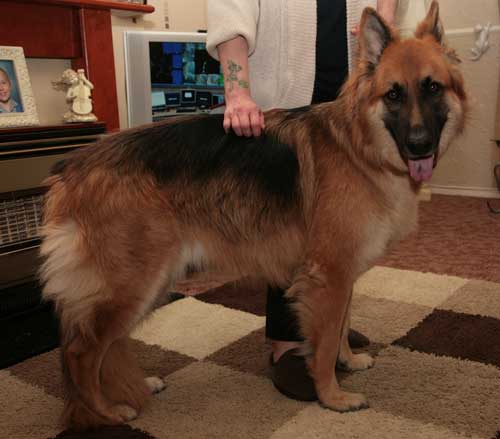 Archie is a big puppy at heart and loves to play with toys. He was never socialised as a puppy so has a lot to learn. He does not do well in kennels at all and we would rather him be rehomed quickly. He needs an experienced owner who is firm but fair, gives him lots of love and walks (poor Archie is never walked), and who will introduce him to the world outside so that he can enjoy life. Archie is living with his owners at the moment until a new home comes up for him but he is on limited time and cannot stay there for too long.
Jasper 2 SW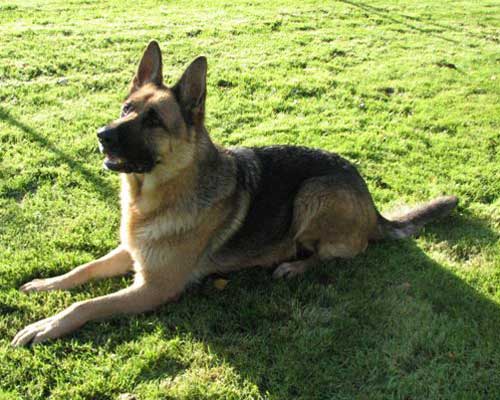 JASPER about 2 years old, obedience trained, very biddable, good with other dogs, no children or cats, laid back. Loves people but will protect. Will make a loyal friend
Sherry - Left in Asda carpark with a note around her neck!!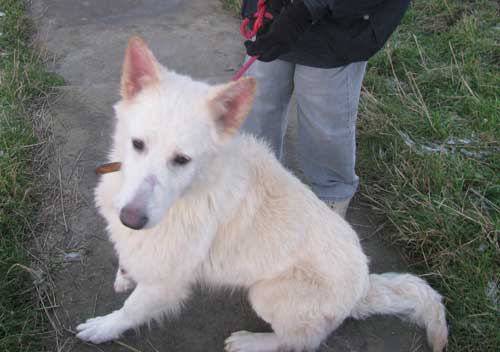 Sherry is a lovely young white bitch, think she is about 14 months old. She is a little bit frightened as she was left in Asda car park with a note round her neck saying 'free to a good home'. A very loving little girl who will make a wonderful pet to somebody who can give her lots of love and reassurance.
Bounty - in kennels over 6mths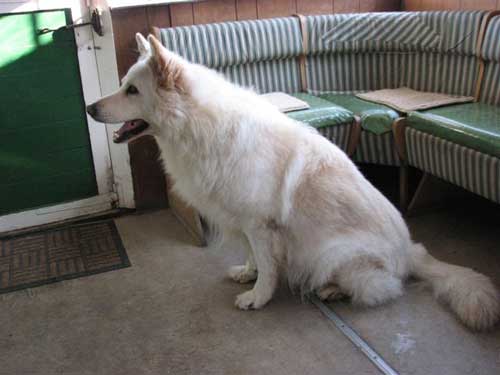 Bounty is 6 years old and is quite protective of his family and home. He is not good with strangers initially but OK if introduced properly. O.K. with other dogs unless they challenge him. He is generally quite placid not boisterous and loves to be with owner. Very good on the lead and would make a wonderful companion for an experienced GSD owner.
Brook - Rescued from death row, worried and frightened.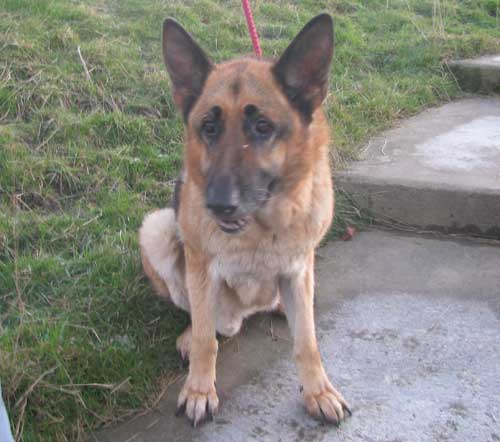 Brook was rescued along with 3 others from death row. Brook is a black and tan male of about 5 years old. He seems a little worried and will respond to kindness and love, a very friendly dog. He is a big dog but very amiable. He travelled up in the passenger seat of the animal ambulance and he loved it!.
Shep SW - 15 mths old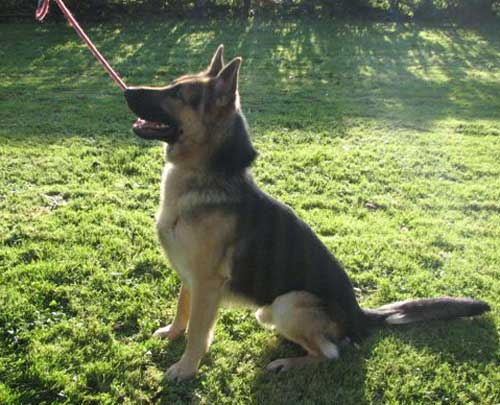 SHEP is approx 15 months old, beautiful pup, lively and good on the lead, will sit and stay. He will bond easily looking for love 24/7. Shows aggression when on the lead because he is insecure, will with a bit of dedication by experienced person come out of that. Very nice little dog
Capa - appallingly treated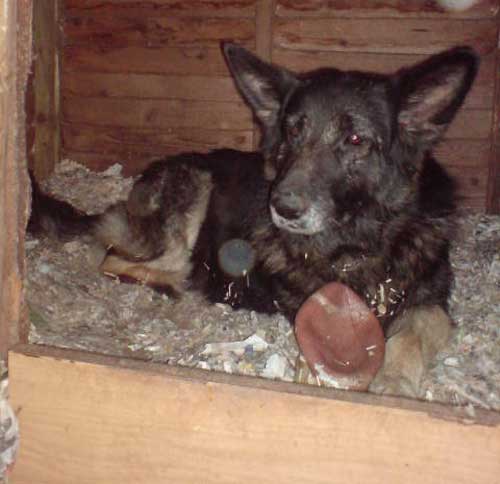 Capa came out of a terrible home where she and a collie were being kept in appalling conditions with scraps for food and rain water as their source of water, a tiny kennel in a small yard as their only shelter. Capa is a 7-year-old small, entire female, predominantly black and tan, semi coat. She is currently in foster with children, a resident dog and a cat, she is wonderful with people and a very gentle, calm girl, she does not get on with little dogs. Capa is an easy going girl who even though has been severely neglected still loves human company. Given love and a warm fire, she will be a contented girl.
Sabre - URGENT as owner has died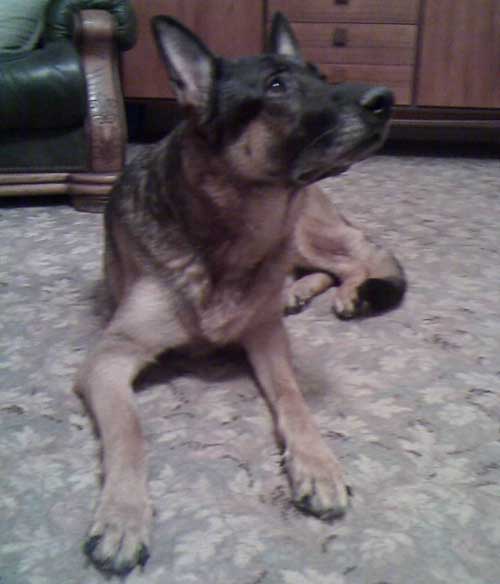 Sabre's owner has died and some kind neighbours have been taking care of him but he needs out now as he is full of life and not getting out so he is getting very stressed. He is a 9 yr old castrated male Black and Tan short coat. He is very lively for his age. He is vaccinated, chipped, he gets on with other dogs lived with 7 and cats although the lady says he is not too keen on them. He has not had contact with children but our volunteer said that he showed no aggression when something he had that he shouldn't have was taken from his mouth.
Donations are always welcome
Please help us by making a donation so that we can help re home more unwanted German Shepherd Dogs. Donations can be sent to Jayne Shenstone, German Shepherd Dog Rescue, Little Vauld, Marden Hereford HR1 3HA. We also accept Paypal payments - just click on the Paypal button below. Thankyou.