German Shepherds Rehomed 52
More German Shepherd Puppies and Dogs that have found new homes
ALL OF THESE DOGS ARE NOW REHOMED
SUCCESS STORIES
|1|2|3|4|5|6|7|8|9|10|11|12|13|14|15|16|17|18|19|20|21|22|23|24|25|26|27|28|29|30|
|31|32|33|34|35|36|37|38|39|40|41|42|43|44|45|46|47|48|49|50|51|52|53|54|55|56|57|
|58|59|60|61|62||63|64|65|
Storm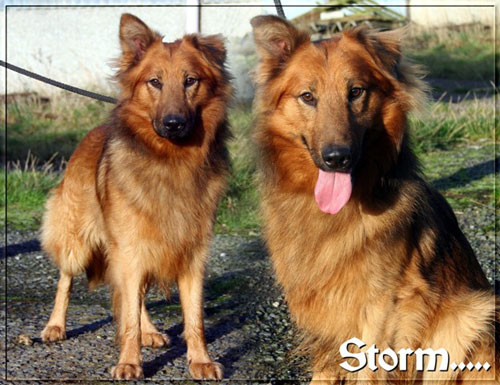 Storm has been a lovely boy in kennels. He is flighty, jumping and has a little nibble at hands, but is just happy to be out. Storm has a lot of nervous energy and is clearly showing signs of being stressed at being in kennels. Food isn't much of a motivation, but the sight of a lead certainly attracts his attention. An active home would be preferred to burn off all this excess energy.
Smokey - NE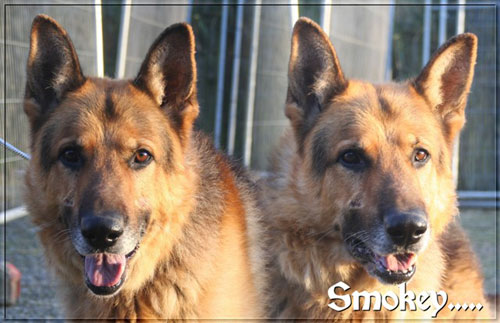 Smokey has been no problem at all since he arrived, and loves just lying around in the runs. That is apart from when he is playing football with the volunteers. He does need work around other male dogs. However on the other side, he is infatuated with a female dog called Lola, and they have even spent time in the run together off lead. Smokey has been good around people, no matter who has walked him, and apart from the one issue with another male dog, has been a real star.
Buster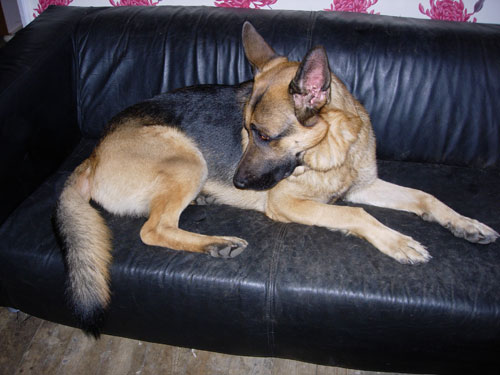 This handsome boy, is 2 yrs old, entire male Buster. He is housetrained & travels well. He is fine with other dogs, he feels a lot more at ease around several other dogs. Cats a definite no. Children, only older, sensible ones if any. He walks well on the lead. Buster is quite nervous of strangers & this can come across as aggression, but if you ignore him he will be fine. He bonds very strongly with one person & will become protective over you, so he needs an experienced home who will manage this. Once he trusts you he will let you do anything with him. Very playful & affectionate with people he knows well. In the right home, he will be an amazing dog.
Sheba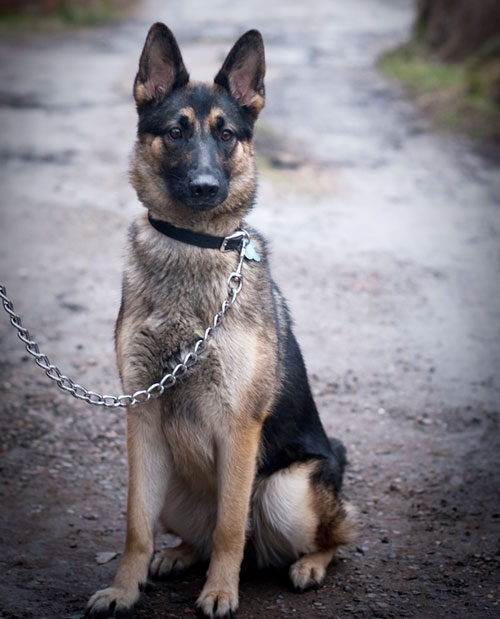 Sheba is a stunning young 18mth black/tan short haired entire bitch that unfortunately needs to be rehomed. She is large for her age and still acts like a puppy bouncing around wanting attention. She lives with another older dog and children but will chase cats. Sheba has started her training but will need further as sometimes she "forgets" what she should be doing. Ideally, Sheba needs to be rehomed with an older dog so she can learn from it or with someone who can give her attention and training.
Taz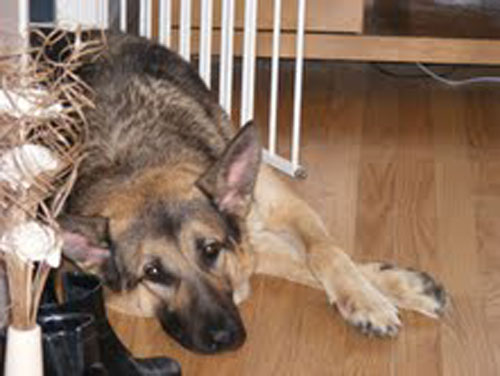 This is Taz, a 3 yr old semi coated , entire male. Taz is a large dog, and living with 3 small children and another German Shepherd, means the household is too busy, and Taz isn't getting the attention he deserves. Not known how he would be with cats. Taz is fine with other dogs. Loves swimming, any water and he will be in there! Needs an active home.
Lucy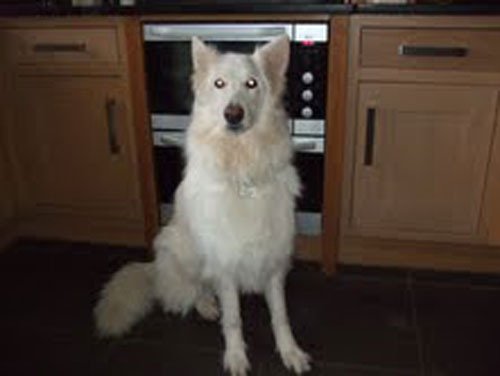 This beautiful lady is 4 yr old, spayed bitch, Lucy. A lovely long coated girl, who loves children of all ages. She lives with another GSD and is fine with dogs out of the home. She is vaccinated and in good health. Lucy gets very excited when she knows she is going for a walk and jumps up and barks, but apart from that, she is a sweetheart. Needs a new home as her owners have moved into a smaller house and don't have the room or the time for Lucy's needs.
Lady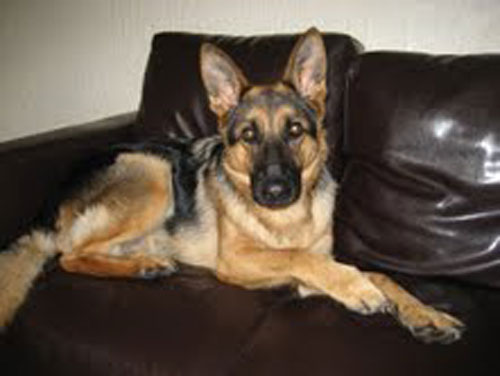 This stunning girl is 14 months old, spayed bitch, Lady. She is vaccinated, microchipped & housetrained. Lady has a great temperament, friendly towards all dogs, cats and children of all ages. She is looking for a home who will work on her lead walking, although off lead has good recall. Needs a home due to owners working long hours.
Skye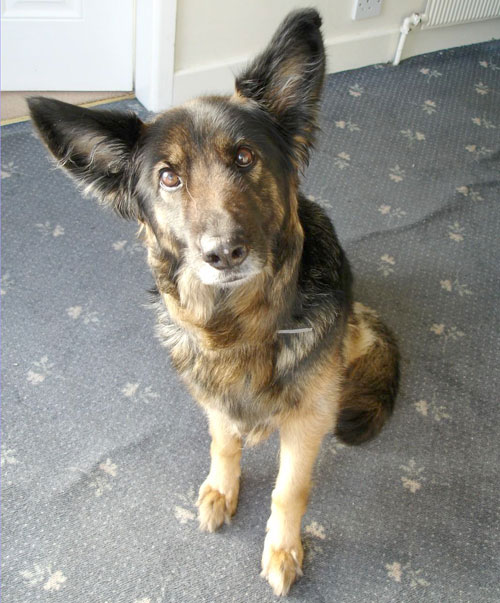 Sky is a lovely-natured, gentle and obedient, fully house trained GSD Cross semi-longhaired entire Bitch - quite small for a GSD. She was abandoned to the care of the lady currently kindly looking after her about 3 months ago. We think Sky has had 3 owners in her life. She is absolutely easy, friendly with adults, children and other dogs and with a really quiet calm nature. No aggression to either visitors to the house or to anyone near her food. Aged 5 or 6 years, but very fit and lovely-looking. No behavioural issues apart from that she pulls on the lead ( but fine when the lady bought a Halti for that). Good recall and will sit and go to her basket when commanded. Currently, in York, she needs a loving, forever home, where she will return affection with interest.
Lady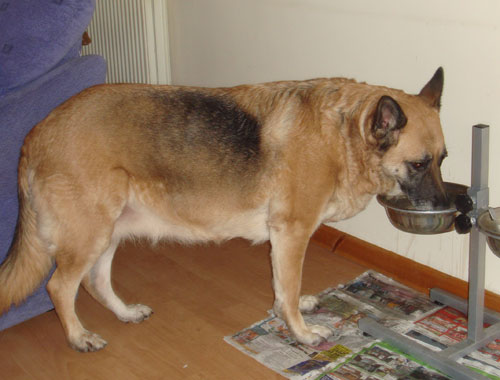 This is Lady, approx 7 years old, spayed bitch. Lady was left behind when her owners moved out, and a neighbour took her in. Unfortunately, she is too much for this person to handle. Lady is quite a dominant girl, strong on the lead. She isn't keen on other dogs when out and has attacked when off lead. With the right, experienced, firm owner, Lady will be a great girl. She just needs leadership. Housetrained. Fine with people. Cats unknown. Lady is overweight & bored, and this is coming out in her behaviour. Up to date with vaccinations.
Mya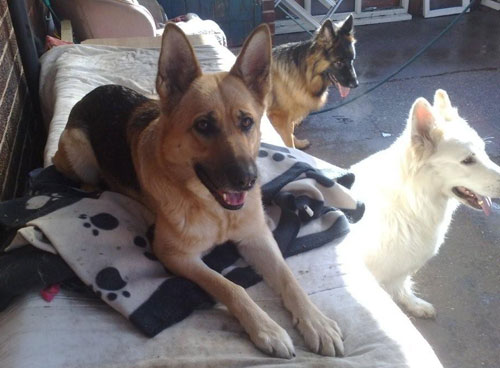 The pretty little Queen of the castle is Mya whose mission seems to be to play at every opportunity with whoever or whatever is available at the time. She is such a happy girl and her tail never stops wagging, she could wag for England!!!. At the moment she lives with a fosterer and their dogs in the house, she is very clean day and night, doesn't chew, only barks when needed and is generally a little sweetheart. Mya would be happy with a single person or a family, children old enough to play with a shepherd would be ideal but small children may not be able to handle her energy, she is full of life and fun and just as happy asleep in front of the fire as she is playing. She is happy living with other dogs (5 at present!) or on her own, as long as she can have a tickle and a play Mya will not complain. Because she lives with so many other dogs Mya isn't getting as much attention as she deserves, she is a small shepherd but she has a big heart, very loving and willing to please and would benefit greatly from more attention. If you are looking for a friend for life Mya is perfect, you can visit her anytime and get to know her, take her for a walk and a play, and have your heart stolen by her, she is still a young dog, about 3yr old, so has lots of love and life to offer her new owner.
Donations are always welcome
Please help us by making a donation so that we can help re home more unwanted German Shepherd Dogs. Donations can be sent to Jayne Shenstone, German Shepherd Dog Rescue, Little Vauld, Marden Hereford HR1 3HA. We also accept Paypal payments - just click on the Paypal button below. Thankyou.