German Shepherds Rehomed 24
More German Shepherd Puppies and Dogs that have found new homes
ALL OF THESE DOGS ARE NOW REHOMED
SUCCESS STORIES
|1|2|3|4|5|6|7|8|9|10|11|12|13|14|15|16|17|18|19|20|21|22|23|24|25|26|27|28|29|30|
|31|32|33|34|35|36|37|38|39|40|41|42|43|44|45|46|47|48|49|50|51|52|53|54|55|56|57|
|58|59|60|61|62||63|64|65|
No Name 5-6 - was due to be PTS in the pound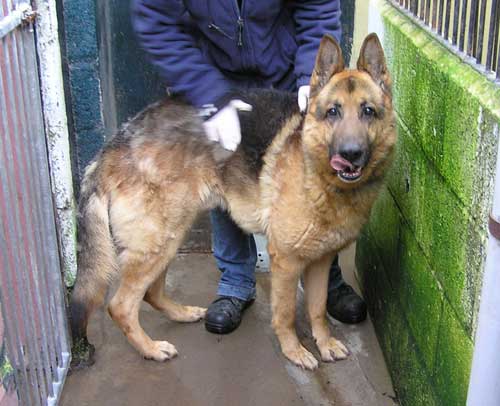 No history but this lovely lad is about 5-6 years old, friendly enough, a bit wary at first, but digestive biscuits soon brought him around He needs a good bath and good brush, he has a wiry coat, good teeth and inquisitive.
Sheba 3/4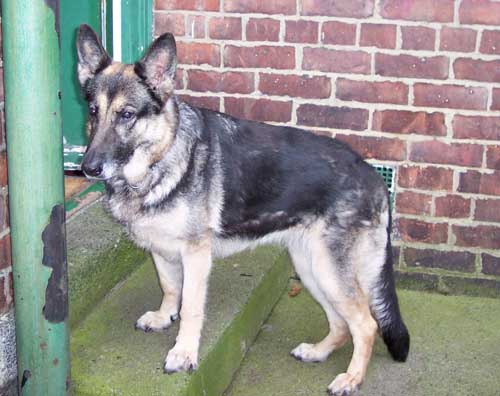 Sheba came to us last year having been picked up from the pound. She was re-homed but sadly the new owner couldn't give her the exercise that she needed. Sheba is now in a foster home and the reports from them are very good. She is living with 3 cats, 2 Children and a GSD Bitch. Sheba went into the home and settled right in. She loves the attention she gets from the children and has shown no aggression towards any of the other pets. She does bark at other dogs when out but that is just excitement and wanting to play. She is vac. We think she is around 3 - 4yrs...
Ben 2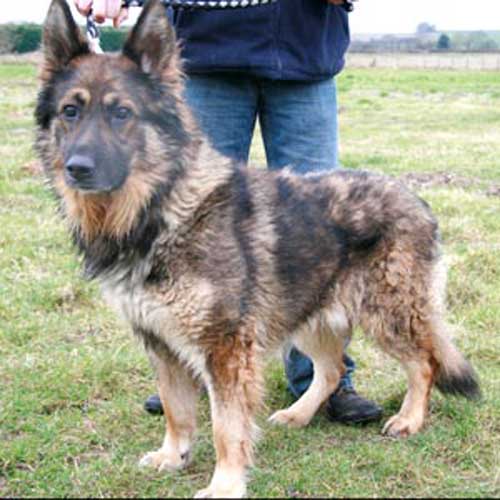 Ben is still very timid, but accepted treats from our volunteer and let him stroke him without any sign of aggression. He is very thin and dirty, but otherwise seems in reasonable condition; very alert; his teeth are healthy and suggest he is quite a young dog.
Jet 6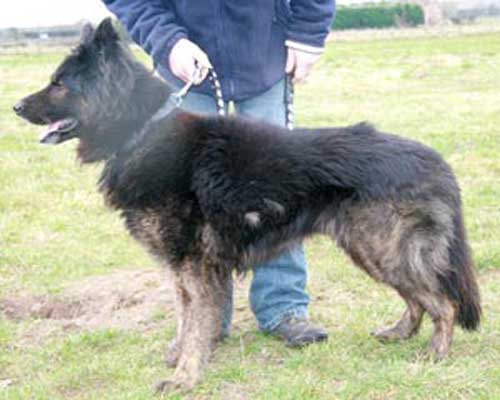 Jet was a stray who is very thin and his teeth are in poor condition – molars are worn very flat and at least one canine is damaged. Happy to be stroked and took treats. Obviously, this poor lad has been through a bit of an ordeal
Khan - 18mths NE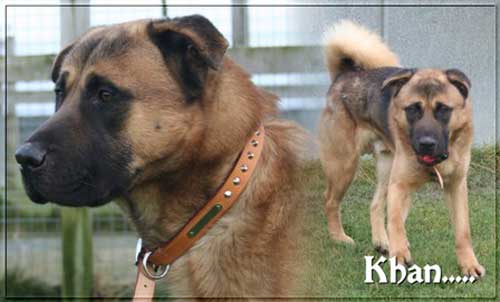 Khan is a young approx 18mth old GSD possibly Akita cross. He had gone past his sell by date in a council pound and was due to be put to sleep. He is a big bouncy boy and everything is new. He loves to run and play ball.
Roxie 18mths - owner will put to sleep on 3rd April if she is not rehomed before then.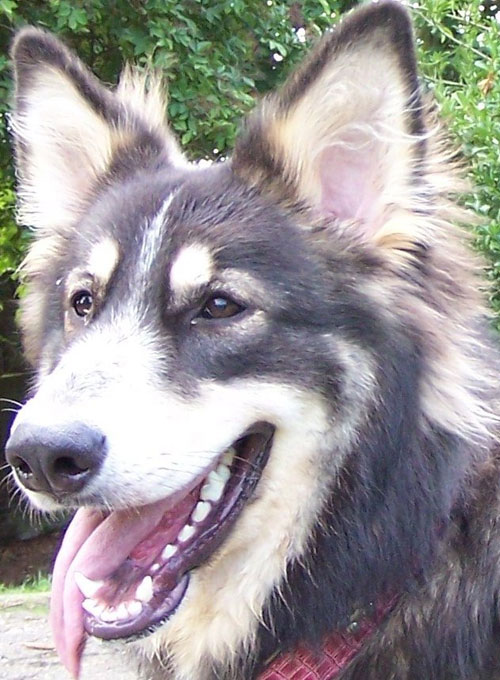 Roxy is only 18mths old and has already had 4 homes. She is spayed, she lives with another bitch but doesn't like other dogs outside the home. She needs further training with an experienced home without children.
Roxy 10 - badly neglected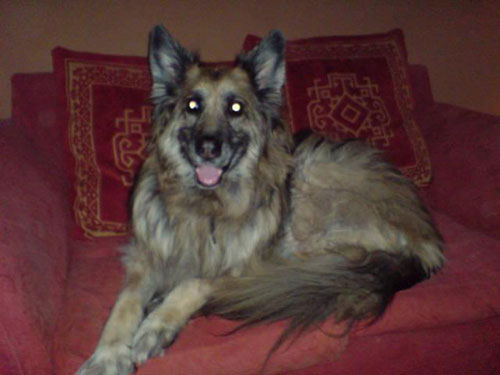 Roxy a 10-year-old long coated bitch, owner living in council property and has until Friday to move her out. He's had her since she was 6 weeks old. She's a lovely girl, very friendly, big for a bitch. Her coat will need some attention, it's very matted and her nails are in desperate need of attention too.
Kane - 7years Central. A real gentleman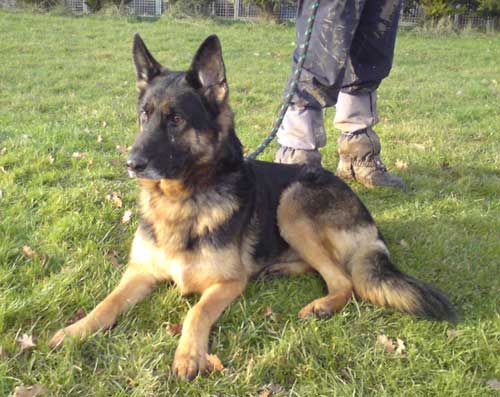 This gorgeous boy has been in kennels for a very long time. He is a real gent and fantastic with people of all ages, including children, but he likes company and gets stressed when left. He barks at other dogs but having spent the best part of a year in kennels, he hasn't had much socialisation. Kane desperately needs out of kennels and whoever gets him will be a very lucky person. Great family dog.
Syler 18mths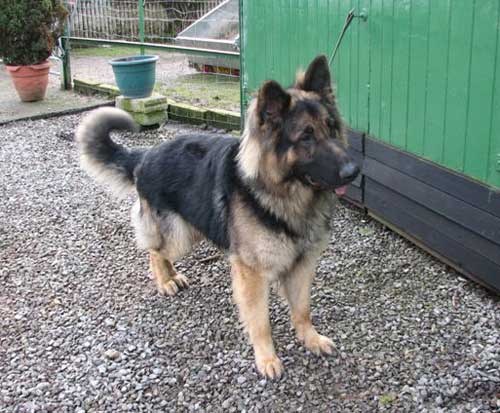 This beautiful big boy should never be in rescue. He is a very large dog and big and bouncy so needs a home with experience and no young kids - he will knock them over.
Bonnie 4 - central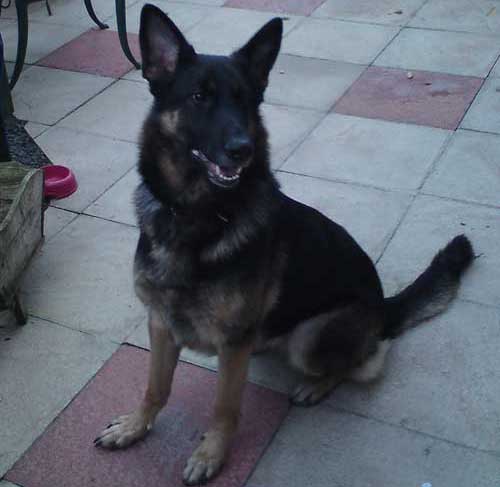 Bonnie is a 4-year-old unspayed bitch who is good with other dogs, lives with 3 cats and 2 kids. She is being rehomed because there has been domestic violence in the house and Bonnie's master has left. She has become protective and territorial trying to look after the lady and her kids and the lady cannot cope with this. The house is very small and we don't think Bonnie is getting exercised enough now which is also affecting her behaviour. She is a lovely girl and just needs an experienced firm owner.
Donations are always welcome
Please help us by making a donation so that we can help re home more unwanted German Shepherd Dogs. Donations can be sent to Jayne Shenstone, German Shepherd Dog Rescue, Little Vauld, Marden Hereford HR1 3HA. We also accept Paypal payments - just click on the Paypal button below. Thankyou.