German Shepherds Rehomed 42
More German Shepherd Puppies and Dogs that have found new homes
ALL OF THESE DOGS ARE NOW REHOMED
SUCCESS STORIES
|1|2|3|4|5|6|7|8|9|10|11|12|13|14|15|16|17|18|19|20|21|22|23|24|25|26|27|28|29|30|
|31|32|33|34|35|36|37|38|39|40|41|42|43|44|45|46|47|48|49|50|51|52|53|54|55|56|57|
|58|59|60|61|62||63|64|65|
Molly2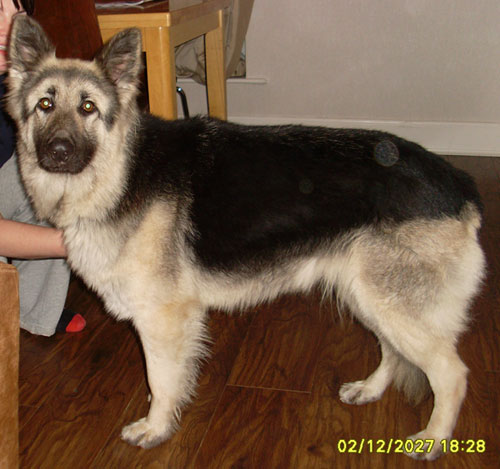 Molly is around 12 months old she was handed into us she is in foster care at the moment our volunteer says this about her. She is a very pretty girl, she walks great on lead no pulling at all, quite thin but looks nice, she got some growing left to do, she loves to follow you about, is no problem with other dogs,she would enjoy a house with another dog,she is really chilled out not a problem at all"
Ruby
Ruby we think is about 5 years old, she is absolutely gorgeous, doesn't exhibit any aggressive tendencies at all and gets on well with the other dogs in the kennels. She looks as though she has recently had a litter of puppies.
MAX 13mths old

Max is 13mths old. He is tall strong, black and gold and will need a firm fair handler. He loves being stroked and likes a tummy rub. He is strong on lead and doesn't seem to know basic commands. His owner took him to the pound because he couldn't handle him. He has lived with 4 young children but is too big and boisterous although may be OK with teenagers. He is entire and had first jabs. He supposedly prefers men to women. He is protective of his kennel. His previous owners haven't shown him any boundaries but when he has learnt some manners he will make a lovely loving pet.
Tessa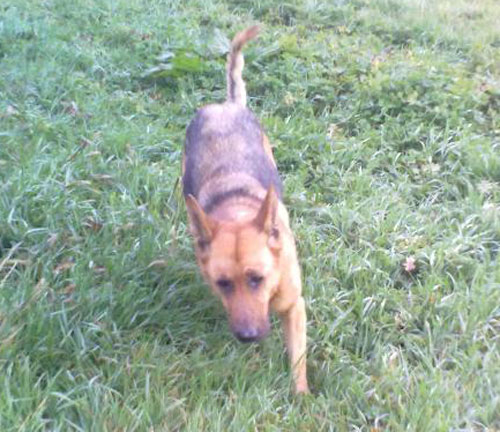 Tessa is about 5 years old, she was rescued from the pound. She is a lovely friendly girl, good with other dogs. Is currently needing drops in her ears as she has ulcers in them which will hopefully respond to the treatment.
Jess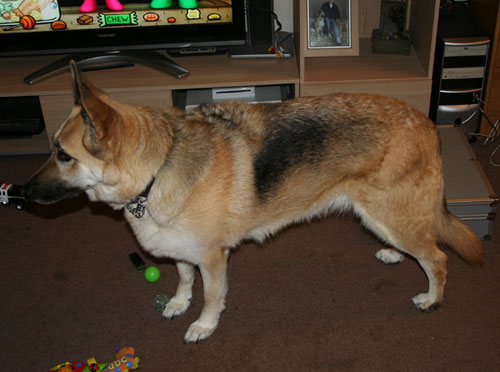 Jess is 3 yrs old she is spayed good with children, cats, and other dogs. Jess lives with another GSD male and is fine, the reason the family are parting with her is that she barks when left. The neighbours have been complaining this is upsetting the family. When our volunteer went to see Jess she did the usual GSD thing and barked but soon was laying at her feet licking her hand. She did take her out to see what she was like on the lead and she was fine.
Kaiser and Rocky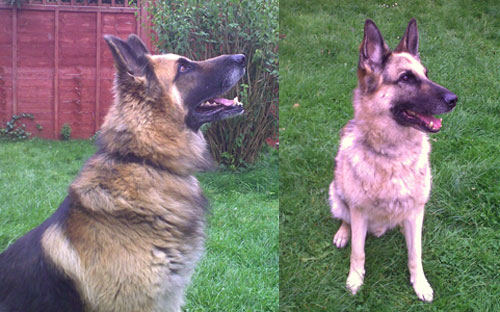 Well what a lovely pair of boys these are, the older of the two Rocky is 8 years old and a neutered black and tan short hair, Rocky is good with children of all ages, but due to an attack by another dog when he was a puppy he doesn't like other dogs. He pulls a little on the lead but this could be worked with. Keiser is 5 years old and a black and tan semi coated entire male, he also is great with children and he likes other dogs. They both travel well in the car, although Keiser can on occasion get car sick. Both boys are....very sweet natured and very friendly, when our volunteer went to meet them she didn't hear them bark once. They loved playing in the garden with their balls. Rocky has bags of energy - she couldn't believe he was 8 years old. They have never lived with cats so would be better going to a cat free home. They didn't jump up once. The boys' owner is, unfortunately, working long hours which means the boys are being left for up to 9 hours a day. They have always lived together and get on so well, so, for this reason, we would prefer them to be homed together, have you got the room for this lovely pair!
Rocky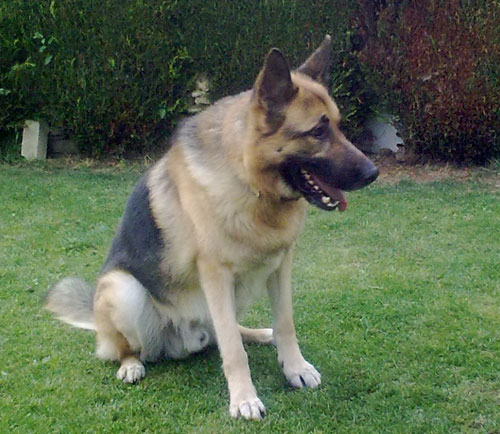 Rocky is a handsome entire black and Tan dog aged 6. He is very energetic and would play ball all day if allowed to. Rocky is good with children but because he is so lively despite his age we would only place him with older children. He hasn't been walked for some time and his only exercise is the garden, so he is unable to burn off any energy. When he was walked he did pull on the lead, but with regular exercise, this could be worked with. He isn't good with other dogs and doesn't like cats. Rocky is up for rehoming because he is shut away for long hours whilst his owners are at work. We would like him to go to a home where someone is around for most of the day and give him lots of lovely walks and plenty of ball games.
Izzy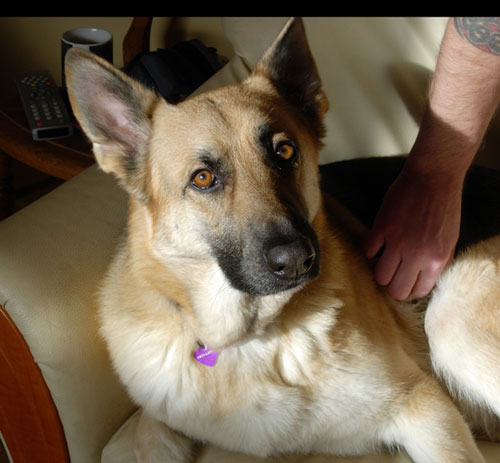 Izzy is approx 18 mths - 2yrs old. Not sure if she has been spayed. Vaccinated, frontlined & wormed. Izzy is just a delightful, playful little lady. Very friendly with dogs, children and even cats! Housetrained. Travels really well. Background unknown as she was picked up as a stray. Not a bad bone in her body.
Gypsy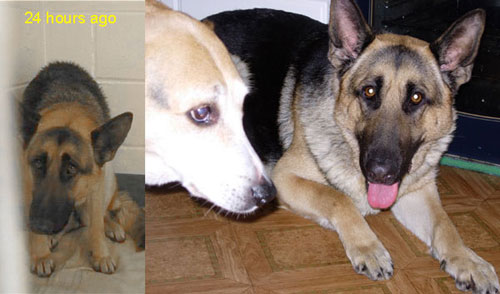 This beautiful girl was in a central dog pound and due to be put to sleep this week. Gypsy is fine with children, was very friendly with children. Loves other dogs. Cant see cats as a problem, but not sure. She is a lovely, gentle girl. She loves her food, but takes treats very gently. Pulls a bit on the lead, but she isnt very strong yet. We would say she is only young, about 18 mths -2 years old.
Donations are always welcome
Please help us by making a donation so that we can help re home more unwanted German Shepherd Dogs. Donations can be sent to Jayne Shenstone, German Shepherd Dog Rescue, Little Vauld, Marden Hereford HR1 3HA. We also accept Paypal payments - just click on the Paypal button below. Thankyou.