German Shepherds Rehomed 40
More German Shepherd Puppies and Dogs that have found new homes
ALL OF THESE DOGS ARE NOW REHOMED
SUCCESS STORIES
|1|2|3|4|5|6|7|8|9|10|11|12|13|14|15|16|17|18|19|20|21|22|23|24|25|26|27|28|29|30|
|31|32|33|34|35|36|37|38|39|40|41|42|43|44|45|46|47|48|49|50|51|52|53|54|55|56|57|
|58|59|60|61|62||63|64|65|
Alfie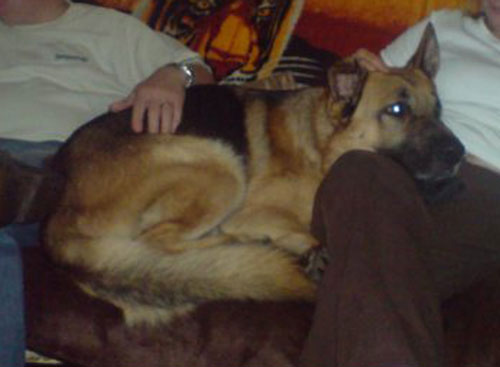 Hello, my name is ALFIE, I am currently an entire male and about 2-3 years old. I am fully house trained and like to travel in the car. I am good with children. I eat a lot because I'm a bit underweight. When I'm not eating or playing, I like to lay and cuddle up to people whilst chilling in front of the telly. I get very excited when I'm about to go out for walkies and pull on the lead a bit. I am not too good with male dogs but would be open to having a lady friend. My foster parents say that I am a dream to be with and would like to keep me, but if they do then they wouldn't be able to help other dogs like me looking for a good loving home. My foster parents will be pleased to help in any way they can, for example, if you want to go on holiday and I can't go with you, then they would gladly look after me while you're away.
Bear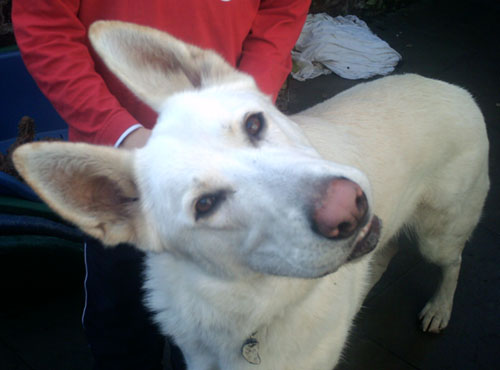 This stunner is 2 yr old Bear. Castrated, vaccinated, microchipped, wormed & frontlined. Bear loves children of all ages. Is fine with other dogs. Not sure cats. Had TPO on his right hip at 6 mth old, no problems now, and not on any medication. However, will probably have arthritis in his latter years. Walks well on a harness.Travels well in the car. Needs a little work on housetraining as he has been kept in a shed for months. Just a fantastic temperament, good all round boy.
Bobby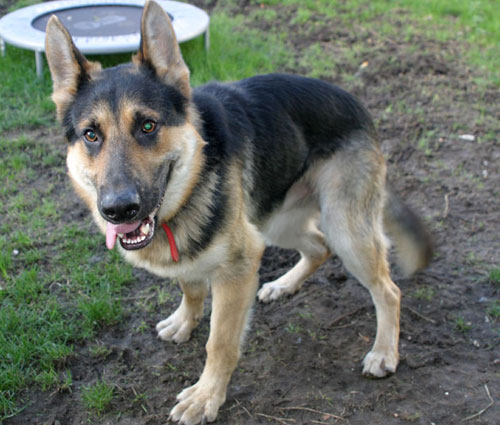 Bobby is approx18mths old and entire. He is a very active dog and the sort of home we feel he would suit best is one with land or enough space for him to run. He is always on the go and he needs more stimulation than he is getting in his current home. He is fully house trained and always lets you know if he needs to go outside to the toilet. He does need more lead training as he tends to pull a bit and is very interested in everything going on around him. He is a typical GSD in that he allows people he knows to come into the home but does not like strangers. He has to be put out of the way until visitors are sat down and the dog can be introduced to them safely. He needs an experienced home without young children and one without cats as he hates those. Bobby does not bark excessively and has not chewed anything in the home and is quite happy to be left alone in the home without making noise or damaging anything.
Woody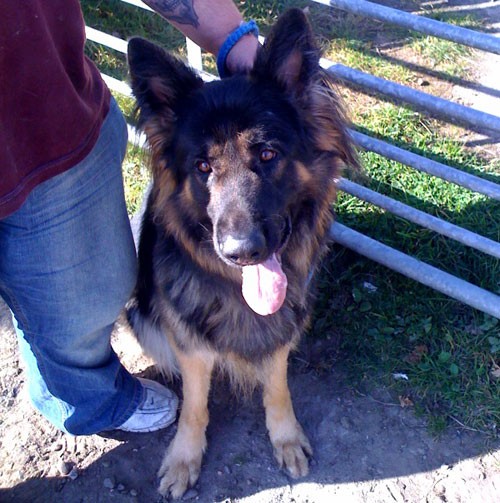 Woody is 2-year-old entire male, black and tan, long coat, very boisterous. Microchipped, booster due. He lived with a female GSD and belonged to an older lady who couldn't exercise them. He is not doing well in kennels and needs a home to call his own now. A beautiful dog needs a bit of training but a calm lad who likes a fuss.
Mishka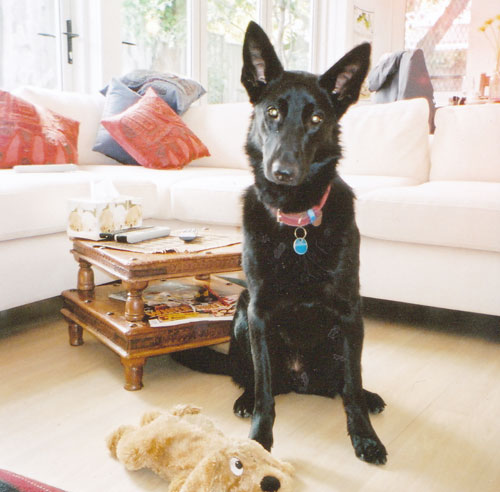 Mishka is a 6-year-old black neutered female who needs to be rehomed due her not getting on with one other bitch within the family. She loves cats and children of all ages and is good with other dogs when out walking. She lives on a farm so is used to cows, chickens and sheep, but does tend to want to round up the calves for fun. When travelling she does bark with excitement. Mishka also loves being hosed down and playing in the water. There is no food aggression or any other aggression in her she just doesn't like the other female.
Abbey and Libby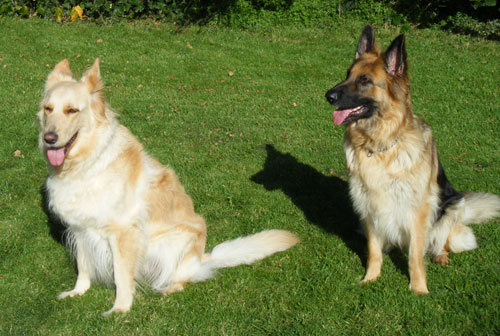 "Abby and Libby's mum died in April of this year and they have been living at the family home with a member of the family but due to work commitments, the family are having trouble spending enough quality time with the dogs. Abby is 3 and a half years old, she is a black and tan long haired pedigree bitch. Libby is a 4 and a half years old, she is a white long haired bitch. Both dogs have not been spayed or chipped but the family would be willing to have these procedures done. All other vaccinations are up to date.The dogs are used to long walks on the moors, they have never been walked in a park and they have had very little experience of being walked on the lead. They are very friendly around people, all dogs and ignore sheep, cattle and horses on the moors. They walk to heal when required and also come when called on the moors, but with all shepherds, they are never far from your side and like to know where you are at all times. They have always had a lot of company at home, and have been brought up with cats, parrots and tortoises, so they have no problems with other animals. They travel up to the moors by car and are willing to wait in the car while you go shopping, they do not chew or destroy things around the house. Libby doesn't like fireworks or if the smoke detector goes off she will try and find a place to hide. Abby is very excited when you first arrive home but soon settles down especially if you completely ignore her and not make a fuss of her. Over all the girls are beautiful, loving, faithful dogs and the family are looking for someone to give them the attention and time they deserve."
Tara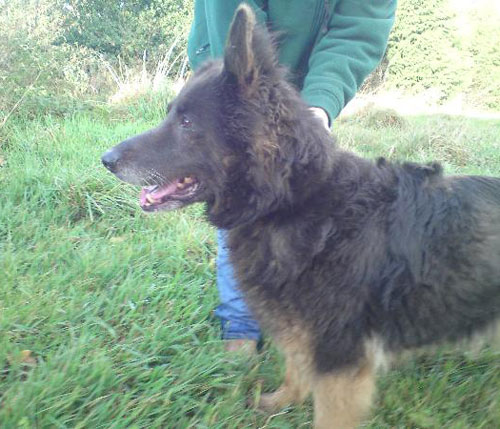 Tara is a gorgeous bitch, about 8 years old, has a cauliflower ear, maybe due to and injury. She found herself in the pound and her days were up so we took her into our care and she now needs a loving home. She has a lovely temperament, good with other dogs.
Holly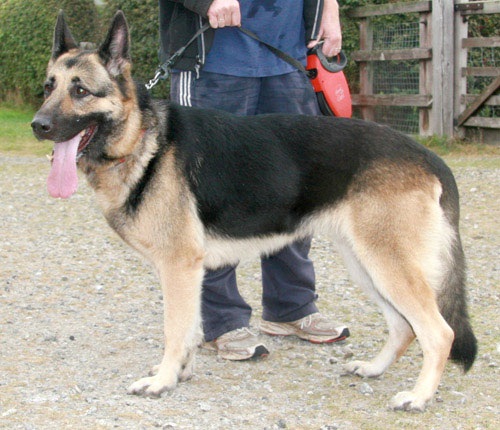 Holly is a beautiful bitch, about 5 years old.We took her from a dog pound. We don't think that she has been spayed her vac's. will not be up to date. She has a wonderful temperament, is very friendly and is fine with people and some dogs although not keen on small dogs. She is playful, very responsive and has a good recall. A really well-behaved girl, who will make a terrific pet as an only dog. She is currently in kennels in the York area.
Jet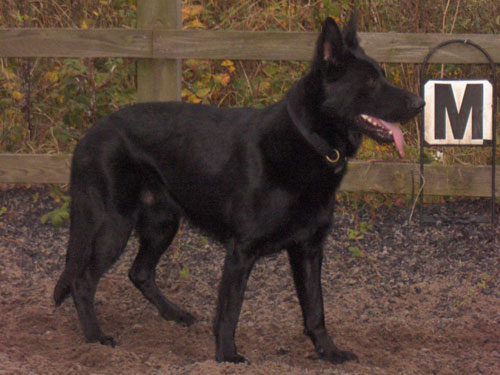 Jet is a very gorgeous black short coated shepherd of 16month old. He is entire so will need castrating as soon as he is adopted. Jet is at present living in a foster home with 5 other shepherds and a Jack Russell, 4 cats, 7chickens and a cockerel and 5 horses of which he is very well behaved with all of them. Jets new owners need to be able to give him time to grow but set boundaries from the beginning, firm but fair. On first meetings with new people, he can be a little wary but given time, space and direction he will make someone a fantastic dog. If you think giving a dog 2 months is a lifetime to settle into their new family please do not enquire about Jet, he needs time and space if you think this could be you his foster mum will vet you and let you know! I would like him to be rehomed to a family with no young children.
Jay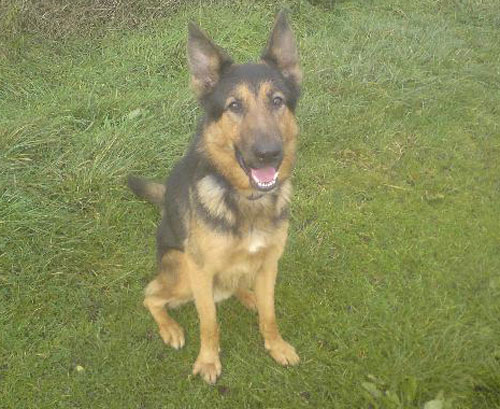 Jay is about 14 months old, he is entire and a very friendly dog. He is fine with other dogs, very interested in bitches and will certainly benefit from being castrated. The poor lad was picked up and taken to the pound, his time was up so we took him into rescue. He will make somebody a really lovely companion.
Donations are always welcome
Please help us by making a donation so that we can help re home more unwanted German Shepherd Dogs. Donations can be sent to Jayne Shenstone, German Shepherd Dog Rescue, Little Vauld, Marden Hereford HR1 3HA. We also accept Paypal payments - just click on the Paypal button below. Thankyou.