German Shepherds Rehomed 3
German Shepherds Rehomed 3
Please help us by making a donation so that we can help re home more unwanted German Shepherd Dogs like these shown here
SUCCESS STORIES
|1|2|3|4|5|6|7|8|9|10|11|12|13|14|15|16|17|18|19|20|21|22|23|24|25|26|27|28|29|30|
|31|32|33|34|35|36|37|38|39|40|41|42|43|44|45|46|47|48|49|50|51|52|53|54|55|56|57|
|58|59|60|61|62||63|64|65|
Dax - 11 years old. Worcester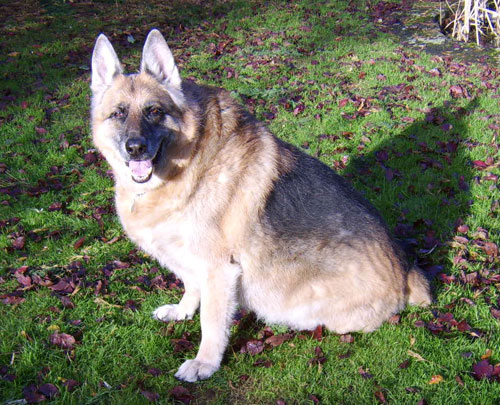 This lovely old gent hasn't had much of a life for the past 2 years. He lived with an elderly lady who had a stroke 2 years ago so he hasn't had much exercise. 10 weeks ago his owner was permanently admitted to a nursing home and he has lived in the house on his own 24/7 with neighbours going in to feed and give him the occasional walk. We would not consider putting this dog in kennels it would be cruel to him. He needs a kind home where they will build up his exercise and put him on a diet! He has no health issues. Lovely friendly dog. Neutered.
Phantom and Enzo both nearly 2 - Surrey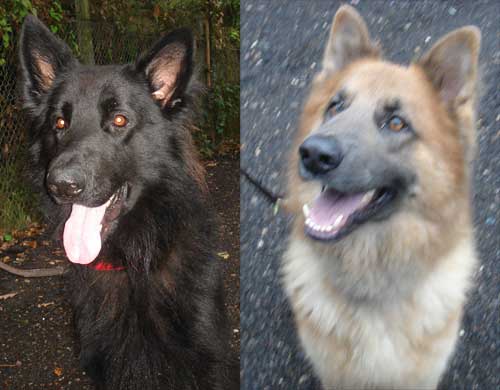 Phantom and Enzo are together and we would like them to be rehomed together if we can. They are extremely well behaved as they have had proper training. The owner sent them away to be trained. Phantom - Black Shepherd, entire male, lovely dog, wonderful nature. He has slight hip dysplasia and muscle wastage and occasionally become lame on one leg but not due to this. The vet has put him on Rimadyl for one month to ease any pain he may have. To be lead walked only for 18month increasing from 5minutes 3 times a day slowly to 20minutes 3 times per day. He has also recommended hydrotherapy 2-3 times a week to build up the muscle and get him more comfortable. The vet said he will never be an overly active dog. He is lovely though like a big teddy bear. Enzo Tan Shepherd, he is entire but a sweet dog, extremely playful.
Jaydee- South Wales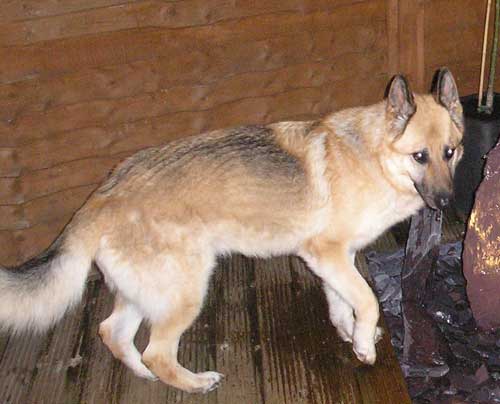 Jaydee is 4, neutered and a lovely family pet that gets on well with other dogs and is great with young children.
Tyler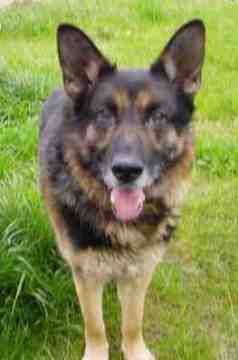 TYLER - this gentle giant is still waiting for his perfect home. He is about 8 years old and has not had much of a life so far. We are certain that there is someone who can give him the happiness and security he so desperately needs for his twilight years. He has adapted well to being with us and although still inclined to snatch when given food is generally extremely friendly and just asking for affection. It is sad he is being overlooked for younger dogs as he has so much love to give. If you are looking for a loyal companion then please think of Tyler. If you are interested in adopting or fostering Tyler please call ROZ ON 07849637862
Dog in Chorley - URGENT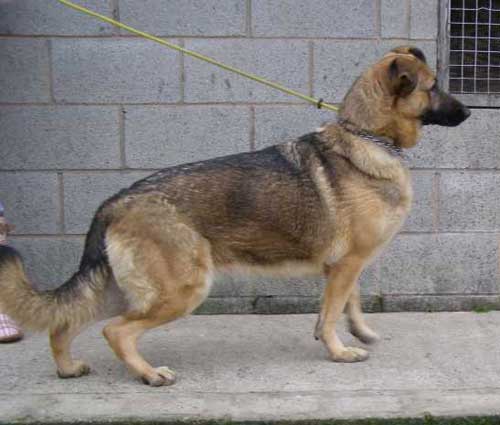 This beautiful young girl was picked up in Chorley. She is approx 2 1/2 years old and loves people, she has shown no signs of aggression and just wags her tail all the time! She's really friendly and very nice and doesn't deserve to be put to sleep if a home isn't found. She is with Chorley council.
Sammy 3yrs old - Scotland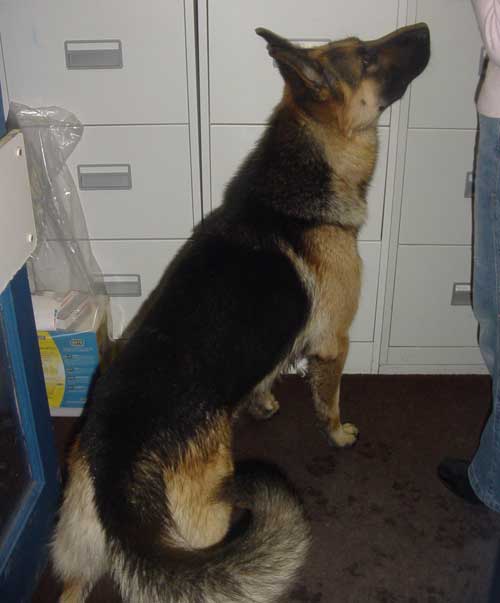 This lovely friendly boy is good with people and children, lives with another dog but is kept in a yard. He is being rehomed because he is a bit too boisterous for the older dog he lives with and he is too soft!! He needs a nice home with space where they have time to be with him and exercise him. New owners should bear in mind that it may take a couple of weeks to get him used to being kept in a home.
BRUEN - Bristol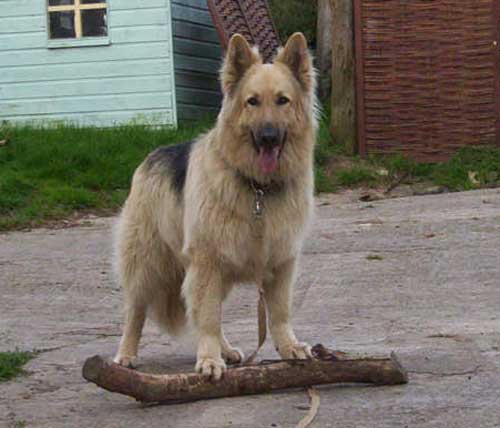 This beautiful handsome boy is 3. He is a lovely family dog, nice temperament but he lives in a rural area and unfortunately has got out and killed sheep.
SAOIRSE - 4-year-old Bristol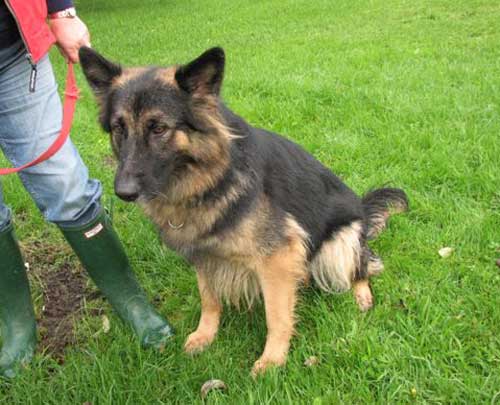 We can't pronounce the name either! She is 4-year-old micro chipped good with people and with other dogs once introduced, not good with cats, but good with children.
Jaydee- South Wales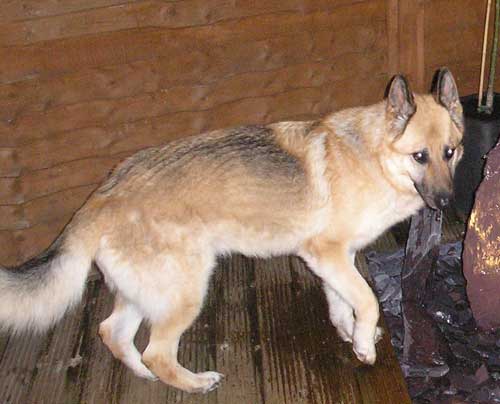 Jaydee is 4, neutered and a lovely family pet that gets on well with other dogs and is great with young children.
Aly - Peterborough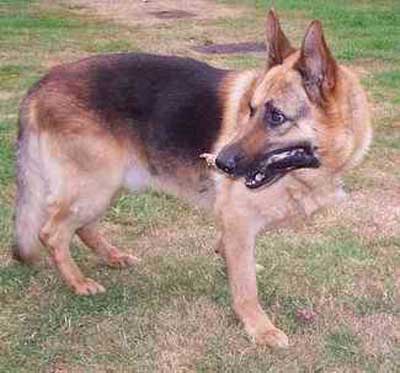 Isn't he gorgeous????? - a beautiful specimen of the lovely old fashioned german shepherd dog. He is probably about 6 or 7 yrs old - not wanting a lot of exercise as he hasn't been that well cared for. BUT a gentleman of this temperament should be looked after and loved in his twilight years. Does a dog you have at home at the moment need a nice older companion to share her last few years with? Aly gets on with other bitches, but we wouldn't want to rehome him with a dog that may beat Aly up - he is just too nice. Give Ros a call if you have a suitable home for this gent on 07849637862
More German Shepherd Puppies and Dogs that have been rehomed
Donations are always welcome
Please help us by making a donation so that we can help re home more unwanted German Shepherd Dogs. Donations can be sent to Jayne Shenstone, German Shepherd Rescue, Little Vauld, Marden Hereford HR1 3HA. We also accept Paypal payments - just click on the Paypal button below. Thank you.