German Shepherd Puppies Breeders
German Shepherd Puppies for sale: German Shepherd Puppy and German Shepherd Breeders
There are many very sad puppy farm dogs awaiting their fate living in hell awaiting their heaven to see! DON'T SUPPORT THIS VILE, CRUEL TRADE
Is the Kennel Club instrumental in propagating puppy farming? This makes interesting reading and voices the concerns that most rescues have had for a long time more >>>>>
Puppy farms and dealers
If you buy a puppy from a dealer or a puppy farm you are not rescuing a puppy you are condemning more stud dogs like Denver and breeding bitches like Daisy to a living hell.
Read on and please spare a thought for these poor dogs and the HUNDREDS of others that will suffer the same fate.

This is Denver who is actually a Scottie. His collar had become embedded in his neck, his body so infected that it stunk and pus excluded from all orifices. He was a stud dog from a puppy farm. He was lucky as he was handed over to a rescue - most aren't they are either shot or hit over the head.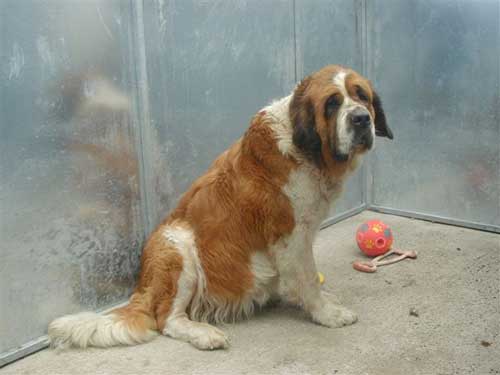 Daisy was 4. She lived her life as a tool to make money from. She never knew a home, a special family or a fireside. She had litter after litter, but when her weight dropped, her breathing was laboured, she could have no more pups, she was given to a rescue to home. It was decided immediately that she must see the vet. She sat in the waiting room for her turn to come and was cuddled, probably for the first time in her short life. She went into the vets' room, he listened to her heart, it was laboured, her belly swollen with fluid, all too far gone for help. She sat not able to stand any longer, the decision was made, she gave her paw while being cuddled. The vet nurse found the vein and the vet injected the yellow fluid to send her to sleep forever. Her living hell was over, we can only hope that a better place awaits her.
For those people who paid hundreds of pounds for her puppies, they will probably have inherited the same heart condition from their mother and will live very short lives!!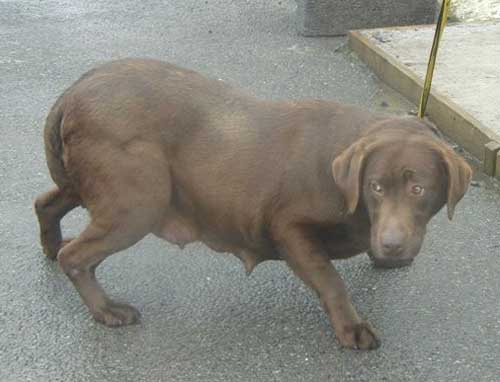 This one proved useless for breeding so was dispensed with. She would only crawl on her belly to start with, but now waggy and confident and so gentle.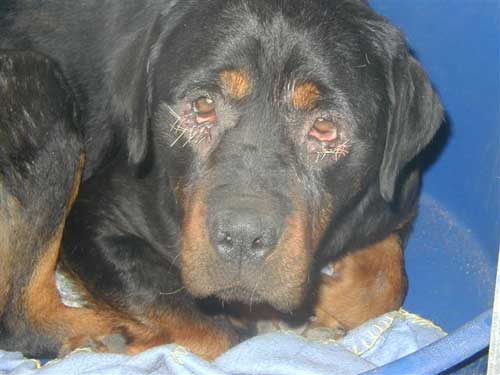 Rotty bitch gone past her sell by date so she was thrown out on the street by the breeder - thin, little coat and eyes that wept with pus. She has now had a successful eye operation that was done to restore her vision and stop the constant infection where her eyelashes grew in and rubbed relentlessly on her eyes. Her hair has grown back, and her loving nature is coming though.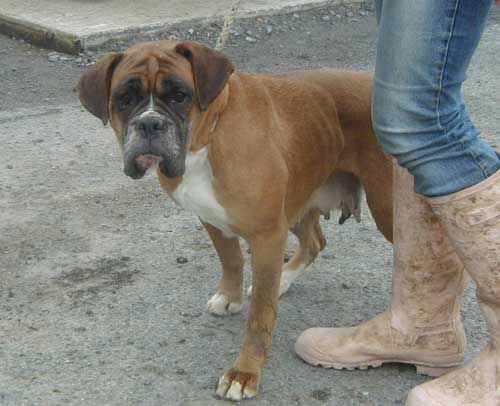 Worn out useless boxer unable to raise a litter as no desire to keep on living.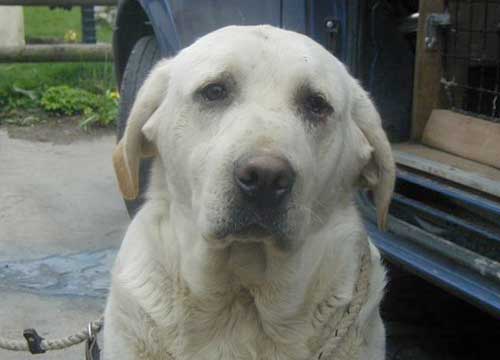 This Labrador is just 18 months old though he looks 10. Poor dog didn't make the grade as a stud dog. He is blind in one eye because the breeders left an ulcer in his eye untreated which burst. He is with kind people who are trying to help him forget the last 18 mths but he is still very traumatised. Time may be a great healer but it won't give him his eyesight back.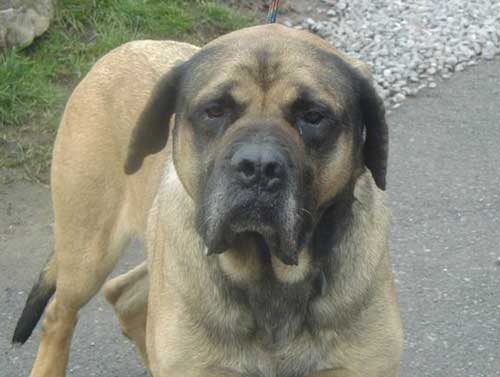 Some of the saddest dogs are the x puppy farm stud dogs. They have never known the kindness of a home or been for a walk, they do not even have the pleasure of the company of other dogs but live a life of isolation -scared of almost everything. This mastiff has had a rotten life and he will not be easy to rehome as he is so large.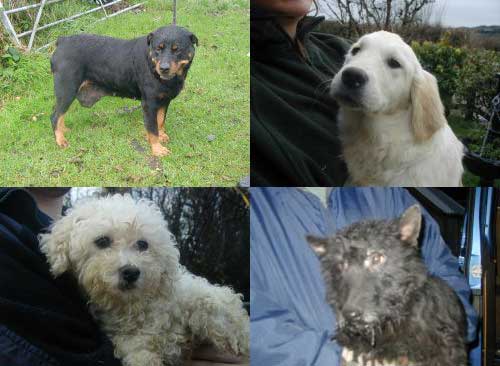 Breeding bitches, worn out bodies, no muscle tone and many with large mammary tumours. Living in dirty cells with up to 20 others, no human company or kindness, no playtime or long walks. Many have never seen the light of day. Puppies past their cute stage so dealers won't buy them - what will be their fate?!!!!
If you buy a puppy from a dealer or a puppy farm, you may be making a very expensive mistake not to mention encouraging these people to breed more sick, unhealthy puppies. Think of the suffering of these poor helpless dogs.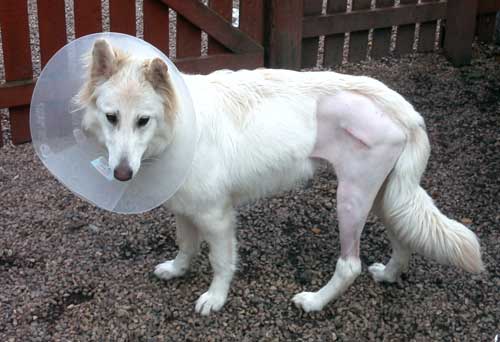 Ahh - the cute little puppy that was advertised for sale in the paper. So sweet and only £400!!
The implications of not buying from a reputable breeder
This is Minnie (one of the hundreds of german shepherd puppies for sale in the UK) who is just 10 months old and since just a few months old has suffered from severe hip dysplasia which has caused her pain, discomfort and disability. Although a little sweetheart, Minnie is not a great example of the German Shepherd breed being very small and underweight as well as having health problems. She has recently undergone surgery to correct problems with her left hip and at some point in the future, she may require total hip replacement on the right side.
Puppies for sale! Think very carefully before deciding to buy that puppy. Why not consider taking a rescue dog instead, most rescues in the UK are full and desperate for kind loving homes. Hundreds of dogs are destroyed every week by the dog pounds because enough homes cannot be found for the increasing number of unwanted and unloved dogs.
Much kinder for dogs than encouraging or lining the pockets of those who breed dogs for money with no thought to what they are breeding and little regard to the pain and suffering caused as a result of their greed.
If there is no demand, the puppy farmers and irresponsible breeders will be put out of business.
If you decide that you would prefer to buy a puppy please note that we are not prepared to recommend breeders but we would give the following advice.
Don't rush into buying a puppy, give the matter some thought and make sure you buy from a reputable breeder.
The kennel Club will give you a list of breeders on request. However this will not be an indication that these are reputable breeders, it will just be a list of breeders that register puppies with the KC.
Reputable breeders don't usually advertise in free papers or publications like Exchange and Mart and will usually have a waiting list for their puppies.
You should at least be able to see the mother of the puppies. If you can't then you could be buying a puppy from a 'dealer' who may have purchased the litter of puppies from a puppy farm. Please note that the conditions in these puppy farms are horrendous with dogs kept in appalling conditions, some never seeing the light of day. Please do not encourage this trade.
Parents of the puppies should be hip scored.
Reputable breeders don't mix whites with black and tans – it spoils the breed lines and often leads to odd looking GSD with strange temperaments.
Reputable breeders will breed with consideration not only for looks but also for good health but most importantly good temperament.
When you get your puppy, remember that the German Shepherd is a working breed and will require training and socialisation. It will pay dividends later if you find a good training class for your new puppy.
Insure your puppy, veterinary treatment is very expensive.
German Shepherd Dog Breeders
Think very carefully - the horrors of puppy farming!!
We have some lovely older german shepherds looking for homes. Please don't be put off taking an older dog, they are more settled need less exercise and will be loyal companions. Many GSD's now live to 14 -15 years.
Please help us by making a donation so that we can help re home more unwanted German Shepherd Dogs. Donations can be sent to Jayne Shenstone, German Shepherd Dog Rescue, Little Vauld, Marden Hereford HR1 3HA. We also accept Paypal payments - just click on the Paypal button below. Thankyou.