GSDR Walk Groups
German Shepherd Walk Groups
IMPORTANT INFORMATION: The Charity will not be held liable for any damages, costs, expenses, claims and/or judgements that may arise or result from any harm or loss caused by any owner and/or their dog(s) whilst participating in any activity organised by the Charity. You are responsible for your own dog(s).
The concept of the walks was born last year but came about in February this year (2012) and has become hugely popular both with the dogs and for the participating human animals, it has become a very pleasant social time.
Please come and join us on one of our GSDR walks. Come and meet new people and make new dogg friends. If you have another dog that isn't a GSD, you can bring that one along too. Great fun for all the family to enjoy.
All pictures were taken on the 2013 Methley Walk by our Mark Watkinson
Why a GSDR Walk Club? – 12 Good Reasons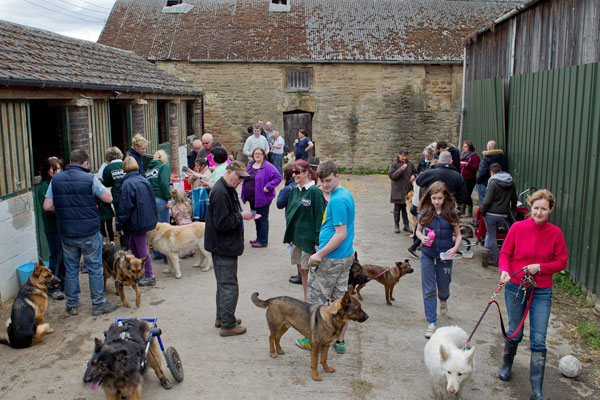 Great for meeting other GSD owners and their dogs
To increase public awareness about our favourite charity - GSDR
To dispel negative misunderstandings about the breed
To create an excellent opportunity for socialisation and stimulation for our GSDs
To build confidence in the dogs and work with nervous, un-socialised shepherds and give them the chance to learn from each other
To provide a perfect chance to exchange and share information, hints and tips
To assist people with adopted GSDs, exchange experiences, offer advice/support
To provide an opportunity for handlers to observe dog behaviour, dog-to-dog communication etc.
To walk foster and kennelled GSDs has become a wonderful support for the dogs, progressing them to become more adoptable
To provide a meeting platform for potential adoption/foster meets
To demonstrate what can be achieved with well trained, well mannered GSDs
To educate people about rescue work, the extent of dog abuse and the necessity to decrease the dog population in the UK
To communicate/brainstorm ideas to support and fundraise on behalf of GSDR.
GSDR Walk Groups
GSDR Cumbrian Walk Group – contact Andy Peake 019467 29677
GSDR Eastern Socialization Group
GSDR CHELMSFORD WALK takes place every Sunday morning in Danbury Country Park, Woodhill Road, Danbury, Essex. The nearest postcode is CM3 4AW, look for THE LAKES car park and use this. (Do not use the other car park, known as The Woods, which is also on the same road). There is a car parking charge, which can be paid for via a handy app. Meet times vary seasonally between 8 a.m. and 9.a.m. We gather together in the Meadow directly opposite the Lake and our walk takes up to 2 hours. Please apply to join our private Facebook Group or email Linda Wood or telephone: 01245 363868 or send a text to 07771 778905
GSDR Hockley Woods Walk Essex. SS5 4RQ. This walk is held every Sunday morning, we are currently running split walks, one normally starts at 8am and another at 9am to cater for different dog owners' needs. We meet at the rear of the car park. Please note these times might vary, especially during Autumn & Winter times. Parking is free on a Sunday. To find out more please contact Janetta Smith - Mobile No 07905359811
GSDR Home Counties North Walking Group - takes place weekly at Gunpowder Park, Sewardstone Road, Waltham Abbey just 5 minutes from Junction 26 of the M25 - contact Annette Lawless 07739 556086 or email
GSDR Stuck In the Middle – contact Pam Rayworth - 01782 783299
GSDR North East Region – Chris Thomas - 07861799270
GSDR Northumberland Walk Group Jennifer Corcoran email
GSDR EAST YORKSHIRE WALK GROUP - Kerry Hickson 07954 121 080 or email
South Staffs/Midlands GSD Walk Group Tracy Smith-Forsyth email
The GSDR Walks have proved a great success.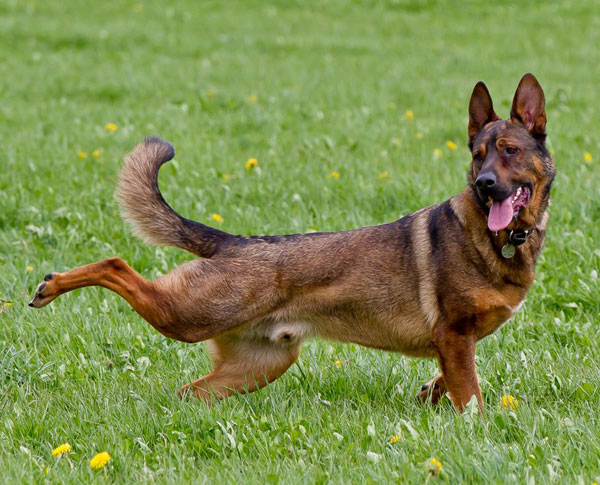 Rex is ready
Great for people and their dogs to meet and make new friends
One of the greatest successes within our own walk group is the support and help our members receive with their anxious/nervous GSDs, many have been at their wit's end. To date, we have had 12 GSDs in this situation, there are now 9 of them walking without a lead, the others are work-in-progress, but are much more relaxed and they too will be running free, when they are ready.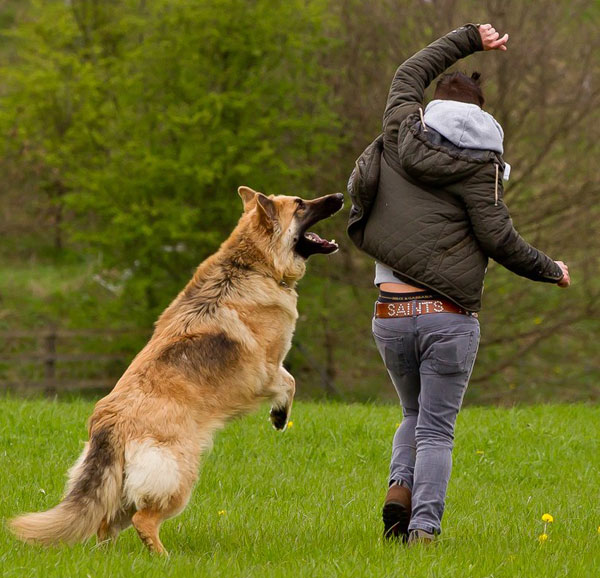 They are ready too
The anxious GSDs are kept on a lead when they first arrive and are asked to walk about 50 – 70 metres behind the main group in the early days. Some do wear a muzzle if handlers have already been using one. Owners are encouraged to walk confidently, remain calm without giving their dog too much attention. This helps an already nervous dog not to be anxious.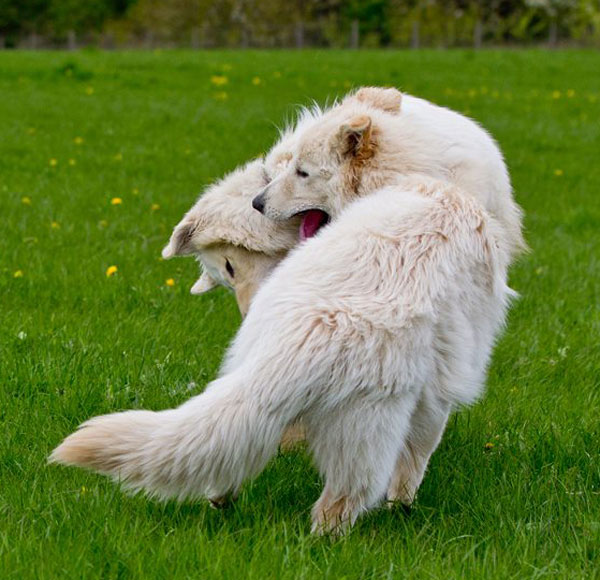 Great fun
It is fascinating watching these highly intelligent dogs in the group, the wise ones do not attempt to go near a new anxious dog and automatically give them space, but the young, inexperienced and/or impetuous dogs sometimes invade the space of a new anxious dog. They soon learn and without exception, they work out the exact proximity where the newcomer is comfortable, after perhaps a barely visible curl of the lip, a direct stare or on a few occasions, a lunge, under controlled conditions. The inexperienced dog rarely needs telling more than a couple of times, they soon get the message and understand to give respect and keep outside of the confines of that particular dog's comfort zone.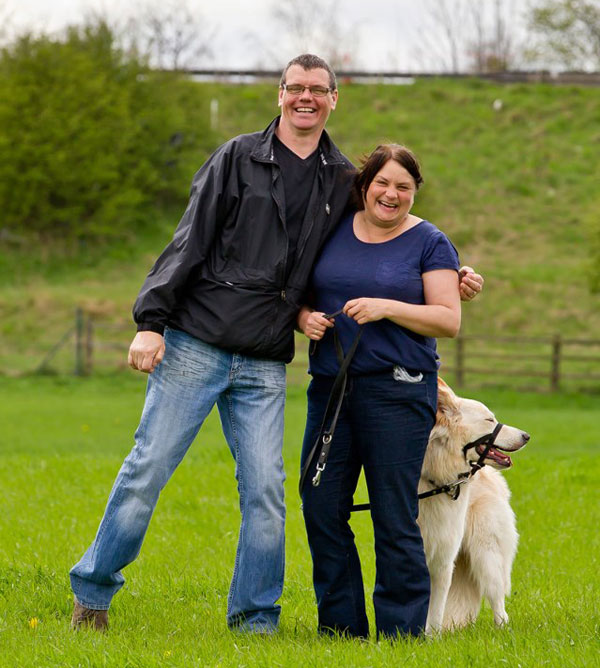 Looks like they are enjoying it too
The fact that the dogs are given space and time helps them to relax, it is very rewarding to see the once nervous GSDs become calm and more confident. Ultimately they too are able to run free with all the other pointy eared, bushy tailed dogs, oh and the rest of the doggy group that have become part of our walk club family. Yes, there are some people that have other breeds as well as their GSDs, they are all welcome.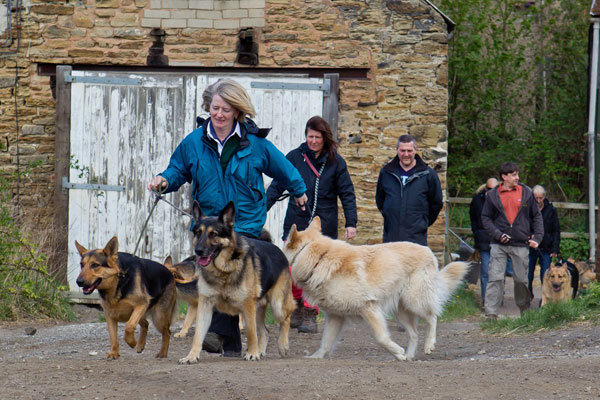 Great exercise for dogs and owners, great way to meet like-minded people
The interaction between the dogs is always entertaining, it is clear to see the different personalities. Some are calm and confident, some mischievous, some are bossy, fun-loving, playful, good natured, there are jokers, water dogs, mud inspectors, there are flirts, rogues, the toy thieves, the matriarch, the list goes on!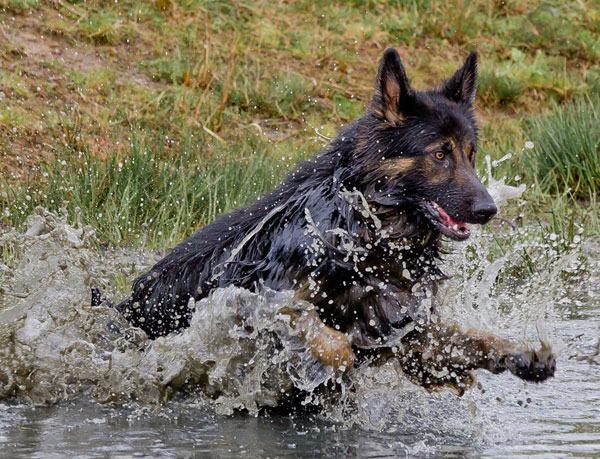 Anyone for a swim?
Time to start a walking club near you.
We aim to provide more walk groups/clubs set-up around England and Wales and to be fully representative of our rescue. GSDR probably require about 50 groups to cover the entire area, so still room for more yet. The resulting support network really does mean that there will be less dogs coming into rescue, or abandoned, taken to court or shut-up in a loveless, lonely and cold pound, to be put to sleep when their time is up, and worse.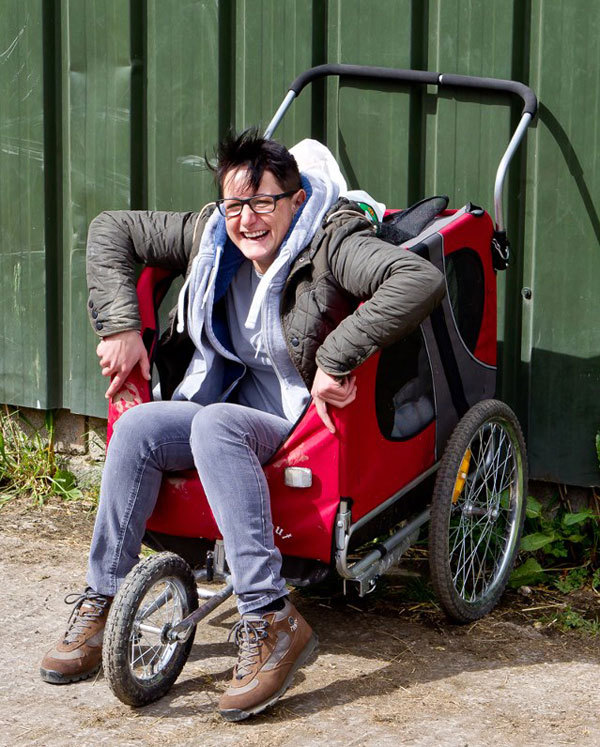 Who has pinched the Kingmobile?
It just takes a motivated individual to start a walk club/group and by asking people you may already know, eg GSDR volunteers, adopters, regular dog walkers in your area, obedience class members, agility members etc., you can get started.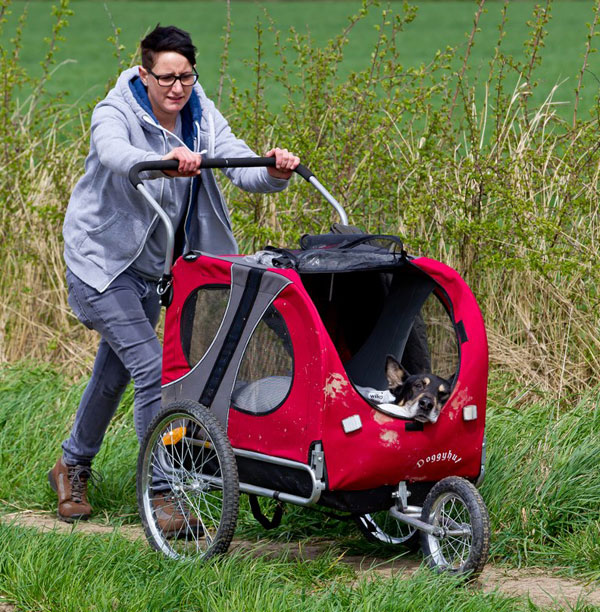 King has pinched it back!
All you have to do now is:
List interested parties, record details on a spreadsheet with contact details, email addresses etc.
Agree the first walk, on a mutually convenient day, time and place
Start a Facebook Group Page in the new walk club's name, to announce walks and the details to the members
The organiser can confirm where you are all meeting a few days beforehand by email as well as announcing details on the group Facebook page.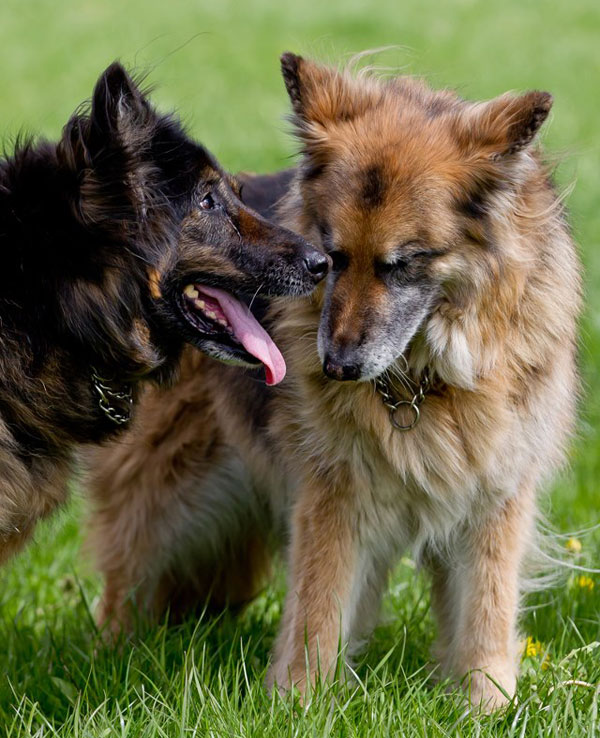 Senior citizens welcome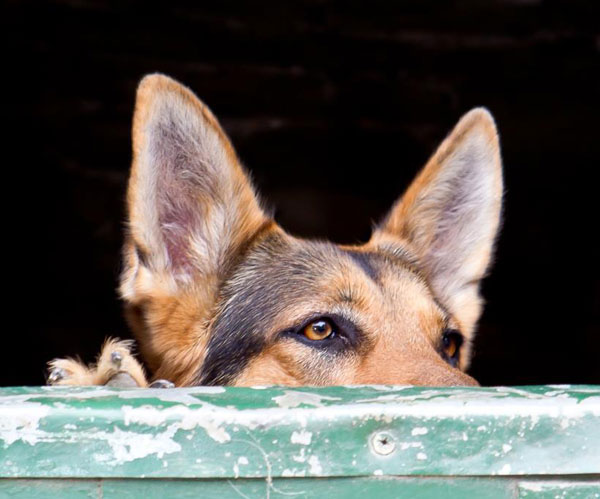 Can I come too, please?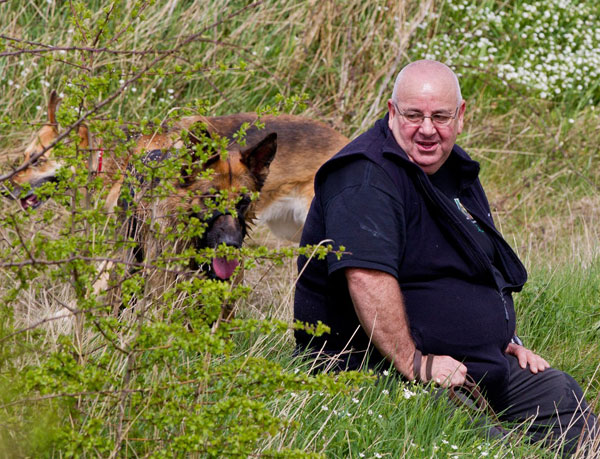 Pssst - he's behind you!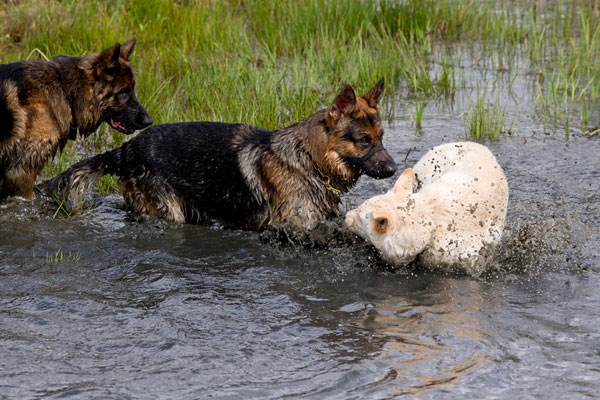 Water is always a bonus
To date, we have 67 members in our Devon walk group and growing. The camaraderie is tangible, we all value and enjoy it enormously, but most importantly our shepherds are enjoying freedom, companionship and the joy of running as free spirits.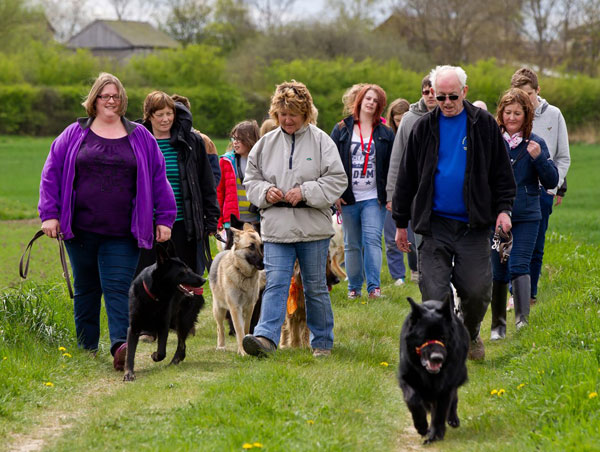 You can always have a good natter on the walks as well
We would like to take this opportunity to thank all those enthusiastic members who have already taken action to create the walk club experience for their areas, each one of you inspires and raises the game for handlers and shepherds that need the group support. We are delighted with your proactive caring and dedicated commitment.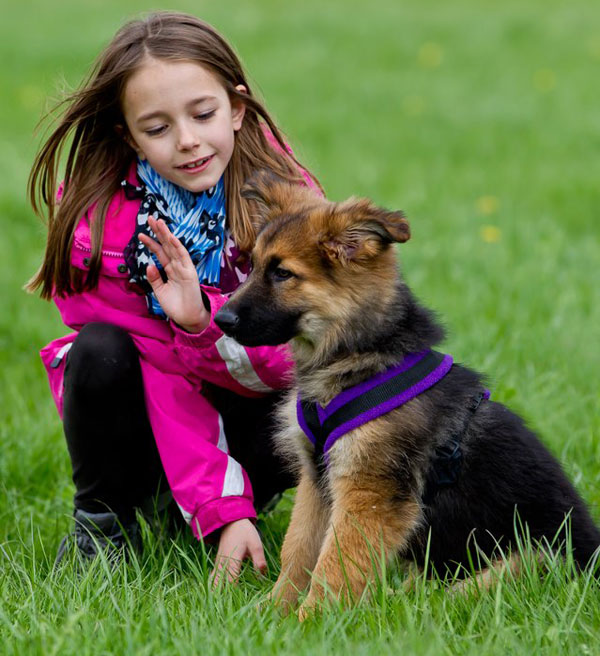 Young and old are all welcome to come and enjoy a GSDR walk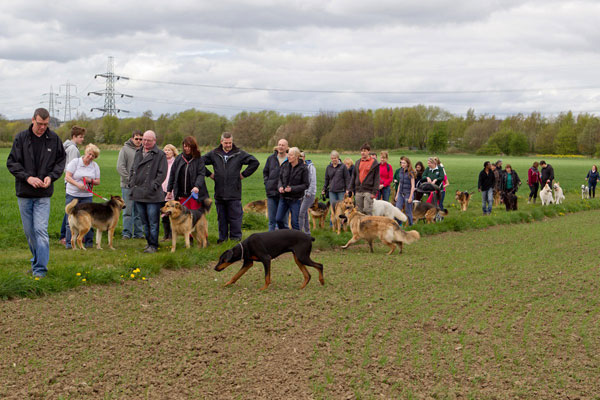 What is better than one happy GSD to a GSD lover? Why lots of happy gsds of course!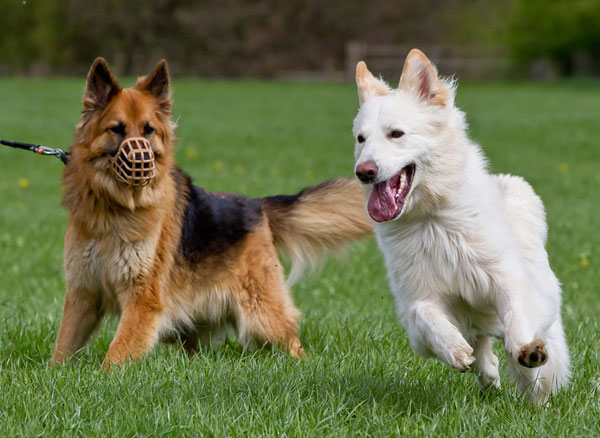 A great way to socialise your German Shepherd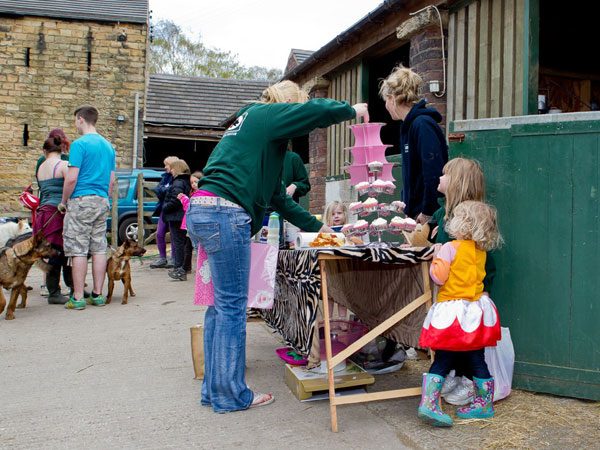 There is always a race for the finish to be first in line for those home baked cakes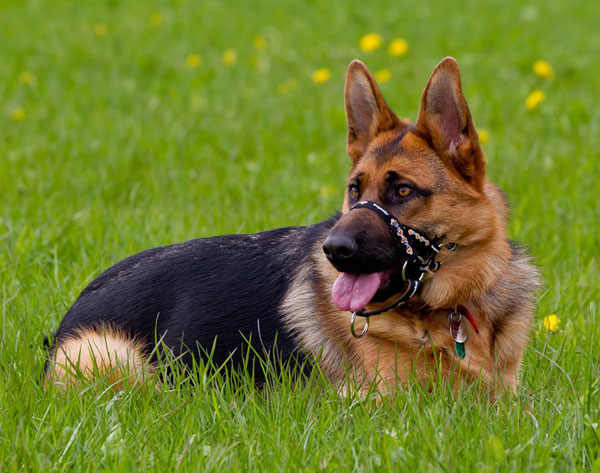 Just having a breather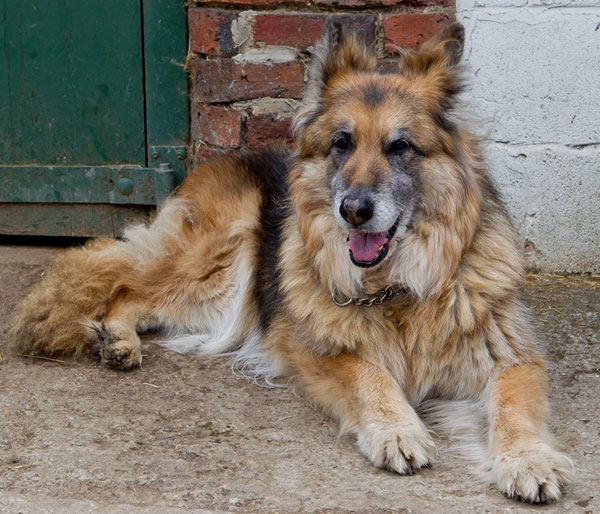 I enjoyed that but I need my rest now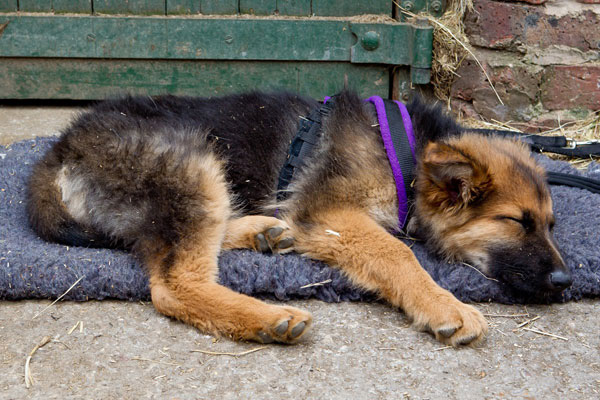 I'm pooped. Too much excitement for one day
Please help us by making a donation so that we can help re home more unwanted German Shepherd Dogs. Donations can be sent to Jayne Shenstone, German Shepherd Rescue, Little Vauld, Marden Hereford HR1 3HA. We also accept Paypal payments - just click on the Paypal button below. Thankyou.