German Shepherds Rehomed 32
More German Shepherd Puppies and Dogs that have found new homes
ALL OF THESE DOGS ARE NOW REHOMED
SUCCESS STORIES
|1|2|3|4|5|6|7|8|9|10|11|12|13|14|15|16|17|18|19|20|21|22|23|24|25|26|27|28|29|30|
|31|32|33|34|35|36|37|38|39|40|41|42|43|44|45|46|47|48|49|50|51|52|53|54|55|56|57|
|58|59|60|61|62||63|64|65|
Tia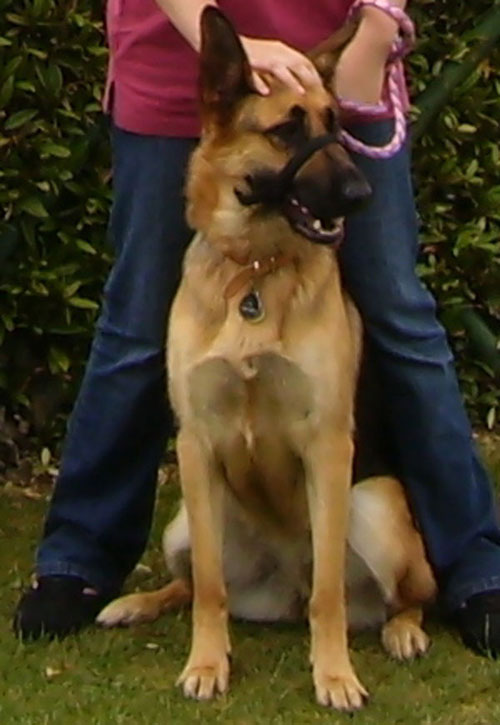 Tia is chipped, has her own passport, bedding, leads, feeding bowls and travel cage. Owners husband has died and feels she needs a home that can give her the time she deserves. She currently lives with a 5-year-old Staffy cross but will bark at other dogs she sees in the street but just wants to play.
Jerry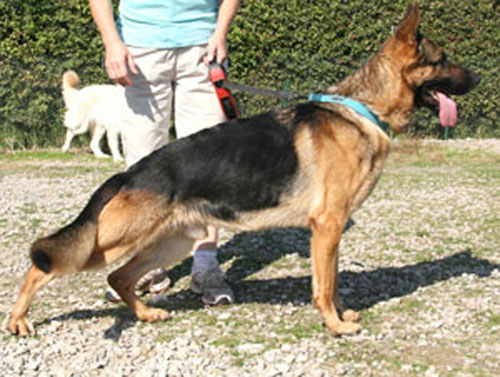 Jerry is nearly 5 years old and entire, he has a lovely nature and did not show any signs of aggression. He is quite boisterous but this is due to him not getting any stimulation of any kind. With the right owner, he will make an excellent companion, he is very thin so will need small regular meals to build him up. Ok with other dogs and children
Booza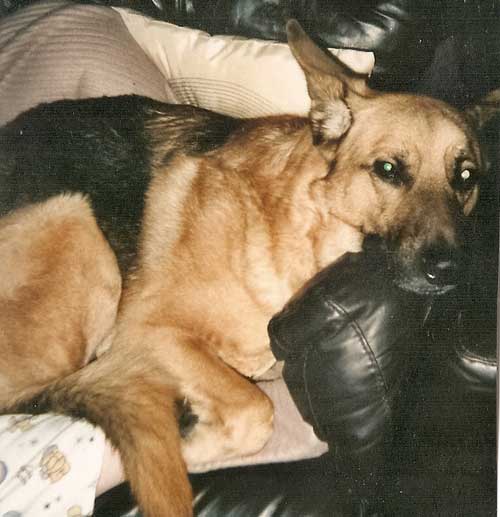 Booza is a 3 years old entire male. He is a short coated, black and gold dog. He needs some lead training and his recall is not good. He is good with older children Not sure what he would be like with other dogs or cats. A loving dog who needs a new home due to changing circumstances.
Rosie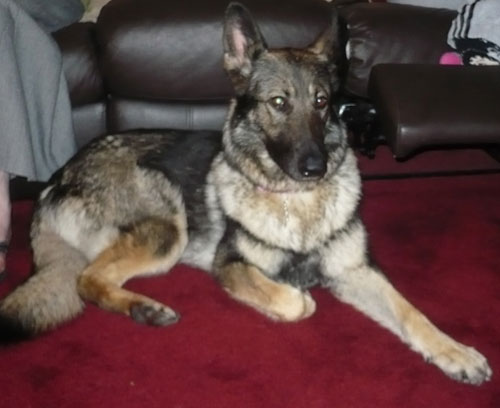 Rosie was adopted from an awful dog pound one month ago. She came out of there with kennel cough which has been treated by a vet. She is in a totally unsuitable busy environment with too many people coming and going. She is a nervy dog who needs a calm place and at her current home, there are people coming and going all the time. The owner is not capable of dealing with this beautiful but nervous dog.The owner works full time and poor Rosie is left in the care of another family member who is also not equipped to care for a nervous dog. She appears to be terrified of going outside into the garden, but is fine going outside the front door for walks. As far as we can find out, the dog has not lived with children or other animals, she is not good with other dogs, but again this could be due to the handlers inexperience. She has been microchipped and had her inoculations. She has not been spayed, her last heat was end of July.
Max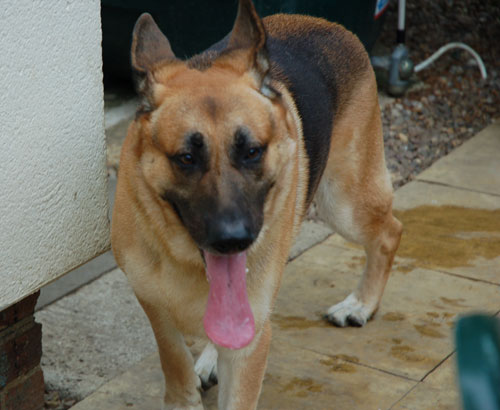 Max is a three-year-old black and tan short coated entire male who has never socialised with other dogs so would be better as an only dog, he is great with children and a very friendly boy to people, he does chase cats, he is good on the lead. he loves travelling in the car. he is vaccinated but not chipped
Zeus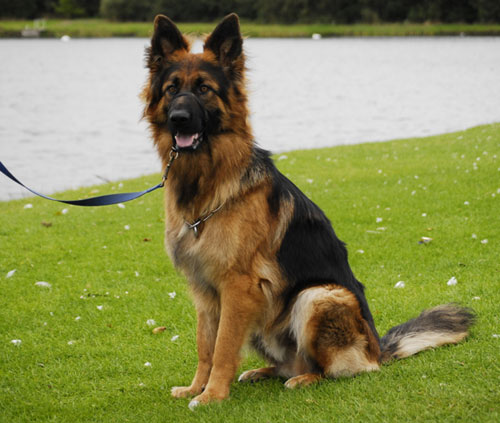 Zeus is a 14-month-old black and tan semi long coated castrated male. He lives with another dog who he gets on with but doesn't like other dogs. He is a gorgeous looking dog, but a little bit nervous. He is very protective of his owner and needs a home with somebody who has lots of experience with the breed and he is not suitable to be re-homed with children. Given the right training, time and attention he will be a lovely dog.
Shane - 100% pure fun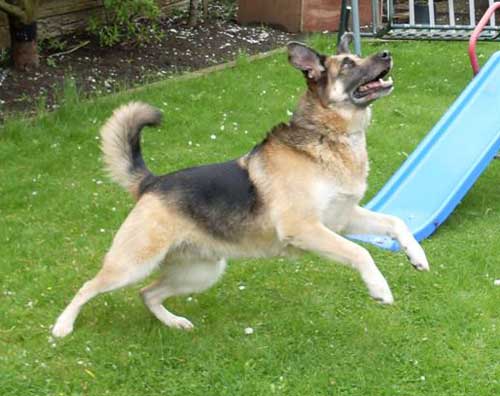 This gentleman is 6 yr old, Shane. A gorgeous big boy with cute floppy ears. Shane is in need of an experienced home, simply because he'd like to think he is the boss! He is good with other dogs, but not keen on small dogs or cats. Loves his walks, and especially playing ball. Vaccinated & neutered. Happy to lie by your feet all day long. Shane doesn't ask for much, just a nice quiet home, where he can live life to the full. Currently, in kennels, Shane needs a home to call his own.
Gunner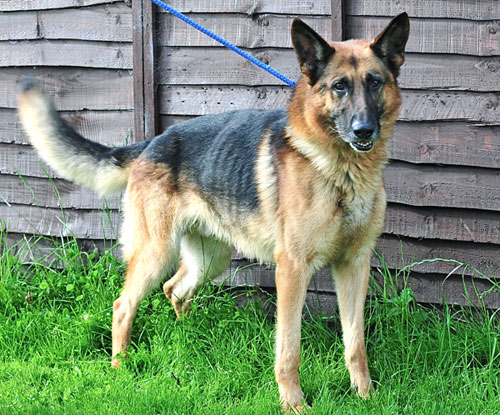 Not much info known about Gunner. Lovely big dog will look great once up to his ideal weight. Very underweight and on small meals at the kennels to build him up. Would estimate his age 2 - 3 years. He is friendly and seems quite relaxed, we think he is OK with the other dogs too. Entire
Ed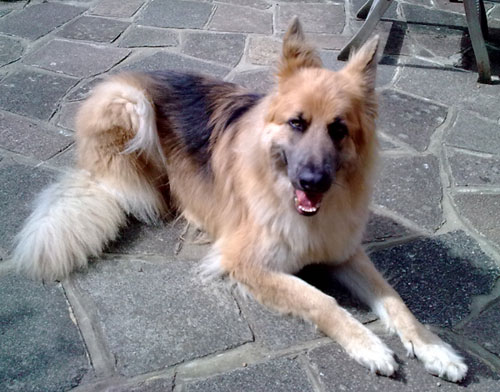 Ed is a handsome long haired Blue Masked Sable male who is 3 years old. He has been neutered. He will require a GSD experienced home as he is very nervous of strangers, especially men. Saying this, he settled in within 24 hours and I can now do anything with him.His foster family consists of 2 other dogs and 2 cats. Having never lived with cats before he seems totally nonplussed by them. Ed has also now met horses and seems to have the common sense to give them a wide berth. He is very obedient and an angel in the house and car. He is affectionate and wants to be with you and please you all of the time. According to his old owner he likes children but I think Ed would be better suited to a family with older children or no children due to his nervous disposition. He would love the company of another dog and would be much happier with someone who was at home most of the day. And watch out for his party trick - he can open any door with a lever handle! Ed is looking for a new home because 2 weeks ago he a fit this was the first one he has ever had, unfortunately before he became conscious old owner thought it would be a good idea to comfort him, Ed bit her because he didn't know what he was doing, he has been examined by the vet and there is no medical reason for the fit. No one knows at this point if he will fit again and currently is on no medication. Please don't let you put this off this gorgeous boy fits are easily manageable. and he can still live a full and active life.
Cassie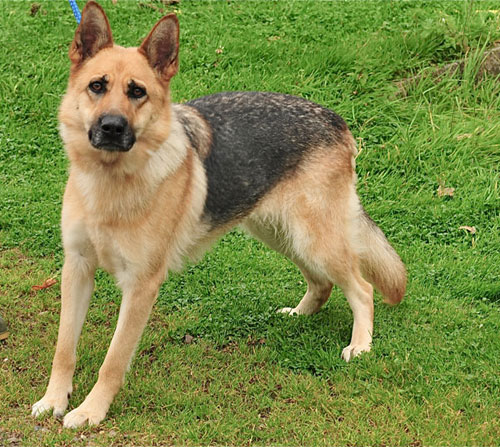 This lovely young girl was handed in so not much is known about her. She is approx 2 years old and appears to be a very friendly dog.
Tyson 3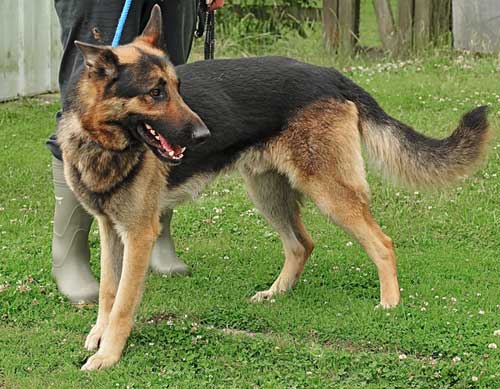 This lovely young boy is 18mth-2 years old but not much else is known about him other than he hates cats. He is friendly, likes people but doesn't seem to have been socialised with other dogs. He is a bit distressed at being in kennels and needs a nice home to settle into. As we don't know much about him, we would prefer a family without young children.
Donations are always welcome
Please help us by making a donation so that we can help re home more unwanted German Shepherd Dogs. Donations can be sent to Jayne Shenstone, German Shepherd Dog Rescue, Little Vauld, Marden Hereford HR1 3HA. We also accept Paypal payments - just click on the Paypal button below. Thankyou.