German Shepherds Rehomed 14
More German Shepherd Puppies and Dogs that have found new homes
ALL OF THESE DOGS ARE NOW REHOMED
SUCCESS STORIES
|1|2|3|4|5|6|7|8|9|10|11|12|13|14|15|16|17|18|19|20|21|22|23|24|25|26|27|28|29|30|
|31|32|33|34|35|36|37|38|39|40|41|42|43|44|45|46|47|48|49|50|51|52|53|54|55|56|57|
|58|59|60|61|62||63|64|65|
Benson and Storm 6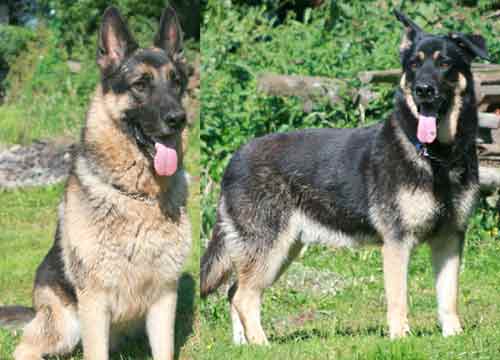 We have had some lovely dogs through this rescue but it is rare to come across two such lovely dogs like these in terms of behaviour, temperament. The new owners will be very lucky people.
Benson and Storm are brothers - they will be 6 in August 2008 and have always lived together and are reliant on each other. They are both black and tan, neutered males. They share a lovely gentle temperament, they get on well with other dogs and love children of all ages. Benson and Storm are fine with horses and cows - not sure about cats. They love water and are well behaved, easy dogs. Their original owner had to have major back surgery and the dogs have been looked after by friends but it is now clear that they will be unable to return to their original owners. They are only able to stay in their current foster home until 27th July 2008 when the tenancy ends
Smoky approx 7-8 - NE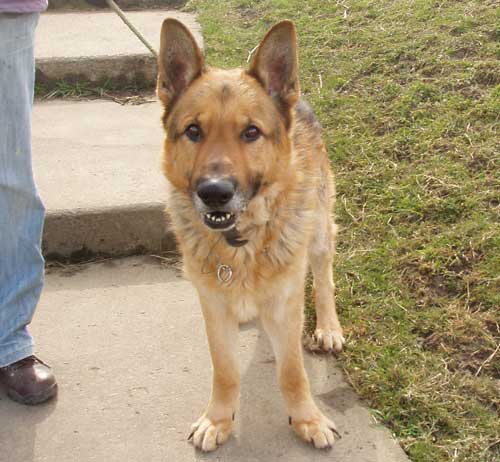 Smoky is a lovely gentle boy saved from being put to sleep at the pound at the very last minute. He has been neglected, he is very thin and judging by the state of his claws he hasn't been walked. HAs been a bit grumpy in kennels but that's not surprising, he just needs out. Smashing older boy that will make a lovely pet. Needs a wash and brush up and lots of TLC.
Zac 7 years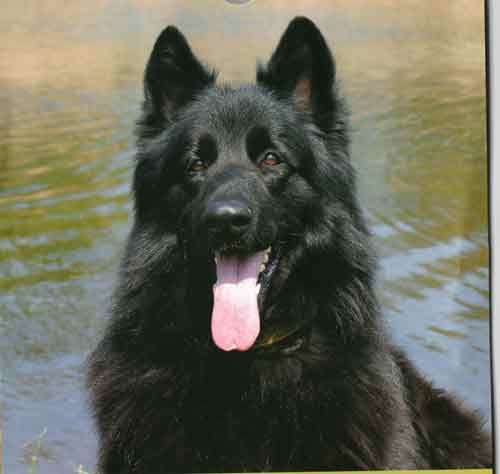 Zac is a big, black, long-haired, 7-year old, neutered male. He is friendly and well socialised; he has been fully trained in agility and is an active, bubbly dog who enjoys long walks. Zac loves water and the Sea and is very toy orientated. He is gentle and friendly and is adored by everyone that meets him. Zac is very good with children and is fine with medium and small dogs, but is not keen on larger dogs, particularly border collies (as he has been attacked by two border collies). He does not like cats. Zac's owners have separated and the home is being sold in 2 weeks time which will leave Zac homeless. His owner is moving into a one bedroomed flat and, sadly, is unable to take him with him.
Jet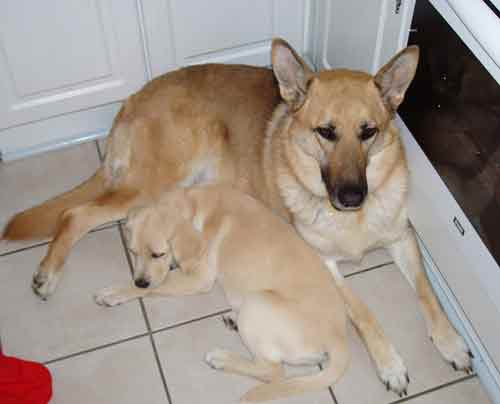 Jet is an 8-year-old, black and tan, short haired, spayed bitch. She is a quiet, gentle dog, 3-year-old who rarely barks and who is good with children. She is fine with big dogs but dislikes small dogs and cats. Jet is vaccinated and is in good health. Her owners are being posted to Ghana and had intended to take her with them but have been warned that there is a high chance of the dog being poisoned in the area in which they will be living. Jet came from South Africa originally - she was teased by locals and does not like men in dark clothing or fluorescent jackets. She is fine in the house but has an issue with them when on a lead. Jet needs a quiet relaxed home where she can live out the rest of her years. Her owners are leaving the country on 18th July 2008.
Max - 3 years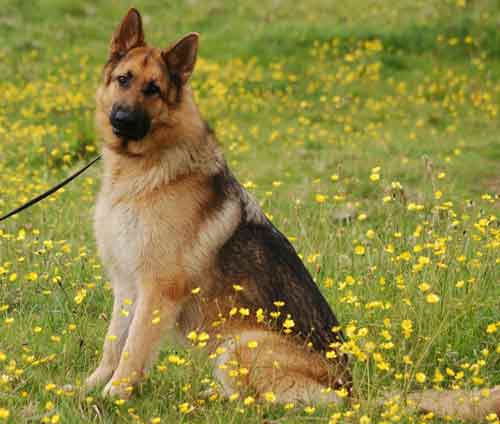 3-year-old, black and tan, semi long haired, neutered male. He is a lovely, docile, friendly dog, trained by A1 Canine to obedience standard. Max lives with two cats, is outgoing with other dogs and is great with children. he is vaccinated and insured. He had elbow dysplasia in the right elbow and had an operation in September 2006 - he has had Cartrophen injections every 6 months since the operation. Max is being rehomed as his owner is moving into rented accommodation on 25th July 200
Zeta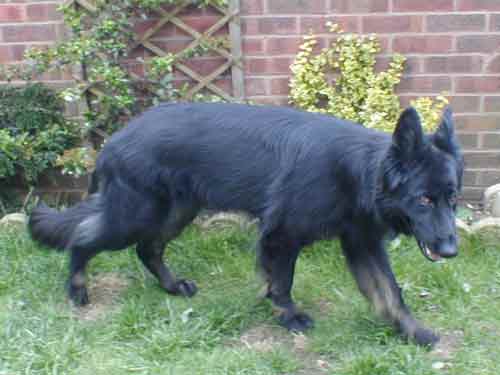 Zeta is a black, semi long-haired, 4-year-old, unspayed bitch. She is a very friendly dog, good with children and other dogs, but she is not keen on cats. Her owners take her to a groomer once every 6 weeks and she is vaccinated and insured. Zeta is being rehomed as her owners are having to move house (in a months time) and are unable to take her with them.
Razor 4 years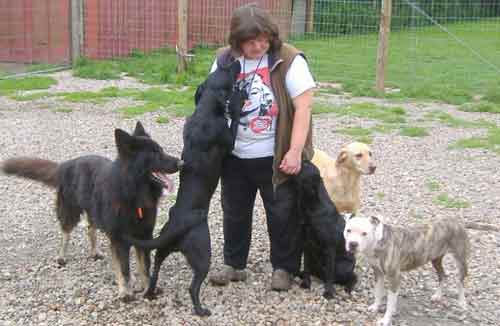 Razor is a black and tan entire male. He has always lived outside but is housetrained. Razor is an obedient dog but can be protective. When he came to the rescue he was being kept on a chain at the back of the house and was very nervous of strangers. He is learning to trust again and has become a firm favourite with the kennels who have helped rehabilitate this poor lad. He is ready to go to his new home
Max - Needs out before 15th July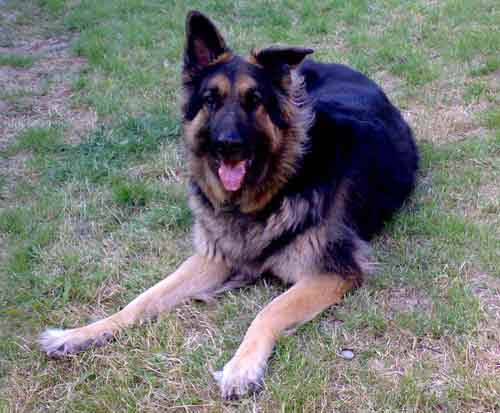 Max is a huge, 3-year-old, long haired, black and tan, neutered male. He has not been exercised or socialised much with other dogs. He is a friendly dog who lives with children. He is used to being bathed and sees a groomer every 6 months. Max could do with losing weight and some further training, but he will make a great companion for someone with experience and confidence with large dogs. His size is over whelming and he will need exercising and socialising with other dogs. Max is being rehomed as the family have received written notice that they must remove the dog by 15th July 2008.
Santa - WAS AT RISK OF BEING DESTROYED WITHIN 2 WEEKS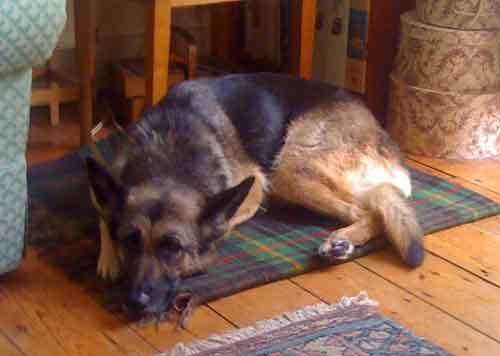 Santa is a young 10-year-old, black and tan, short coated, unspayed bitch. She is very friendly, lovely dog. Her current owner has had her from a puppy and she lives with a cat and had always been fine with other dogs, until recently when she ran out of the garden and bit a small dog that was passing. Unfortunately, the dog got a subsequent infection and died of complications. The council will not pursue a claim against the owner provided the dog it rehomed in the area in the next 2 weeks, failing which we are told there is a likelihood that the dog will have to be destroyed.
Sasha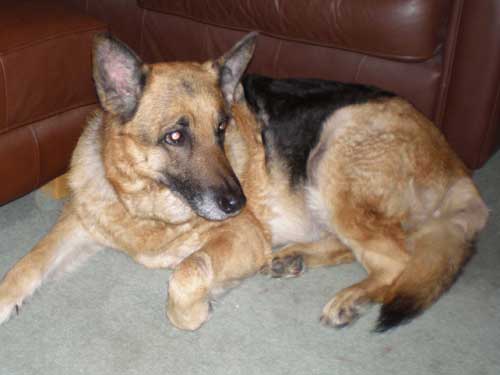 Sasha is 9 and needs a nice quiet retirement home where there are no children. Wary of strangers and not keen on other dogs
Donations are always welcome
Please help us by making a donation so that we can help re home more unwanted German Shepherd Dogs. Donations can be sent to Jayne Shenstone, German Shepherd Rescue, Little Vauld, Marden Hereford HR1 3HA. We also accept Paypal payments - just click on the Paypal button below. Thankyou.