German Shepherds Rehomed 45
More German Shepherd Puppies and Dogs that have found new homes
ALL OF THESE DOGS ARE NOW REHOMED
SUCCESS STORIES
|1|2|3|4|5|6|7|8|9|10|11|12|13|14|15|16|17|18|19|20|21|22|23|24|25|26|27|28|29|30|
|31|32|33|34|35|36|37|38|39|40|41|42|43|44|45|46|47|48|49|50|51|52|53|54|55|56|57|
|58|59|60|61|62||63|64|65|
Chloe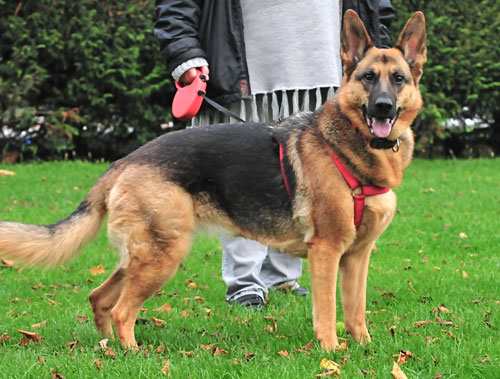 Very affectionate and friendly 6-year-old spayed female, black and tan, short coat. Vaccinations including kennel cough done August 09 and is microchipped. Pedigree and hip scored as a puppy. One lady owner since 12 weeks old who is sadly rehoming her due to owners physical health problems. Chloe lives in a ground floor flat with no garden and her owner is struggling to exercise Chloe due to her health. Chloe has not lived with young children or cats but has lived with a rabbit indoors and showed no interest in it when the volunteer visited. Has lived with another dog when younger, but was attacked by another dog a Staffie at 6 months of age and will bark/whine at other dogs when out on the lead for a walk, but once introduced is fine with them. If another dog barks at her she is very submissive. Has not travelled much in a car but gets excited and whines going on a journey and is quiet on the way home. Suffers from a grass seed allergy but takes a primrose oil capsule every day between March and October to keep it at bay. Loves toys. Will do basic commands and soon settles into a walk on the lead. Does not bark excessive, no food aggression and does not nip when excited. Likes to sleep on her owners' bed. Beautiful dog that has lots of love to give. Looks fit and active, claws a little long due to not getting exercised enough. No grey on her muzzle.
Rusty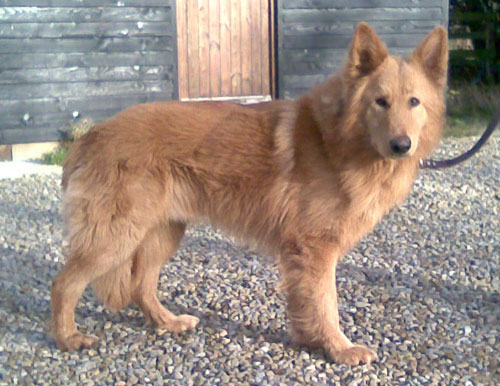 This beautiful young boy was picked up as a stray, ended up in the pound - his time was up and he was due to be PTS. He is a little nervous and doesn't like kennels. He is a bit wary of people at first OK with other dogs. Would probably be better in a home with just adults or older children.
Tia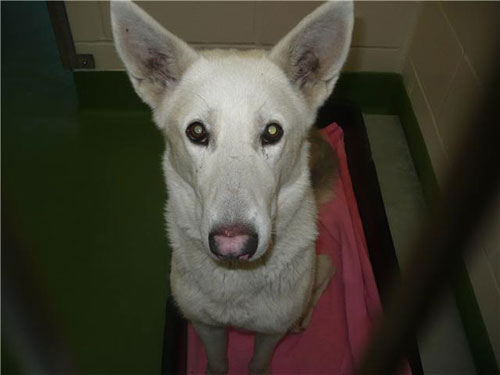 Tia is a lovely GSD x husky, aged around 12 months. Lovely temperament loves kids, loves other dogs, very well behaved, housetrained etc. She pulls on the lead. Don't think she is spayed, had first vaccination. She is very, very thin, so needs building up.
Robo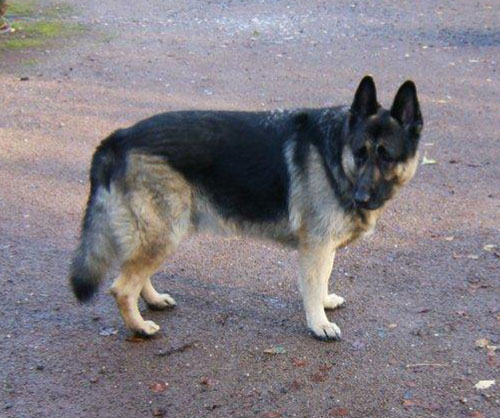 Robo is a short haired Black / Tan neutered male about 7 – 8 years old. He has lived with another dog but has not been exposed to cats. Once he knows you are part of his circle he is very happy to be near humans but will bark to start off with but does calm down and becomes a softy. He does have a slight medical problem with his spine but this doesn't seem to cause any issues.
Molly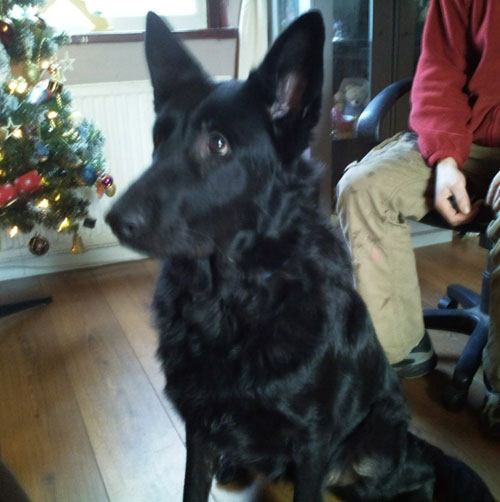 From the volunteers that assessed Molly. : We visited Molly's home, knowing that prior to her current owners taking her on, she had been passed from pillar to post. We also knew that in one of her former homes, she had experienced domestic violence and that this was now a factor in her current behaviour. Her Mum and Dad warned us from the moment we met them at the door, that she could be very protective of them and that she didn't respond well to strangers being in the house. However, as soon as they let her into the room, Molly was instantly our best friend, taking treats and showing how well trained she really was. It became apparent that all she needs is an experienced GSD owner who is willing to carry on the good work that her current Mum and Dad have started. If the right person is assertive enough with her and allows her to run off the excess energy that she clearly has, she will be a fabulous dog that can be trained to do all those things that a Shepherd is capable of. For us, the volunteers, she came very close to becoming dog number three...
Biff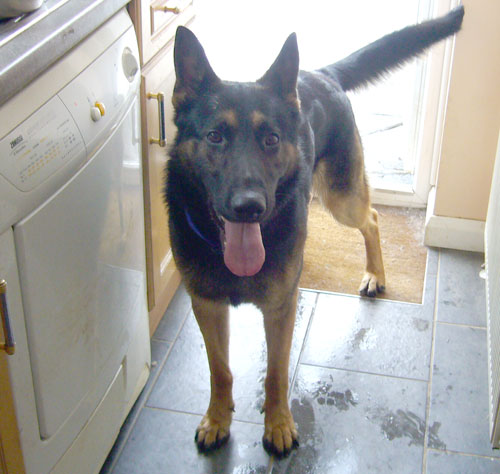 18-month black and tan short haired entire male. He has shown no signs of aggression with his fosterer. He grumbled a few times when trying to put on the collar and lead but shut up when firmly told no. He has been allowed to jump up at previous owners which he is already learning is a no, no in fosterers house. He is really just an overgrown puppy who is bouncing around in the snow with her bitch like a complete fool. He is polite when told. He just needs a home who understands the importance of a teenage GSD trying to show his dominance and being put in his place in the pack.
Boomer - owner tragically died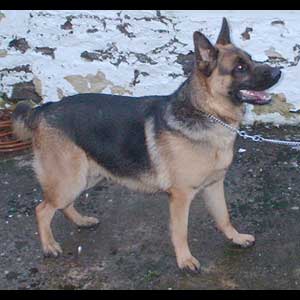 This handsome boy is Boomer, approximately 18 months old, entire male. Boomer has been through a lot in his short life, has fathered a litter of puppies & this is his 2nd time in rescue, see link below. He is a big, soft boy, who just wants to be with you. He adores other dogs, loves children of all ages, and is a joy to be around. He is not microchipped. Is vaccinated. Travels well in the car. Strong on the lead, but soon settles. Recall very good. He needs this to be forever now, as he has been through too much trauma already. He & Tia are best friends, so would like them to be rehomed together. They are both very lovely dogs. Boomer's owner tragically dies
Major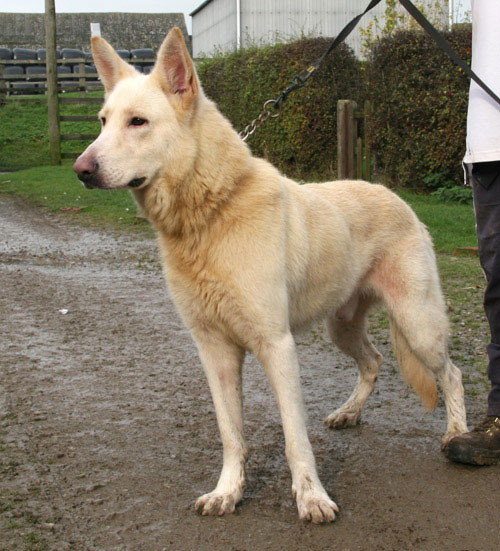 Major is aged 3, he is a calm and friendly. He walks well on the lead and his recall is good. He is fine with bitches but can be a bit choosy about which males he will tolerate. He needs a sensible family without young children, where he will be an affectionate, loyal pet. Major is entire, fully vaccinated, wormed and parasite treated. He is in kennels in the York area.
Benji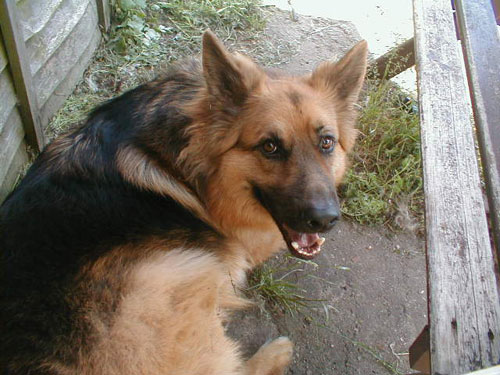 Benji is a 5yr old black and tan long coat male who lives with young children who he adores, the family feel that since the children have come along poor Benji is not getting the attention or exercise he needs, he doesn't like cats and hasn't been socialised with other dogs, however when he goes into kennels he doesn't seem bothered by the other dogs, Benji has been castrated, Benji needs an experienced GSD owner as he can try and dominate if allowed
April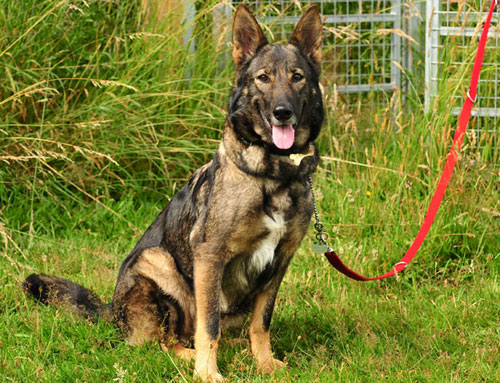 Aprils fosterer likes this girl, even though she was so aloof with her at first, but considering what she has been through, she is super. She has been returned to other rescues on two occasions - one for not getting on with a female dog and the other home with a male dog. We feel this is because she wants to be top dog so she may be better suited to a home without other animals. Someone will need to socialise her and carefully introduce her to other dogs. Loves to play ball (even though she is not keen to give it up unless you take two balls with you and she will drop to throw the other) Loves her walks and is very energetic and can really run. Will chase cats and birds. Has not been destructive. April gets a bit stressed at travelling and will bark whilst you are driving so new owners will have to overcome this with her. but is not sick. Spayed and Fully vaccinated till July 2010. April takes a couple of weeks to bond with you, but once she does is extremely loyal.
Donations are always welcome
Please help us by making a donation so that we can help re home more unwanted German Shepherd Dogs. Donations can be sent to Jayne Shenstone, German Shepherd Dog Rescue, Little Vauld, Marden Hereford HR1 3HA. We also accept Paypal payments - just click on the Paypal button below. Thankyou.