German Shepherds Rehomed 44
More German Shepherd Puppies and Dogs that have found new homes
ALL OF THESE DOGS ARE NOW REHOMED
SUCCESS STORIES
|1|2|3|4|5|6|7|8|9|10|11|12|13|14|15|16|17|18|19|20|21|22|23|24|25|26|27|28|29|30|
|31|32|33|34|35|36|37|38|39|40|41|42|43|44|45|46|47|48|49|50|51|52|53|54|55|56|57|
|58|59|60|61|62||63|64|65|
Major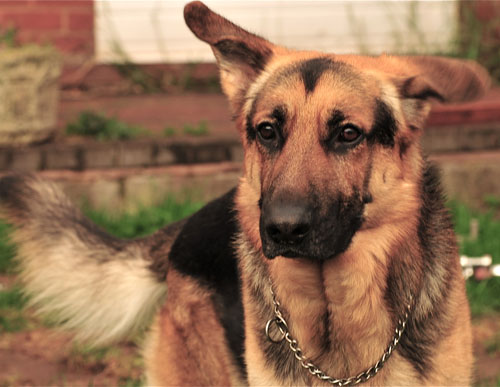 Major is a 2-year-old, black and tan, short coat, entire male. Vaccinations are up to date. Majors owner has had to go into Warden control accommodation due to health reasons, and Major has been taken care of by other members of the ladies family. The family are looking to rehome him as they work long hours and have busy lives and the family feel he is not getting the attention he deserves. Major has been showing typical teenage tendencies and is trying to dominate members of the family, in order to try and be top dog. Major is constantly seeking attention from them. The dog has been left for long hours due to work patterns, but has not been destructive and is house trained. He can get excited and whine whilst travelling in a car but has only been on short car journeys. Major suffers from Epilepsy, this has only started at the age of two, he takes daily medication and has had no problem reoccurring since. Likes to play ball. Has not lived with cats or other dogs, but is fine with other dogs when on a walk and wants to play. He is strong on lead, will sit for you, and the owner says his recall is good. Major was fine with the volunteer, no barking, let her fuss him and touch him all over. Has no food aggression. Major would be best homed with no young children and a family with GSD experience that would show him firm and fair boundaries and continue with training.
Skye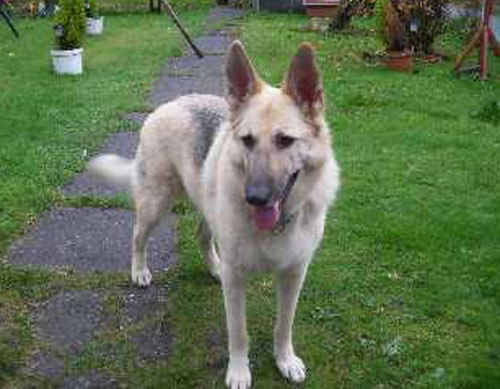 This is Sky, a 4-year-old spayed bitch. Sky has a temperament that doesn't come along very often. She is fine with children, dogs, cats and even lets rabbits run around the garden with her. She is vaccinated, not microchipped. A lovely sweet, friendly girl.
Jake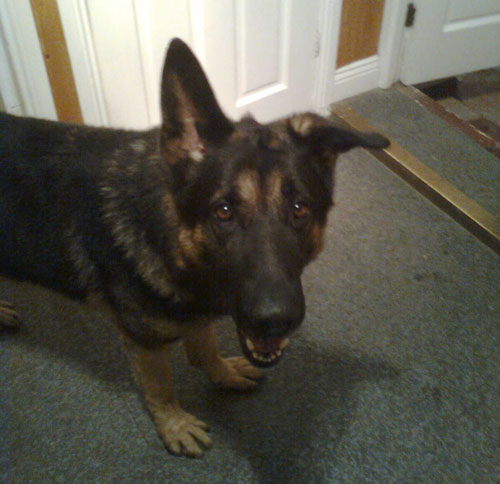 Jake is a 4-year-old black and tan entire male. He is a really lovely dog, great with children and not a problem with other dogs. Jake is needing a new home due to a change in family circumstances and is presently in foster care where is he responding well to training and now walks well on a lead and will sit on command.
Max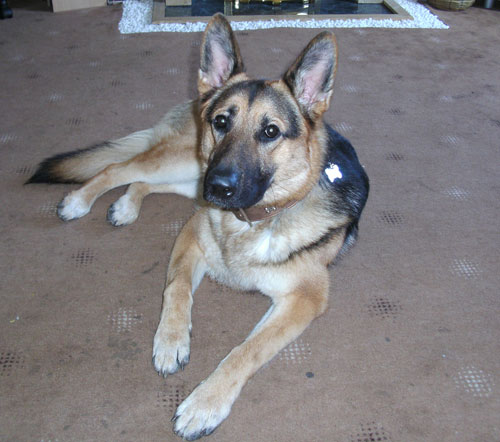 Food is a big drive for Max. He bonds with people very quickly and shows clear signs of stress if he can see you but can't be with you. Max has shown no signs of aggression, but bonds very strongly with his owners and goes into protection mode in the home. He is in kennels and has been in runs next to both males and females, and was curious when next to Gemma one of the Rottweilers. Max is a good dog that just needs an experienced home who knows the breed. We don't think his issues stem from being nasty, just the natural characteristics of the breed itself becoming a bit too prominent.
Bobby and Louis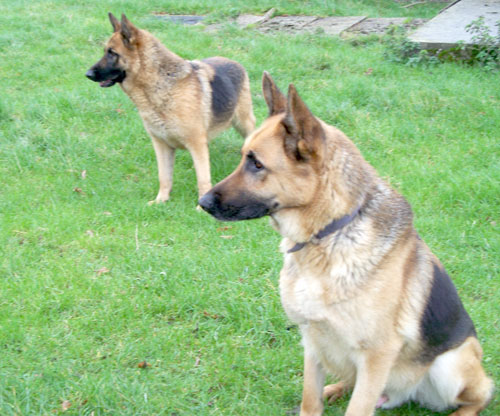 Bobby (back) and Louis (front) are about to become homeless as their owner has lost his job and house. Both are aged about 5, neutered and spend most of their time outdoors in a farm environment. Both are good with other dogs and cats; Bobby is good with children, Louis is not so sure but has never been aggressive. Currently, in rural Cheshire, they are two lovely, obedient boys who would love to find a home together, but that may not be realistic.
Eva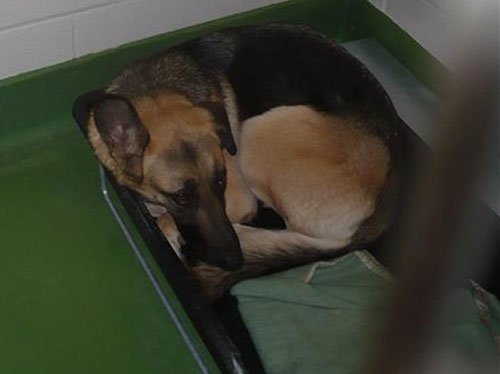 Approximately 6-7 months old, one ear up, one ear down, very sweet girl. Was terrified in the pound. Housetrained. Great with other dogs, loves kids. A little timid at first, but soon comes to you for treats. She is quite thin but eating well. Wormed, frontlined.
Ricky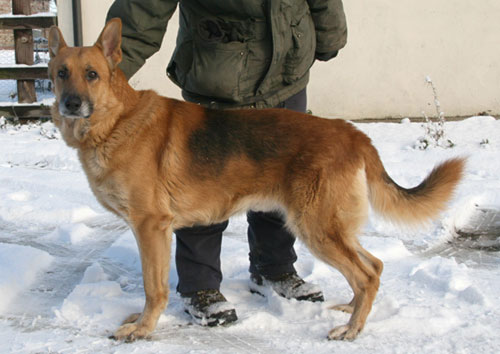 Ricky is a 4-year-old entire dog. He has a lovely temperament, good with children, cats and other dogs. He is not being re-homed due to any fault of his. He has lived with Yasmin but unfortunately, they are now separated as she has not been spayed and is due in season shortly.
Holly 2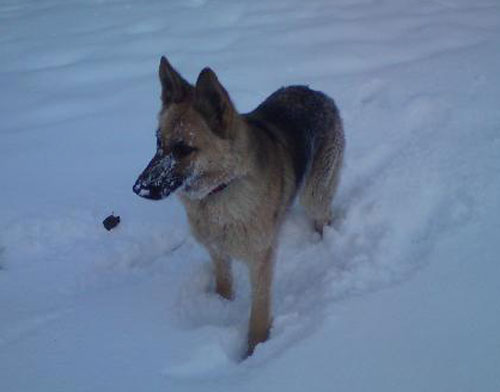 Holly is only a very young bitch, we think she is about 14 months old. For some reason, we can't understand why as she is so lovely, she found herself in the dog pound and we picked her up from there. She is now in kennels in the Harrogate area and is proving to be a really gorgeous girl.
Yasmin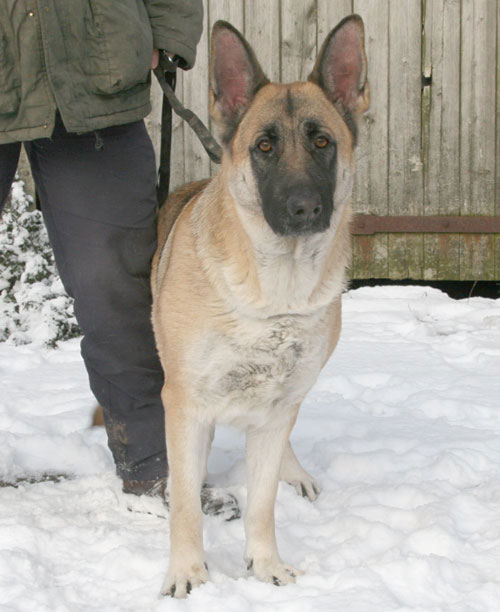 Yasmin is a very pretty 3-year-old bitch, not spayed. Really lovely temperament, good with children, cats and other dogs. She has lived with Ricky but is now separated from him as she has already had 3 litters by him and is due in season shortly. She will make a lovely companion
Bruno 3 years - More pictures and details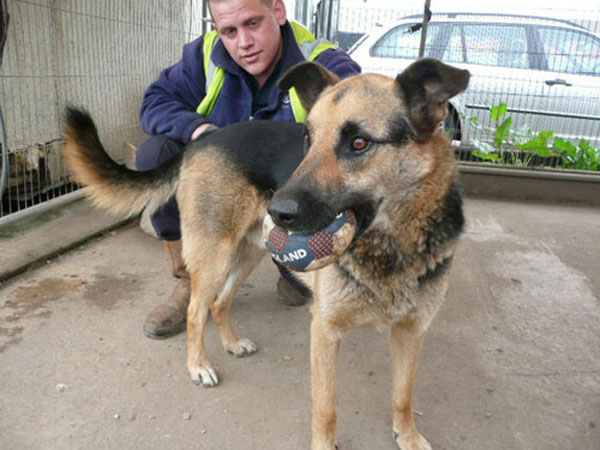 Not much was known about Bruno, other than he had been used as a guard dog but the company had been bought out and they were now going to use 24 hr CCTV instead. So Bruno wasn't needed anymore and if we couldn't find him somewhere quickly he would be put to sleep. Bruno thought he had found his forever home but he was betrayed once again by humans. They moved house and left poor Bruno behind. Read more about Bruno
Donations are always welcome
Please help us by making a donation so that we can help re home more unwanted German Shepherd Dogs. Donations can be sent to Jayne Shenstone, German Shepherd Dog Rescue, Little Vauld, Marden Hereford HR1 3HA. We also accept Paypal payments - just click on the Paypal button below. Thankyou.