German Shepherds Rehomed 22
More German Shepherd Puppies and Dogs that have found new homes
ALL OF THESE DOGS ARE NOW REHOMED
SUCCESS STORIES
|1|2|3|4|5|6|7|8|9|10|11|12|13|14|15|16|17|18|19|20|21|22|23|24|25|26|27|28|29|30|
|31|32|33|34|35|36|37|38|39|40|41|42|43|44|45|46|47|48|49|50|51|52|53|54|55|56|57|
|58|59|60|61|62||63|64|65|
Striker - central. A true gentleman and very intelligent.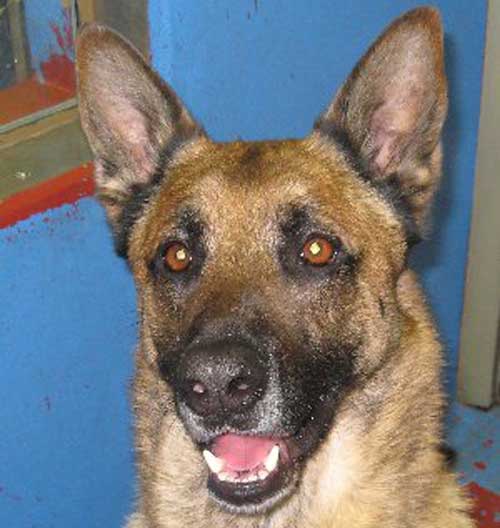 Striker is aged between 3-5. He is a very quiet boy who is obviously stressed in kennels and has lost condition already. He walks well on lead and has been fine with other dogs. He loves to play, gets very excited when playing and someone has taught him to grab, leave on command, sit and speak. He would suit a home without very young children and with experience of the breed.
Kane - 7years Central. A real gentleman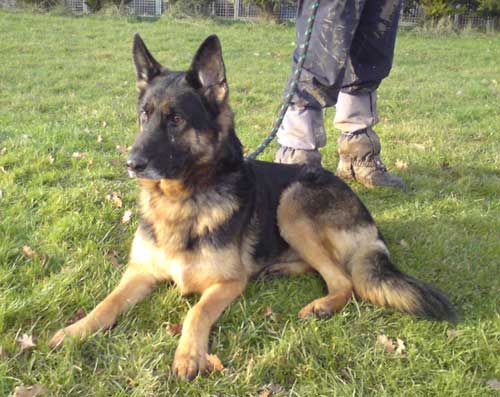 This gorgeous boy has been in kennels for a very long time. He is a real gent and fantastic with people of all ages, including children, but he likes company and gets stressed when left. He barks at other dogs but having spent the best part of a year in kennels, he hasn't had much socialisation. Kane desperately needs out of kennels and whoever gets him will be a very lucky person. Great family dog.
Sheena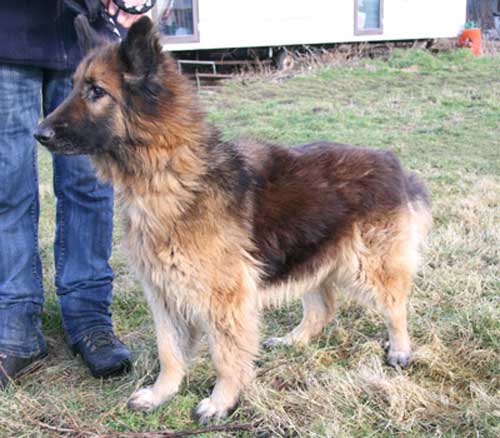 SHEENA was found lying outside some high gates at the entrance to playing fields next to the main road. She seems to have been out in the cold for a while and was nervous of human contact. She still has a long way to go but she was really hungry and skinny when she arrived but her fur covered it up. She is food proud but there's been no major aggression problems with her, just growly. She is good with other dogs and once she gets to know and trust someone she is great. She loves to have a brush. She can sit and give paw. Lovely gentle dog.
Quill - central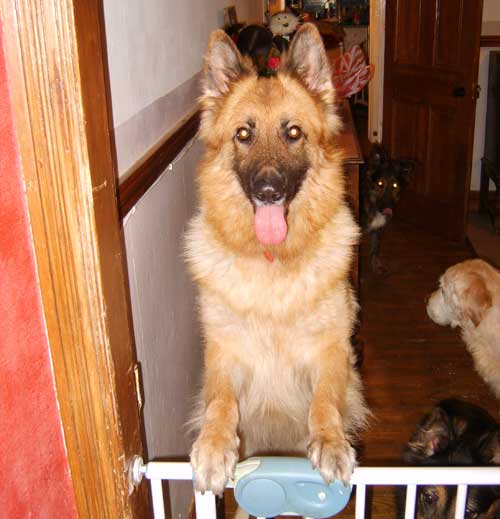 Quill was taken from a garden where he had been starved and beaten. Because of his bad start, he is a little possessive over his foster carer but is learning to have better manners. He needs to get out of his foster home as he has been there for eleven weeks and she cannot keep him. Can you give him an experienced home without young children as he is a good boy and will prove himself given half a chance? Are you the one who can save him and give him the chance he needs? He gets on with all the dogs and bitches who come to visit and there are a lot of them.
Harriet - Lovely girl approx 2years old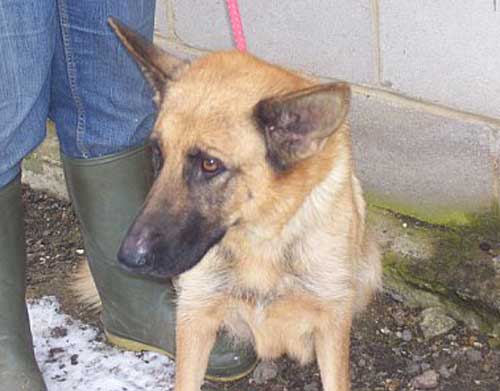 The lovely Harriet is approx 2years old and was picked up as a stray in Daventry. She is a very friendly girl and is looking for a nice forever home.
Duke - NE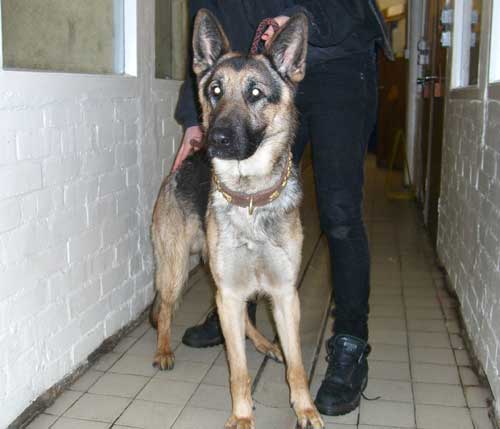 This lovely young GSD was lifted from a dog pound today 23/1/09. He is very underweight, wary of strangers and we think he has been ill-treated by some awful person. He barked at the postman as he came to the kennels. He sniffed at three dogs through the bars at the kennels and showed no aggression. He travelled well in the car and was very good and well behaved towards our volunteer.
Spider 1-2 years Great good fun dog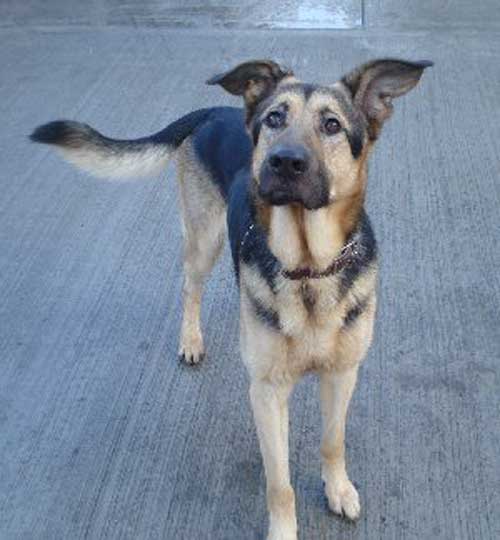 Spider is aged him between 1 and 2 years old. He is good with dogs and loves his toys. He is a little bit nervous of strangers. Spider is a very nice dog and once bonded, totally trusts his handler and people he knows. He is neutered and micro-chipped. Will make a lovely family pet.
Thunder 6 - Gorgeous friendly boy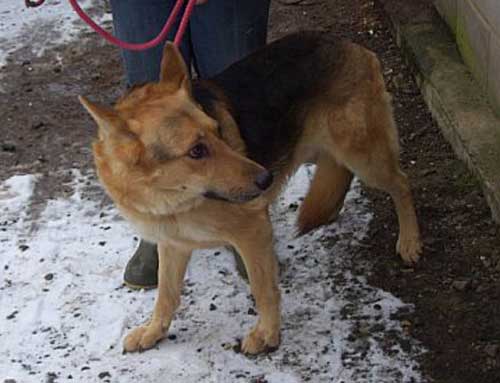 Thunder is a 6-year-old male who lived with a white gsd bitch. His friend the white gsd was rehomed but not Thunder so he's pining like mad and is very nervous. When the kennel assistant went to take him back into the kennels he dug his paws in and really didn't want to go back. Poor lad is so confused and scared and missing his friend and family.
Daisy Daisy - give me your answer do!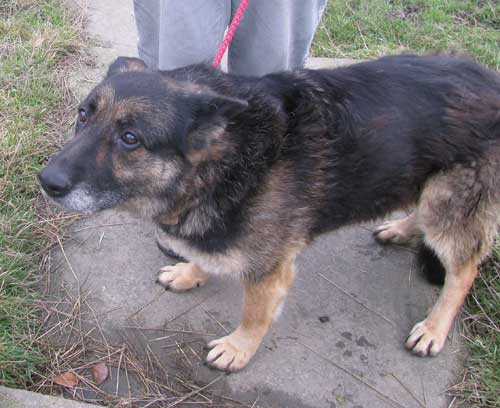 We took Daisy from the pound as her time was up. We think she is about 7 years old, she's overweight and her coat has been neglected for some time. A friendly girl who will make a lovely companion for somebody willing to put a bit of time into some lead training as she does tend to pull on the lead.
Donations are all waalwaysme
Please help us by making a donation so that we can help re home more unwanted German Shepherd Dogs. Donations can be sent to Jayne Shenstone, German Shepherd Dog Rescue, Little Vauld, Marden Hereford HR1 3HA. We also accept Paypal payments - just click on the Paypal button below. Thankyou.