German Shepherds Rehomed 58
More German Shepherd Puppies and Dogs that have found new homes
ALL OF THESE DOGS ARE NOW REHOMED
SUCCESS STORIES
|1|2|3|4|5|6|7|8|9|10|11|12|13|14|15|16|17|18|19|20|21|22|23|24|25|26|27|28|29|30|
|31|32|33|34|35|36|37|38|39|40|41|42|43|44|45|46|47|48|49|50|51|52|53|54|55|56|57|
|58|59|60|61|62||63|64|65|
Bruno - removed into foster from appalling living conditions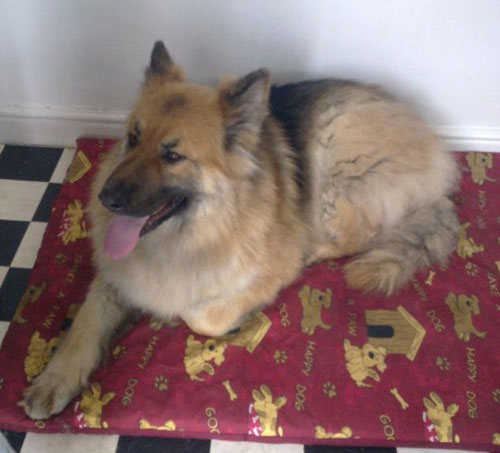 Bruno, is a 3 year all castrate long coated male., he is not up to date with vacs. he is a good natured boy he is good with children and other dogs he is not good with cats. Bruno was living outside, not sure re-house trained although we are told when he is allowed in he is clean.This is was our volunteer has to say about Bruno: When I arrived Bruno was out the back. I went outside and he never barked at me or showed any sign of aggression. In fact, he came to greet me and wanted some affection. Bruno is a very handsome dog with an exceptionally long coat and will be an excellent companion. All he requires is exercise and some basic training. Also a bath is a must. Unfortunately, he has been kept outside but deserves a home where he will be allowed to live in the house and enjoy the home comforts he truly deserves.
Blue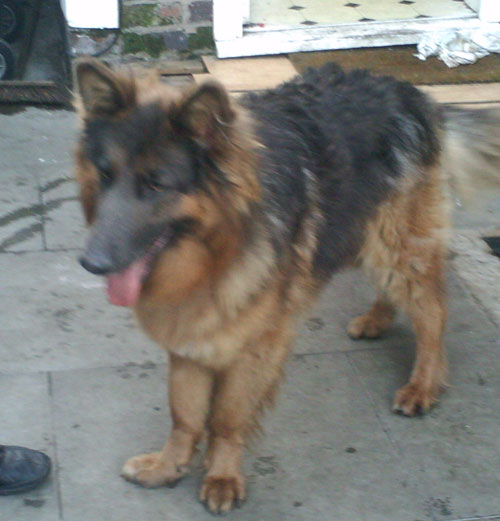 BLUE, yet another young male of 14 months he is castrated. He is a big fella, lovely looking boy, great temperament, brilliant with children he lives with a 3 and 4 yr old. He is fine with other dogs just wants to play. He is semi coated black and tan. The reason for parting. property and garden too small for him.Not sure about cats, but guess he would be fine.His boosters are due in May 2010. Full of energy this boy.Blue is in the Hull area
Ando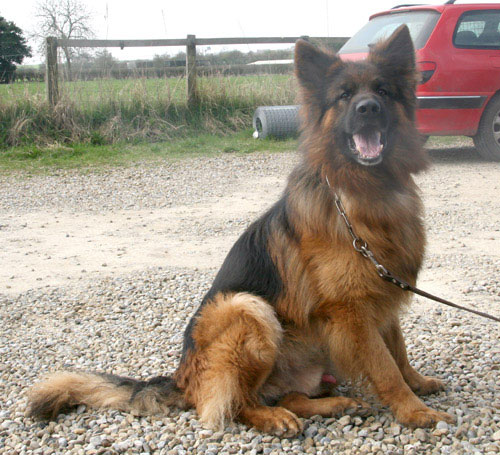 Ando is a stunning looking boy of around 15 months. we know little about him as we took him from a pound on his last day. He is black and Tan long coated. our volunteer who picked him up had this to say. He was a little cautious at first but extremely friendly. He is very puppy like and very strong. He takes treats very gently. Since he has been with us our volunteer has walked him and he says he is strong on the lead excitable but will learn quickly. We are not sure if he is entire as yet. Guessing he will need vaccinating. But what a Cracker.
Carla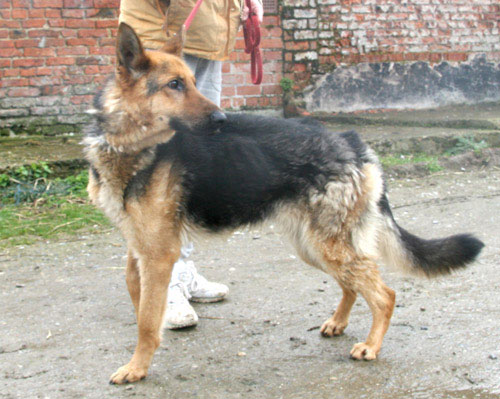 Carla was brought from the pound - another lost soul on her last day. Carla is now safe with us. She is very thin but she is a very nice girl very happy will need some TLC. We think she is around 12 - 15 months of age. Difficult to tell as she is so thin.We do not know if she is spayed or not. we have front lined her and wormed her
Bella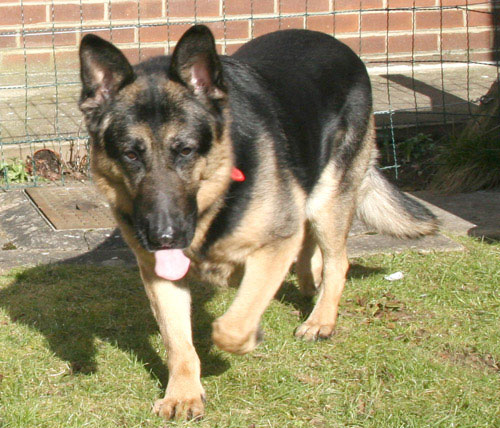 Bella is a very pretty 5-year old spayed bitch. Her owners, in York, are reluctantly parting with her due to their ill-health. She soon settled with our volunteer and just wanted affection. When he walked her she pulled a little, but quickly stopped and was well-behaved. She reacts to other dogs, which is down to a lack of socialisation and maybe this could be overcome by an experienced owner. We think she would be best as the only dog in the house. She is good around the house and welcomes the many grandchildren who visit. Microchipped and seems in good health.
Tibar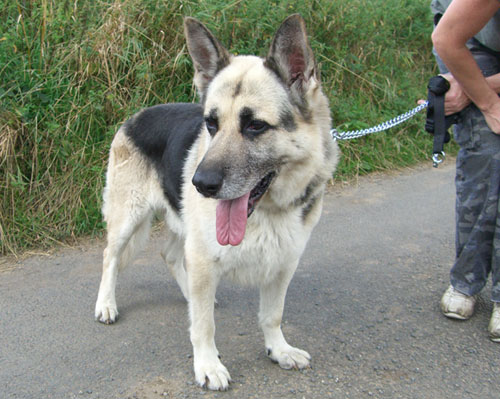 Tibar is castrated, vaccinated and chipped. He is very quiet loves toys and being brushed likes other dogs but not sure about cats. He doesn't like children of any age. He used to go to doggy day care and was very good.
Shadow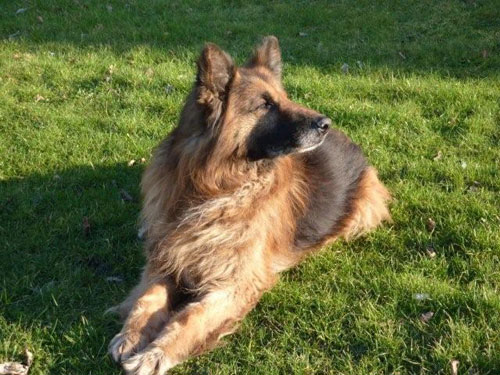 This is a lovely boy Shadow is a handsome boy he will be 9 yrs young in May he is looking for a new home. He is neutered, Vac. and chipped. He is a very gentle boy, good with children and people. He is fine with dogs although he doesn't like 1 dog. Not sure about cats as he has not come into contact with them. He is very obedient. His recall is good and he is great on a lead. Our volunteer was told to go and meet him in the garden herself this she did he was just pleased to see her and took treats from her.
Storm and Molly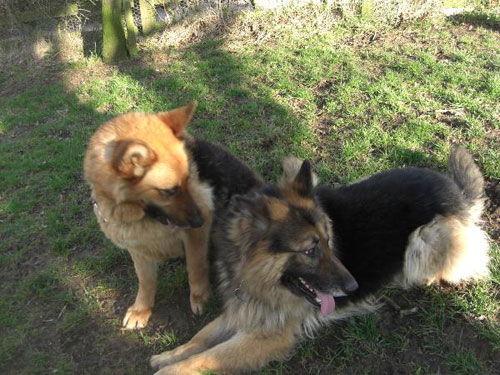 Poor Molly and Storm have been living in a shed in the garden but enjoy coming into the home. Given the chance, they would love to live indoors and have the attention and love they so deserve. When our volunteer arrived, both dogs were in the front garden. They did not bark or show any sign of aggression. In fact, they both jumped up to greet. Storm absolutely loves a fuss. Molly is a bit more reserved but likes attention also. Both dogs are used to grandchildren calling and have never shown any sign of aggression towards them. Molly and Storm are very attractive dogs and have lived together since Molly had Storm as a pup. It would be a shame to have to separate them. Storm is 4 years old and long coated. Molly is 7 and short to medium coat. Both require a good brush. These dogs would make excellent companions.
Lara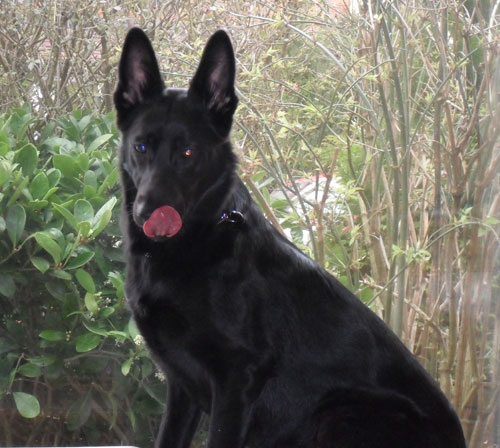 This pretty lady is 15 months old, unspayed bitch, Lara. She is a semi coated black German Shepherd and is in lovely condition. She is fine with other dogs, currently in foster care with 2 playful males. Lara is very nervous of strangers and loud noises and does bark at them. She has no aggression in her at all. Housetrained. Travels quietly in the car. Lead trained. Cats unknown. Has lived with children from 8yrs upwards. Needs time & patience to build her confidence. A truly beautiful little girl.
Ty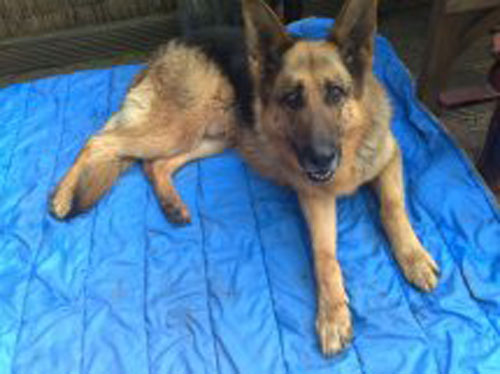 Ty was called tiger but answers nicely to Ty, he is a very loving 8-year-old and seems happy to meet anyone and everyone with a waggy tail, he gets on very well with other dogs and is currently living with 5 other shepherds with no trouble at all, he doesn't make a noise or a fuss when anyone calls, he doesn't mind being on his own or with a pal, and adores his tummy tickled, he is really good on the lead or off it and recall is excellent, all in all he is a very trouble free dog and will fit in anywhere and as long he gets his love and cuddles he will be happy, for an 8-year-old he is very fit and active and will walk all day, if you are looking for a stress and trouble free dog then big teddy bear Ty is the is the perfect dog.Ty is neutered and although he hasn't lived with children seems fine when meeting them.
Sheba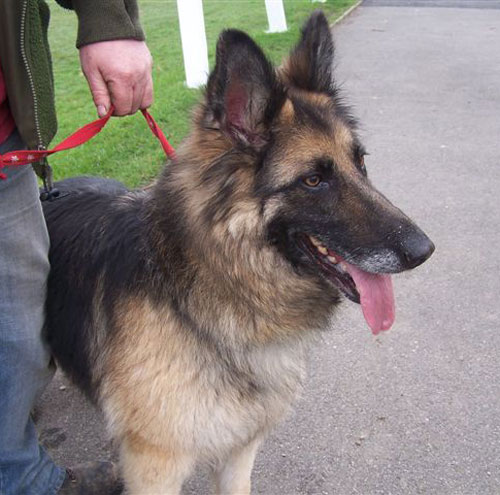 We think Sheba is about 4 yrs old she has just come to us on her last in the pound. she was found wondering the streets. She does pull whilst on the lead but we think that she will soon learn she seems to be ok with other dogs. When we know more about her we will up date this.Very pretty girl although she could do with a wash and groom.
Charlie - neglected and unwanted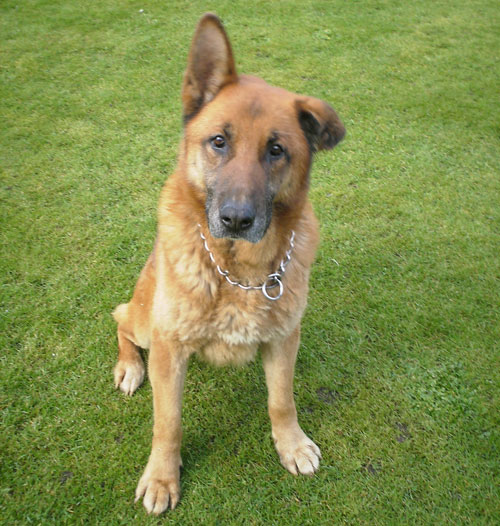 Charley is approx 7 years old and likes nothing more than a bit of your love and attention. He likes going for walks although he doesn't break into a sprint!. he doesn't pull at all, He can be let off the lead and doesn't venture too far ahead of you. He is currently with a female GSD who is also 7 and they get on fine, he is not aggressive with other dogs Gets on well with all ages of children has regular visits from a granddaughter who cuddles him etc. He prefers to be with you inside rather than shut outside and doesn't like been shut in at bedtime, he now sleeps in the room with my other dog likes been groomed. Altogether a lovely dog who would settle in any home just as long as he has company he's happy. Doesn't like small furry things!
Donations are always welcome
Please help us by making a donation so that we can help re home more unwanted German Shepherd Dogs. Donations can be sent to Jayne Shenstone, German Shepherd Dog Rescue, Little Vauld, Marden Hereford HR1 3HA. We also accept Paypal payments - just click on the Paypal button below. Thankyou.