German Shepherds Rehomed 34
More German Shepherd Puppies and Dogs that have found new homes
ALL OF THESE DOGS ARE NOW REHOMED
SUCCESS STORIES
|1|2|3|4|5|6|7|8|9|10|11|12|13|14|15|16|17|18|19|20|21|22|23|24|25|26|27|28|29|30|
|31|32|33|34|35|36|37|38|39|40|41|42|43|44|45|46|47|48|49|50|51|52|53|54|55|56|57|
|58|59|60|61|62||63|64|65|
Mac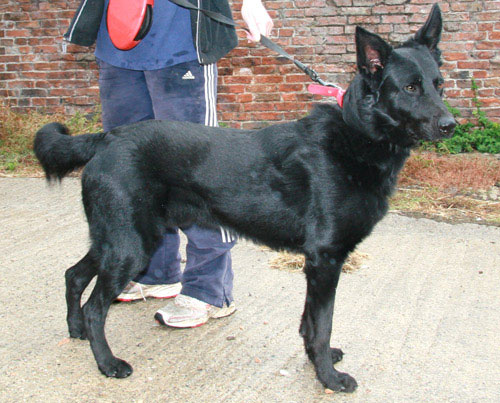 Mac This poor dog was taken to the police station by a homeless person (dog warden suspects it was his) he appears to be in good health and condition to have been living rough for any length of time. He is about 18 months old. He is entire not up to date with Vac's This boy is a real sweetie. he is great with people, including kids, and with other dogs. He is very gentle, playful, is calm when out walking and has good recall. He has settled well into our kennels. He is in the York area.
Rosco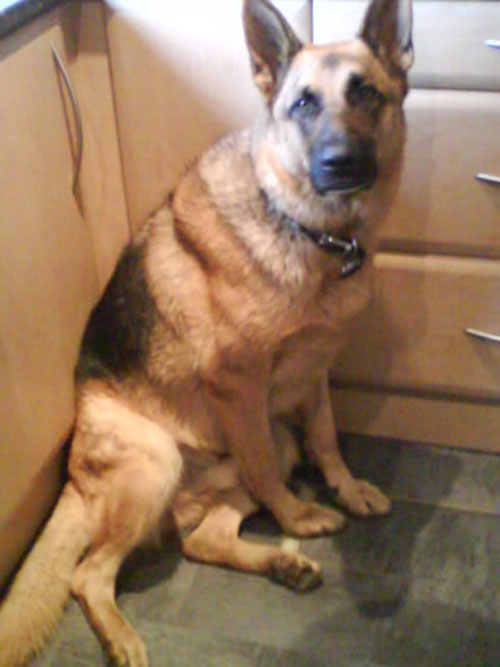 Rosco is a 5-year-old castrated male. He is a very big boy and absolutely gorgeous. Good with other dogs, but a little unsure of black dogs lives with a cat and ok to a certain degree with other cats. Good with children. Has had a bit of lameness and was on medication for it, appears to be OK. He is looking for a new home due to a change of owners circumstances.
Indie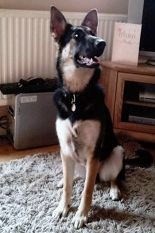 This beautiful girl is Indi who is approx 4 years old. She came from the pound where she was due to be put to sleep. Nice temperament, gorgeous gold and black colour. Stunning eye colour almost orange. The photo doesn't do this lovely girl justice. We are unsure if she has been spayed and we think she may have had puppies
Spike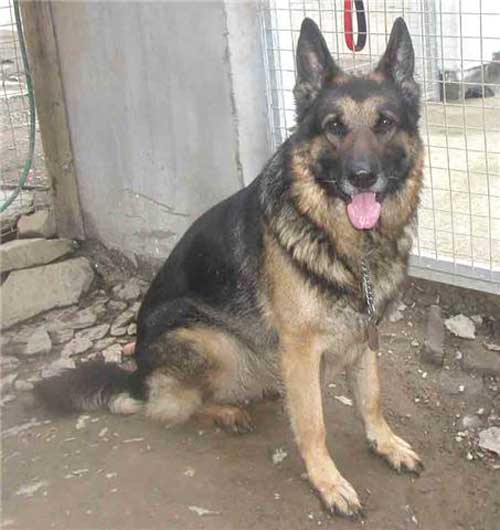 This is Spike, approximately 4 years old, entire male. Spike has had a tough life so far, being passed around, even given away for free via the internet, so when he became protective of his new owner they handed him over to the rescue. Spike has got very, very flat feet, obviously never walked. He can be quite protective and would need an experienced handler. We know little about Spikes background so will not rehome him with children. He hasn't been socialised around other dogs a great deal, so would be better as an only dog. He is very loyal and would be a great companion for somebody, once he learns to trust you, and when he realises this will be his forever home. Unknown how he is with cats.
Bonnie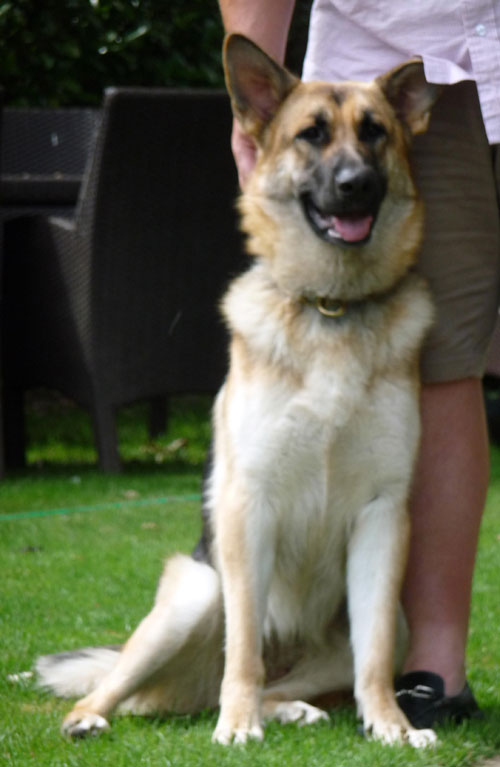 PLEASE MAKE SURE YOUR HOMECHECKS ARE COMPLETE BEFORE APPLYING FOR THIS DOG AS SHE WILL BE SNAPPED UP. This is Bonnie an 11month old female and she is beautiful. Bonnie currently lives with another 11-month-old male GSD who is bullying her and a female Labrador. She is good with children, I had my 7-year-old child at the assessment and she was great, that said she also lives with three children aged 8, 13 and 18 years. She is unknown with cats; however, the owner's said that she is so laid back and accepting she would probably be okay. There are chickens in the garden and she is not bothered by them. She is microchipped and fully vaccinated. She is good on the lead and knows all her basic commands. Apparently Bonnie went off to "school" so has been trained properly. Bonnie is a very easy dog that is a stunner and will make a fantastic family dog.
Badger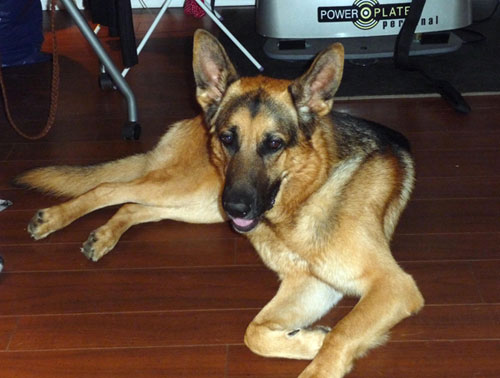 I loved this dog – what a gorgeous boy. Badger was so friendly when I arrived and makes you realise why we love this breed, he didn't know me but allowed me to play and cuddle him, rolling around upside down. Badger is a 3-year-old, short coated Black & Tan entire boy. He currently lives with a female Border Collie and two cats. I saw his interaction with one of the cats and trust me even I wanted to bash this cat; he was so well behaved and restrained. He is fully housetrained and travels well in the car. Badger also lives with two young children aged 6 and 8. He really is the perfect accessory to any household that wants a very well balanced, easy dog. He is ok walking on a lead, but as he lived on a farm he was mostly walking by your side without. He is up for rehoming as his current owner has separated, moved accommodation and is working extending hours.
Max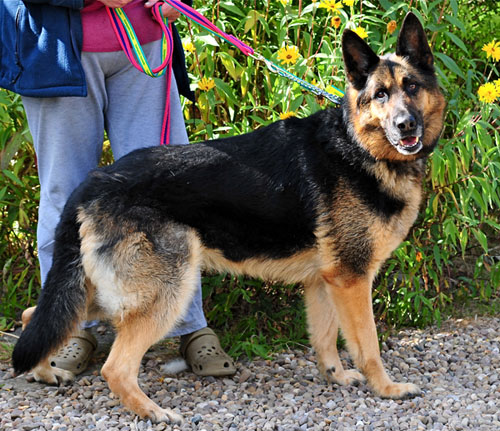 This big black and tan cuddly teddy bear of a dog is 8 years old. He is housetrained and he was good with the children we encountered at the centre and I have been told he is also good with cats, he only gave a couple of woofs at the dogs we encountered and I think he was more 'interested' than aggressive. He is 'intact' and is very obedient, he performed a lovely sit for me and also gave me his paw. He does pull slightly on the lead but this is nothing that a little training will not cure and I think this is totally due to the fact that he is so stressed in kennels and could do with a lot more exercise than he has been getting. Max has a wonderful soft nature and covered me in kisses when we met, he is definitely the David Niven of the dog world. While trying to take his photo he also decided to sit on my lap. he is an extremely gentle giant. I was told that Max is happy to be left on his own for a few hours and has been very well behaved, he is a favourite of the kennel maids
Max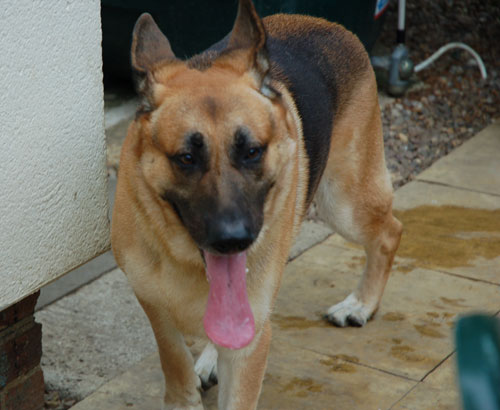 Max is 3, loves people including children. Not sure about cats and he has not been socialised with other dogs. Owners have not let him off lead very much and he does pull on the lead plus his recall will need some work. A little overweight as he has not been exercised much.
Jet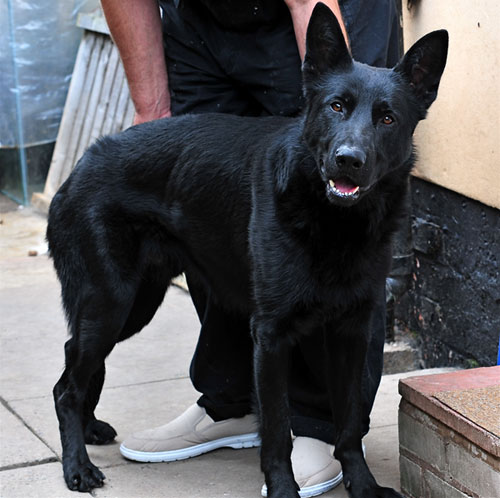 Jet is a lovely young dog who is a little nervous at first but soon settles. He is fine with visitors including grandkids that visit. He lives with another dog not sure about cats. He loves his ball and squeaky toys. He will make a fantastic pet but will require a little training on the lead. He is not neutered. The reason for rehoming is that his owners are downsizing house.
Sabar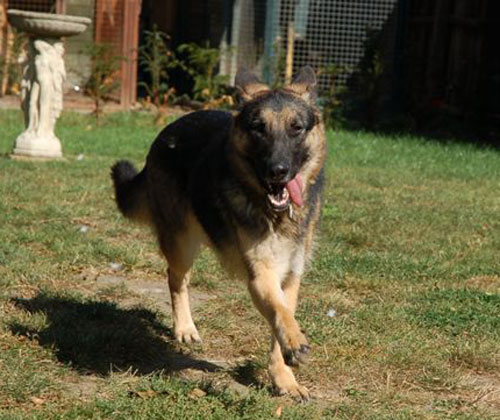 sabar is a very sweet friendly girl of 22 months of age, she is good with other dogs although she feels quite intimidated by them when she first meets them, she absolutely adores children and has lived with an 8 yr old who she followed everywhere. Don't know about cats but she is ok with chickens! She adores people and just wants to be with them but she has been left for long periods of time and started chewing so she was put in a kennel six months ago because the owners couldn't handle it, no signs of chewing in the foster home so far. she isn't vaccinated but is chipped
Donations are always welcome
Please help us by making a donation so that we can help re home more unwanted German Shepherd Dogs. Donations can be sent to Jayne Shenstone, German Shepherd Dog Rescue, Little Vauld, Marden Hereford HR1 3HA. We also accept Paypal payments - just click on the Paypal button below. Thankyou.