German Shepherds Rehomed 15
More German Shepherd Puppies and Dogs that have found new homes
ALL OF THESE DOGS ARE NOW REHOMED
SUCCESS STORIES
|1|2|3|4|5|6|7|8|9|10|11|12|13|14|15|16|17|18|19|20|21|22|23|24|25|26|27|28|29|30|
|31|32|33|34|35|36|37|38|39|40|41|42|43|44|45|46|47|48|49|50|51|52|53|54|55|56|57|
|58|59|60|61|62||63|64|65|
Billy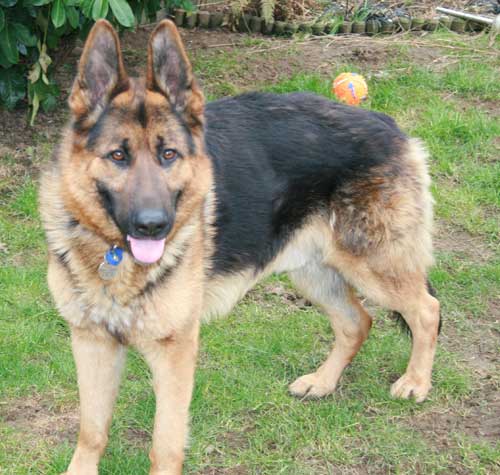 This dog is so lovely! All of the kennel staff are able to handle him easily and now that he has got to know them all he is very quick to react to commands. His recall is almost spot on now and he instantly sits for one of his treats. He is just a lovely dog and extremely deserving of a new home.
Sherlock and Willow - Owners emigrating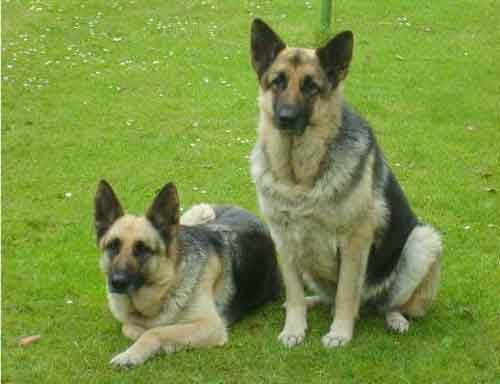 Sherlock and Willow are 6 years old, black and tan, short haired, brother and sister. Sherlock is neutered; Willow is unspayed. They are both friendly, affectionate, obedient dogs. They live outside and are used to horses, cows, livestock and children. They generally get on well with other dogs (except on one occasion there was a dog that Sherlock took exception to), but they will bark at cats. They are looking for a new home together due to a marriage break up - their home must be vacated by 11th August when they will become homeless.
Sasha NE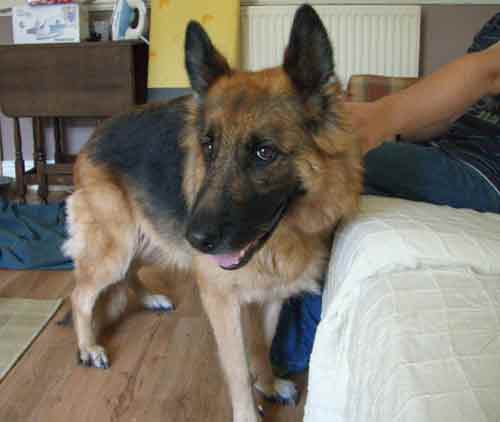 This poor girl has been used as a breeding machine - she has had 5 litters. Now she is older, she is no longer wanted. Sasha doesn't like small dogs but she does live with collies. Not sure about cats. She is now being left for 10 hours a day. Sasha desperately needs a new home.
Venus - 5 years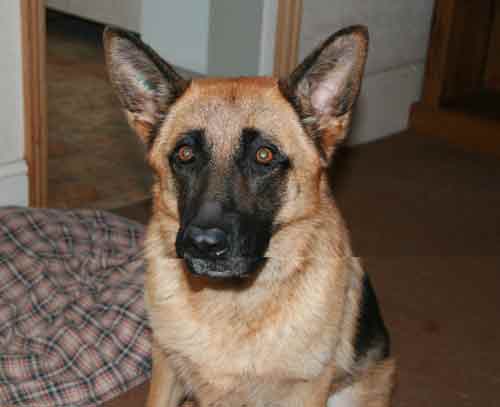 Venus is a 5-year-old, black and tan, short coated, spayed bitch. She is a lovely dog who has not had the attention she needs. Until 2 months ago she lived with a family where she was shouted at a lot and given a little time. She was not socialised with other dogs or taken out much - don't know about cats. Venus can be nervous or wary and needs to live in a quiet household, where she is not left for too long a period as she barks and whines. Venus has been taken in by her current owner who knew her from a puppy who is very unwell and who is finding it increasingly difficult to cope with her. She is fine off the lead with other dogs but does not really know how to play - she lives with a Rottie. Her recall during the day is good, but Venus is a night owl and will not settle at night with the sounds of foxes. If taken out at night she will disappear and forage in the park for hours. She is a lovely dog and with some training would make someone a great pet - she is very clever.

Woody is a 7-month-old, black and tan, short haired, entire male. He is a typical puppy, bouncy and energetic - a lovely dog, a pleasure to be with and eager to please. He has been to training classes and walks well on the lead. He lives with 5 children who he knocks over and mouths, 2 dogs and a cat. Woody has had chronic lameness and has been x-rayed - an investigation is ongoing but he has suspected panosteitis and is on pain relief medication and restricted exercise. Further x-rays are advised in 4- 6 months. He is being rehomed as the owner is unable to cope with Woody on restricted exercise in such a busy household. Woody may need surgery on his hips at a later stage.
Jack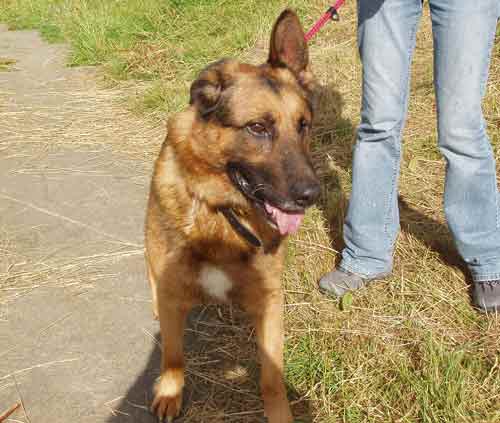 One-eyed Jack was removed from an abusive owner and ended up in the pound where he was scheduled for destruction. Some justice that!! He has a damaged right eye (blind in it) as a result of abuse. A friendly dog who needs a kind owner he can trust.
Gypsey 9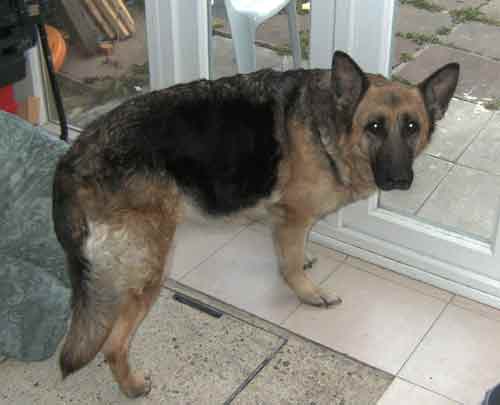 Gypsy is a 9-year-old, black and tan, short haired, bitch. She is in a foster home having previously lived in a home with 11 children and various animals all of whom were neglected. They were all kept in filthy conditions and were in a very poor state. Gypsy has both ears infected and has an open sore on her left hind leg which is being treated. She has a very loving disposition and loves attention and cuddles. It is not known whether she is spayed. Gypsy needs a loving, quiet home where she can see out the remainder of her days.
Kia - URGENT. Owners emigrating.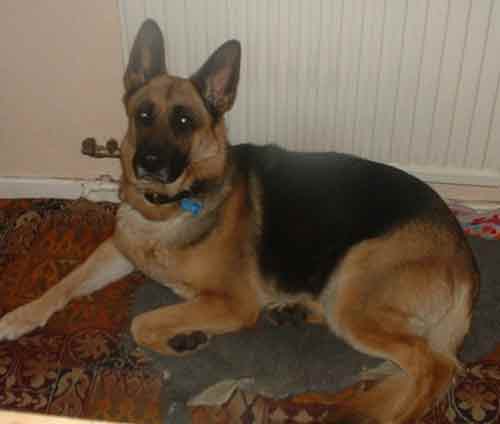 Kia is a 3-year-old, black and tan, short haired, unspayed bitch. She is a family dog, very friendly, loving and full of life. Kia is fine with children and most other dogs but hates cats. She is used to an active, rural environment and is fine with horses. Kia ca be protective of her family when out of the home and so is walked on a lead. She is being rehomed as her owners are emigrating.
Amber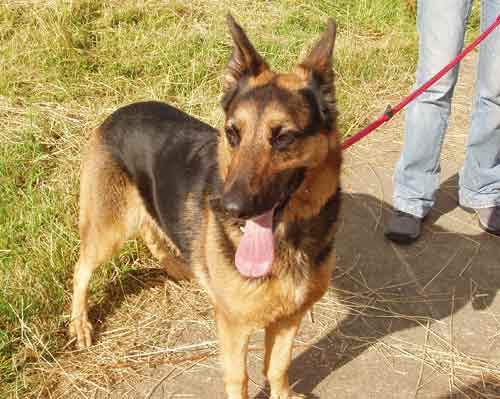 Amber has good reason to look worried here as she also ended up unloved and unwanted in the dog pound. She was on the list to be put to sleep this week - no longer wanted and surplus to requirement. Lovely friendly young girl.
Sasha 1-year-old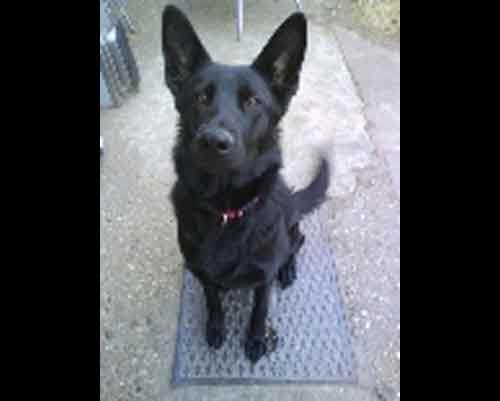 Sacha is a 15-month-old, black, short haired unspayed bitch. She is a good natured dog. Sacha lives with 4 cats, mixes well with other dogs and is a great companion to the children in the family. She is loving and loyal but can be slightly protective in the house. She is being rehomed as she has nipped a couple of people who have come into the hectic family home (one of which occasions were at a party). Sacha needs a quieter, more experienced home.
Jazz 5 years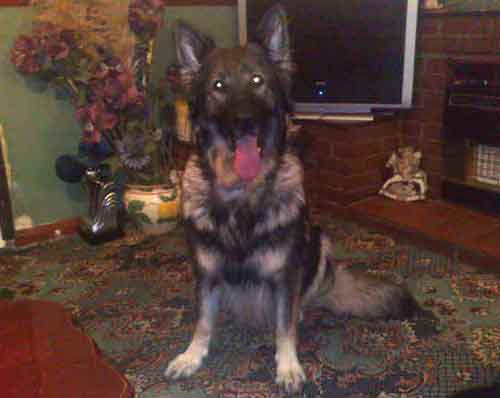 Jazz is a 5-year-old, black and tan, semi long haired, unspayed bitch. She is good with other dogs, good with cats and lives with a 9-month-old baby. Jazz can be protective in the home and has nipped a neighbour who was passing the front gate who is insisting that the dog is rehomed. Jazz had puppies at the time of this incident and the neighbour is allowing her to stay until the puppies are old enough to leave their mother. The puppies now have homes and Jazz needs to be rehomed as a matter of urgency.
Storm and King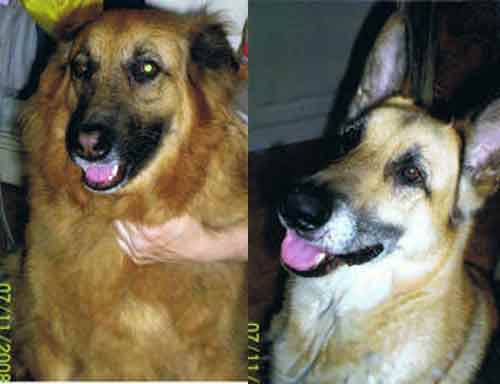 King is a 7-year-old, black and tan, semi long coated, neutered male. Storm is his companion, a 5-year-old, black and tan, long haired, spayed bitch. They are both good natured, affectionate dogs, friendly with people including children; good with other dogs and with cats. They have been within the same family all of their lives, but are being rehomed due to a change in circumstances. They live in an overcrowded house and are not walked as a result of which Storm, in particular, is very overweight. They are obedient, happy dogs and will make a great addition to someone's family.
Pippin 11mths old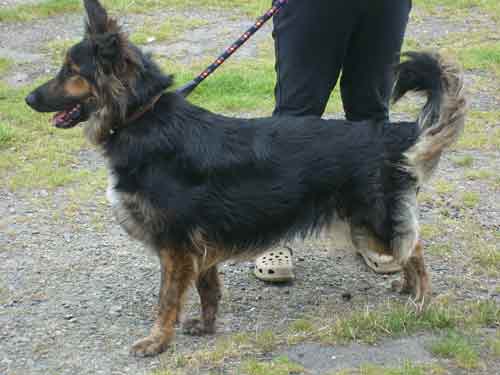 Not 100% GSD but 100% lovely boy. A loveable youngster that needs some basic training to make a wonderful family pet. Doesn't like cats.
Donations are always welcome
Please help us by making a donation so that we can help re home more unwanted German Shepherd Dogs. Donations can be sent to Jayne Shenstone, German Shepherd Dog Rescue, Little Vauld, Marden Hereford HR1 3HA. We also accept Paypal payments - just click on the Paypal button below. Thankyou.