German Shepherds Rehomed 49
More German Shepherd Puppies and Dogs that have found new homes
ALL OF THESE DOGS ARE NOW REHOMED
SUCCESS STORIES
|1|2|3|4|5|6|7|8|9|10|11|12|13|14|15|16|17|18|19|20|21|22|23|24|25|26|27|28|29|30|
|31|32|33|34|35|36|37|38|39|40|41|42|43|44|45|46|47|48|49|50|51|52|53|54|55|56|57|
|58|59|60|61|62||63|64|65|
Poppy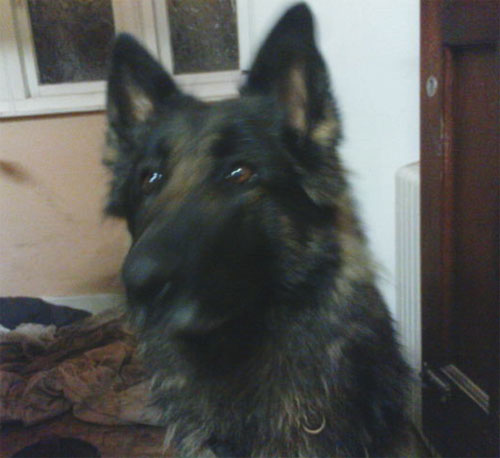 Poppy was picked up last week in East Sussex with a note sellotaped to her collar saying "My name is Poppy and I am 6". The nice lady who picked her up has found no issues with Poppy. She loves people but unfortunately, the lady's current dog does not like Poppy. Not much else is known about her.
Bracken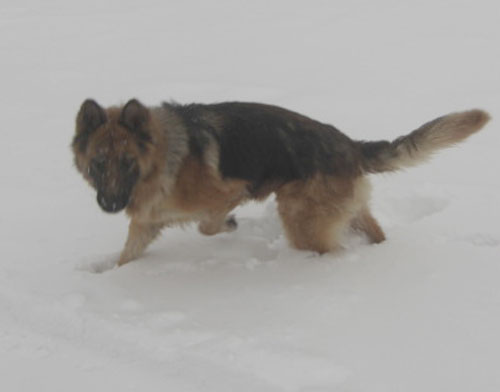 Bracken is a young dog, about 14 months old who was picked up by the dog warden and had to go straight to the vets for emergency surgery. He has now recovered well and is a gorgeous dog. He is castrated and vaccinated, good with other dogs, plays rough with them but no aggression. He will chase cats and gives them no peace but only wants to play with them. He has a lovely nature and a really good recall.
Kobi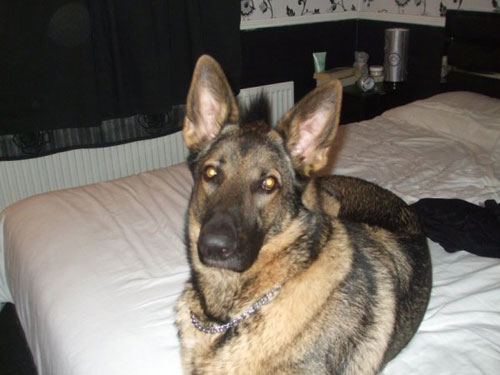 Kobi came into rescue in January 09 he was just 7 months old. He was re homed and has been there till now unfortunatley due to personal reasons the family are having to part with Kobi. He is now being left for long days and is not getting the walks he was used to. He is a young active boy and owner says is missing the walks, he used to go running with her husband. The family feel it would be kinder for Kobi to find a new home they are reluctantly parting with him. He is now around 17 months of age, he is neutered, he is up to date with his Vacinations. he is good with children of all ages, fine with other dogs, although he has lived with a cat the owner feels he will chase one All in all a very nice boy someone will be lucky. He is a large male. kobi is in Bradford.
Spirit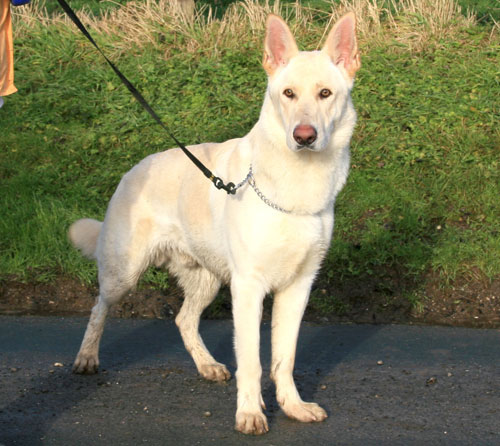 This young boy came to us from the pound his days were up He's no more than 12 months old, white, short-haired, entire. Good with other dogs and kids. Still a bouncy puppy. Lovely looking and lovely nature. He is in the York area, According to the lady looking after him, he seems good with children too.
Benjie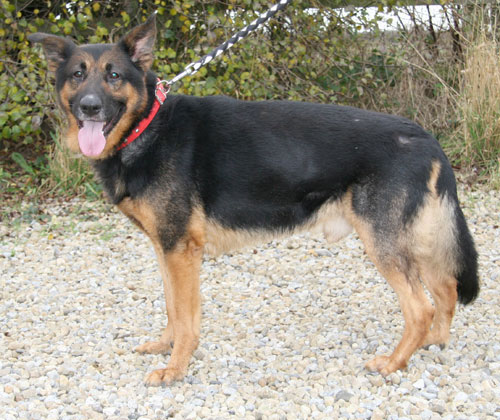 Benjie came to us from the pound he was on his last day. Benjie is a very nice boy. We are ageing him around 3/4 which is a guess. He is entire, he is a very friendly lad, loves going on his walks with our volunteer. I met him last week and he was just pleased to be out of his kennel. We don't know what he is like with other dogs as we have not mixed him yet. Lovely friendly boy worth a visit to meet this boy.
Purdie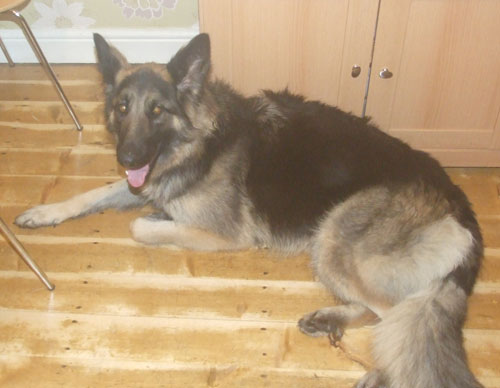 Purdie is 2 yrs old spayed,& vacinated and lived with a male GSD called Odie. Purdie is semi coated black & Tan in colour.This girl will be a dream for any new owner she likes dogs, cats and children of all ages. She walks ok on the lead but the present owner has never let her off lead. Saying that, I think her recall must be good as when our volunteer went to assess her. Both her and Odie ran to great him with, as he said wagging bums, no aggression at all. They then went out of the garden and a lady was passing with a dog they just went up had a sniff said hello and when called both came back. The reason for re homing is a marriage break up. Perdie and Odie live with three children from the age of 5 to 9 yrs.
Axel - beautiful boy picked up as a stray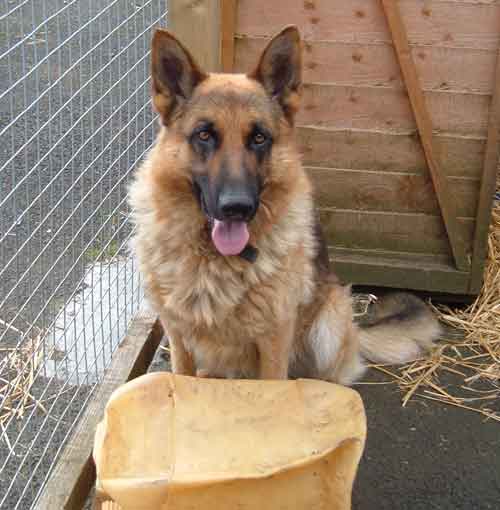 Axel is a bit nervous but hasn't nipped out. He has played Tuggy with the lead but as soon as you say leave, that's it game over. Will sit and go to his bed.
Joe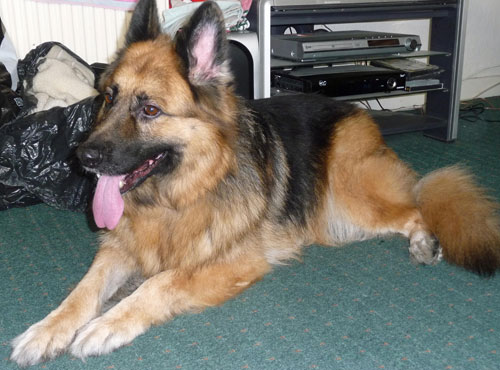 Joe is a 6yr old, long haired black & tan neutered boy. He is used to having young children around him which he ignores but he doesn't like cats. When on a lead walk he will bark at other dogs but will calm down when told. He loves playing with toys, being groomed and being towel dried. He does know basic commands but will need further training so he gets socialised with other dogs which he does lack. The assessor says he is a sweet boy who would make a nice addition to a family.
Drifter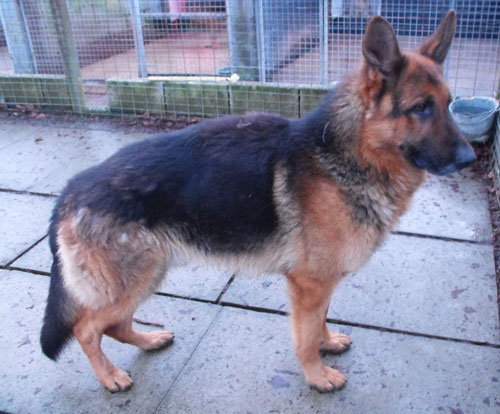 Drifter is a stunning 3yr old entire Dog who would not stand long enough to get a good photo of him hence his sloped back, he was trying to sit again. He has lived with other dogs and allows them to lead. We don't know if he has had any experience with children or cats as we have no information on his back ground. He is currently in a rescue centre. He will allow you to do anything to him without any problems. His one habit good or bad is he loves carrying his water bowl around.
Dale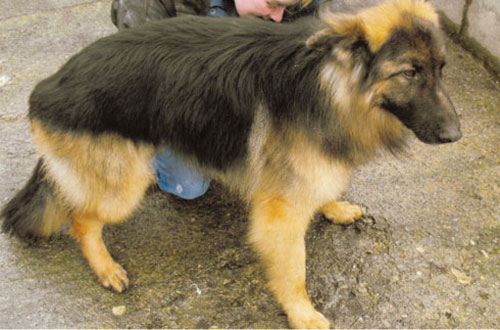 Dale is a beautiful long haired 3yr old entire male. He is currently in a rescue centre so its unknown if he has had any experience with children or cats as we have no back ground information on him. Dale is very affectionate but will need a bit of training as he is not very brave and lacks courage, but doesn't show any signs of aggression.
Donations are always welcome
Please help us by making a donation so that we can help re home more unwanted German Shepherd Dogs. Donations can be sent to Jayne Shenstone, German Shepherd Dog Rescue, Little Vauld, Marden Hereford HR1 3HA. We also accept Paypal payments - just click on the Paypal button below. Thankyou.