German Shepherds Rehomed 41
More German Shepherd Puppies and Dogs that have found new homes
ALL OF THESE DOGS ARE NOW REHOMED
SUCCESS STORIES
|1|2|3|4|5|6|7|8|9|10|11|12|13|14|15|16|17|18|19|20|21|22|23|24|25|26|27|28|29|30|
|31|32|33|34|35|36|37|38|39|40|41|42|43|44|45|46|47|48|49|50|51|52|53|54|55|56|57|
|58|59|60|61|62||63|64|65|
Oscar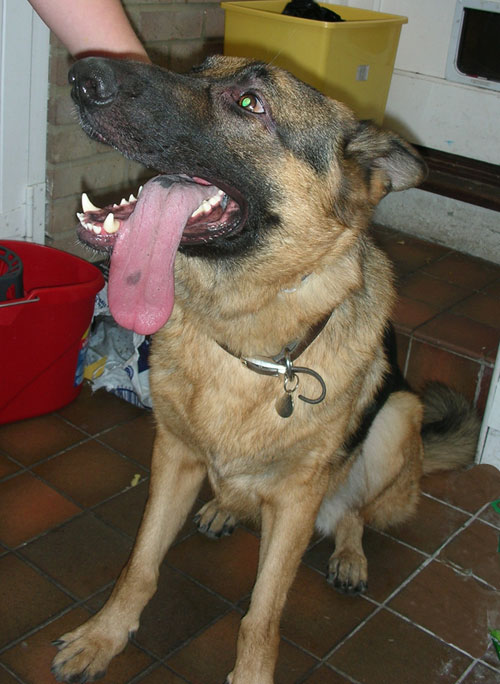 Oscar is an extremely handsome 3 year old black and tan German Shepherd Dog who just adores the company of children, we would suggest that he be homed with a family who have older children as he is a very bouncy dog and full of fun. He is an extremely happy dog and in every picture we have, he is 'smiling'. We have been told he is not good with other dogs but it is considered that with proper socialisation, this could be corrected. Oscar does pull on the lead, but we are of the opinion that this could be due to the fact that he does need to have a great deal more exercise than he is currently getting, during their walk, our handler found that Oscar did calm down on the lead after a while. Oscar can tend to be quite vocal - this again can be corrected if his prospective adopters are prepared to put a little work in with training. Oscar quite happily permitted our assessor to remove a ball from his mouth without any problem, he also allowed her to examine his teeth. This lovely boy needs someone who is prepared to give him firm leadership, if this is done then some very lucky people will have an incredibly loving, loyal and contented friend for life.
Zola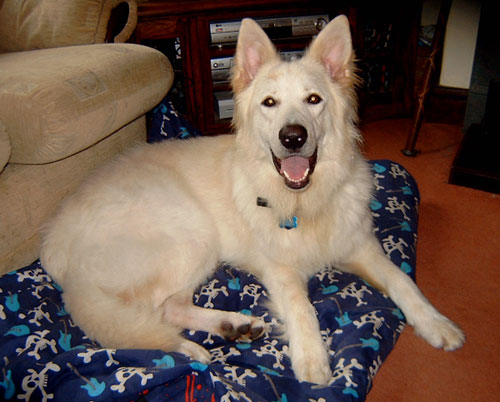 Zola is a large long haired and very handsome german shepherd dog (neutered). He has a nice temperament, is obedient and affectionate and is good around the owners 9-week old baby. He walks well on the lead with his owner and has attended obedience classes. He also loves travelling in the car. Zola jumps up and when out in the garden he barks at passing people and cars. He can be unpredictable with other dogs when out as he likes to be the dominant one. His owners have made the difficult decision to part with Zola because he and his brother have never established who is the top dog which means that they cannot be walked together.His brother also has some issues (to the point of being medicated by the vet) which are taking their toll on Zola. Given Zola's size and dominant nature, we feel that he would need an experienced owner. The family also feel strongly that he should be rehomed alone but that away from his brother he will really thrive and benefit from one to one attention that he has not had the opportunity for.
Belle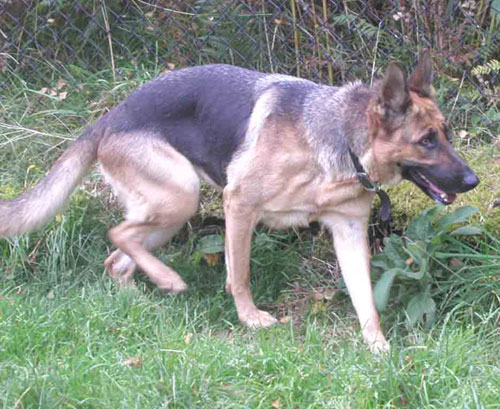 Belle is approx 10 months so just a baby. She is very friendly with everything, a lovely dog. She came in from pound as an emergency as they were going to put her to sleep. She is very healthy but thin.
Bart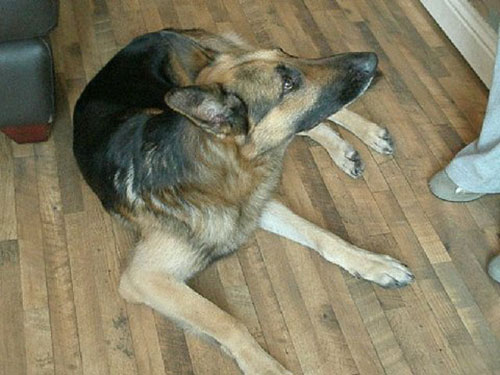 Bart is a 4-year-old entire black and tan dog. He is good with children and other dogs but hates cats. He is quite boisterous in a playful manner and would benefit from a little bit of training. He urgently needs a new home due to a change in family circumstances.
JJ 5/6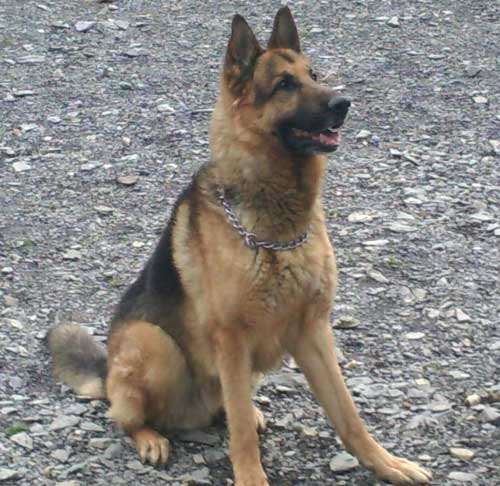 This big handsome boy was picked up as a stray and taken to the dog pound where his time was up and he was due to be put to sleep. Our JJ has turned out to be a really good fun boy who loves to play ball. He is a very smart dog and needs an experienced owner who he can look up to. He needs a home without children and other pets.
Abby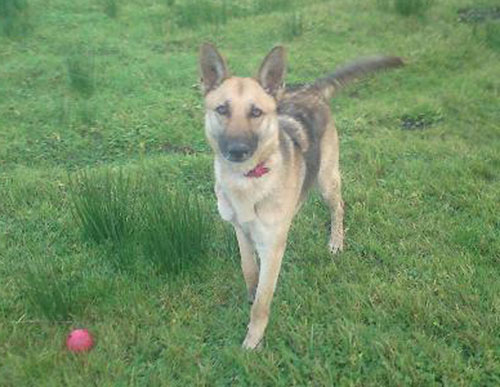 Abby is a gorgeous young bitch, we think she is about 20 months old. She needs a bit of training as she does tend to jump up but does not show any signs of aggression at all. Don't know whether she is spayed.
Lia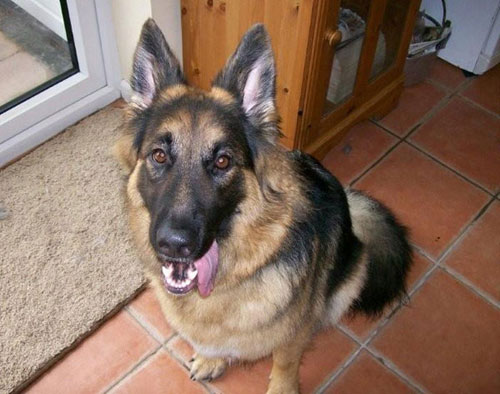 Lia is a very pretty spayed black and tan semi coated bitch, she is quite a small shepherd but makes up for that in her character. She is currently in foster and since being there has come on leaps and bounds.She is a very sweet and loving girl who will make a wonderful, respectful companion with a firm and loving owner - and (with the right owner) probably also with other family dogs. Lia is still a puppy (at 2 yrs old) but is a very intelligent and quick learner. She arrived having separation issues but these are being addressed and has improved immensely and can now be left for up to 3 hours without a problem. This arose due to the fact in her last home Lia was left for up to 10 hours a day, so for this reason we would only place her into a home where there is someone home all day, or she will be left for short periods of time. Lia for some reason is very wary of men and will back away and bark no but not aggressive, she hadn't really mixed with other dogs but she is getting on well at her foster home, but does not like other dogs whilst she is on the lead, again with time and training and more socialising this can be sorted out. Lia could possibly go to live with a dominant male who would put her in her place but without aggression. Lia has never lived with children she has been ok with those she has met but we wouldn't rehome her with children, and definitely doesn't like cats. She pulls a little on the lead but this can worked with. She really is a super little girl and will make some lucky person very happy.
Bart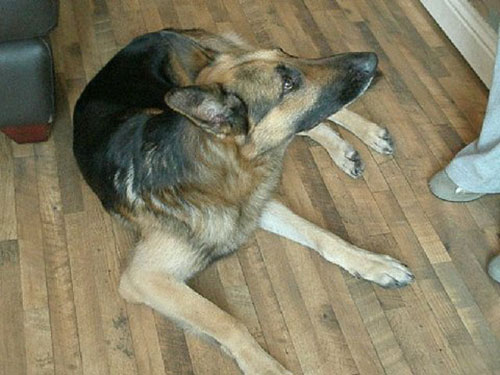 Bart is a 4-year-old entire black and tan dog. He is good with children and other dogs but hates cats. He is quite boisterous in a playful manner and would benefit from a little bit of training. He urgently needs a new home due to a change in family circumstances.
Jake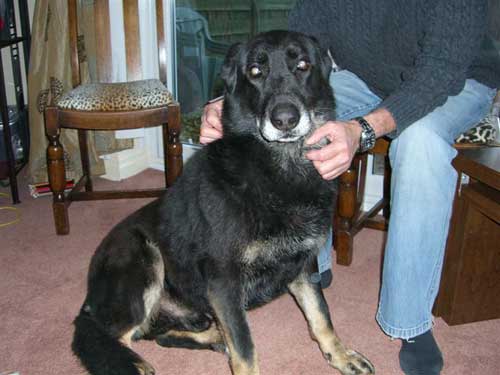 Jake is an 8-year-old castrated black and tan dog looking for a new home because of a change of circumstances in his owners' life. He was a working dog with the police but was adopted by his present family 3 years ago. He is great with people and children, not so keen on other dogs. He is a very kind dog and in lovely condition.
Donations are always welcome
Please help us by making a donation so that we can help re home more unwanted German Shepherd Dogs. Donations can be sent to Jayne Shenstone, German Shepherd Dog Rescue, Little Vauld, Marden Hereford HR1 3HA. We also accept Paypal payments - just click on the Paypal button below. Thankyou.