German Shepherds Rehomed 29
More German Shepherd Puppies and Dogs that have found new homes
ALL OF THESE DOGS ARE NOW REHOMED
SUCCESS STORIES
|1|2|3|4|5|6|7|8|9|10|11|12|13|14|15|16|17|18|19|20|21|22|23|24|25|26|27|28|29|30|
|31|32|33|34|35|36|37|38|39|40|41|42|43|44|45|46|47|48|49|50|51|52|53|54|55|56|57|
|58|59|60|61|62||63|64|65|
Zac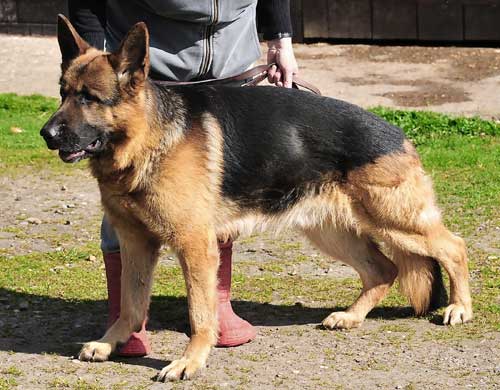 Zac's owner died recently and no one wanted him. B/T Short coat. Entire Male age about 4 - 5. Big Boy Stunning looking. Strong on lead. Jumps up but friendly. Bonds quickly and can be dominant with other dogs, would need perhaps more socialising. A beautiful example of a GSD.
Zoe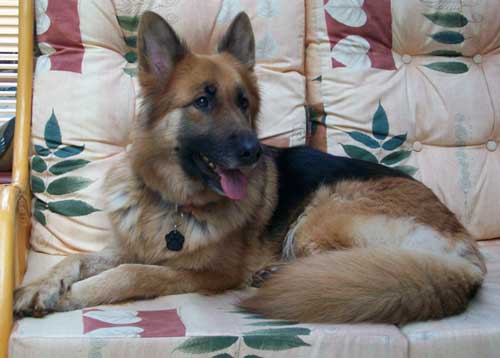 Zoe is a semi coat not spayed but jabs are up to date she's 4. Someone should snap this gorgeous girl up very quickly. She has a wonderfully sweet temperament and is good with people and dogs and has been fine with fosterers cat and guinea pigs. She has had zero training so is learning manners at the moment and is proving very trainable. She pulls on the lead but has good recall and will sit. She has over bonding issues and is quite needy so her new owners will either need to be a multi caring household to prevent her from becoming too clingy to one person or she should go to someone who has experience dealing with separation issues. She's settling quite well in a crate and this helps. She obviously hasn't been mistreated, just low priority in her previous home. She is integrating quickly into fosterers household and won't fail to bring loads of love into her new home...
Troy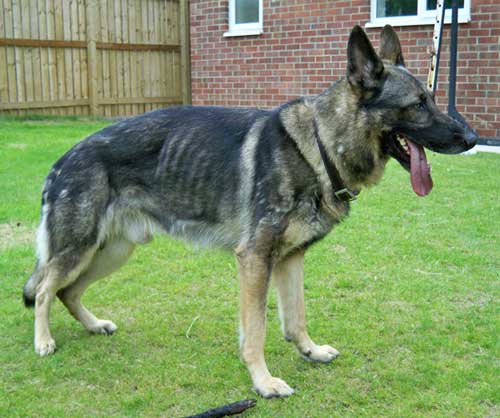 Troy really is a wonderful dog, very friendly and very happy. He is a very unusual sable colour and has wonderful marking's, the pictures do him no justice at all! He is very stunning looking and has a fantastic temperament to go with them Troy loves everyone, including children of pretty much all ages. He greeted our volunteer with cries of happiness. Great with kids of all ages and loves other dogs and wants to play. He does not like cats and will chase them, he will also chase sheep if given the chance. He looks rather thin, not through any kind of neglect at all. The owners said he just never seems to put any weight on. He is very strong on the lead and does pull. He knows all basic commands and is fully house trained. He is being left on his own most of the time as his owners have parted and neither of them is allowed pets in their new homes.
Zeus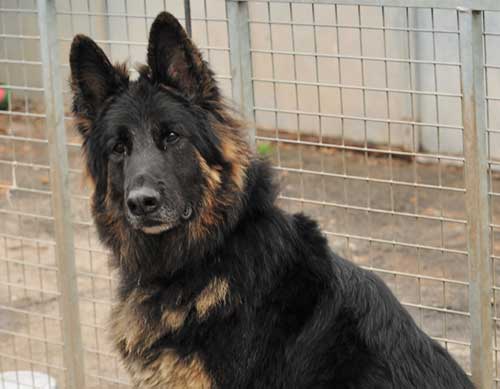 ZEUS - Long coat black and tan. Big strong dog. Did not bark on approach to kennel He has a habit of jumping up and latching on to arms which needs to be stopped. He is very powerful on lead, will need a strong handler and someone who understands the breed with this kind of trait.
Saxon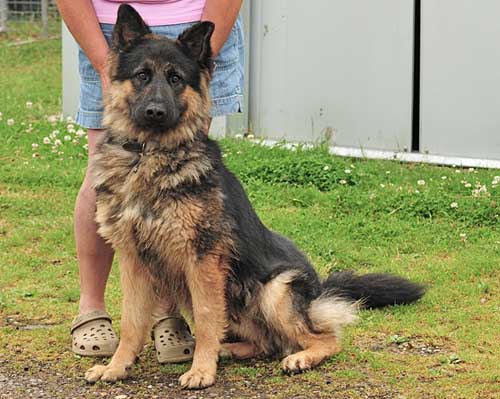 SAXON - Semi long coat, black and tan 10 months old came out of Birmingham Dogs Home. Is friendly, quiet, shy but not nasty. Has not bothered with any of the other dogs in the kennels. Kennel staff had to go and sit in the kennel with him at first and he used to wag his tail but kept his distance, now they have no problems getting him out. A good brush up and he will be a nice young dog for someone. Quite strong on lead.
Pompey 5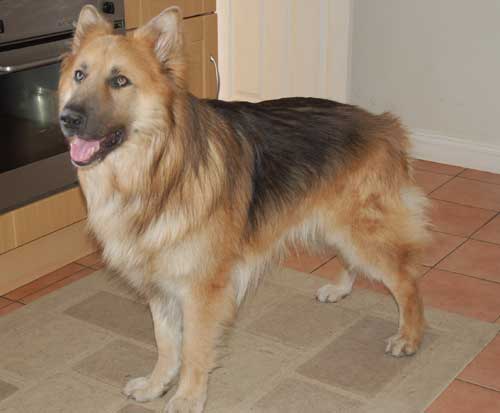 Gorgeous big hairy beast, you can't help but admire his looks when you meet him. Pompey's owner lost his home so poor Pompey has been passed around for the last few weeks and now needs some stability with an experienced, calm, patient owner. He is a big bear of a dog and he needs a home without young kids where he will be allowed to settle in quietly without any pressure on him. He bonds quickly and strongly which needs to be managed so that he does not become over protective. Although he does get on with other dogs, he gets very jealous of them and so may be better as an only dog or being homed with a dominant bitch.
Tyra - still a puppy herself at 9mths, now a mum.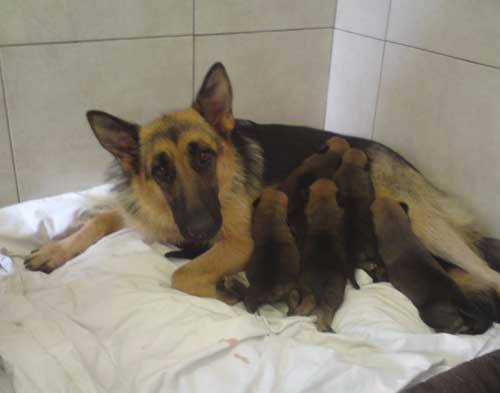 Tyra was handed into the rescue pregnant. Tyra gave birth to 6 puppies which we believed were GSD/Boxer crosses. Unfortunately she was too young to cope with the puppies and 4 were found dead. Read Tyra's story.
Alfie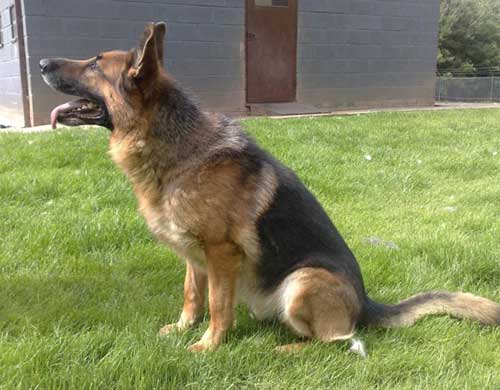 Alfie is the most stunning GSD, he is 5 yrs old, very friendly and good with children of all ages, he is very good with big dogs but if a small dog bark he will bark back, Alfie is castrated, vaccinated and chipped, walks well on the lead and is obedient, he does chase cats outside but has never been close.
Boadicea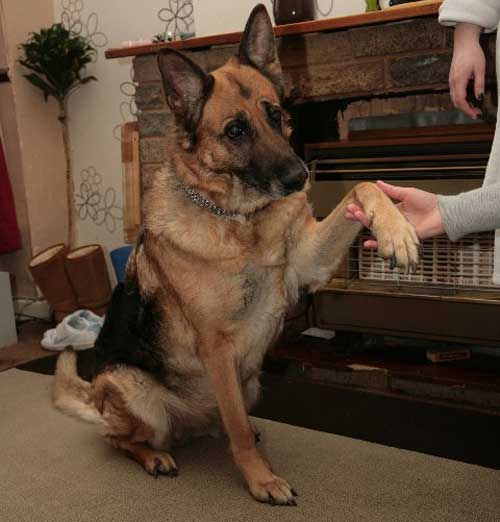 Boadicea is a lovely natured 8-year-old girl who's owners have sadly parted company. She has no health issues whatsoever, and never had a reason throughout her life to visit the vet. She is a healthy, loving, gentle girl who is good with smaller dogs but is a little wary of bigger breeds. She is used to travelling in a car and does not chew when left alone. She is house trained and generally very well behaved. Boa deserves a good home with loving owners and has never been a problem to her life-long owners. It is unsure as to her reaction to cats, as she has never really experienced a cat where she lives. She loves to go walks and be played with. She is good with kids.
Gary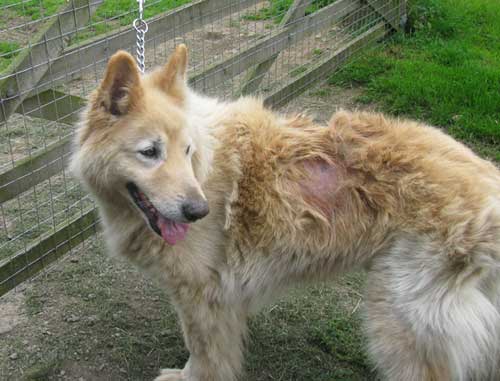 Gary is a gorgeous boy, castrated, think he's about 5 years old was found tied up in a quarry, in a poor state. He is good natured, very friendly, Ok with other dogs. Got 2 bald patches on either side and is on antibiotics for this, he's had his ears washed out and been treated with Spot On. Very thin and will need lots of TLC to get him built up. Not been a problem at all in the kennels and will make a very loyal companion.
Donations are always welcome
Please help us by making a donation so that we can help re home more unwanted German Shepherd Dogs. Donations can be sent to Jayne Shenstone, German Shepherd Dog Rescue, Little Vauld, Marden Hereford HR1 3HA. We also accept Paypal payments - just click on the Paypal button below. Thankyou.