German Shepherds Rehomed 27
More German Shepherd Puppies and Dogs that have found new homes
ALL OF THESE DOGS ARE NOW REHOMED
SUCCESS STORIES
|1|2|3|4|5|6|7|8|9|10|11|12|13|14|15|16|17|18|19|20|21|22|23|24|25|26|27|28|29|30|
|31|32|33|34|35|36|37|38|39|40|41|42|43|44|45|46|47|48|49|50|51|52|53|54|55|56|57|
|58|59|60|61|62||63|64|65|
Jester 7 - lovely friendly boy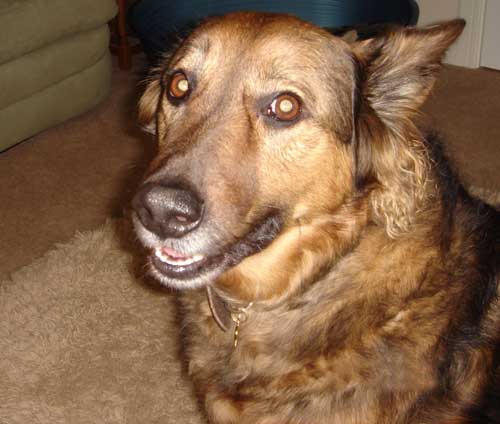 Jester is a lovely friendly neutered boy who loves kids and lives with 2 small dogs. This lovely boy is looking for a home again because he pulls on the lead, lunges at dogs when out and because he leaves brown patches on her husbands lovely lawn!!! He pees on the lawn because she won't walk him anymore. Jester will make a lovely family pet for someone with a bit of time for him.
Eiger 3 central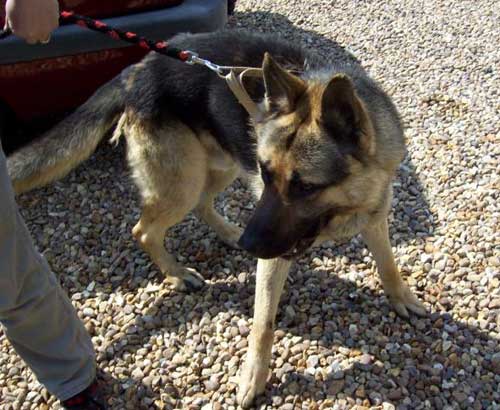 This lovely young GSD was kept tied up in a yard and never allowed in the house as his owners regard dogs as unclean! He ended up in the dog pound and reached his 7 days so was added to the list to be put to sleep. We got him out and he has turned out to be a lovely boy. He is bouncy and gets very excited at any attention - something he has clearly never had before. He has obviously never been on a lead before so will need a bit of training there. He seems friendly and sociable. With just a little training he is going to make a fantastic pet for some lucky family.
Hayley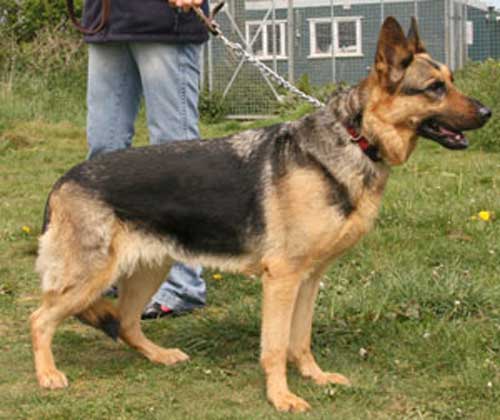 Hayley is approx 5 and is a good-looking bitch, black and tan, short coat in nice condition. She settled very quickly and quietly with our fosterer and his dogs, male and female. She is affectionate and obedient and knows "come", "heel", "sit" and "down". Good with children, she loves attention and will be a very loyal companion.
Thorn - 12 years old!!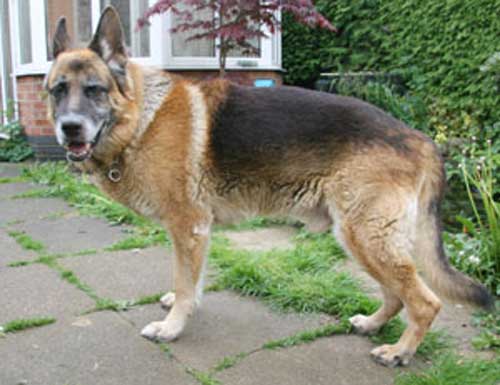 Thorn is a big boy, very friendly and loves attention. He's not too keen on other dogs, he would be better with a bitch. He doesn't like cats. He has lived with children from the children's birth. Although he's 12, he's quite fit and in good condition. His hips are a little stiff and we think he's slightly deaf. Although his eyes look very slightly cloudy, he has no difficulty seeing things. We think he will make a great companion for an older person/couple as he doesn't need much exercise – a toddle to the corner shop twice a day and toddle round the garden will keep him happy.
Saskia 8 months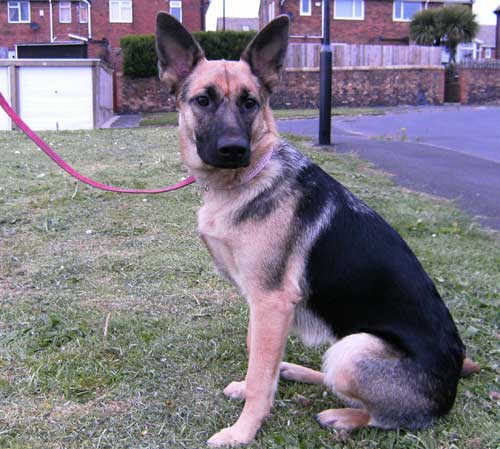 Saskia is a lovely girl. Very happy friendly and playful. She lets you take her toys and bones off her without any aggression or complaint. She lets the 6 cats she lives with eat out of her dinner bowl and she likes to lick them clean. There is also a house rabbit which lives in a cage in the living room, she doesn't bother it at all. She does pull on the lead, but this is something that can be worked on and she will learn very quickly only being 8 and a half months. In my opinion, Saskia is trying to take the roll of top dog since their border collie died 3 months ago. The border collie x was top dog. Saskia is trying to dominate all dogs she meets and is quite aggressive with it. This is something she could overcome with correct handling and socialising. We have 3 weeks to re-home Saskia is 8 months old spayed she lives with children great with cats she is not good with other dogs but did live with a border collie.
Bob - very distressed at being in kennels.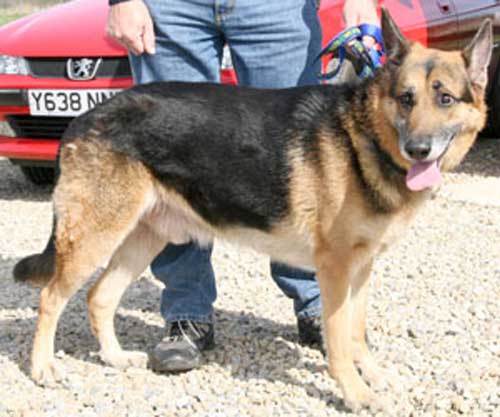 Bob is aged about 7 or 8 he is entire, quiet lad, friendly, good on the lead, nice shiny coat. He is very upset about being in kennels and urgently needs a home to go to.
Keiser 8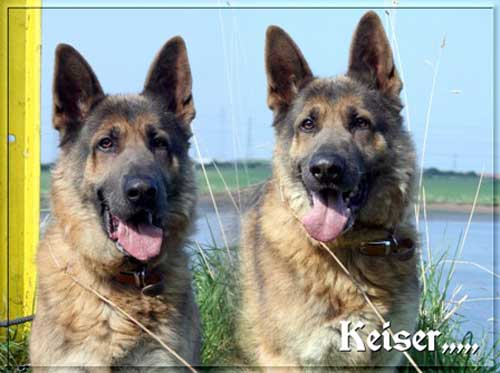 Keiser is an 8-year-old GSD that is desperate to get settled in a loving home that understands his demands. He is a little bit set in his ways so it is understandable that he feels vulnerable after being in several homes over a short period of time that have not worked out. Not Keiser but the new owners' fault. After many months in kennels, he is being introduced to a sociable life lifestyle. Lovely boy that deserves a forever home.
Bo Bo - Lovely big boy pictured with volunteers son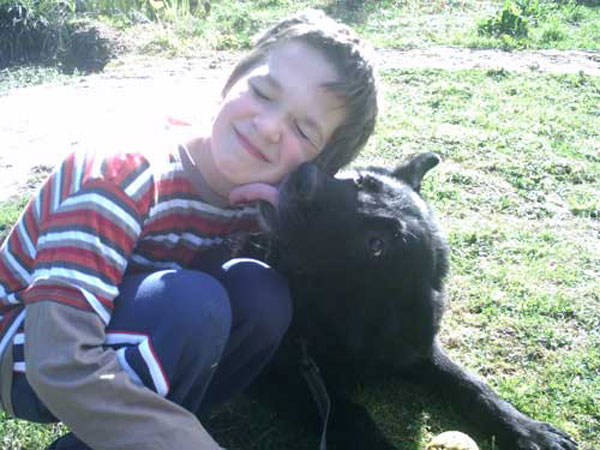 Bo Bo is a big dog who loves a game and is quite active, but after a bit of running around he wants to have a steady walk and a lay down We think that he would probably be better suited in an adult only home he is the only dog and where perhaps children just visit. He loves company and is content to sit with you at the gate etc and watch the world go by.
Oscar - NE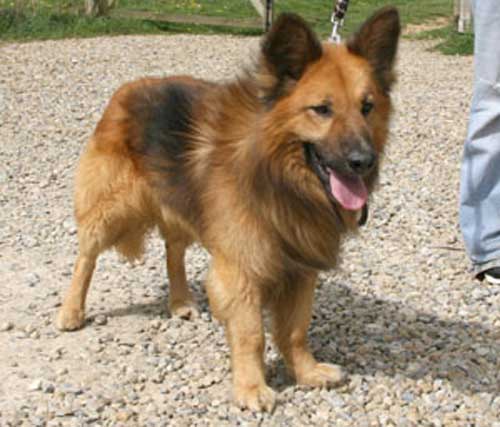 Oscar is aged about 2 years, is a Black and Tan long-coated male, but very light coloured. Entire. He is a small dog and is placid. He loves doing his own thing, sniffing everything around him. Pleased to meet other dogs. Good on lead, he understands 'heel' but needs further work; he also knows 'sit' and 'down', but these need reinforcing. He is stressed in kennels and is a little underweight.
Rebel and Molly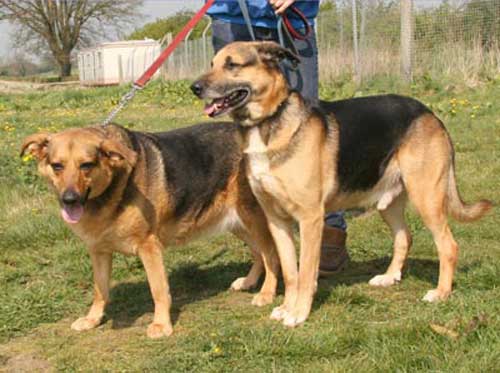 These two were taken from a 3rd floor flat, the owner had been made homeless and left the dogs with his elderly father who could not cope.The dogs never had any accidents whilst in the flat although it was difficult to get them out. We believe that Rebel is 7 yrs old Black & Tan entire not up to date with Vac. Molly is over weight she is approx. 9 yrs old although we are not sure. we believe her to be spayed. she is Black /tan short coated. We are told that they are both ok with children & other dogs but not cats. they have never shown any aggression, Molly is a little shy rebel is fine.Both these dogs have already been in a dog shelter that is where the previous owner got them. They have lived together for some years now although were not adopted together. We would like to think they could spend the rest of their days together. Rebel & Molly seem to have had a life full of changes so a stable home would be appreciated. They are now both in kennels and we would like to see them settled into a nice home that they can call their own. Please do not over look them because of their ages or the fact that they may not be well bred.
Donations are always welcome
Please help us by making a donation so that we can help re home more unwanted German Shepherd Dogs. Donations can be sent to Jayne Shenstone, German Shepherd Dog Rescue, Little Vauld, Marden Hereford HR1 3HA. We also accept Paypal payments - just click on the Paypal button below. Thankyou.