German Shepherds Rehomed 26
More German Shepherd Puppies and Dogs that have found new homes
ALL OF THESE DOGS ARE NOW REHOMED
SUCCESS STORIES
|1|2|3|4|5|6|7|8|9|10|11|12|13|14|15|16|17|18|19|20|21|22|23|24|25|26|27|28|29|30|
|31|32|33|34|35|36|37|38|39|40|41|42|43|44|45|46|47|48|49|50|51|52|53|54|55|56|57|
|58|59|60|61|62||63|64|65|
Daisy Daisy - give me your answer do!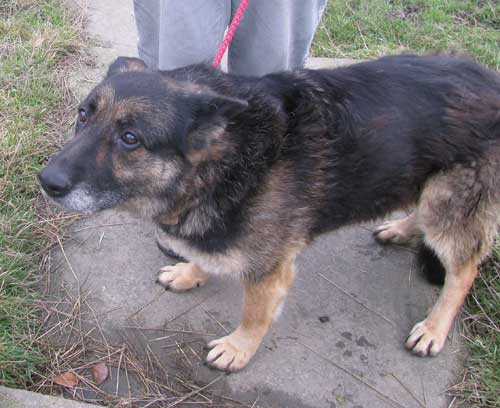 We took Daisy from the pound as her time was up. We think she is about 8 years old, she's overweight and her coat has been neglected for some time. A friendly girl who will make a lovely companion for somebody willing to put a bit of time into some lead training as she does tend to pull on the lead.
Jasper 3 NE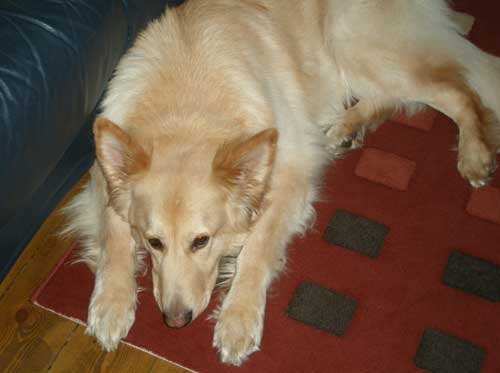 Jasper is a 3 year old white long coated neutered male. He is absolutely gorgeous, very good with children of all ages. Not good with dogs or cats. Jasper needs a home urgently as his new owner has developed a severe allergic reaction to him.
Basil - needs a brush!!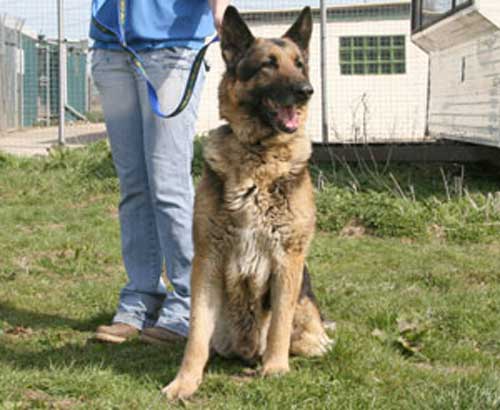 B & T semi-long aged around 5/6, neutered, again quiet and OK on lead, handsome lad but looks as if he has had a hard life. Kind loving home needed asap.
Bruce - Loves people!!!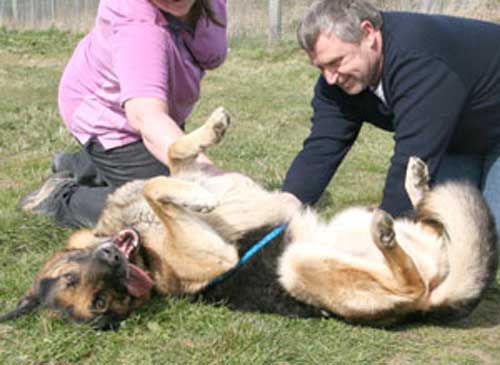 Bruce – B & T short coat aged about 5, entire, big boy with a large head, very strong but gentle, beautiful coat, seemed good on lead. This is the softie who knows how to sit and give his paw for treats and roll over for a tickle. Another handsome boy.
Rocky - AT RISK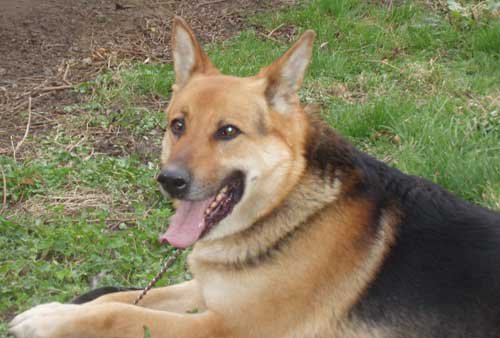 We think Rocky is at risk and he will be PTS if we don't find him a home. The owner doesn't like dogs, he is not allowed in the house, did not respond to his name, was so pleased to see our volunteer and get attention He is 8 yrs so it would be nice to get him a loving home.
Bruno - really pulled the short straw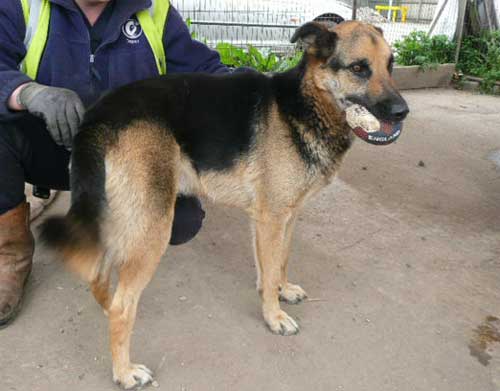 Bruno is a three yr old entire male, he has lived in a car in an enclosure and been used to guard but he is a very loving boy who loves his cuddles and a game of ball but makes all the right noises when needed, he has mixed with the workers other dogs and seems fine, he is not used to cats or children, Bruno is microchipped.
Sasha - not doing well in kennel environment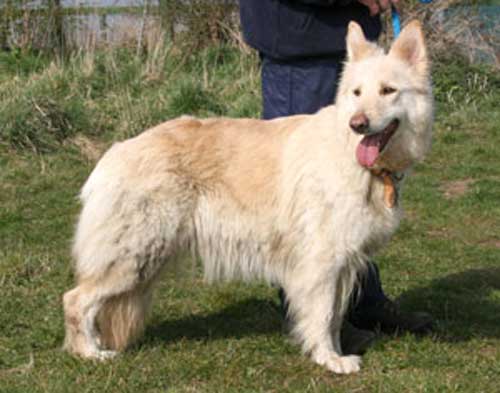 Sasha is very nervous in the kennels, but she quickly came to round for our volunteer when she saw the lead in his hand. Once she gets out of the kennel her fear subsides but returns immediately she is taken back in. Obviously, kennels is not the place for her to be! The volunteer groomed and walked her and she was absolutely fine. She is responding well to attention, she actually likes being groomed and she now walks to heel She is going to make a great pet for the right person. Sasha is a very intelligent dog.
Keith 4-5 central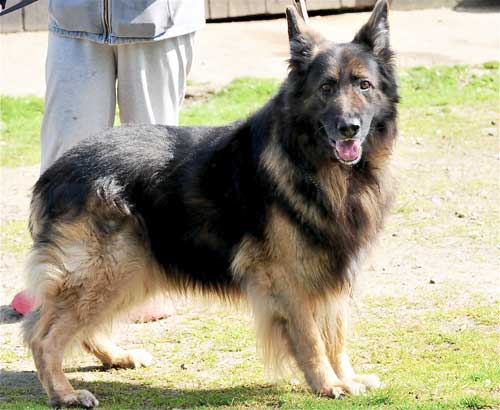 Rescued from death row. Keith is an entire long coat black and tan boy. Age 5 - 6 years, Not nervous and not food possessive. At the moment he is stressed and kennel guards, and we are not sure how he will be with other dogs. Quite short in his legs. Lovely long coat. Great with people but not so good with strange dogs. He is stressed ebing in the kennel environment.
Cassie 1-year-old - tortured with a shock collar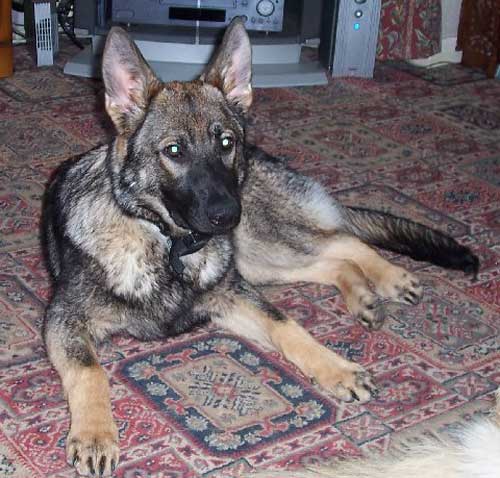 Cassie is only 1 year old and has already had a litter of puppies which her owner has sold. Her evil owners have tortured her with a shock collar to stop her barking. She has scabs on her neck caused by the electric collar and drops to the ground at sudden movements. She is so frightened now that she needs an understanding home without young kids.
Diego - central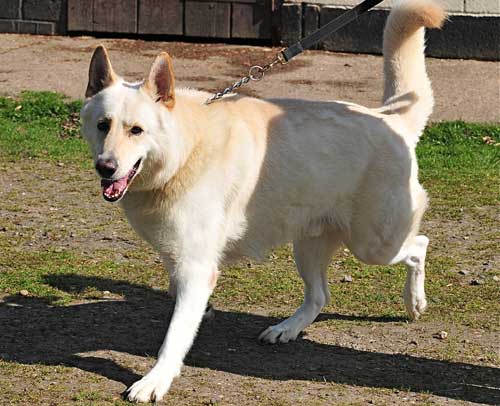 Not much history as he was a stray saved from being put to sleep in the dog pound. Diego is a gorgeous big white boy, entire, micro chipped aged 2 - 3 years. He has a lovely temperament boisterous/lively and would suit an active family.
Donations are always welcome
Please help us by making a donation so that we can help re home more unwanted German Shepherd Dogs. Donations can be sent to Jayne Shenstone, German Shepherd Dog Rescue, Little Vauld, Marden Hereford HR1 3HA. We also accept Paypal payments - just click on the Paypal button below. Thankyou.