German Shepherds Rehomed 46
More German Shepherd Puppies and Dogs that have found new homes
ALL OF THESE DOGS ARE NOW REHOMED
SUCCESS STORIES
|1|2|3|4|5|6|7|8|9|10|11|12|13|14|15|16|17|18|19|20|21|22|23|24|25|26|27|28|29|30|
|31|32|33|34|35|36|37|38|39|40|41|42|43|44|45|46|47|48|49|50|51|52|53|54|55|56|57|
|58|59|60|61|62||63|64|65|
Brook and Brandy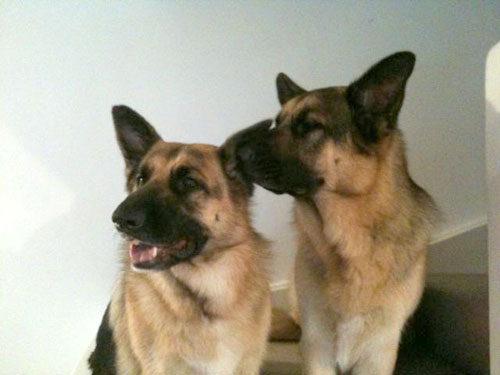 Brook & Brandy are 2yr old Brother & Sister who will need to be rehomed together as they have never been parted and don't like being separated. They have been spayed & neutered and are fully up to date with vaccinations. They have no problems playing with other dogs and are happy to be around children of all ages. They will chase cats as they have not had any socialisation around them. They are lovely family pets with no issues but unfortunately, the owner cannot keep them.
Max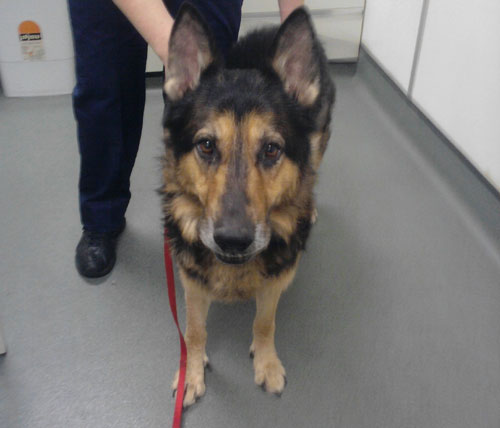 Max is 6 and in a foster home where they have found him to have a lovely nature and is pretty chilled out. He's fully house trained and will let you know when he want's to go outside. He walks ok on the lead but does still need some work in that area as we don't think he's used to being walked. It seems that he hasn't been socialised with other dogs so taking him to a few training sessions should help with this and his walking. He could be homed with older children as small children could be knocked over by him if he jumps up. Max can be left alone without destroying anything. He's a sweet boy and deserves a loving home.
Shadow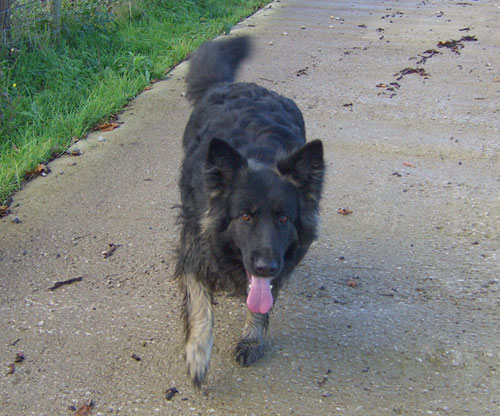 Shadow is a beautiful long haired 5-year-old who lives with Spirit. She has been spayed and never had pups. She loves playing with other dogs and has a calm loving nature. She is a little overweight so will need lots of exercise to slim her down. She ignores cats and children unless they want to play with her which she really enjoys. Shadow and Spirit have come from a loving home where lots of training and rules have been set which has resulted in a super dog who could go into a family home with no problem.
Spirit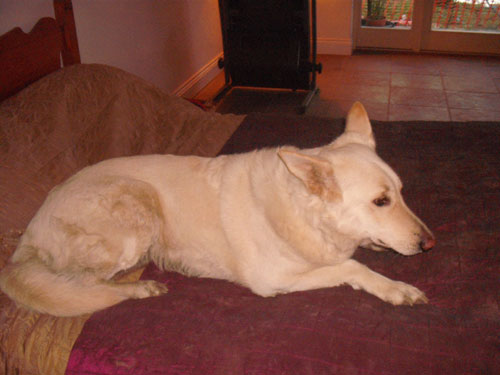 Spirit is a very sweet timid 4 year who lives with Shadow. She has been spayed and like Shadow never had pups. On initial contact with humans she does shy away but if allowed to approach on her terms she is fine and then relaxes. She ignores cats and children and loves playing with toys. Spirit and Shadow have come from a loving home where lots of training and rules have been set which has resulted in a lovely dog albeit a little shy.
Dives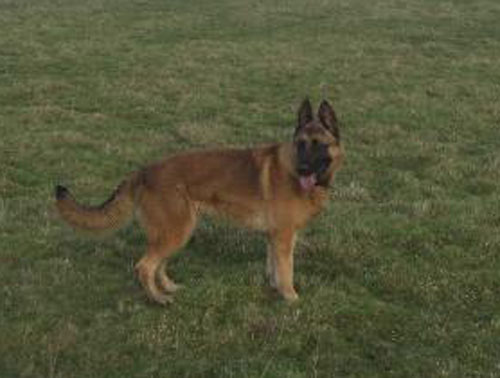 Scrogs and Dives two litter sisters, they are Anatolian x GSD's, big dogs but both have absolutely lovely temperaments, everybody falls in love with them. They were handed into the pound and their time up so came to our rescue. They are big dogs, but love everyone and are great with other dogs. It would be good to re-home them together if possible.
Inga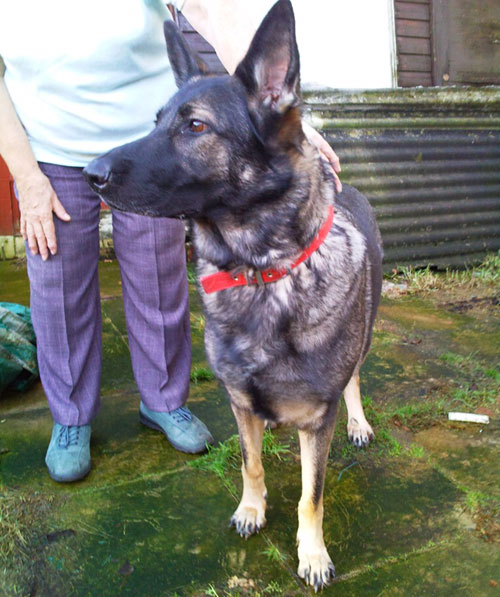 Inga is a 3 yr old unspayed bitch she is Black & Tan short coated. She is good with dogs, cats, children we don't know as none in the household. This young girl is looking for a new home due to illness in the family. She has no bad habits, is housetrained, loves her walks she does pull a little on the lead. she does the usual barking when people arrive at the door but soon settles down after she has checked them out. Our volunteers thought she was a nice bitch and will make some family a very nice pet. Inga is in the Huddersfield area.
Mollie - dumped for Xmas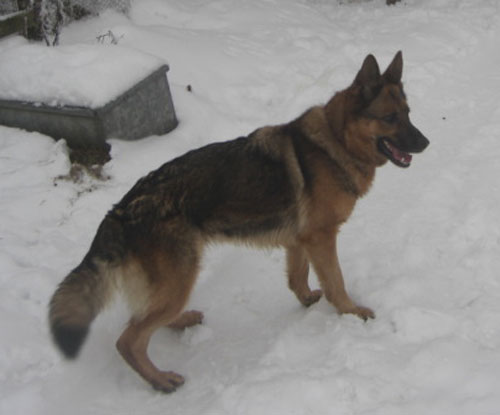 Molly is about 3 years old. She is quite small but such an adorable girl, really friendly. She was found dumped near some kennels. Will be a lovely companion for somebody.
6 GSD / collie cross puppies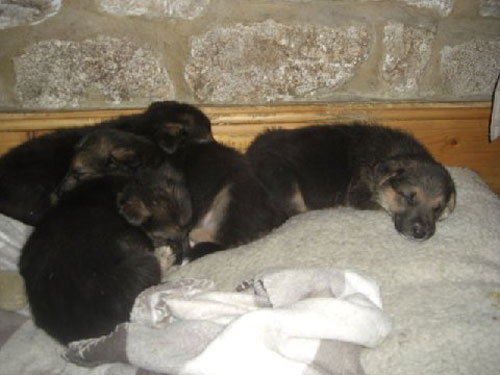 See more pictures and details of the 6 GSD X puppies
Zeto - being left alone for 17 hours a day because new girlfriend doesn't want him!!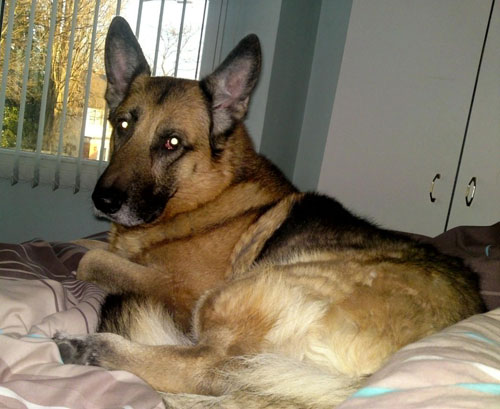 Zeto is a handsome 10-year-old entire male. He is very good adults, children and dogs. Not sure about cats. In need of a permanent home as his owner has a new girlfriend who doesn't want Zeto.This has resulted in him being left up to 17 hours a day.He is not destructive and is house trained. Zeto loves walks and playing football.
Sharne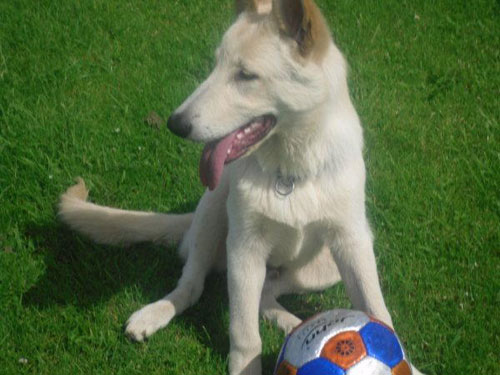 This beautiful 9mth male puppy needs a home with a secure garden as he keeps escaping from where he is close to a busy road. He loves playing with other dogs and his ball, children and cats. He is a typical bouncy puppy that has no issues apart from getting out. He has started to learn the commands but will obviously need more training. PLEASE DO NOT PHONE TO ADOPT HIM UNLESS YOUR HOME CHECK HAS BEEN APPROVED.
Zac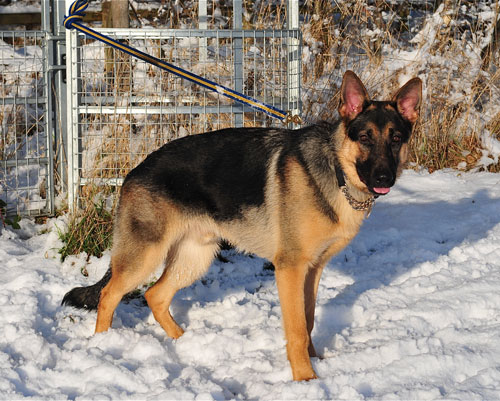 Zac is a big bouncy puppy of 8mths old who is testing his boundaries. He was taken as an emergency because the owner had booked him into the vets to be put to sleep!! He is now with a fosterer where he is a different dog. Zac needs an experienced, firm but fair new owner without young children, who will put in the time to train him. He will need lots of stimulation and exercise to burn off all the energy. Lovely dog, typical young male GSD.
Donations are always welcome
Please help us by making a donation so that we can help re home more unwanted German Shepherd Dogs. Donations can be sent to Jayne Shenstone, German Shepherd Dog Rescue, Little Vauld, Marden Hereford HR1 3HA. We also accept Paypal payments - just click on the Paypal button below. Thankyou.