German Shepherds Rehomed 6
German Shepherds Rehomed 6
SUCCESS STORIES
|1|2|3|4|5|6|7|8|9|10|11|12|13|14|15|16|17|18|19|20|21|22|23|24|25|26|27|28|29|30|
|31|32|33|34|35|36|37|38|39|40|41|42|43|44|45|46|47|48|49|50|51|52|53|54|55|56|57|
|58|59|60|61|62||63|64|65|
SERIOUSLY AT RISK - All rehomed now

The pound is full to bursting and these 3 are at serious risk, their time is up. The boy on the left is only approx 9mths old, the girl in the middle around 2 and the white is a boy and is about 5 years old.
At-risk dogs - Birmingham Dogs Home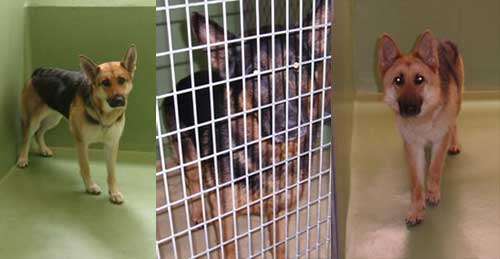 These 3 have all found new homes
Gem - North East approx 1-year-old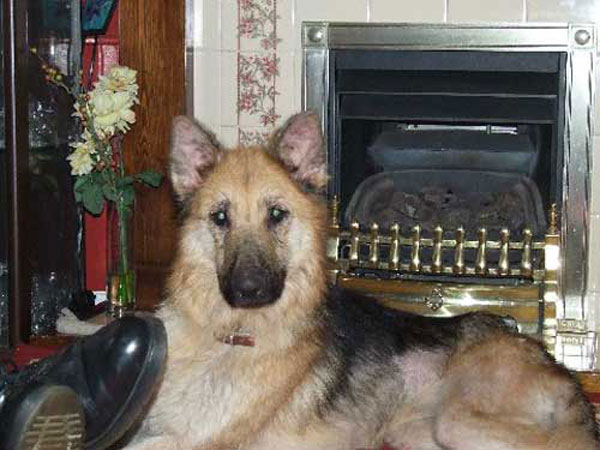 Gem was taken from a council pound in a terrible condition. She is now ready for rehoming and is looking for her forever home preferably with someone that has a bit of experience with the breed. She is living with other dogs at the moment, will chase cats. A lovely friendly dog that deserves a nice home. She has had a bad start to her short life. Read Gem's story here>>>>>>>>>
Bonzo - Peterborough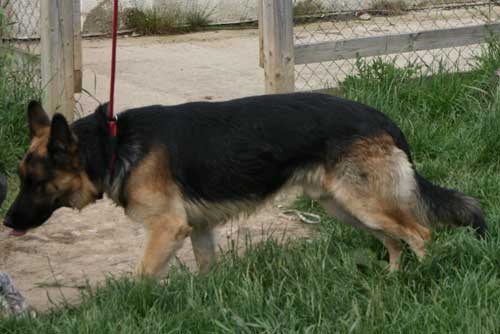 Bonzo is a lovely easy dog - good all rounder. Call Ros on 07849 637862
Amber - Nottingham. DESPERATELY NEEDS A HOME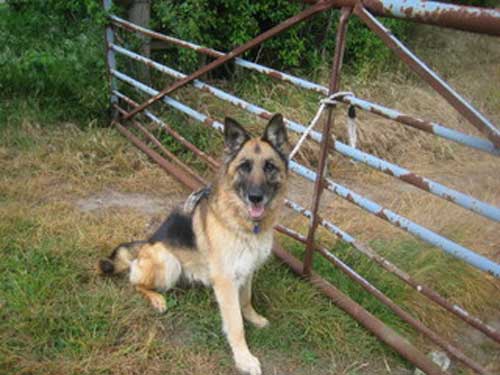 This lovely German shepherd is Amber. She's about 7 years old and has been in an awful kennel for months. She's a quiet girl and takes life at a steady pace. She came in with a skin complaint which has cleared up now but will need to take tablets for the rest of her life. The medication will be paid for by the rescue that saved her from being put to sleep. Can you give a home to this gentle lady?
Leilah - Chester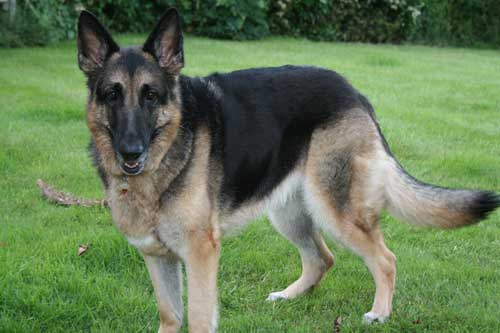 This lovely girl is 5 years old but is being left for 13 hours a day so has become bored and over protective of her property. She has lived with young children and is OK with other dogs and cats
Calvin approx 2 - Peterborough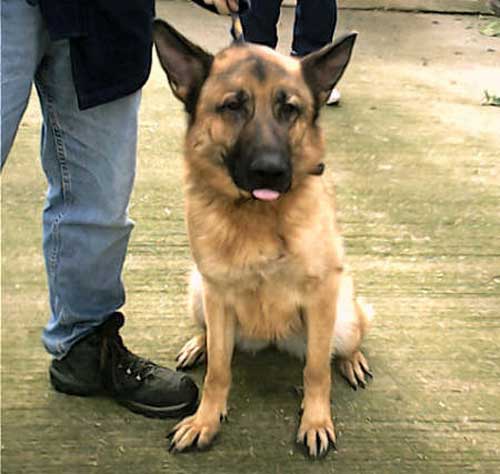 This lovely German Shepherd is Calvin. He's about 2 years old. He adores other people. He is a strong boy so watch out for stretched arms when you go walkies! Experienced home only.
Muller - hasn't been out for walkies for 2 years!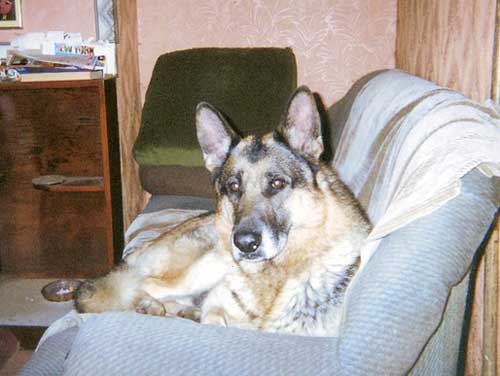 This poor dog hasn't been out for walks for 2 years and is built like a brick outhouse - must weigh 8 stone. Owner not sure if he is good with other dogs, cats, children or babies! Words fail us.
Max 3 - Leeds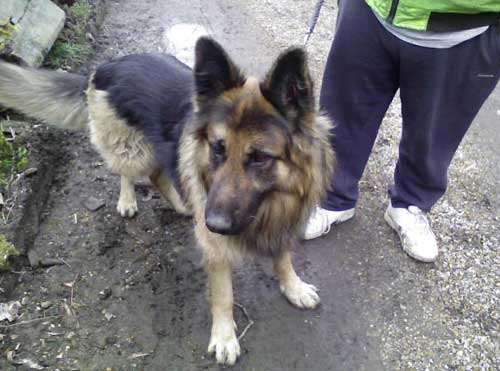 This beautiful big boy hasn't had much of a life and spends most of his time on his own in a compound. He doesn't get walked and is not well socialised although he is very friendly with people. He needs grooming and lots of TLC.
Mavis and Poppy 4 and 4 mths old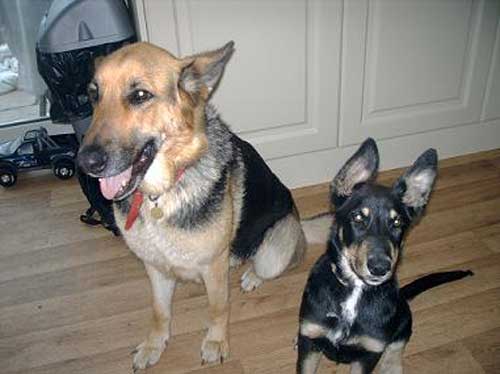 This cute pair needed a home. Mavis is really placid and very well behaved. Poppy is just a typical GSD puppy. Can be rehomed separately, just need kind loving homes. Owner says the baby is allergic to the dogs!
Freya 2 -North east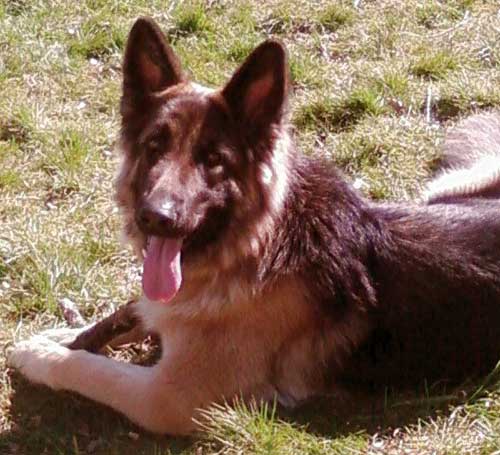 Freya is very good with children, she is used to other children visiting and tolerates them well. She lives with an old collie, who she gets on with famously. She has good basic command skills is eager to please. She is also used to cats and guinea pigs, parrot. She is used to travelling in the car and is not sick. Freya suffers from EPI so needs pancreatic enzymes every day with her food. She is housetrained, but cannot be left too long unsupervised because of her problem....when she has to go she has to go!!!! She would wake you during the night if she needed out.
She is a very pretty bitch and has a kind expression. She just needs a loving patient home and given time to settle. She will make somebody very happy.
Jose and Pablo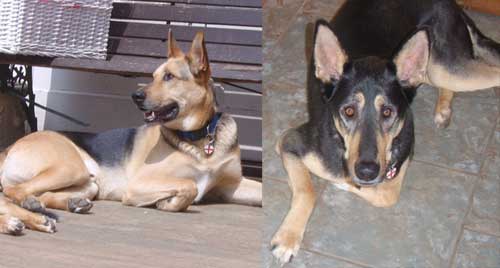 Jose and Pablo, brothers whose owners no longer feel they are able to give them the exercise and socialisation they deserve. Both are 3 years old, neutered, vaccinated, wormed and frontlined and microchipped, they are housetrained, travel well in the car and are happy to be left, they are not tested with cats. Pablo is the more confident and the bolder one, Jose is a lot quieter and more reserved, they both love cuddles and know basic commands. They are very loving to strangers and family and love everyone. They get on well with other dogs big and small and are super boys, we would like to find them a home together if possible as Jose loves his brother.Jose
More German Shepherds that have been rehomed
Donations are always welcome
Please help us by making a donation so that we can help re home more unwanted German Shepherd Dogs. Donations can be sent to Jayne Shenstone, German Shepherd Rescue, Little Vauld, Marden Hereford HR1 3HA. We also accept Paypal payments - just click on the Paypal button below. Thankyou.