German Shepherds Rehomed 54
More German Shepherd Puppies and Dogs that have found new homes
ALL OF THESE DOGS ARE NOW REHOMED
SUCCESS STORIES
|1|2|3|4|5|6|7|8|9|10|11|12|13|14|15|16|17|18|19|20|21|22|23|24|25|26|27|28|29|30|
|31|32|33|34|35|36|37|38|39|40|41|42|43|44|45|46|47|48|49|50|51|52|53|54|55|56|57|
|58|59|60|61|62||63|64|65|
Ice - not walked for 6mths!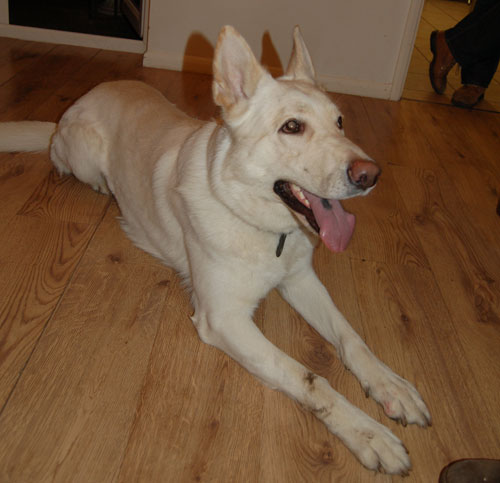 This young lad has not been walked for 6 months. He is a lovely friendly boy who lives in a house with 4 children, he is good with cats and other dogs. He was over the moon to see our volunteer and just loved all the attention. Ice needed to see a vet for a problem with his nose and our volunteer had to go and pick him up, take him to the vets and pay for his treatment. Ice behaved beautifully although understandably because he has not been walked for 6 months, he gets a bit excited at the thought of going somewhere. Our volunteer took him for a walk on the way back from the vets and Ice was so pleased and excited at being out. This boy urgently needs out and needs a new family who will give him the attention he so deserves.
Arnie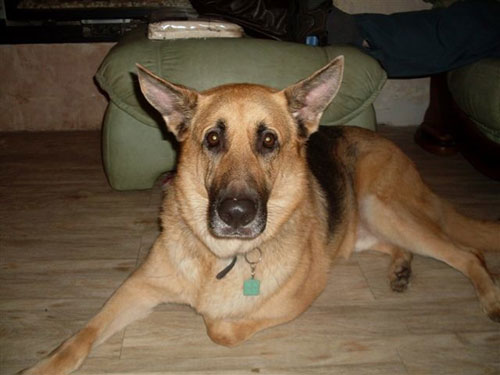 Arnie is a very loving, faithful and affectionate dog. He learns quickly and only wants to please. His recall is really good and he has now started to play and really enjoy himself. Arnie is one of those dogs that when you get that bond going you just trust him. He likes his food and has a lot of kind and friendly ways. The kind of owner for Arnie would have to have an understanding of the breed as he is a very typical German Shepherd. He needs to be introduced to strangers with caution so, therefore, going for a walk in the local park wouldn't be suitable. He would need to be placed in a home that wouldn't be busy with visitors and could go for a long walk where he wouldn't meet lots of other dogs, having said all that he is learning to be more tolerant. Arnie is worth considering he would be your loyal guardian for life.
Bella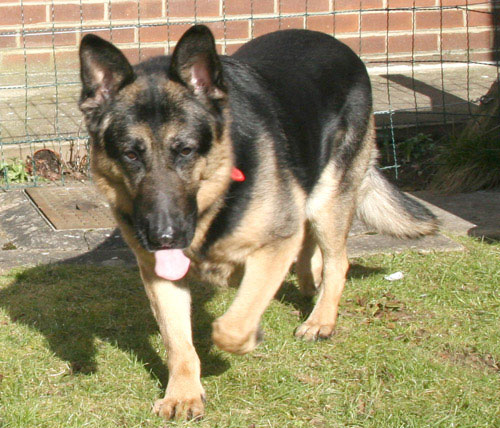 Bella is a very pretty 5-year old spayed bitch. Her owners, in York, are reluctantly parting with her due to their ill-health. She soon settled with our volunteer and just wanted affection. When he walked her she pulled a little, but quickly stopped and was well-behaved. She reacts to other dogs, which is down to a lack of socialisation and could be overcome by an experienced owner. She is good around the house and welcomes the many grandchildren who visit. Microchipped and seems in good health.
Jessy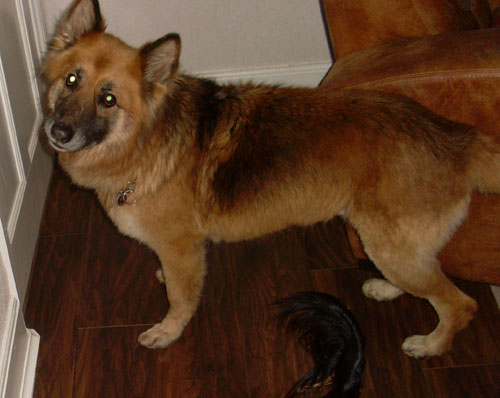 Jessy left tied up for days in a wood, micro chipped but left messages and so forth for the owner to no avail. She is very gentle and affectionate good with other dogs chases cats. Very good when being groomed. She is very clever can open doors and anything that contains food. She loves people and talks to you in her own way will make someone a loyal pet. Not very clean in her kennel but has been better recently since being groomed.She is now in a foster home and doing very well. living with other dogs.
Roxy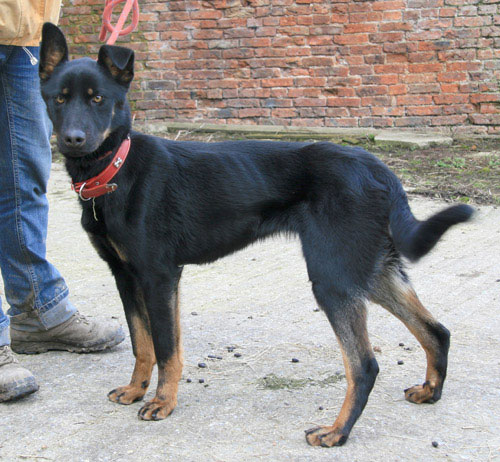 Roxy is a beautiful GSD cross, not yet a year old. She came to us from the pound so nothing is known about her background. A quite a bit underweight, but eating well, she has been extremely friendly with people including children, other dogs, cats and livestock whilst with us. She will make someone an easy, gentle companion who loves attention.She is in the York area
Skye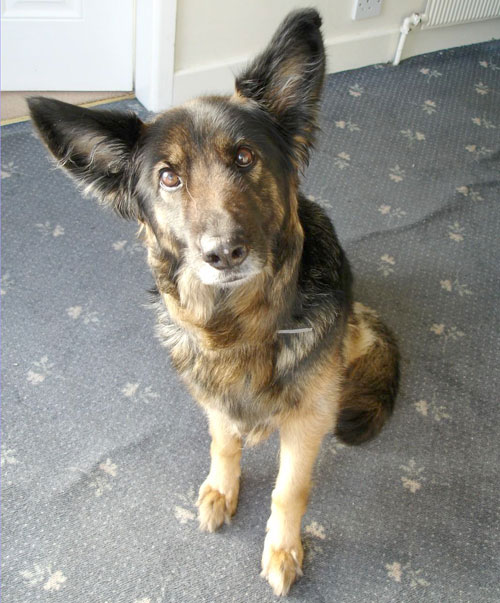 Sky is a lovely-natured, gentle and obedient, fully house trained GSD Cross semi-longhaired entire Bitch - quite small for a GSD. She was abandoned to the care of the lady currently kindly looking after her about 3 months ago. We think Sky has had 3 owners in her life. She is absolutely easy, friendly with adults, children and other dogs and with a really quiet calm nature. No aggression to either visitors to the house or to anyone near her food. Aged 5 or 6 years, but very fit and lovely-looking. No behavioural issues apart from that she pulls on the lead ( but fine when the lady bought a Halti for that). Good recall and will sit and go to her basket when commanded. Currently, in York, she needs a loving, forever home, where she will return affection with interest.
Zimba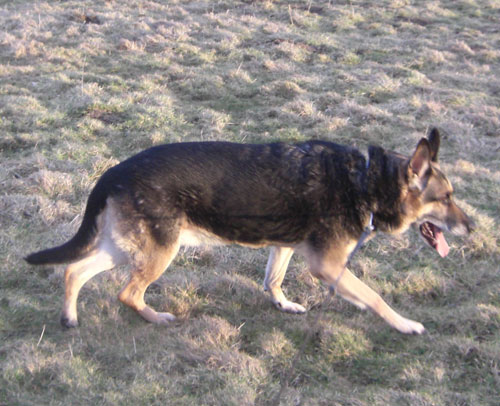 Zimba 8 years castrated and vaccinated and micro chipped his owner has had a stroke and he was handed into the pound where he cried for days and wouldn't eat. He is very affectionate and needs someone to give him a loving home to live out his days. He is a lovely dog and very affectionate once he gets to know you, loves playing ball fine around other dogs very gentle nature good off his lead he as settled really well with us but needs to be by the fire in a good home.
Remy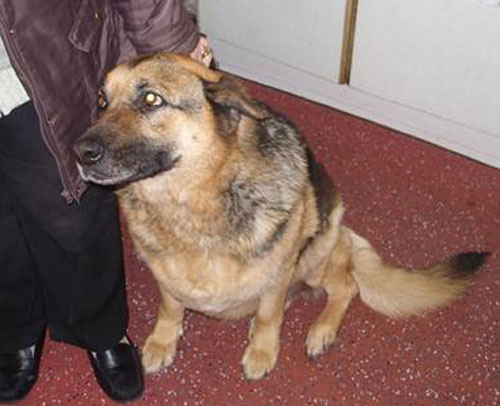 Remy is a 6-year-old spayed female. She gets on with people, children, cats and dogs. Poor Remy is not exercised and has become overweight. She is being rehomed as the owners are losing their home (their pub) and have nowhere for her to go.
Sally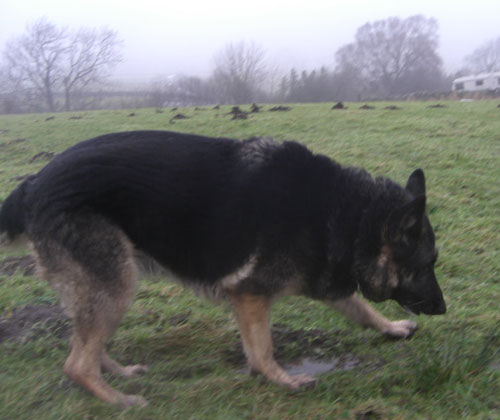 Sally about 8 years owner died and family took her to the pound. Very soft with people and affectionate. Not sure about cats. Fine with male dogs owner said she will bark initially at female dogs but is not aggressive towards them. Great off lead good recall.
Maverick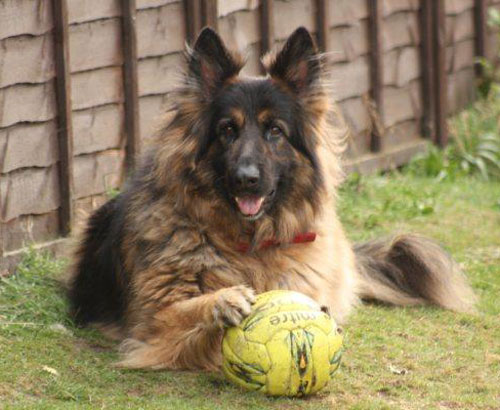 This stunner is 6 yr old, long coated Maverick. He is neutered, vaccinated and microchipped. Maverick is in desperate need of exercise, his current owners can't handle him on walks, so don't walk him at all. He is carrying a lot of excess weight, which at his age is unhealthy. He is a very strong-willed boy, who needs a strong owner to teach him to behave. He barks at other dogs when out, and at passing cars, but our assessor took him out and after a few minutes he stopped this. Housetrained. Travels ok.With a little time and the correct care & training, Maverick will be an amazing dog.
Donations are always welcome
Please help us by making a donation so that we can help re home more unwanted German Shepherd Dogs. Donations can be sent to Jayne Shenstone, German Shepherd Dog Rescue, Little Vauld, Marden Hereford HR1 3HA. We also accept Paypal payments - just click on the Paypal button below. Thankyou.