German Shepherds Rehomed 60
More German Shepherd Puppies and Dogs that have found new homes
ALL OF THESE DOGS ARE NOW REHOMED
SUCCESS STORIES
|1|2|3|4|5|6|7|8|9|10|11|12|13|14|15|16|17|18|19|20|21|22|23|24|25|26|27|28|29|30|
|31|32|33|34|35|36|37|38|39|40|41|42|43|44|45|46|47|48|49|50|51|52|53|54|55|56|57|
|58|59|60|61|62||63|64|65|
Puppy 1 - male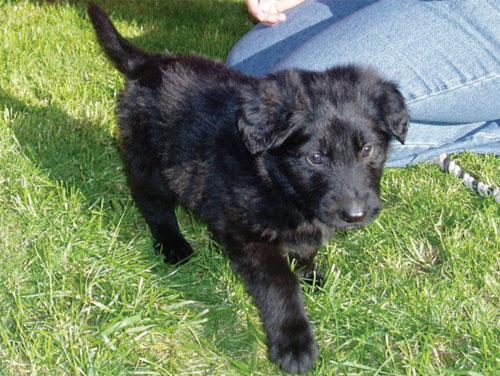 DO NOT TELEPHONE UNLESS YOU HAVE BEEN HOME CHECKED. This 7-week old male puppy was given to one of our foster mums by her vet where he had been dumped. He is not full GSD.
Obi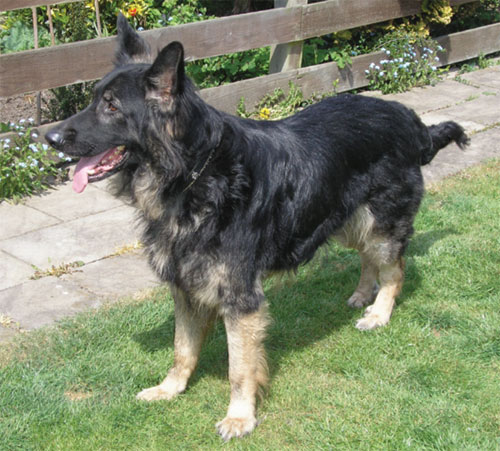 This 4-year-old entire boy was removed from a house of domestic abuse. He can be nervous of men but has a super temperament. Really come out of his shell in the short time he has been in foster.
Kane having a wash and blow dry as he came into us in a terrible state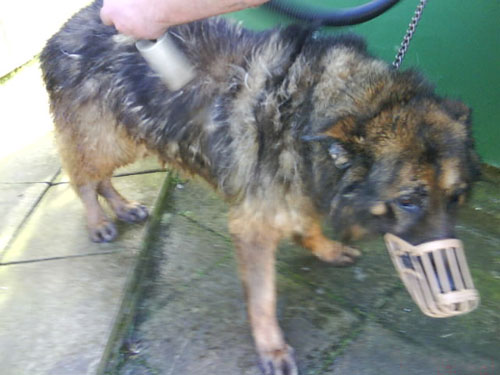 Kane was acquired by someone calling himself a security guard, who had him for just a few days. The security guard couldn't get Kane to do what he wanted him to do, so he bought himself another one and booked Kane into the vets to be put to sleep! We made sure Kane never made that appointment. More pictures of poor Kane who has been through a terrible ordeal
Roxy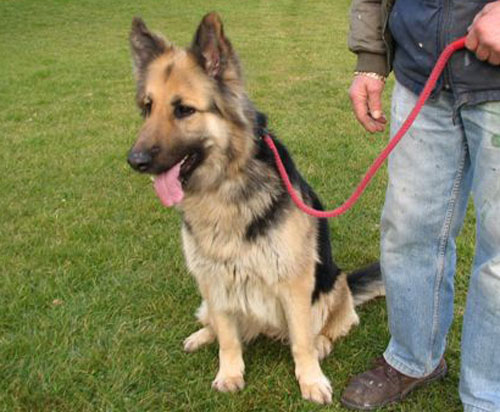 Roxy is a 3-year-old, who is OK with people but is not so good with other dogs or cats. A bit of training is required and she will need a firm experienced owner in an adult-only home or one with older teenage children. She has shown a bit of food aggression so this needs to be worked on so that she understands that this behaviour is not acceptable. She is a lovely bitch and well liked by the kennels.
Lenny and Ronnie - not walked for 3 years!!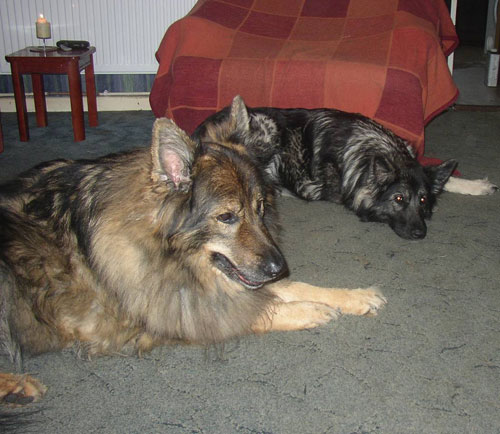 Volunteer assessment: Ronnie(Veronica) and Lenny are delightful dogs. Lenny is vastly overweight though and Ronnie could probably do with losing a few pounds, not surprising as they haven't been walked for nearly 3 years! On arrival, they barked initially but came straight over for a fuss and took treats gently. I took them for a quick walk up the close & of course, it was mad excitement and they pulled but not too badly. Lenny barked at everything (cars, people etc) but not really aggressively, more of an 'I'm here!' bark. He seemed a bit stiff on one hind leg but this could just be down to the weight problem. They are left alone most of the time and will shortly be made homeless.
Sheba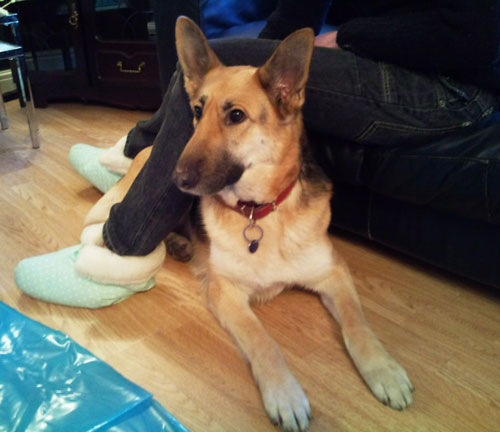 Sheba is a 6 yr old Black/Tan bitch she is not spayed she is vaccinated and booster due July. She is a little nervous around strangers but once she knows you she is playful & Friendly. She is not sure around children so would be best in an adult home. She is currently in the Bradford area.Sheba is fine with other dogs. But we don't know about cats as she has not been around them. She will make a very nice faithfully pet.
George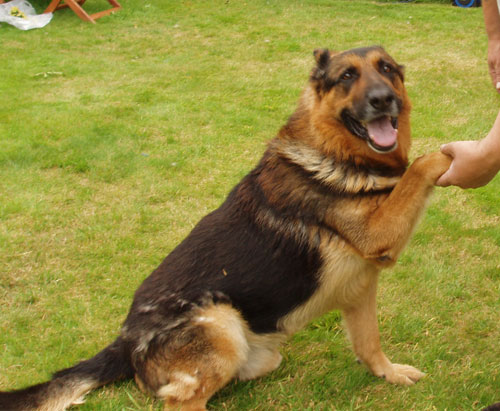 George is a very young active 9 yr old entire male. Whilst I was there is played in the garden happily the young child age 2 yrs ran about and George wasn't bothered with him at all. He is good with children of all ages.Due to the added pressure of work and the twins George is not getting the attention or exercise that he needs, therefore, the owners are reluctantly parting with him. They have had him since he was 2 yrs old. He is not good on the lead pulls this I feel is because he is not walked enough and is so excited when he goes out he doesn't know how to walk steadily.We don't know what he is like with cats as he has never lived with them. He is ok with other dogs pulls to see them but most people pull away with their dogs. George will be fine but if the other dog growls at him he will react.He is vac. till Sept. He goes into kennels when family go on holiday and they say he is fine whilst in their care. I found him to be a very friendly dog, needs some lead training, 9-month-old but I think he will respond to a firm but kind handler. He has a clean bill of health, never been ill.
Max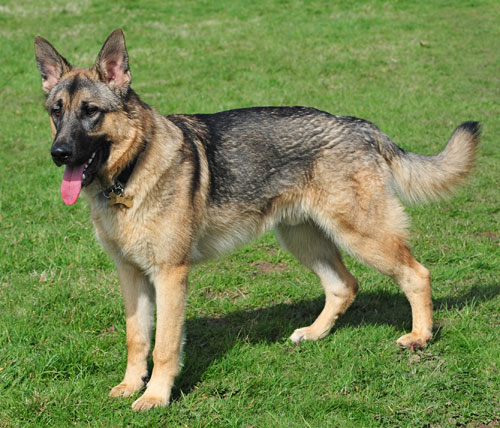 My name Is Max 9-month-oldentire boy. My date of birth is July, 09. I am vaccinated till October, 10 and I am now microchipped, wormed and flea treated. I have been in a foster home for 5 weeks now and I would dearly love a home to call my own, where I would get lots of love, attention, and walkies. I have already had two homes in my short life and was quite nervous, I used to cower and wet myself, but now that is all behind me and I have improved loads on the house training too. I have lived with children aged 6 and 18 but because I am boisterous and bomb around I would probably be better with older children. I will sit and give paw and absolutely love to play ball, and boy can I run and fetch when off lead, so a home where I will get plenty of exercise, training because I am very strong on lead, and socialisation with other dogs. I have no health issues, except I had a sore ear but now that is better because I have had some ear drops. I have no food aggression but love two big meals a day as I am a growing boy and I love my food and I am quite greedy. I have not lived with cats or other dogs. Please can I have a forever home and be your pet Love Max x
Bonnie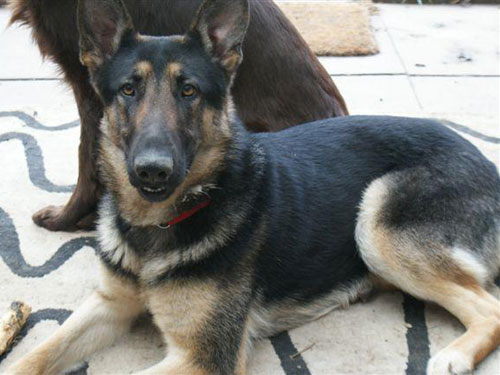 This pretty little girl was found as a stray & on her final day in the pound, we took her in. She is in foster care with several other dogs, who she loves to play with. We think she is no older than 12 months, still quite puppy-like.She has no aggression in her at all, and very rarely barks! Bonnie is housetrained, and does know some basic commands, and is learning new commands very quickly. She loves to be part of a busy family , going out in the car, playing ball with everybody she can! Not known if she is spayed. Bonnie is one special little lady, with alot of love to give. Will suit a busy, active family life.
Puppy 2 - female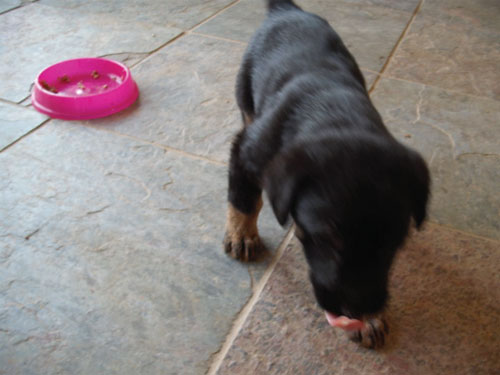 DO NOT TELEPHONE UNLESS YOU HAVE BEEN HOME CHECKED. This 7 week old female puppy was given to one of our foster mums by her vet. She had been dumped on the vet's after having been mauled by an adult mastiff. She is making a full recovery but needs a loving forever home. She is not a full GSD.
Donations are always welcome
Please help us by making a donation so that we can help re home more unwanted German Shepherd Dogs. Donations can be sent to Jayne Shenstone, German Shepherd Dog Rescue, Little Vauld, Marden Hereford HR1 3HA. We also accept Paypal payments - just click on the Paypal button below. Thankyou.