German Shepherds Rehomed 53
More German Shepherd Puppies and Dogs that have found new homes
ALL OF THESE DOGS ARE NOW REHOMED
SUCCESS STORIES
|1|2|3|4|5|6|7|8|9|10|11|12|13|14|15|16|17|18|19|20|21|22|23|24|25|26|27|28|29|30|
|31|32|33|34|35|36|37|38|39|40|41|42|43|44|45|46|47|48|49|50|51|52|53|54|55|56|57|
|58|59|60|61|62||63|64|65|
Mollie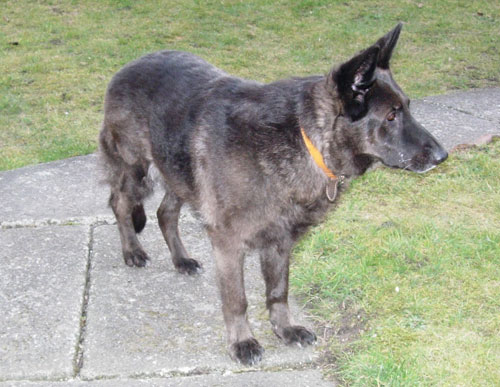 This pretty lady is 9 yr old Mollie. She is an absolute sweetheart and needs a home as she was being picked on by the owners other dog. She is currently being fed in the morning, then left in the house on her own, until the following morning. She is housetrained. Travels well. Walks really well on and off lead. She is spayed and in good health. Fine with cats. A lovely, placid girl who just needs a nice retirement home.
Kruger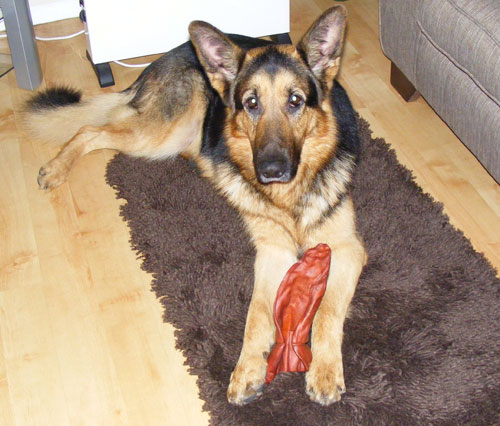 When his owners get up in the morning they give Kruger his breakfast and put him in his pen where he is alone all day until about 6.00 in the evening when they let him into the kitchen. He is not allowed beyond there because of the baby who has eczema. Kruger is becoming increasingly distressed and has now started to pace up and down the kitchen crying. Kruger just looks so sad as he is being continuously pushed away and he doesn't understand why. He is a beautiful dog, his owners got him as a rescue when he was 14 month. He hates cats but loves to play with other dogs – he loves the baby but is not allowed near him now. Kruger is a very loyal dog to his owners if shown some love he will immediately settle in.
Banjo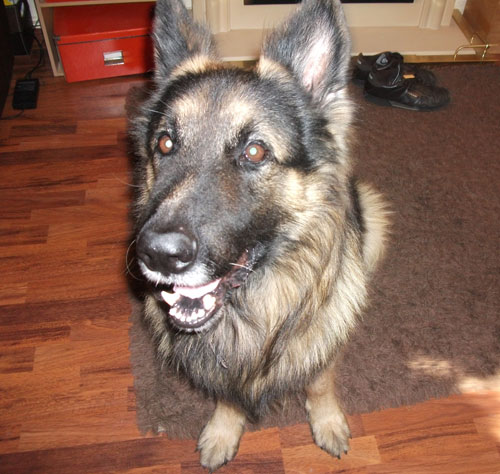 This is Banjo, who was picked up as a stray. He is approximately 3-4 yrs old and appears to have a lovely, laid back temperament. He is in foster care with another GSD and there are no problems. Seems fine with older children. Housetrained. Not microchipped. Not known if he is vaccinated. Pulls a little on the lead. A really nice dog.
Tia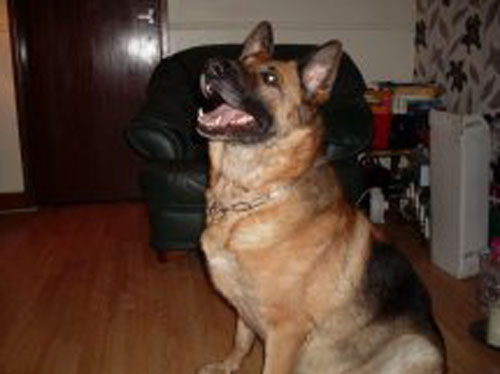 This is 5 yr old unspayed bitch, Tia. She has a fantastic temperament, loves children, loves to play and is obsessed with her squeaky toy snowman! She greeted our assessor with a lovely waggy tail. Tia has had some training, she knows sit, stay, paw etc. Not food or toy possessive. She is quite overweight, not getting walked at all, just left for 12 hours every day while the owner works. She pulls on the lead at first, but hardly surprising. Tia was attacked by a dog when she was younger, so she isn't keen on other dogs when out on walks. This needs working on. Dislikes cats. Needs a home urgently, she is being left far too long.
Rhio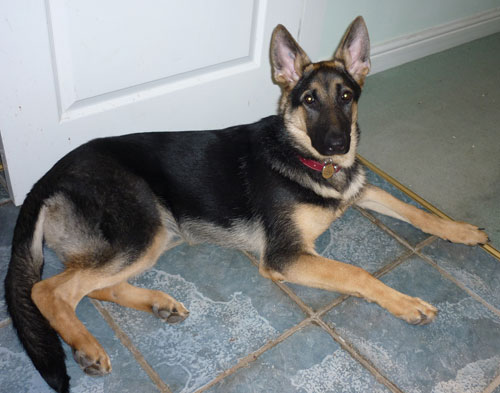 Rhio is just 12 months old she is a very tall girl. Rhio is very playful, she greeted our volunteer with a wagging tail, barked but was soon ok, she took a treat but then came back for more. She gets excited and has started to mouth. This can and will need to be stopped. There is no malice in this just excitement. She is vaccinated, micro chipped and tattooed. She is ok with children although not lived with any and we would think better with older children. She mixes with dogs ok and loves to play, has good recall. She walks well on the lead. She is also spayed. We think she has had training and will need someone who is willing to continue this. Therefore we feel she needs to go to a home that has experience with the breed.
Jake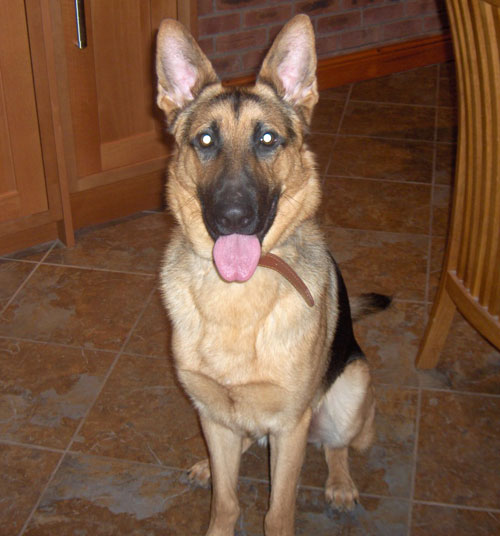 Jake is 12 months old, recently castrated, not microchipped and will need to start vaccinations again.
He has been in foster care now for 3 weeks and has made huge improvements in every way. He is a typical boisterous male GSD, he needs to be reminded he is not in charge in the right way and he will make you a fantastic dog. He absolutely loves his rubber balls and will play all day long, have 2 on hand to keep swapping them as he likes to keep hold of one at the beginning! He is at present living with 6 GSD's, a JRT and 4 cats which he is fine with, he has seen horses and has chased and then kicked so may have done the trick...we will see. Jake is a very affectionate dog who has endured quite a bad start to his short life, but with some help he is turning it all round to be a lovely lad. He is looking for a family preferably with no children although he has spent time with 2 children of 8 and 12 and been no problem, who are active and prepared to take him to training and socialisation classes and keep him in his place as he grows into a super dog. Quite a bit of GSD experience necessary for this young lad as he is quite sharp and alert in all he sees and does. He will only be allowed to go to a home who understands all of the above.
Charly & Thai - Once much loved pets but now living outside in a shed since baby was born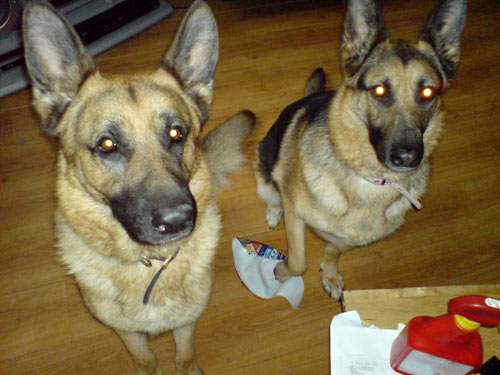 Owner says: Both dogs are 6 years old but not related. They have not been seperated for 5 1/2 years. When they are seperated they do get distressed and pine for each other. Thai has not been neutered and has papers to show he is full german shepherd which also shows his family tree which consists of international winners. Charly is spayed however doesn't have any papers. The dogs have only encountered children in the park or street as there have been no children in the family until recently, my husband and I have had a baby. We live in a terrace house and do not have the space or the time to care for the dogs as they rightly deserve. They are living outside with a shed converted into a kennel for the both of them. It isn't ideal for the dogs. The dogs are playful and very loving with humans. With other dogs they are protective on the lead however when off the lead they play with other dogs, some times they forget how big they are and get a bit boisterious. It has been a hard decision to make, we are very attached to them but the dogs come first and they need more than what we can offer them.
Goal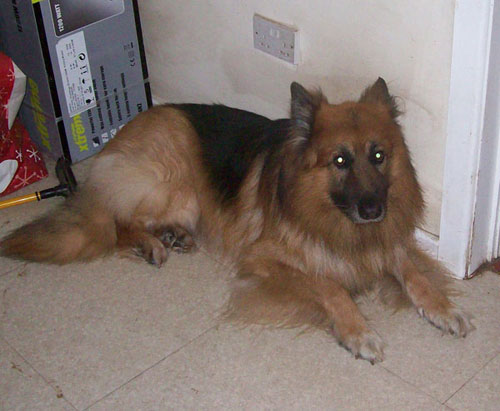 GOAL, he is a 10 yr old entire male. Black & Tan long coated which needs some attention. He is not up to date with vacs. This boy was very friendly when our volunteer visited. He is good with children as he lives with 2 aged 6 - 8 yrs. He is housetrained used to being kept in doors. We feel that Goal will make a very good family pet. Due to owners circumstances Goal is not getting much exercise and is being left all day. If taken for a walk he pulls at first just we feel needs some training. Goal has never shown any aggression to anyone, owner not sure what he is like with other dogs as she doesn't walk him very often just runs in the garden. This boy deserves a nice home with someone who will give him the attention he needs and they will have a great pal.
Coco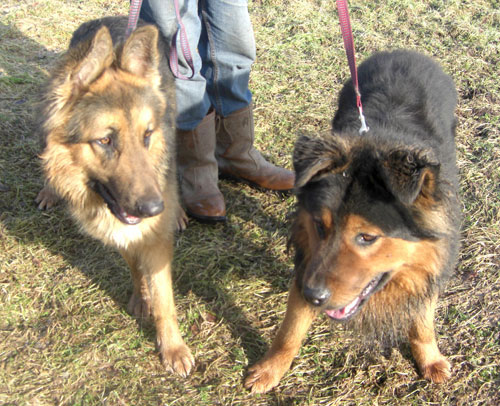 Coco (on the left) is aged about 3 years. We don't know her background, but in the kennels she has been no problem whatsoever; she is friendly, gentle and gets on with the other dogs. We think she will be a lovely dog for the lucky adopter.
Roxy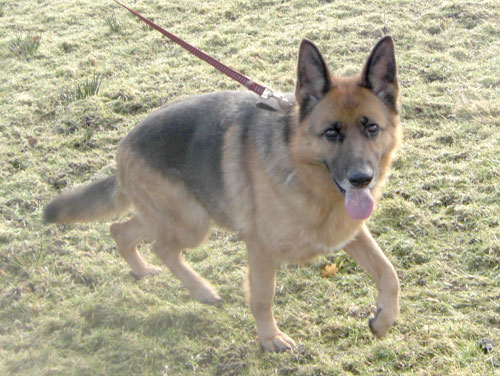 Roxy is a 4-year old bitch, spayed and vaccinated. She is very friendly towards people including children, great with other dogs and OK with cats. Currently in kennels because her owner is very ill. A thoroughly nice girl who seems to have no vices, she will be a terrific companion.
Donations are always welcome
Please help us by making a donation so that we can help re home more unwanted German Shepherd Dogs. Donations can be sent to Jayne Shenstone, German Shepherd Dog Rescue, Little Vauld, Marden Hereford HR1 3HA. We also accept Paypal payments - just click on the Paypal button below. Thankyou.