German Shepherds Rehomed 28
More German Shepherd Puppies and Dogs that have found new homes
ALL OF THESE DOGS ARE NOW REHOMED
SUCCESS STORIES
|1|2|3|4|5|6|7|8|9|10|11|12|13|14|15|16|17|18|19|20|21|22|23|24|25|26|27|28|29|30|
|31|32|33|34|35|36|37|38|39|40|41|42|43|44|45|46|47|48|49|50|51|52|53|54|55|56|57|
|58|59|60|61|62||63|64|65|
Rex 6-7yrs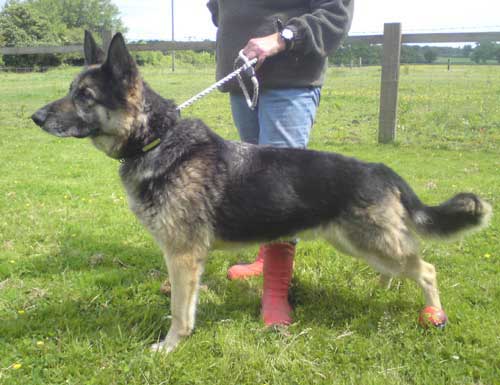 This lovely boy has only known life in a yard where he was kept with a bitch. The owner of the yard was told by the council to rehome the dogs or have them put to sleep. The bitch was rehomed and we took Rex. At first, he is a bit unsure but then is happy to come and be fussed. He has become very attached to one of the kennel staff. He is OK with other dogs, neutered and doesn't seem to have any health issues. We wouldn't put him with young kids as it wouldn't be fair to him after what he has been through. He is a lovely boy that will make a loyal companion. We think he could become protective of his owners once he settles. We want a nice home now for Rex where he can learn how to enjoy life and experience walks and home comforts.
Major and Bruno - VERY URGENT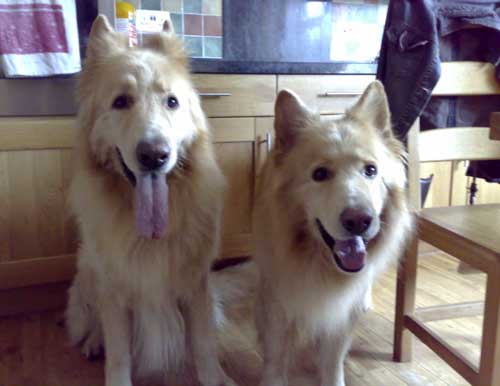 Major and Bruno are brothers 4 1/2-year-old entire, champagne long hair, barked when volunteer arrived but showed no signs of aggression. They loved being fussed, have lovely temperaments. They live with 2 young children and regularly mix with children with no problems. Good with other dogs will run up to them to say hello, not sure about cats. They are clean in the home but currently aren't walked as they are too big and strong for the owner so the only exercise is the garden. A lovely gentle pair of dogs. The owner is having to move into rented accommodation and unable to take them with her. The volunteer said they are so good together and if possible they should be homed together.
Tasha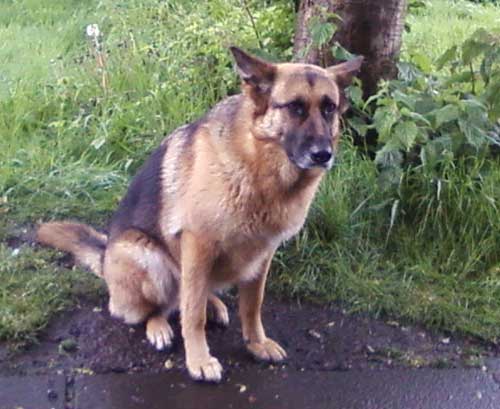 This lovely girl is Tasha, a 3-year-old B/T short coat, spayed, extremely friendly, would lick anyone to death. When she was a puppy she was knocked down by a car so she has a pin in the back right leg. Having said that, she can walk for miles without any bother, in fact, she seems to stiffen up if not walked. Tasha is clean in the house and goes to her bed herself around 9 pm, She is alright with male dogs as long as they don't go near her rear end if they do, she just gives a bit of a growl. Has excellent recall and is generally a lovely dog looking for a home where she will be much loved.
Ginnie 2 - Owner took to the vet to be put to sleep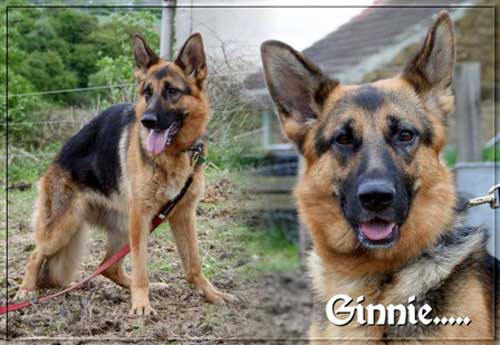 Ginnie is a 2-year old that has had a very traumatic start to her life. A previous owner took her to the vet to be put to sleep!!! She is nervous but very loving too. Her instinct is to bolt so she needs an understanding owner to help get back on track. She loves her kennel buddy Keiser and also gets on with other dogs who give her confidence. We think she would be better homed with a calm confident dog.
Posh - dumped and left tied up!!!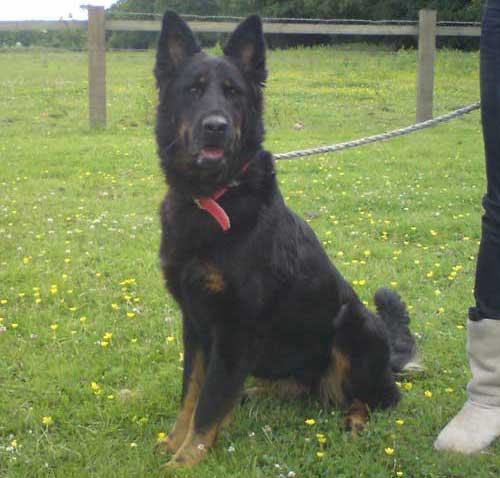 Posh is so friendly, she is adorable. She gets very excited when she meets you and comes at you at 100mph. For that reason, we wouldn't put her with young kids as she will knock them over. She does appear to have a strong chase instinct so we think she would definitely chase a cat. She gets very excited when she sees the other dogs but she just wants to play. We think it would be a rough and tumble so we won't rehome with a small dog. Don't know if she is spayed. She is big bouncy and great fun.
Shep - 20 mths old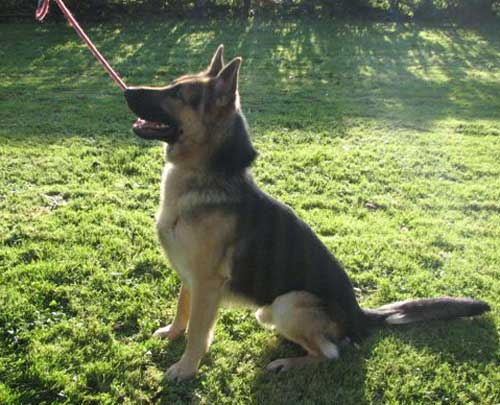 SHEP is approx 20 months old, beautiful young fit dog, lively and good on the lead, will sit and stay. Has lived in a family environment but can be protective so would be better with older kids only. He will bond easily looking for love 24/7. Shows aggression when on the lead because he is insecure, will with a bit of dedication by experienced person come out of that. Needs socialising. Not good with male dogs but could probably live with a female dog if introduced carefully. Very nice dog
Sheba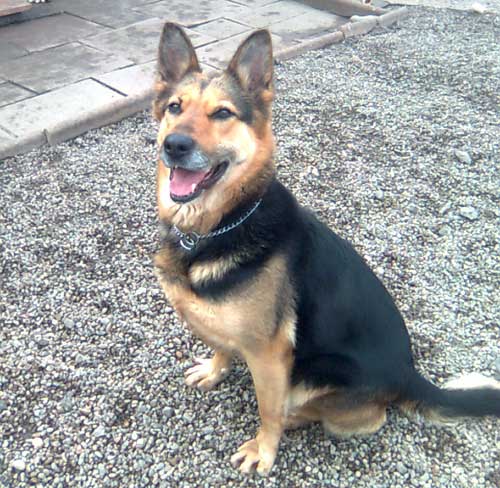 We think Sheba is 3-4 years old. On first meeting, Sheeba can be quite aloof and a little dominant. If handled correctly she soon builds up her trust in you. She is incredibly clean in the house and is motivated by food rewards. Sheeba is now learning how to play as she didn't have a clue. Sheba has been in kennels for many months and now needs an experienced home
Ben 5 - rescued from death row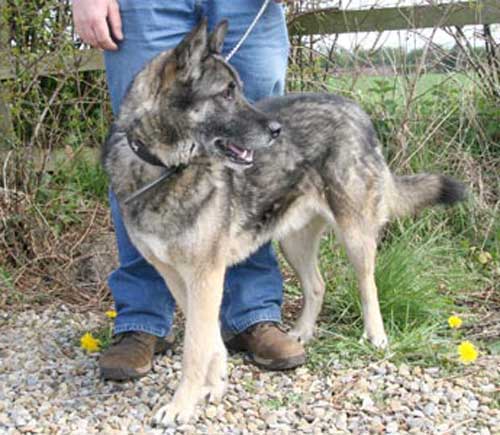 Rescued from death row. Ben is a sable male of about 5 years old, very fit and healthy. A lovely friendly dog who desperately needs a home. He will make some lucky family a wonderful companion. He loves to play. He is not so good with male dogs but would probably be OK with a female.
Sam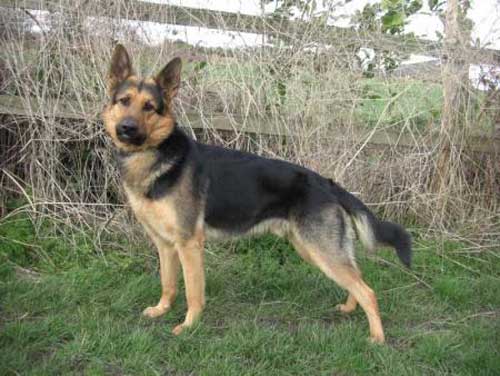 Sam is a male German Shepherd that is approx 2 years old. He is a very friendly dog & gets on well with other dogs. Sam was found wandering the Street's & had worn the pad's off his feet resulting in him nearly dragging himself along the floor, He has fully recovered now. Sam is true to form for the German Shepherd breed in that he is an active Dog & would be best in a home that knows the breed.
Grace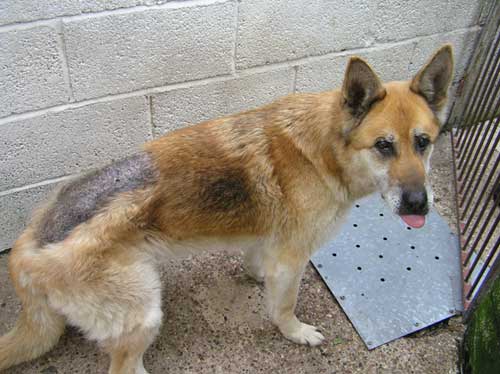 Grace is about 9 years old and was rescued from the pound. She has had a very bad burn on her back and is now having treatment for that. She is a very friendly girl and will make somebody a lovely companion. We don't know what's happened to this girl previously but she certainly deserves a loving home now, where she can be cherished.
Donations are always welcome
Please help us by making a donation so that we can help re home more unwanted German Shepherd Dogs. Donations can be sent to Jayne Shenstone, German Shepherd Dog Rescue, Little Vauld, Marden Hereford HR1 3HA. We also accept Paypal payments - just click on the Paypal button below. Thankyou.