German Shepherds Rehomed 50
More German Shepherd Puppies and Dogs that have found new homes
ALL OF THESE DOGS ARE NOW REHOMED
SUCCESS STORIES
|1|2|3|4|5|6|7|8|9|10|11|12|13|14|15|16|17|18|19|20|21|22|23|24|25|26|27|28|29|30|
|31|32|33|34|35|36|37|38|39|40|41|42|43|44|45|46|47|48|49|50|51|52|53|54|55|56|57|
|58|59|60|61|62||63|64|65|
Maverick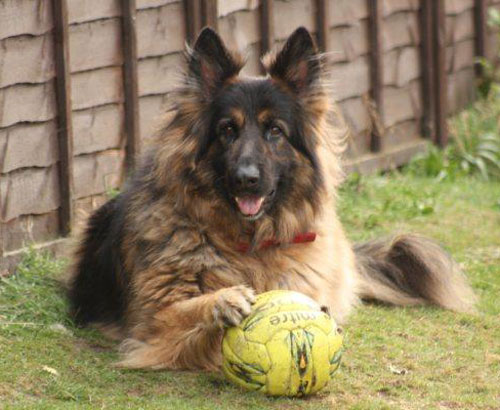 This stunner is 6 yr old, long coated Maverick. He is neutered, vaccinated and microchipped. Maverick is in desperate need of exercise, his current owners can't handle him on walks, so don't walk him at all. He is carrying a lot of excess weight, which at his age is unhealthy. He is a very strong-willed boy, who needs a strong owner to teach him to behave. He barks at other dogs when out, and at passing cars, but our assessor took him out and after a few minutes he stopped this. Housetrained. Travels ok.With a little time and the correct care & training, Maverick will be an amazing dog.
Ben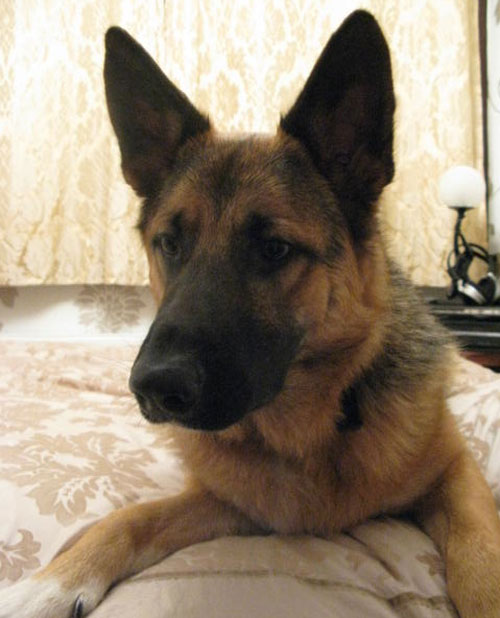 This is 9-month-old Ben, entire, vaccinated, not microchipped. This is what his foster mum says about Ben. "Ben is a lovely boy. He is meant to be a full GSD but was from a farm and may be a collie x!! He is small and lightweight but with a big loving heart. He is good with people and other dogs but has a touch of food aggression with other dogs, although his bark is worse than his bite and this can be worked on. I have a feeling that he was the runt of the litter and feels a need to defend his food. Even though he is ok with other dogs, I think he would be fine as an only dog with someone who likes a doggy companion 24/7s. He doesn't like to be left alone. He likes to sleep on the bed with you and rolls over for a belly rub as soon as you call him over. He can do basic commands, is a quick learner and aims to please. Very laid back for his age, does not seem like a puppy! I think he was born at the end of May 2009 (although the original owner said he got him mid-June.. I think he meant July). The original owner was working all the time and elderly parents couldn't cope with looking after him. He seems a little sad, I think that is because he has the makings of a very loyal and loving dog. He loves food!! Frozen veggies, cherry tomatoes, you name it, he'll eat it! House-trained but has accidents if can't get outside. This is because he has had various foster homes and is a little confused. If someone is willing to spend a little time teaching this boy, he will reward them ten-fold.
Heidi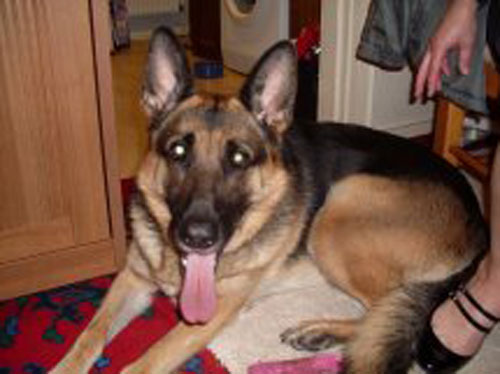 This is 4 yr old spayed bitch, Heidi. Heidi still behaves like a puppy, very boisterous & lively, for this reason, we will rehome with older children only. Heidi doesn't like cats. She isn't keen on other dogs, but doesn't behave aggressively, just prefers to keep a distance from them. Heidi just craves human company & will happily follow you round all day.
Molly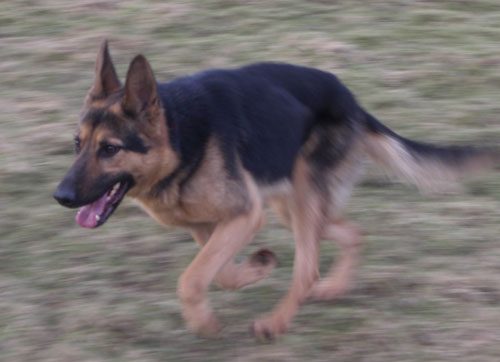 Molly is about 2 years old, we took her in from the pound when her time was up. She is great off the lead not too keen on other dogs, loves to play and jumps up for hugs. A lovely looking girl.
Scrogs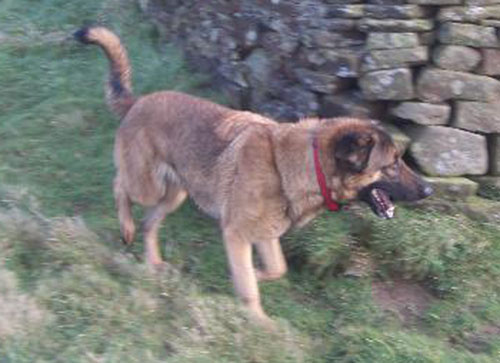 Scrogs is an Anatolian x GSD's, she's a big dog but has an absolutely lovely temperament, everybody falls in love with her. She was handed into the pound and her time up so came to our rescue. She is Ok with cats and other dogs. Her recall is really good and she is just a really lovely girl who will give somebody a lot of pleasure.
Sheeba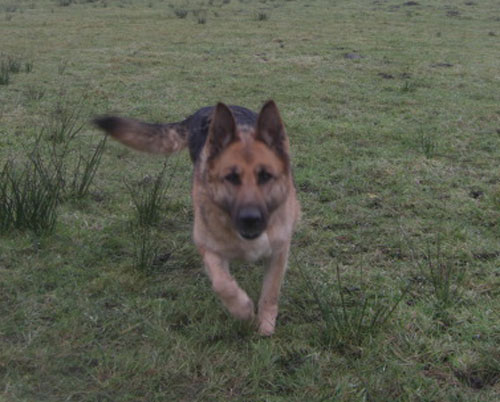 Sheeba is very friendly, off the lead good recall, loves playing ball and not found anything bad to say about her we think she is about 6 years old. We don't have any history on her as we rescued her from the pound.
Barney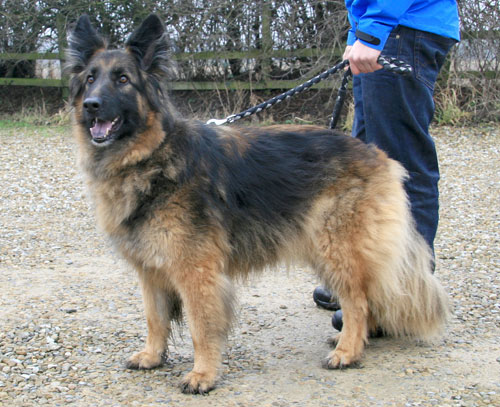 Barney is 6 yrs old Black/Tan and long coated. he is at the moment in a foster home and is settling. He is a little shy but is coming around. He has lived with children from the ages of 4 - 15 yrs and is fine with them. He has also lived with other dogs and is fine. He is living with a male GSD at the moment.He seems to be a very easy boy shown no aggression. He had only been in his last home for a few months, the reason for parting is nothing to do with Barney.We think this boy will suit a family and would make a very loving pet.
Star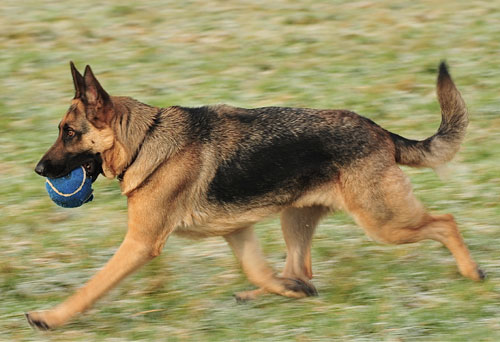 Star is a 16-month-old quite petite Black and Tan, Short Coat unspayed Bitch. Fully vaccinated till December 2010, not sure if chipped, flea treated and wormed. Star has had two owners in her short life, we believe she started off life living with an old lady at a farm and was found tied up and painfully thin. The current family who has owned her since August 09 have built Star up on several meals a day, and are sad to part with her, but a family member suffers from Asthma and they go out of the country visiting family and friends, they also find Star very strong on lead to handle. Star is in foster, and has been very affectionate to the volunteer, she barked on initially seeing her, but then jumped up on her lap and licked her face. Star has had no training and for a small bitch is exceptionally strong on lead Star shows quite a lot of puppy tendencies, so our volunteer feels she may not even be 16 months old and is playful, quite boisterous and will jump up you. Star loves to have your company. She has not been destructive and has been house trained, her previous owners have let her sleep indoors on the sofa and beds and said she has always been clean. Star has now been in foster for a month, has gained weight and has now been socialised with a male 2-year-old GSD, they have got on fine and just run and played together. Star has been good with everyone that has visited the home has barked a little at first but then has licked the visitors and wants a fuss. Her recall is being worked on at the moment and is improving, lead work and general training will need to be carried on by a new owner. Star has not been cat tested has not lived with a cat or children. A beautiful little dog that is affectionate and playful.
Shadow - adorable yet dumped for Xmas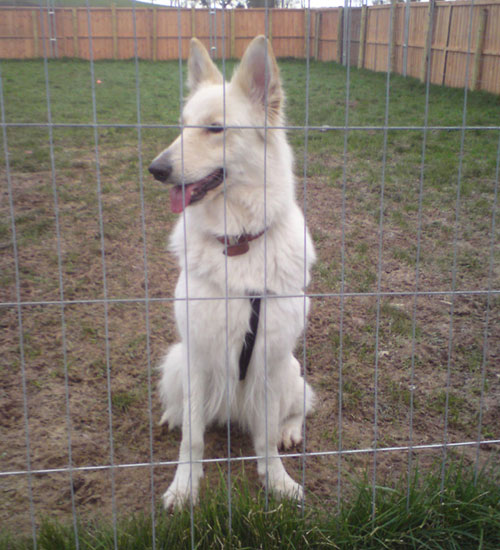 This sweet girl was dumped for Xmas because another dog in the house was expecting puppies. She is adorable, very loving and loves to be with you. She is slightly nervous of people and other dogs initially but fine once she knows you. She is currently in foster living happily with 6 other dogs although she does try and boss them around at times. She has now been spayed. See Shadow running in the forest with her friends here>>>>>>>>>>>>>
Suzie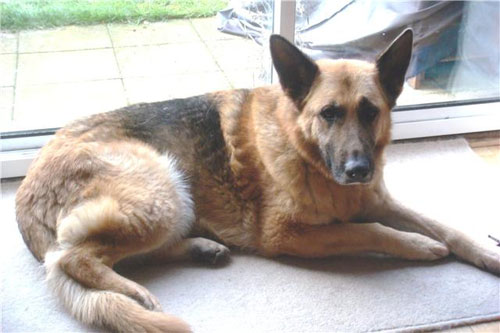 This is 6 years old Suzie. Not known if she is spayed. Suzie was handed into the pound on Christmas Eve with her 8-year-old companion, George. They are being rehomed separately as Suzie is too bossy with George. She is a lovely, friendly girl, but does need boundaries. She pulls on the lead, but her recall is very good. Not much is known about Suzie's background, however, she really is a nice girl, who will make you smile with her cheekiness.
Donations are always welcome
Please help us by making a donation so that we can help re home more unwanted German Shepherd Dogs. Donations can be sent to Jayne Shenstone, German Shepherd Dog Rescue, Little Vauld, Marden Hereford HR1 3HA. We also accept Paypal payments - just click on the Paypal button below. Thankyou.