German Shepherds Rehomed 56
More German Shepherd Puppies and Dogs that have found new homes
ALL OF THESE DOGS ARE NOW REHOMED
SUCCESS STORIES
|1|2|3|4|5|6|7|8|9|10|11|12|13|14|15|16|17|18|19|20|21|22|23|24|25|26|27|28|29|30|
|31|32|33|34|35|36|37|38|39|40|41|42|43|44|45|46|47|48|49|50|51|52|53|54|55|56|57|
|58|59|60|61|62||63|64|65|
Amber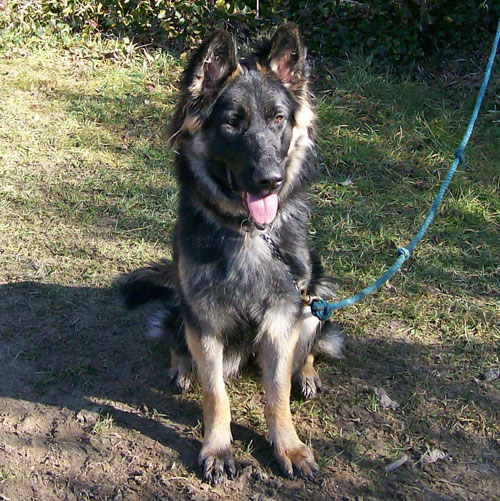 Amber Is a lovely black and tan bitch of only 14 months. She is spayed with full vet history and her details from BlueCross kennels. Amber was very frightened and anxious when she went to her foster mum but with a consistent routine of exercise and basic training she is learning quickly and has calmed right down. She is mixing well with her 3 GSD companions who she lives with. She loves attention and sits for a cuddle. She is very much a puppy, always ready to play with a ball and loves her toys to chew. She is chewing/mouthing but will grow out of this, with the right training. She is wary and barks at strangers around the home but generally ignores people when out on walks. She walks well on the lead and is not aggressive towards other dogs on walks. She travels well in the car. She goes to chase birds and cats but more out of curiosity. At the moment Amber is an active/strong young bitch who will mature into a very good dog. She needs more socialising with people and an experienced owner(s), willing to carry on with the training and good exercise and this will be rewarded with a loving and very loyal companion.
Malcolm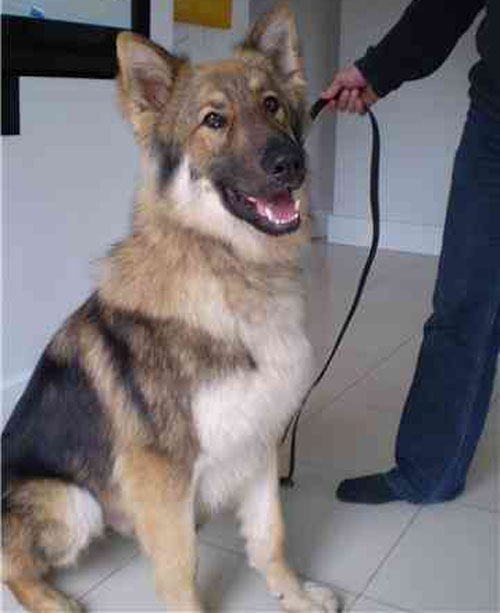 This gorgeous 13mth old, neutered boy is having to be rehomed due to the owners working times changing, which stresses Mally out. He does suffer from separation anxiety which will need to be overcome slowly. He lives with another dog and chickens which he is fine with. He is used to being around children aged 3 and upwards. Mally is also ball obsessed and will chase wildlife if given the chance. Other naughty habits include opening doors and wandering off. He needs to go to a home where he will be given lots of attention and training but once sorted he will be a lovely family pet.
Charlie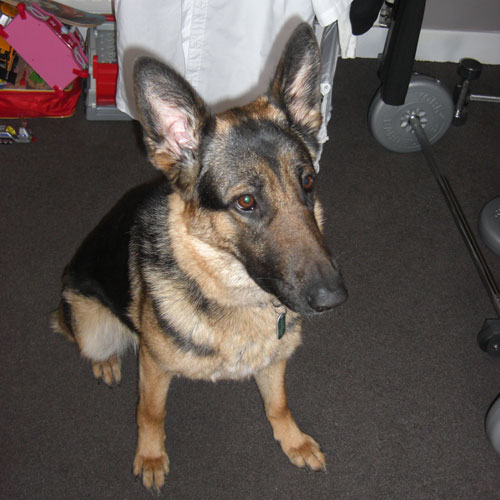 Charlie is a 1year old entire black & tan bitch who is currently living with her sister. She is having to be rehomed as she has become very protective of her sister which is causing problems. She lives with children of all ages who also have friends over which she is fine with. On walks together Charlie will protect her sister but on her own is fine to a point but will need more training to stop any issues raising.
Jake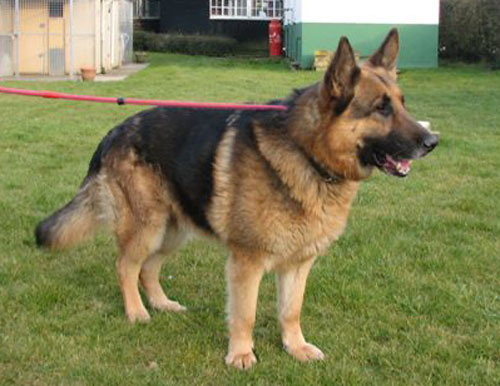 This big handsome lad is Jake who is 8 years old. He is an ex-police dog who has lived with a west highland terrier and other police dogs but barks initially at strange dogs. Happy to be handled and walked by the kennel staff, likes his walks. We are not sure if he is used to children so we would prefer an adult home only. We think he chases cats. Lovely older boy that deserves a nice retirement home.
Tess - from Romania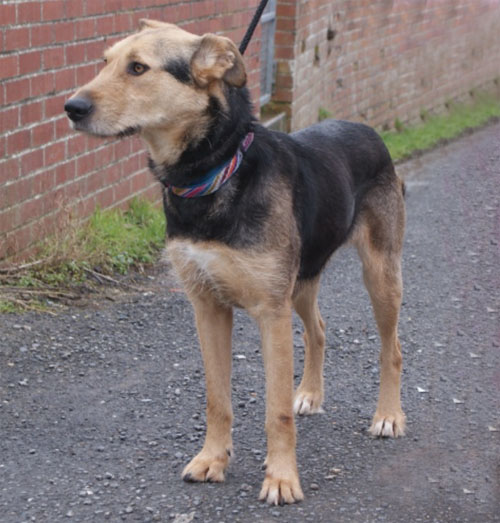 Tess is approximately 18 months old. And is a GSD cross. She is spayed and vaccinated. Tess was rescued from Romania and comes with a full EU Pet Passport. She is very playful and good on the lead. Tess is food and bed dominant but otherwise will live with other dogs very happily.
Bella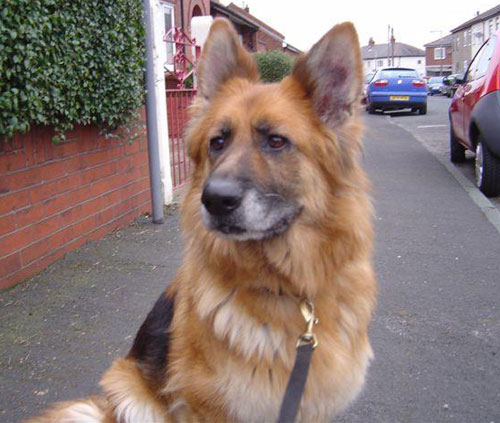 This is 6yr old Bella. An unspayed, long coated bitch. She is a lovely playful girl, who lives with another dog, but is quite jealous of any attention that dog gets. She is not microchipped, and not up to date with vaccinations. Bella does pull on the lead, so would need correcting. Travels well. Housetrained. Is fine with other dogs just wants to play, sometimes a bit too boisterously. Cats a definite no. A friendly girl, who needs a nice active home.
Louie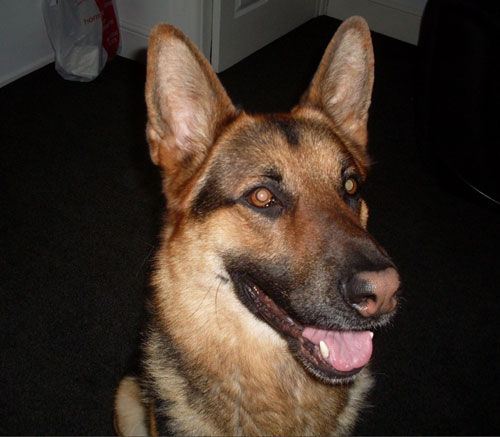 Louie is a big short coat black/tan 3 yr old entire dog. Good with children over 7 yrs (only because he gets boisterous playing with toys) not food or toy aggressive, pulls o the lead but he has not been taught how to walk properly and he doesn't get out. The owners have a baby now so Louie doesn't get walked and have the attention they feel he deserves. Hates cats. Lovely family dog. All he wanted was to give our volunteer kisses...you'd have thought they had known each other for years.
Ben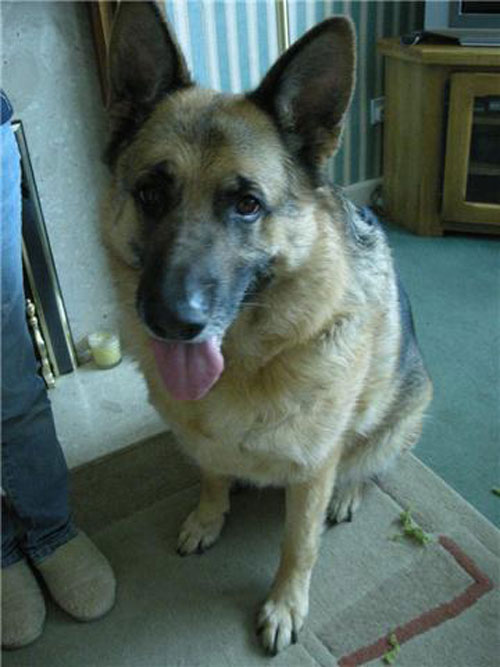 This handsome boy is 4 yr old, neutered male, Ben. He is a really fantastic friendly dog, who adores children of all ages. He has a great temperament, but at the moment is very frustrated. His owner has died and he is pining for him. He rattles the letterbox to ask for a walk. Loves other dogs. Cats, don't think he would bother them. House trained and loves going in the car. Needs a nice loving home.
Storm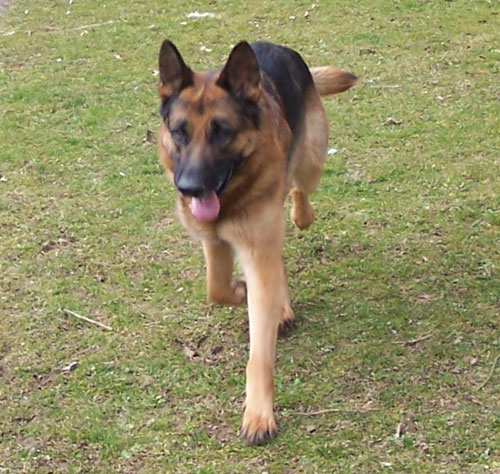 Storm is a very good all-rounder, very quiet, friendly greeting even if a bit excited but does not jump up, he will need some refresher work on his basic training and is very strong on the lead. None of this should be difficult, as he loves a treat and being fussed; Storm did not mind me looking in his mouth or feeling him all over but did not stand still while I did this. He loves to play with toys and loves going for a walk, I went with the owner and walked Storm, I took my two GSD's and there were no problems at all, even when we met other dogs while walking there were no problems although Storm will not come back when recalled until he investigates other dogs. This dog will be a loyal partner to someone with just a little effort on the basic training, said to be very good with children (not seen as none around at the time) good with other dogs. Storm has lived with cats in past, but will chase strange cats, does not bark even when callers knock at the door, so no good as a guard dog. The owner is very reluctant to give up Storm, but realises that the property and the work circumstances are not good for Storm. The property has no garden, so now Storm is shut in on his own for approximately 8 hours every day. The owner knows it would be best if Storm can go to a home that someone is there for him and take him for long walks, as the owner says it is the hardest decision he has ever had to make.
Avek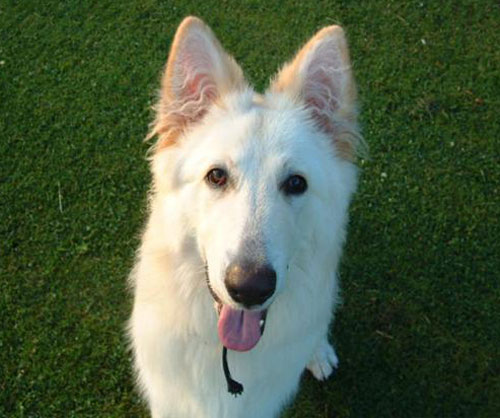 This stunning boy is 14-month old Avek, a long-coated, entire, white male. His lady owner in Cumbria is unable to give him the time, attention and socialisation he needs and is reluctantly parting with him. He pulls on the lead and is, therefore, not getting the exercise he needs. He is initially nervous of strangers and needs a careful introduction, although he has never bitten anyone. Our volunteer introduced him to his bitch and Avek played with her, but we are told he can be nervous of some dogs, so he is probably best rehomed with a bitch or as an only dog. House-trained and vaccinated. He needs a firm, but gentle, experienced owner.
Ronnie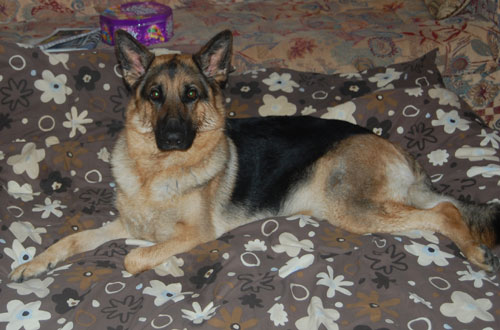 This stunner is 2 yr old, unspayed bitch, Ronnie. She has a temperament that doesnt come along very often. She is fine with other dogs & also cats. Ronnie is excellent with children of all ages too. She has no aggression in her whatsoever. Very well behaved, excellent off lead, fine with crowds. Ronnie is fed a raw diet & its important that this is carried on. Does get travel sick on long journeys. Ronnie needs an active home, with plenty land & time to exercise her. She would benefit from mental & physical activites such as agility/flyball.
Donations are always welcome
Please help us by making a donation so that we can help re home more unwanted German Shepherd Dogs. Donations can be sent to Jayne Shenstone, German Shepherd Dog Rescue, Little Vauld, Marden Hereford HR1 3HA. We also accept Paypal payments - just click on the Paypal button below. Thankyou.