German Shepherds Rehomed 10
German Shepherds Rehomed 10
ALL OF THESE DOGS ARE NOW REHOMED
SUCCESS STORIES
|1|2|3|4|5|6|7|8|9|10|11|12|13|14|15|16|17|18|19|20|21|22|23|24|25|26|27|28|29|30|
|31|32|33|34|35|36|37|38|39|40|41|42|43|44|45|46|47|48|49|50|51|52|53|54|55|56|57|
|58|59|60|61|62||63|64|65|
Tina NE - Scheduled to be destroyed in the dog pound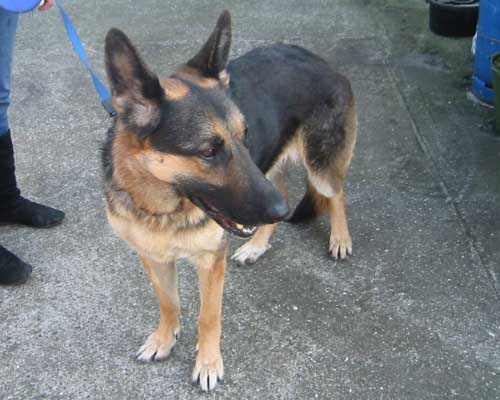 We couldn't let that happen, she is safe in kennels now. Tina is about 2-3 years old. Black and tan, very friendly girl, a bit on the thin side, travelled well, that's all we know about her.
Polly NE - Scheduled to be destroyed in the dog pound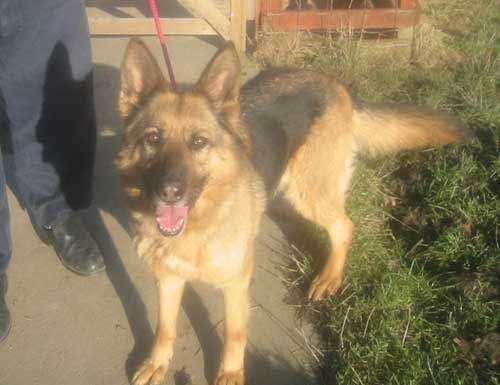 Polly was in the dog pound where the owner wanted her destroyed because Polly kennel guarded. We couldn't allow that to happen so a volunteer got her out. She is about 3 years old, black and tan short coat. Lovely friendly dog, a bit feisty in her kennel but once out all she wants to do is kiss and cuddle you. Likes playing ball
Tara - 12yrs Edinburgh. SADLY DIED IN FOSTER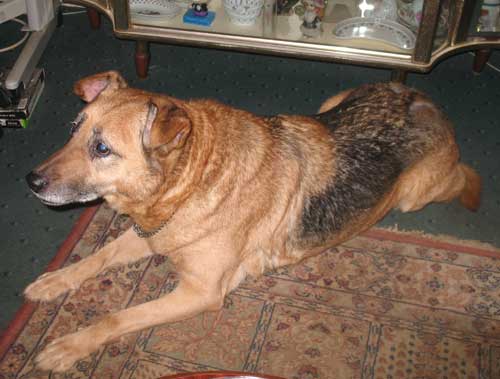 Tara is in quite a state having been pretty neglected over the years. She was scratching constantly and has rubbed off her fur over her back. Her ears are quite inflamed too. A Very friendly old girl who needs a nice quiet home.
Jasper male and Simba female both 6 years old West Midlands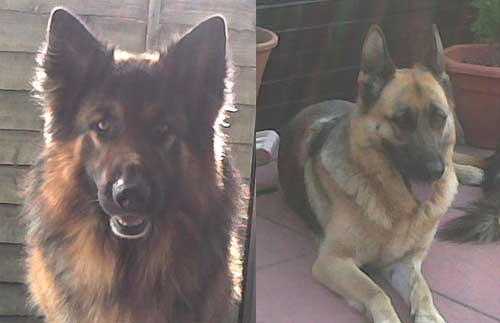 Their owner is being made homeless, all the local rescues are full so she contacted the RSPCA who told her to contact the dog warden and arrange to have her dogs euthanised!! We won't let that happen to these beautiful dogs. URGENT HOME REQUIRED ASAP
Simba approx 4 - Dudley West Mids. APPALLING!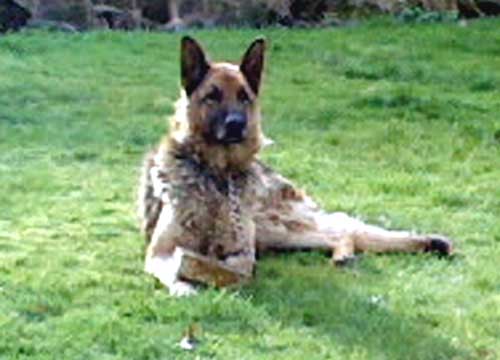 This dog has been kept chained up for years - never walked and only fed on curry scraps. His only pleasure is his toy - a house brick!! He is in terrible condition and we need a place for him urgently.
SIMBA HAS BEEN RESCUED - UPDATE SHORTLY
Storm 3yrs - Bristol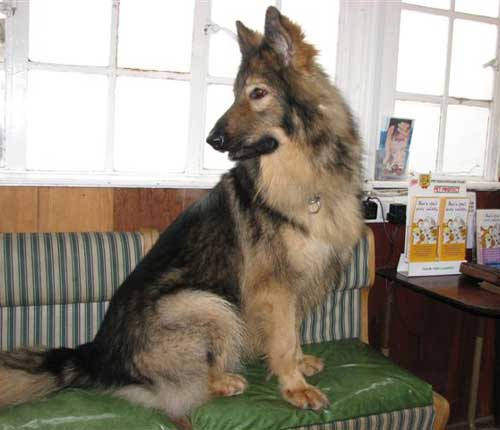 Storm is huge but very underweight as he lived with someone that couldn't afford to feed him. Castrated, friendly with people but not great with other dogs. Not really a dog for a young family but maybe OK with teenagers.
TARA 3 years - NE. Abandoned in the dog pound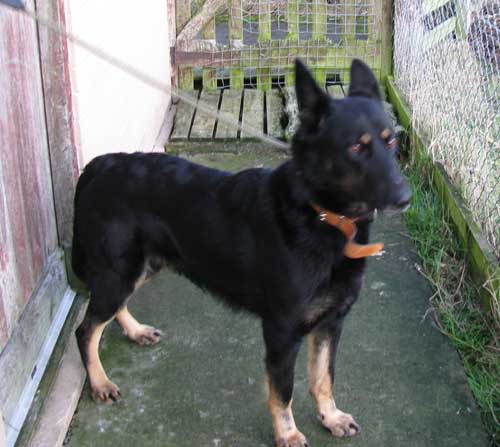 This bewildered little girl is about 3 She's a lovely dog, a little bit nervous, especially of strange men but is soon won over. She's OK with other dogs but can be a bit food aggressive. She came from one of the worse pounds in the north east and had reached her time and was scheduled to be put to sleep. We couldn't let that happen.
Sheba NE - Saved from being put to sleep in the dog pound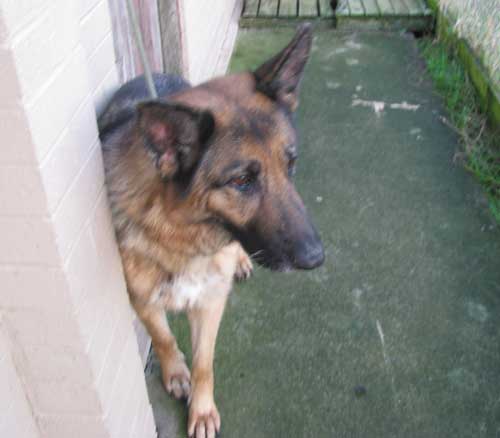 Sheba is about 6 years old, black and tan and short coated. She's good with people, can be a bit vocal with other dogs but we think she would be OK with another dog. Has an ear infection which is being treated. A bit on the thin side, but she's been running loose for a few weeks so will need feeding up. Sheba came from the same place as Tara and again she was due to be put down to make way for more strays. Needs a kind home asap.
3 Legged Elsa - Ark Rescue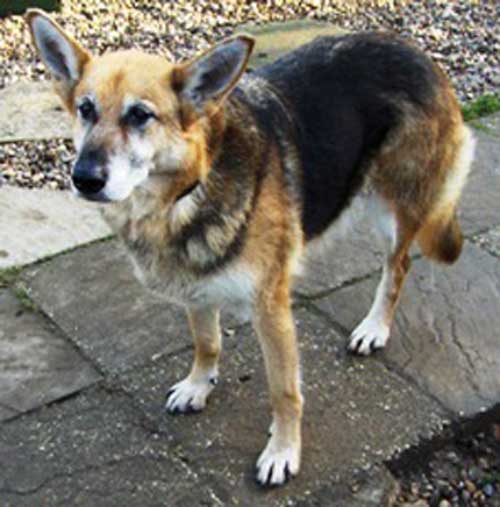 Staff ar The Ark have all fallen in love with Elsa. She is a real sweetheart and loves attention and fuss. They put her in the courtyard during the day where she can have more company and she loves greeting them as they pass through. She is surrounded by cats and she is totally unphased by them. She has had only three legs for so long now that she knows nothing else and has adapted extremely well. This lovely dog will make believe and loyal companion for some lucky person. Tel: 01507 358140
Lucy 5 Central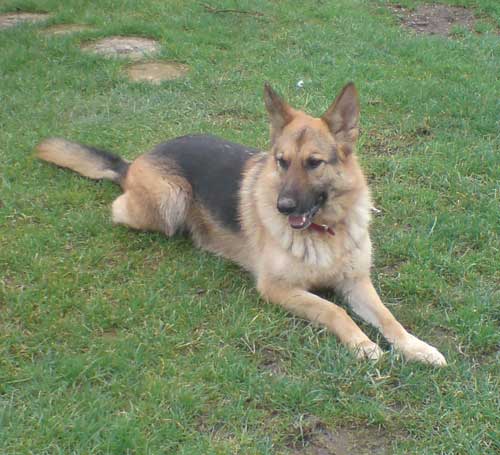 Lucy will make a wonderful family pet. She needs out of her current home urgently as she is living in a very stressful situation and is not getting the attention she deserves. She lives with a cat.
Honey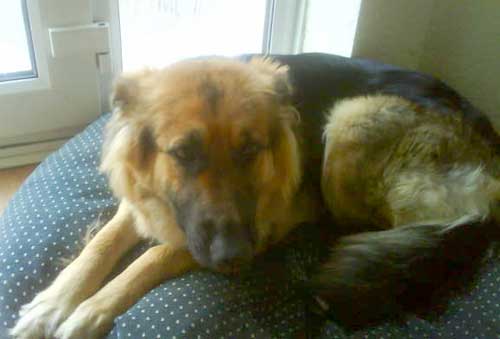 Honey is 1 year old and lives with Sabre. They belonged to a totally clueless owner , they were never walked and have had no training. We belive they were bought to breed from to make money. Currently, both are no in foster together. They need an experienced home.
Sabre - 6mths old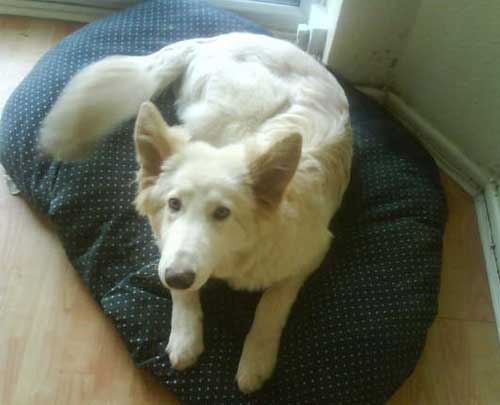 Sabre lives with Honey above. He is quite defensive and vocal and flinches indicating that he may have been hit. We would like Honey and Sabre to be rehomed together but they will need an experienced owner.
German Shepherd dogs rehomed
Donations are always welcome
Please help us by making a donation so that we can help re home more unwanted German Shepherd Dogs. Donations can be sent to Jayne Shenstone, German Shepherd Rescue, Little Vauld, Marden Hereford HR1 3HA. We also accept Paypal payments - just click on the Paypal button below. Thankyou.