German Shepherds Rehomed 57
More German Shepherd Puppies and Dogs that have found new homes
ALL OF THESE DOGS ARE NOW REHOMED
SUCCESS STORIES
|1|2|3|4|5|6|7|8|9|10|11|12|13|14|15|16|17|18|19|20|21|22|23|24|25|26|27|28|29|30|
|31|32|33|34|35|36|37|38|39|40|41|42|43|44|45|46|47|48|49|50|51|52|53|54|55|56|57|
|58|59|60|61|62||63|64|65|
Harvey - so sad.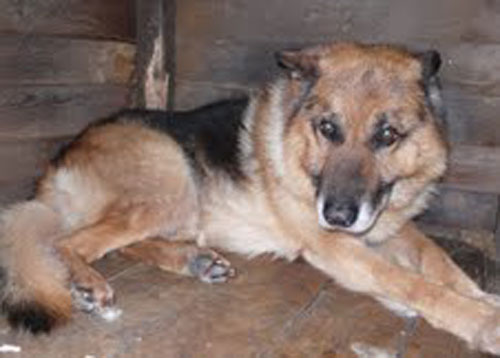 This old gent is nearly 10 years old & needs a home as his owners are emigrating. Harvey is a lovely, friendly old boy, who just loves company. He is in good health, considering his age. Loves children of all ages. Harvey is fine with other dogs, as long as they don't bother him. Deserves a nice retirement home.
Cindy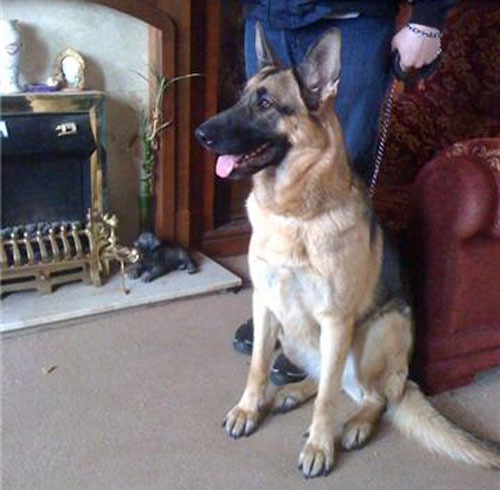 Cindy needs a new home urgently. Both her owners have died & she is living with a family member, who is struggling to manage. She is a lovely girl, 3 yrs old and spayed. She is a very confused girl at the moment & this is affecting her behaviour. She has become very protective of her home, understandably, and barks at any strangers constantly.Never shown any real aggression. Has never lived with another dog, but is fine when she meets them out on walks. Never lived with children. Cats a definite no. Housetrained, not used to travelling. Cindy needs someone to call her own as a matter of urgency.
Sam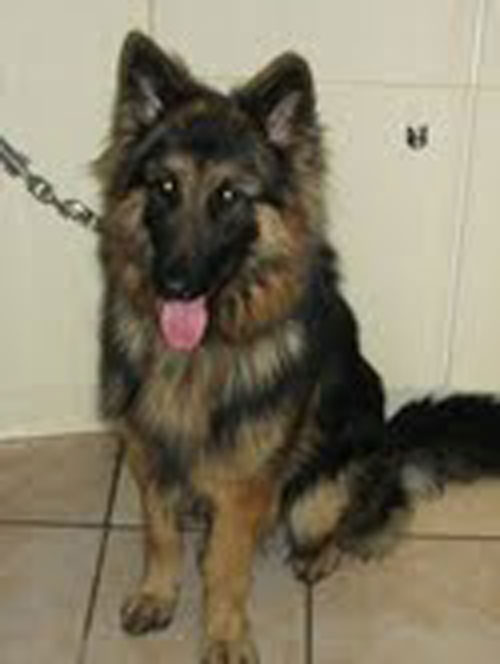 This gorgeous boy is 16 mth old, neutered male, Sam. A stunning long coat, Sam has been handed into rescue as his owner is ill. Sam is fine with other dogs, even bossy small ones! Does chase livestock given the chance. Vaccinations up to date. Housetrained. Sam was hit by a car when he was 6mths old and had a greenstick fracture to one of his front legs, this affected the growth plates & hence healed a little wonky. He has no problems with it but may suffer arthritis in later life. In foster care with children from 2 yrs upwards. A really wonderful, playful dog.
Bella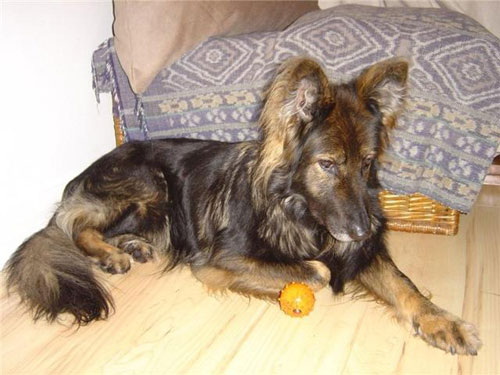 This beautiful lady is 7 yr old, spayed bitch, Bella. She is microchipped, vaccinated & housetrained. Bella has lived with other dogs, no problem, but does pull towards them & bark at them when out on walks, not in an aggressive way at all. She travels well in the car. Sleeps in the kitchen, with a teddy bear as her pillow! She loves to play ball, but does have mild arthritis in her hind legs, & takes anti-inflammatories daily to combat this. Cats unknown. Bella is such a friendly, loving, gentle lady, who is being left for very long hours whilst her owner is at work.
Max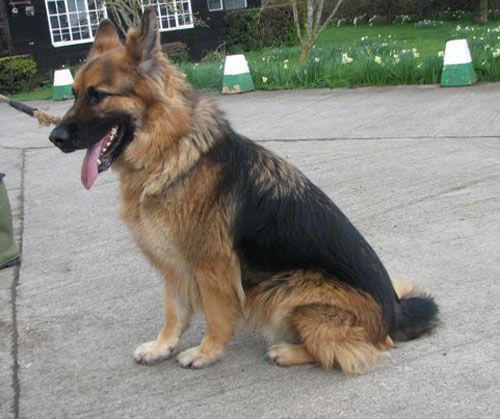 This is Max a beautiful specimen of the breed who is good on the lead and with other dogs. He will be OK with older children. He is a bit shy at first when meeting new people due to little socialisation. His owner died which Max found very stressful and the person that looked after him for a short time did not really read the right signs to introduce him and bring him forward to overcome the stress of loosing his Master. He has come along really well at the kennels where they have given him every chance to find himself. He is now ready to go to his new home.
Kizzy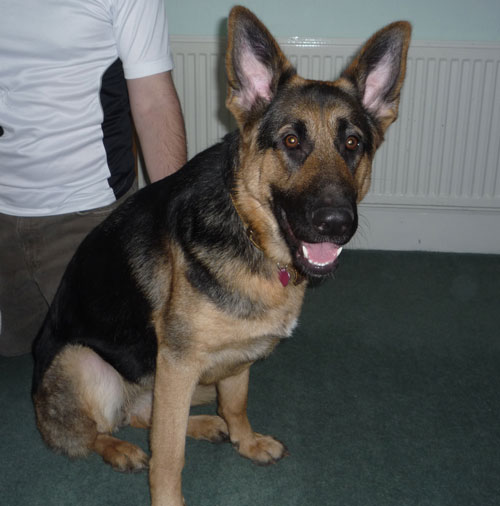 Kizzy is a young dog who's not had much training/socialisation. When our volunteer arrived, she was barking, but once let in the room, was very inquisitive - particularly of her pocket which had tuna cake in. She took titbits but was wary at first. She soon settled and then happily ate more treats. Her main issue is separation anxiety which has not been worked on. Kizzy was living with her litter brother until she was 10mths old but wasn't getting any attention, so her current family decided to take her. Unfortunately, due to changes in the family's situation and finances over the last year, they feel they are unable to give Kizzy the time she needs. There do have 2 young boys (5 & 3), who Kizzy is fine with, but it means they do have a houseful. There are cats in the house and all Kizzy wants to do is chase them. Kizzy's vaccinations are overdue and the owners said they haven't the finances to get it done. She is also quite thin. Kizzy now needs stability in a home that can give her some one-to-one training, some time and can work on her separation anxiety.
Megan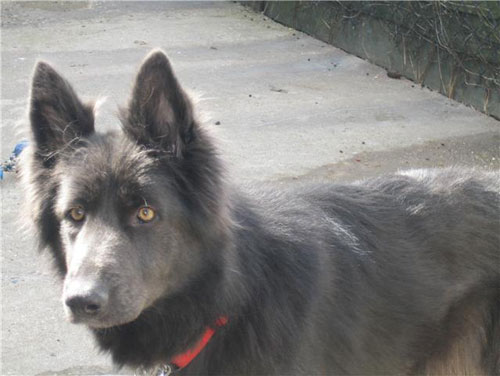 This stunning girl, is 4 yr old, spayed bitch, Megan. She is housetrained, travels well, not up to date with vaccinations. Megan is a very friendly girl, who greets everybody with a kiss & wagging tail. She lives with 3 cats and other dogs She does like a lot of fuss and attention though! Not lived with children, but fine with visiting nieces/nephews. Megan is lead trained & her recall is good. No health issues.Not food or toy possessive. Megan is a super all round girl, who is being left very long hours while the owner works.
Nikita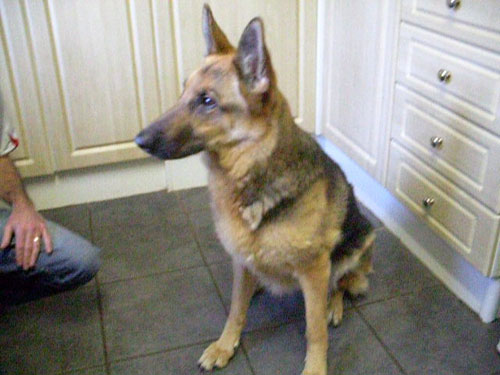 Nikita is a very friendly girl, aged 6, though she seems much younger. She greeted our volunteer with licks and a waggy tail. She is good with children and likes other dogs, except white ones (she was attacked by one when she was a pup) and presently lives with Sabre and 2 Yorkies. Pulls on the lead at first, but soon settles. Spayed and vaccinated. The owner is going abroad and would ideally like Nikita and Sabre rehomed together.
Sabre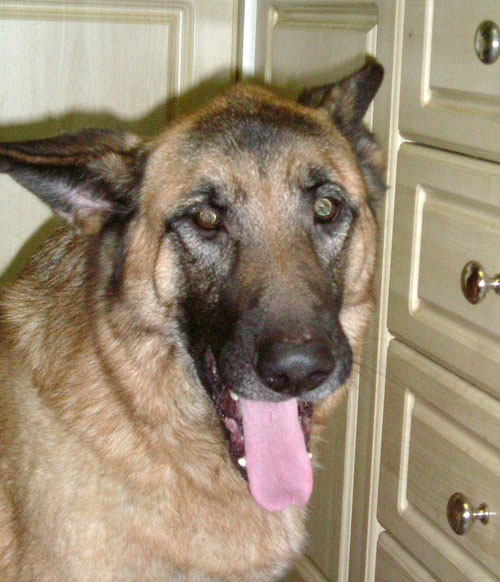 Sabre is 4 and has lived with Nikita all his life. He is wary of strangers, barks and needs socialising, but good with people once introduced, though he is not keen on younger children. Loves a bath, food possessive with the other dogs. When out he ignores other dogs but will chase cats. Initially, pulls on lead. Neutered and vaccinated. The owner is going abroad and wants to re-home him with Nikita if possible.
Rex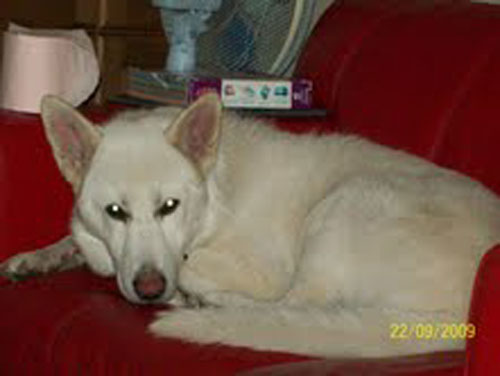 This is 2 yr old Rex, a stunning short coated male, who has been neutered. Rex bonds very quickly & strongly with his owner, an experienced owner would have no problem with this. He is wary of strangers but in a nervous way, not an aggressive way. He is vaccinated & microchipped. Rex lives with another dog, would need to be properly introduced if he is to live with another dog. Not sure how he would be with cats. Rex sleeps downstairs, no problem & is in excellent health. We will only rehome Rex with older children if any at all, due to his nervousness. A really gorgeous boy, who needs the chance to shine.
Donations are always welcome
Please help us by making a donation so that we can help re home more unwanted German Shepherd Dogs. Donations can be sent to Jayne Shenstone, German Shepherd Dog Rescue, Little Vauld, Marden Hereford HR1 3HA. We also accept Paypal payments - just click on the Paypal button below. Thankyou.