German Shepherds Rehomed 25
More German Shepherd Puppies and Dogs that have found new homes
ALL OF THESE DOGS ARE NOW REHOMED
SUCCESS STORIES
|1|2|3|4|5|6|7|8|9|10|11|12|13|14|15|16|17|18|19|20|21|22|23|24|25|26|27|28|29|30|
|31|32|33|34|35|36|37|38|39|40|41|42|43|44|45|46|47|48|49|50|51|52|53|54|55|56|57|
|58|59|60|61|62||63|64|65|
Sam - AT RISK of being put to sleep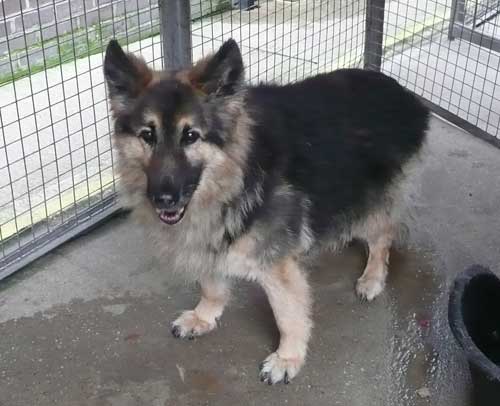 Sam is about 9 years old, a black and tan long coated dog. He is in the council pound at the moment and his time is up. We need a loving home for this friendly dog as he is at risk of being put to sleep.
Sunny 9mths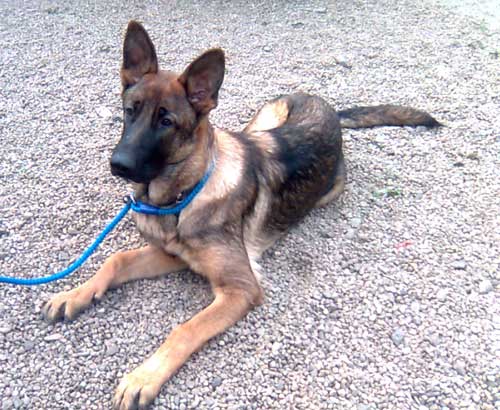 Sunny is approx 9months old, sable, good with dogs, cats, children and has been castrated and inoculated and is very immature for his age and hasn't been well socialised, he has learnt basic commands, but just needs to be a puppy with some training as he hasn't been/had either. He has a lot of energy and enjoys playing and roughing around with the other dogs.
Molly - 15mths will make lovely family pet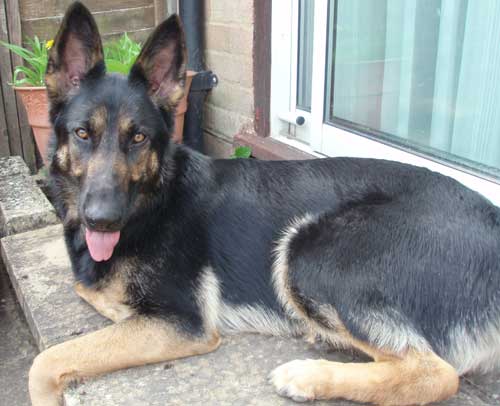 Molly is shy at first with strangers, will back away but will approach after a short period of time, once settled very affectionate, very good with other dogs, will play and tumble around. Knows sit, stay, down, wait but doesn't know recall or come very well. We get the impression she has not been let off the lead but fosterer has been working on recall with her. Her nature is gentle, no aggression at all
Zac - central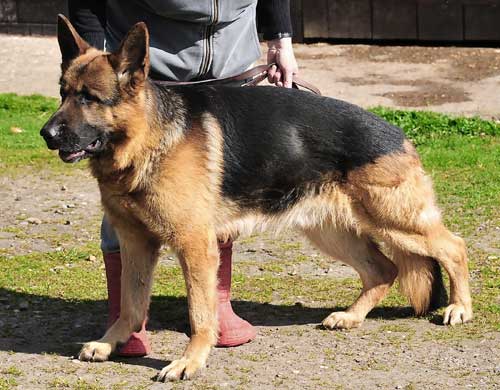 Zac owner died recently and no one wanted him. B/T Short coat. Entire Male age about 4 - 5. Big Boy Stunning looking. Strong on lead. Jumps up but friendly. Bonds quickly and can be dominant with other dogs, would need perhaps more socialising. A Beautiful example of a GSD.
Kevin - central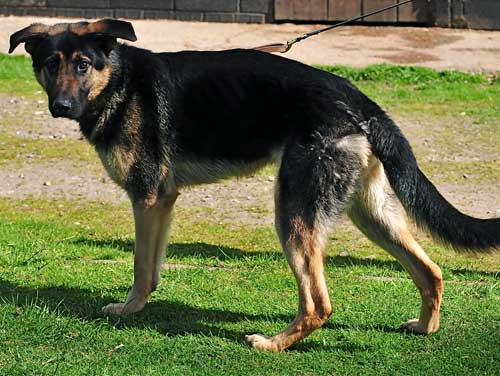 Our Kev is a fantastic young dog about 12 - 15 months old, very cute with floppy ears. He is laid back OK with other dogs and would make a super family pet. Good fun to be with. He is very underweight so on 4 meals a day to build up. He was also a stray saved from the dog pound.
Jasper 5 - AT RISK because of his epilepsy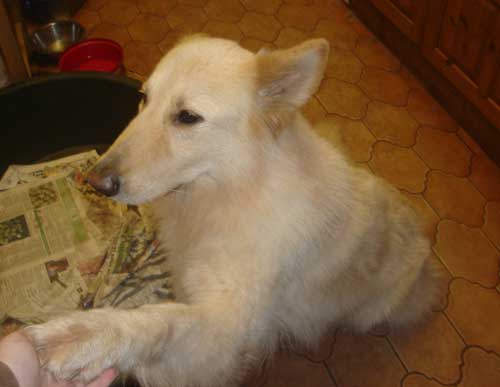 Jasper is a 5year old entire white semi long coat, he is vaccinated, ok with kids, ok with other dogs, ok with cats, and ok with strangers. Jasper is Epileptic, stable at the present time, but can become unstable in stressful situations. He will need medication for the rest of his life but his epilepsy could be controlled.
Sasha - not doing well in kennel environment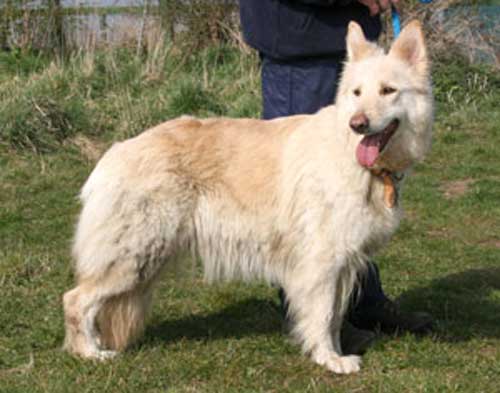 Sasha is very nervous in the kennels, but she quickly came to round for our volunteer when she saw the lead in his hand. Once she gets out of the kennel her fear subsides but returns immediately she is taken back in. Obviously, kennels are not the place for her to be! The volunteer groomed and walked her and she was absolutely fine. She is responding well to attention, she actually likes being groomed and she now walks to heel She is going to make a great pet for the right person. Sasha is a very intelligent dog.
Sasha and Amber 10 years old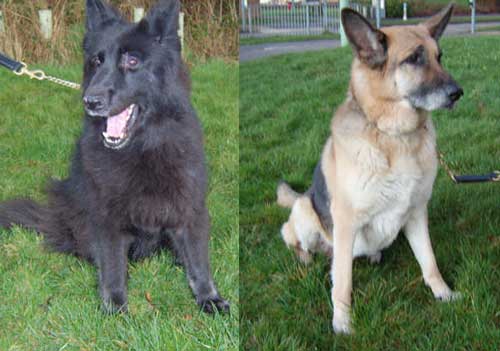 These girls have been together all their lives so it would be wonderful if we could keep them together. Both are 10 years old microchipped, vaccinated and spayed. Good with children over 5 and other dogs but not cats. Two lovely girls that need a retirement home together.
Willow - central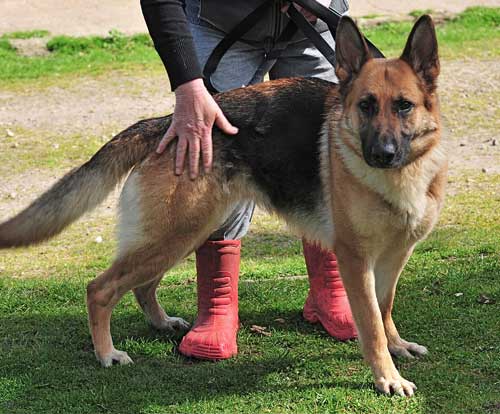 Has lived with a malamute and husky type dog. Bitch, entire, 3 years old. Lovely temperament, friendly B/T short coat, good on the lead. Selective with what dogs she likes, does not particularly like little dogs. Lovely looking bitch.
Gorgeous Billy approx 6 years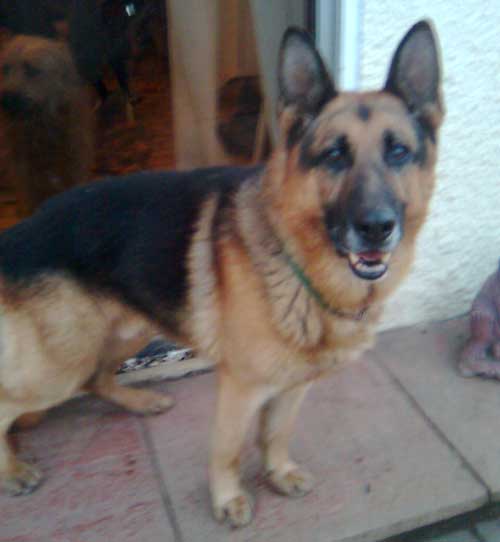 Billy came from the pound and was due to be put to sleep. He is a very loving dog and becoming quite playful.We suspect he has been an outside working dog and would, therefore, need someone with time and patience to get him used to living in a house. You would soon find Billy is a loyal friend. OK with other dogs with a careful introduction.
Donations are always welcome
Please help us by making a donation so that we can help re home more unwanted German Shepherd Dogs. Donations can be sent to Jayne Shenstone, German Shepherd Dog Rescue, Little Vauld, Marden Hereford HR1 3HA. We also accept Paypal payments - just click on the Paypal button below. Thankyou.