German Shepherds Rehomed 43
More German Shepherd Puppies and Dogs that have found new homes
ALL OF THESE DOGS ARE NOW REHOMED
SUCCESS STORIES
|1|2|3|4|5|6|7|8|9|10|11|12|13|14|15|16|17|18|19|20|21|22|23|24|25|26|27|28|29|30|
|31|32|33|34|35|36|37|38|39|40|41|42|43|44|45|46|47|48|49|50|51|52|53|54|55|56|57|
|58|59|60|61|62||63|64|65|
Prince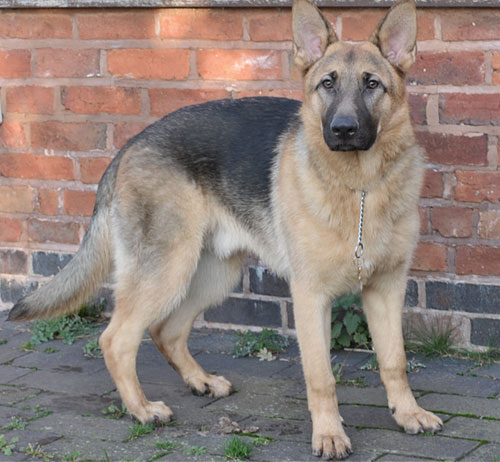 Prince is just 8mths old but was taken to the vets to be put to sleep because he nipped someone in the pub!! He has lived with a cat, but can be rough. Has a bad habit of spinning and catching his tail at the moment (only on initially seeing you), does not do it on walks. Walks well on a lead - Recall has just started with foster and is looking good. Will sit, owner, says he will go down. Will improve with further training. Loves water and adores playing with a hose pipe.Travels well in the car. has been fine with visiting strangers. Prince will need socialising with dogs as part of ongoing training. He has not barked excessively or showed any aggression through the gate to fosterers dogs. First night in foster he tore up a large cardboard box and keeps tipping his water up, so a new home would possibly need a crate on hand in case he gets separation anxiety on new home and surroundings, till he settles in. He has been clean whilst in his room during the night, just chewed a few toys. Stunning dog. Someone is going to be lucky
Ozzie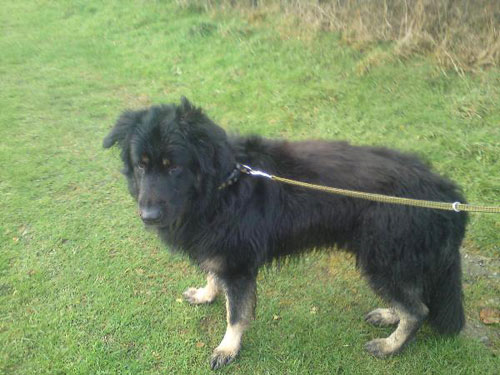 Ozzie is a black, entire male aged 5. A very big boy, and very handsome. He was very nervous and wary of strangers when he first came to us but he has turned out to be a lovely boy. He is fine with kittens, ducks, other dogs, people and will make a fantastic companion for some lucky home. We think he would be best suited to an adult only home or one with older children.
Jack - someone's going to be very lucky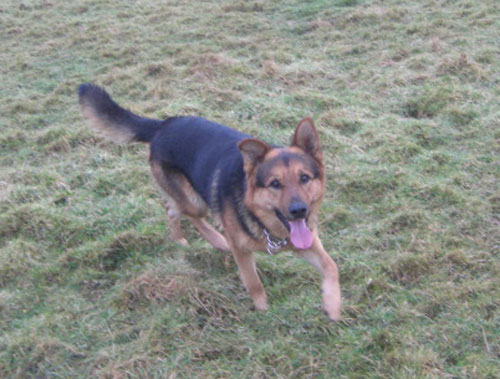 Jack is a 4-year-old black and tan gorgeous male. He is absolutely adorable, full of fun, has lived with children and is vaccinated.
Cassy - left tied to a tree for 2 days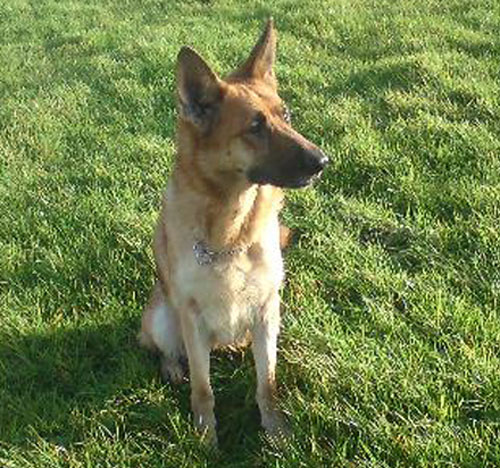 Cassy a 3-year-old bitch who was tied up to a tree and left. She is very soft natured and gets on with other dogs. Can be quite dominant so better rehomed as an only dog.
Sweetie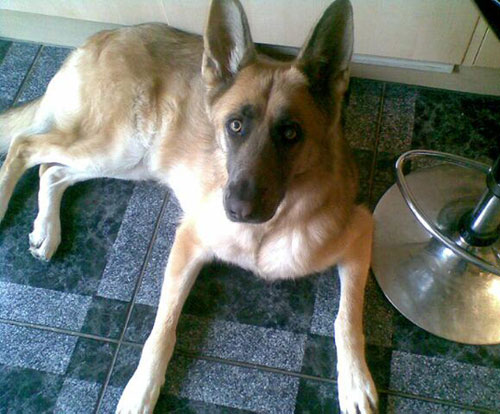 This 4-year-old German Shepherd is called Sweetie. She's spayed, fully inoculated and it is breaking her owner's heart to have to part with her but they are moving to a small flat in London and it would be a cruelty to confine her to a small space without a garden. She's a most loving and energetic job and has happily lived with owners and their son since she was 7 weeks old. She also lives with a 6-year-old Westie (who's the boss!). She loves nothing more than a good walk and to make a fuss of people who love her. She quite simply is a most beautiful girl and would benefit from living with a happy family, used to the breed, with a garden who will love her as much as she will love them.
Buster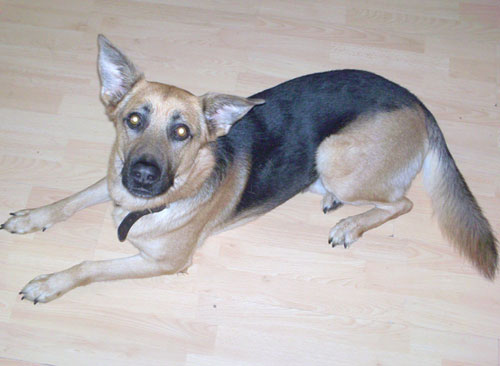 Buster's owner can no longer look after him due to ill health. Family have been looking after Buster for a couple of months now but cannot give him the time, love and affection he deserves as they both work long hours and it would not be fair to buster to keep him. He is living with 3 children aged 11,13 and 16 who Buster gets on very well. Buster comes across aggressive to new people at first as he is very nervous and has not been able to socialise with other dogs and people. He juts needs help to build his confidence and learn to trust new people.
Ben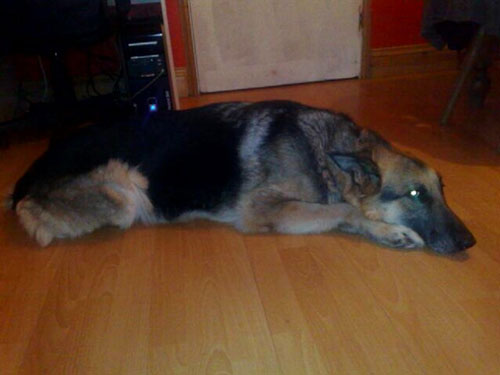 Ben has been in his current home for one year, he is still a very nervous dog and barks at anyone who comes into my home regardless of how many times he has met them. He gets on well with owners children and grandchildren who are 3yrs and 6yrs. He is very affectionate and loves to be fussed He eats when he feels like it and you have to be in the kitchen with him when he does so, if at all. He is not a large boy and his eating habits stop him from gaining a few pounds that he needs. Ben is a wonderful gentle dog and very loyal, he walks well on a lead and sits at the kerb when at a road. He gets on well with other dogs but only if he has chosen them to be his friends, he doesn't like cats or pigeons? He is very obedient and always does as he is told, he has a great character and personality.
Stig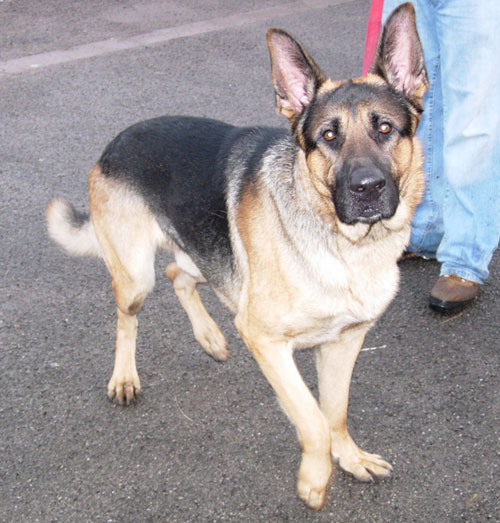 Stig is a great big softy, if he knows you, he is wary of strangers, but if you tell him they are ok, he relaxes. He is in foster with a 15 yr old dog Tara and has got a love affair going, he's made her feel young again. He is starting to push his luck a bit, but as soon as you make it clear he won't win, he wags his tail and gives up. He isn't a bad dog at all. and his foster mum loves him to bits! He is good with other dogs if introduced properly. Does bark at them when on the lead, but playful off lead. He needs lead training, and is a very strong boy!
Tyson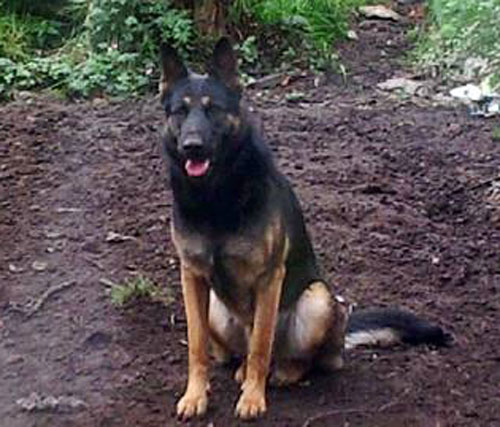 Tyson - 16mth old GSD - Microchipped. Tyson is a black and tan short coat GSD who is a very friendly playful boy, he is good with other dogs. He is house trained and needs to be tested with cats. Tyson is initially shy when he first meets people, he needs further socialisation and would benefit from attending training classes.
Ozzie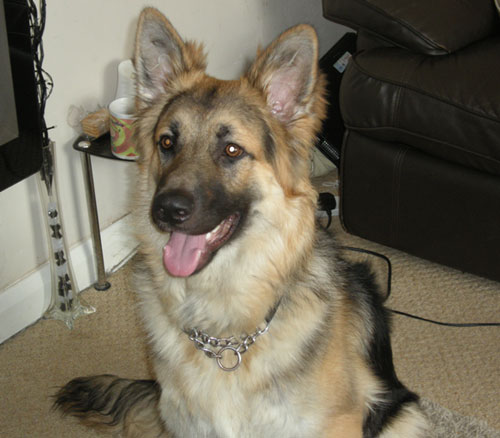 Ozzie is a beautiful 14mth old sable semi coat who has lived with 4 children. He is not bothered by other dogs he sees out in the park, not sure about cats. He is wary of stangestrangersrst. He has had a problem with his front leg which is probably panosteitis which is something he should grow out of.
Donations are always welcome
Please help us by making a donation so that we can help re home more unwanted German Shepherd Dogs. Donations can be sent to Jayne Shenstone, German Shepherd Dog Rescue, Little Vauld, Marden Hereford HR1 3HA. We also accept Paypal payments - just click on the Paypal button below. Thankyou.