German Shepherds Rehomed 48
More German Shepherd Puppies and Dogs that have found new homes
ALL OF THESE DOGS ARE NOW REHOMED
SUCCESS STORIES
|1|2|3|4|5|6|7|8|9|10|11|12|13|14|15|16|17|18|19|20|21|22|23|24|25|26|27|28|29|30|
|31|32|33|34|35|36|37|38|39|40|41|42|43|44|45|46|47|48|49|50|51|52|53|54|55|56|57|
|58|59|60|61|62||63|64|65|
Nicole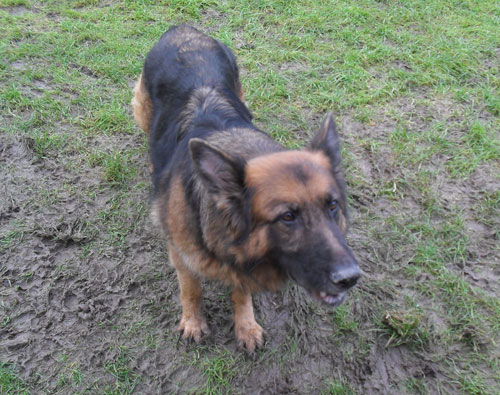 This beauty is Nicole, approximately 2-3 years old. An elderly person got her as a young puppy. He lived in a flat. All went well, to begin with, but unsurprisingly, Nicole became too big and strong for her owner to handle. So the poor dog has spent most of her adult life locked in a dog crate in a flat. You can imagine the mental and physical state this lovely girl is in. She is so confused & just craving love & affection. She loves playing & is going stir crazy kept in a kennel, with very little exercise. Not known if she is spayed. Vaccinated. She isn't keen on small dogs, but fine with larger ones. Needs a gluten free diet. Fine with children, but due to her lively nature, will rehome with older children on;y. Nicole is an escape artist & can easily jump 6 ft fences! Would be good for agility! Not known how she would be with cats. Travels ok.
Hagen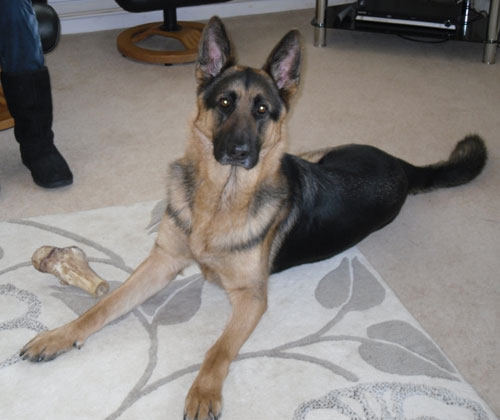 This handsome boy is 2 yr old Hagen. Neutered, microchipped and vaccinated. Hagen is a typical GSD, protects his home, and is wary of strangers. He is housetrained, loves to play. Good with other dogs and has been used to children of all ages.Is very obedient. Has no known health problems. A really gorgeous dog, being rehomed due to illness in the family.
Fiera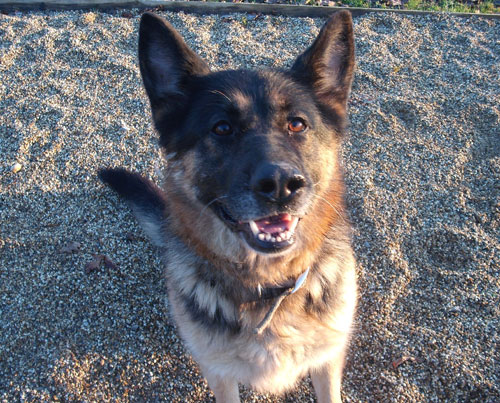 Fiera is 6-7 years old and has lived with Charlie all her life She is a stocky, very playful girl who like Charlie loves cuddles. She has lived with young children but has not had any experience with cats or livestock. She is very keen on her food so careful monitoring is necessary in order to watch her weight. Fine with the horses and cats
Charlie - adorable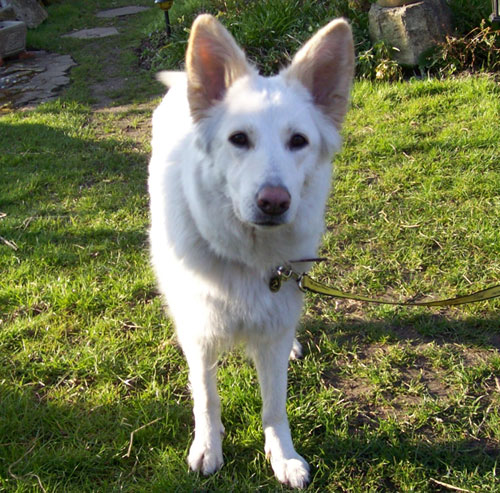 Charlie is a semi coated 4yr bitch who is currently in foster care where they say she is adorable, well behaved and loves all the other dogs. Charlie will make a wonderful family pet, whoever gets her will be very lucky.
Rommel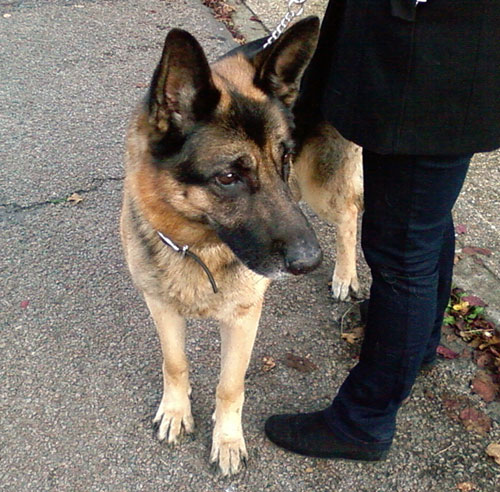 Rommel is a 7-year un-spayed boy who needs to be re-homed due to the change in the family circumstances. He is a strong willed GSD that will need an experienced new owner without young children. He does pull on the lead and will need training on this. He currently lives with 4 cats but will chase the neighbours if they are brave enough to come into his garden. His has no food aggression or toy issues but will need firm rules for him to follow.
Maxie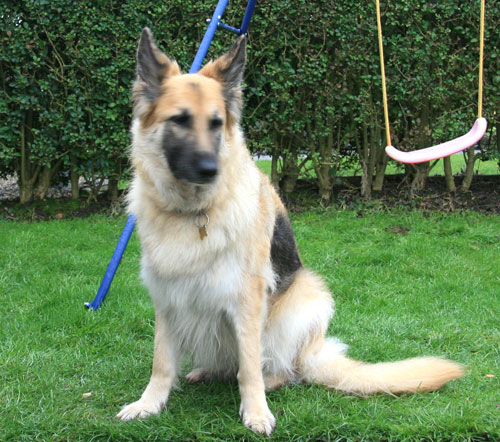 Maxie is a 7-year old light-coloured, semi-long coated, B&T, un-neutered bitch; the owner says she hasn't been in season for at least a year! Her vaccination is over a year out of date. No pedigree papers
When I visited, she didn't bark, but was curious to meet me and was immediately friendly. She is good with people including small children. I took Duke with me and walked them together; Maxie initially barked at him, but not aggressively and after 5 minutes was quiet and calm with him – didn't let them off lead, but I think she would have been OK. She will chase cats. She is house-trained and goes to the door and barks when she needs to go out, not micro chipped. The reason for parting is marriage break up, so not the fault of Maxie. Maxie is a really nice dog and will make a great pet for a new owner. Maxie is in the North Yorkshire area.
Libby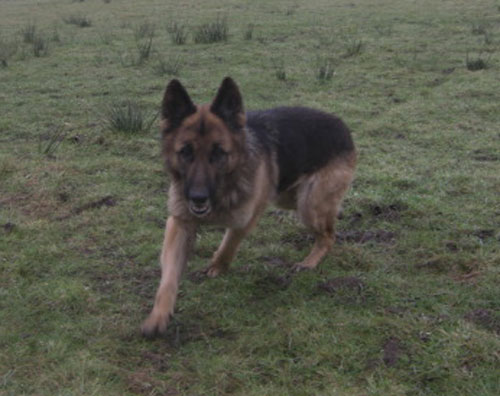 Volunteer says: Libby is a bit timid of strange people at first she is only about 10 – 12 months old, very underweight but will be a cracker when she gets to her ideal weight and fills out. She loves playing ball but doesn't like giving it back. Tried her with our cats in the house and she was trying to get to them under the table she looked very interested in them doesn't think she would of hurt them just wanted to play, we think you could teach her to leave them alone. She was a bit funny with one of the GSD when tried out together but fine with my lab when she came in the house. I will try Libby with another dog later and let you know.
Harry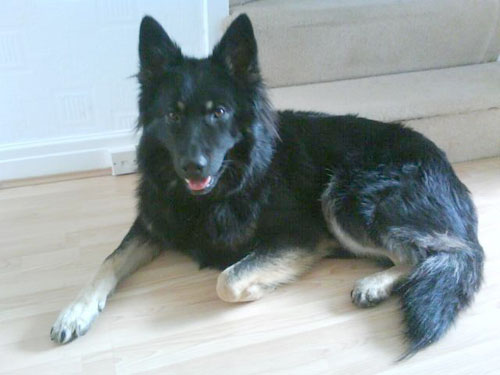 Harry is a gorgeous long coated male when I arrived Harry came bounding up and barking to greet me. He was very friendly and totally excitable. Harry has just gone 3 and is a very bonny looking dog. There is no malice in him whatsoever and his owner said he gets on very well with other dogs. Harry lives with a 2-year-old child whom he dotes on. Unfortunately, the owner has split up from her partner and works full time. Therefore she cannot give him the attention he requires. I believe that this is the reason he is so excitable - he requires long walks to burn off his excess energy. He is good with other dogs.
Alfie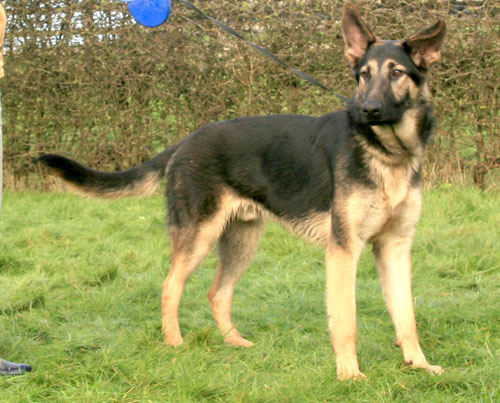 Alfie is just 9 months, entire, B&T short. Housetrained, fine on and off the lead, great with other dogs and kids. Vaccinated, wormed, flea-treated. A playful puppy. Will make a great pet. This young boy has come to us due to his owners' ill health.
Joseph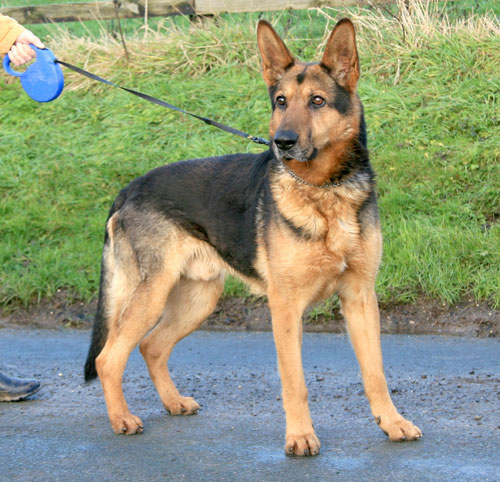 This boy came to us from the pound aptly named as he arrived around Christmas, we think he is around 5/6. He's black and tan, short-haired, entire, Calm, but alert and well-behaved, good with dogs/kids. Nice looking boy. He is also in the York area
Donations are always welcome
Please help us by making a donation so that we can help re home more unwanted German Shepherd Dogs. Donations can be sent to Jayne Shenstone, German Shepherd Dog Rescue, Little Vauld, Marden Hereford HR1 3HA. We also accept Paypal payments - just click on the Paypal button below. Thankyou.