German Shepherds Rehomed 30
More German Shepherd Puppies and Dogs that have found new homes
ALL OF THESE DOGS ARE NOW REHOMED
SUCCESS STORIES
|1|2|3|4|5|6|7|8|9|10|11|12|13|14|15|16|17|18|19|20|21|22|23|24|25|26|27|28|29|30|
|31|32|33|34|35|36|37|38|39|40|41|42|43|44|45|46|47|48|49|50|51|52|53|54|55|56|57|
|58|59|60|61|62||63|64|65|
Saisha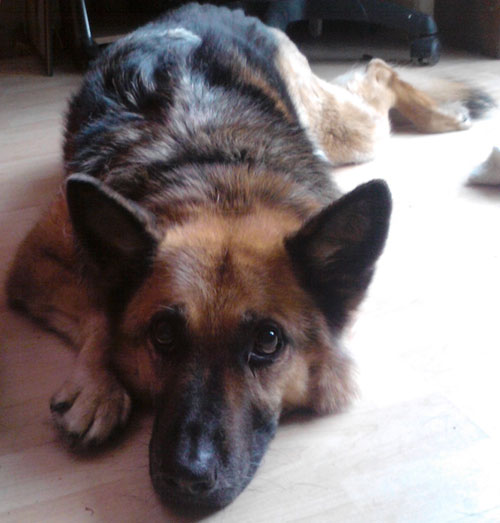 Saisha is a short haired but thick coat, black and tan female - spayed, fully vaccinated including kennel cough, due again in dec 2009. Pulls a bit on the lead, has a good recall off lead, currently living with children from 5mths to 12yrs, 1 other adult dog, a puppy and several cats including kittens and is not a problem with any of them. She urgently needs a new home due to changing circumstances.
Ben 6 - SW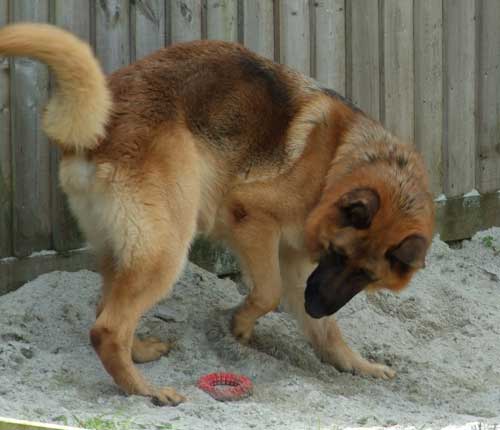 Ben is a 6year old german shepherd, he is fun, clever, playful and cuddly. he is good with people and children but will need re socialising with dogs. He has been in boarding kennels for 2 years and is clean in his pen. Ben is very strong on the lead and will need training in this area also. He has lived out in kennels for most of his life so may need some ground rules if he is staying in a home environment. He will probably be best as an only dog. Ben will need a kind patient home that knows the breed and will be willing to spend time re training him.
Derrick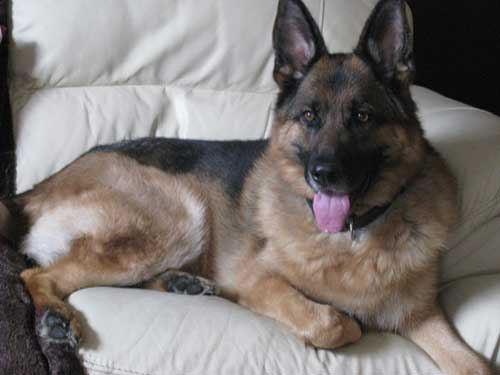 Derrick is 4 years old and a really handsome lad, he is neutered and vaccinated. He's Ok with other dogs, lives with a bitch at present. Tends to be a bit exuberant with small children and would be better homed with older teenagers. Not lived with cats but doesn't show any concern when neighbouring cats sit on the fence. He is really friendly when people go to the house, doesn't show any aggression at all, just brings his toys to play. He is in urgent need of a loving home due to changing circumstances.
Tyson2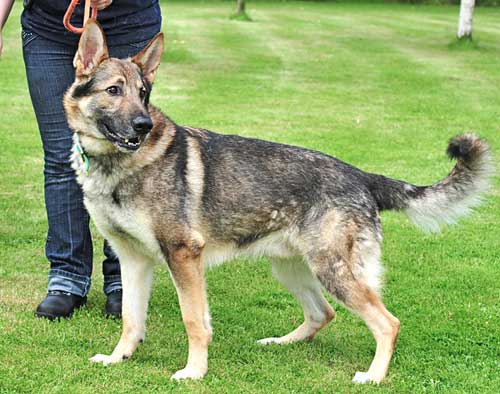 Tyson was relinquished by his owner into Sunnyside about mid-May, 09. He is 4 years old, a good all round dog, dog-friendly, ok with children, good on the lead, travelled well, no aggression or food aggression. Fully vaccinated until June 2010 and is microchipped. Has not bothered to play with toys in his kennel environment was very friendly with the staff.
Tyra's puppies GSD/Boxer crosses - please fill out an adoption form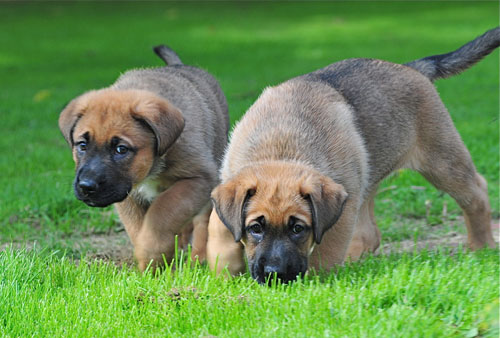 Two pups Male and Female. Have been vaccinated and booster until August 2010. Flea Treated and wormed. Will be ready to go to homes at 10 weeks of age 5.8.09. Have been hand reared from 2 1/2 weeks of age as Tyra was too young and started to reject them. As the pups have not been with their mother since an early age will need to be socialised ASAP and as youngsters ongoing house training as its a bit hit and miss at the moment. Have been brought up in a household so use to vacuums and other household noises and dogs barking, have lived with 3 cats.
Sophie -18mth-2years. Poor girl needs a loving home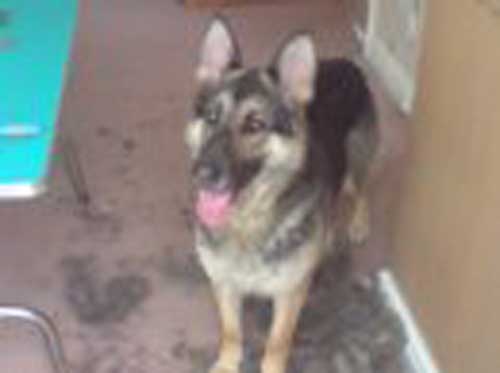 Sophie had a bad start being kept in a shed and fed from a bucket. She has been in a foster home where she was fine with the children from the ages of 3 years upwards. Since she has been moved to the farm we have done lots of work with her. She was scared of her own shadow her metal dishes she is ok now. she is clean in the house fine with all the dogs around her. Sophie has shown no aggression towards people or children. But cats are a NO or live stock as when she sees the live stock she remembers and seems keen to get to then next time she passes. She no longer pulls on the lead. She will need lots of exercise as now she has had some she loves her walks. Sophie would be fine in a home with children, no cats and preferably not in the country. She has come a long way. Sophie is a very nice bitch and will make a lovely pet
Phoebe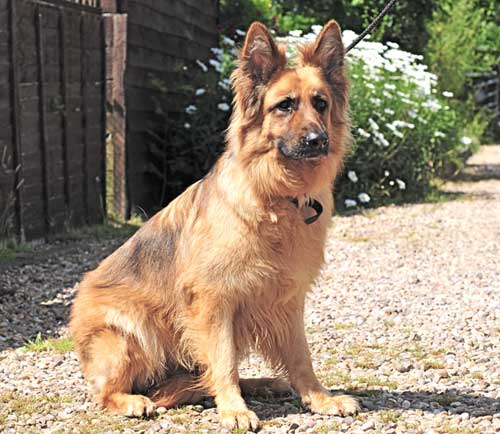 Phoebe was relinquished by her owners, she is 4 years and 5 mths old, spayed, Booster vaccination due 26.7.09. Good with children OK with owners cats and they have 4 in total. Ok with owners dog (springer) and others, travels well. Protective and territorial of property and family.
Buddy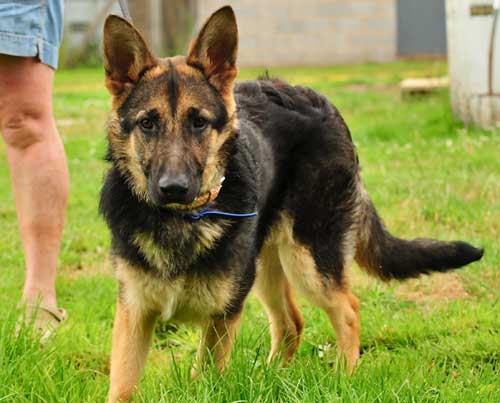 Buddy is black and tan, semi coat. He is a very young dog of about 7 - 10 months old, needs training, very boisterous would not keep still for the camera and kept running around volunteers legs in circles. Seems a very friendly dog, he was a bit wary at first and stayed in his kennel for a couple of days, but is OK now. He is still just a puppy.
Jed - kept in a small box!!!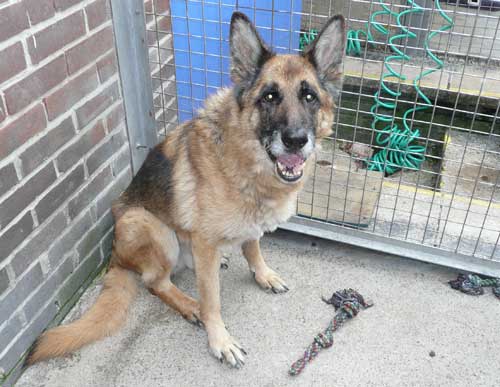 Jed is a lovely big dog that has had a terrible life. He has been living on an allotment his home was a box just big enough for a poodle A nice friendly chap probably between 8 and 9. Jed is very under weight and needs a good brush. His nails are also long probably through lack of walking. He is very friendly and allowed our volunteer to play with him with a ball. He is a little shaky on his back legs but he did manage to cock one slightly to urinate. This will undoubtedly be due to lack of exercise. The staff at the kennels say he is friendly but tries to escape when they go in/out of his kennel. Jed is a nice big dog in need of a little TLC in his later years.
Eiger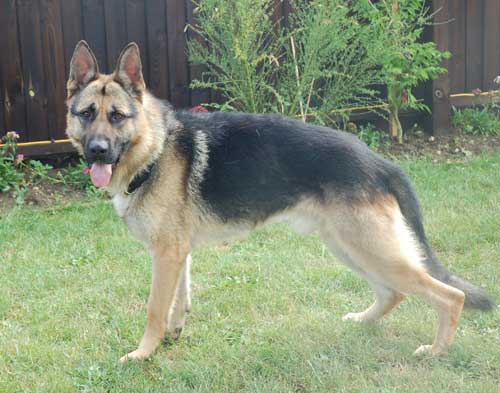 This lovely young GSD was kept tied up in a yard and never allowed in the house as his owners regard dogs as unclean! He ended up in the dog pound and reached his 7 days so was added to the list to be put to sleep. We got him out and he has turned out to be a lovely boy. Eiger was put into a new home a few weeks ago, where the new owners claimed there would be no young children to worry him. They then allowed a 3-year-old toddler to wander around him and smack him on the head, which Eiger was not comfortable with. Surprise surprise!!! As Eiger was kept in a yard and probably teased by kids, we specifically wanted a home without young kids. It is very sad to think that people would lie about this and put poor Eiger in a situation he was not comfortable with. So thanks to irresponsible owners, once again poor Eiger is looking for a nice new home. Eiger is very thin and will need building up.
Tyson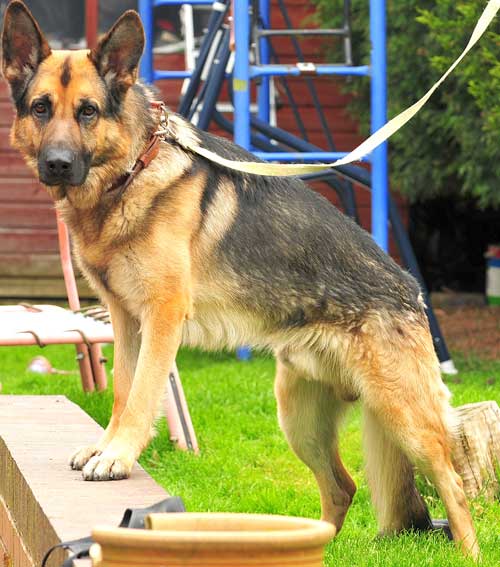 Tyson is a dog that has had training but is protective of his family and surroundings. Our volunteer feels this has been made worse by the owner because she is nervous of how the dog will react to people visiting the home and she feels the dog is picking up on this. Put with an owner who will make the dog realise that he does not have to protect his owner and that he is not pack leader she thinks he will be a good dog. Good looking dog, still young to learn, and is a very active dog. He will need somewhere with a good secure high fenced garden, as he can jump high, he likes to jump up after birds and flies. He lives with a Jack Russell.
Donations are always welcome
Please help us by making a donation so that we can help re home more unwanted German Shepherd Dogs. Donations can be sent to Jayne Shenstone, German Shepherd Dog Rescue, Little Vauld, Marden Hereford HR1 3HA. We also accept Paypal payments - just click on the Paypal button below. Thankyou.