German Shepherds Rehomed 68
More German Shepherd Puppies and Dogs that have found new homes
ALL OF THESE DOGS ARE NOW REHOMED
SUCCESS STORIES
|1|2|3|4|5|6|7|8|9|10|11|12|13|14|15|16|17|18|19|20|21|22|23|24|25|26|27|28|29|30|
|31|32|33|34|35|36|37|38|39|40|41|42|43|44|45|46|47|48|49|50|51|52|53|54|55|56|57|
|58|59|60|61|62||63|64|65|
MORE RESCUE DOGS REHOMED >>>>>>>
Zak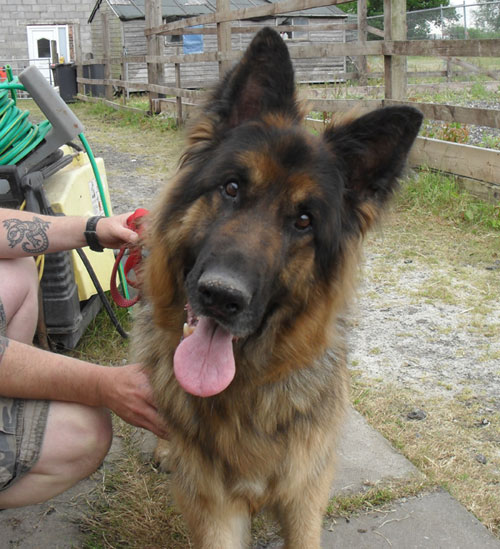 This stunning long-haired boy is 7 yr old, neutered male, Zak. A big, cuddly bear of a dog! Walks ok on the lead. Takes treats very gently. Loves being brushed. Ok with large bitches, but not small dogs. Vaccinated. Fine with children over 7 yrs old. Dislikes cats. Microchipped.Housetrained. No aggression, but does bond easily with one person. A fantastic dog.
Samson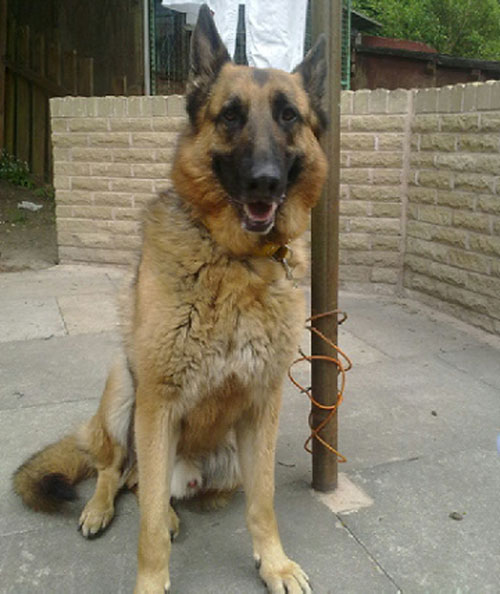 This is 4 yr old, neutered male, Samson. Vaccinated & housetrained. Samson's owner is severely ill & housebound, meaning Samson doesn't get walked. He is guarding his home & owner quite strongly. This has become a problem as the owner needs carers to be able to come in & out of the house. Samson lives with 2 teenagers. When our volunteer took Samson for a walk he did relax a lot, but seemed on edge & keen to get home all the time. Once home he went straight back into protection mode. Needs a new home asap where he can relax & learn to enjoy being a dog.
Willow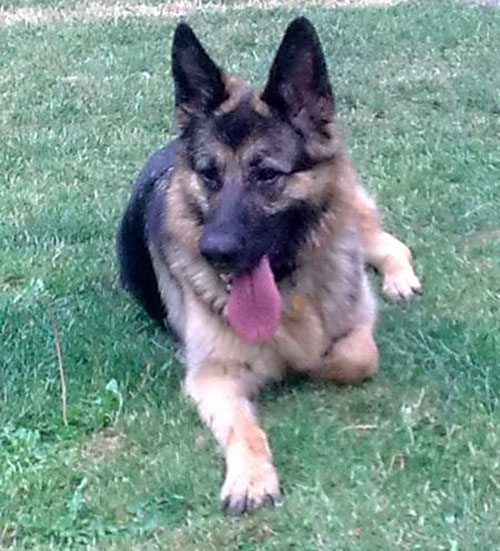 Willow is a 3-year-old unspayed bitch. She is being rehomed due to her owner being evicted and is currently in foster care. Willow has not had any proper training on the lead and whilst she has a lovely temperament with people, can be a little pushy. Ideally, needs an experienced home who can give her the leadership she needs.
Kira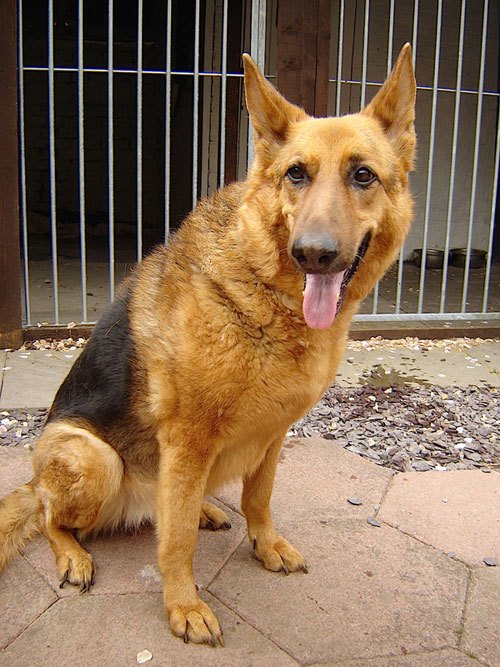 Kira came to us from the streets so we have no history of her past. She is approx 4yrs. She is learning new things daily, she had no manners with other dogs at first but is now living with 4 other German shepherds, she is good in the house at night, she isn't a noisy dog although she will ask to come back in when she's been outside for long enough, she is becoming very affectionate and loves a tickle and is learning how to play nicely, she is very fit and loves her walks on the river bank and has made no attempt to go in the water, it would seem Kira has had no social life with other dogs but is learning how to be nice, she travels very well in the car but will bark at passing dogs, more out of habit than anything else, she has been good with visitors if a little nervous at first, she is good with older children but has had no contact with smaller children yet, Kira would prefer to live as an only dog but she will mix if she has to, and prefers dogs to bitches, cats are not on Kira's Christmas card list though!, Kira is a happy little girl and is getting happier all the time, all she needs is someone to be happy with.
Rebel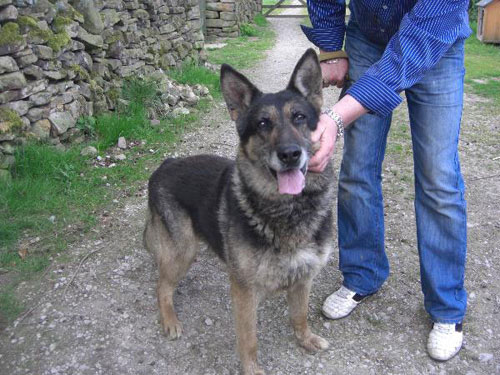 Rebel, is around 4-5yrs he was bought as a yard dog but proved to be too soft, he has won the hearts of our kennels and they say he is a real softie. He loves to be brushed and will stand all day (the attention I am guessing). He is black/tan short coated. We don't think he cares for cats as he watches the cats at the kennels very keenly (ha). Please come and have a look at this boy.He just loves everyone he meets.
Alfie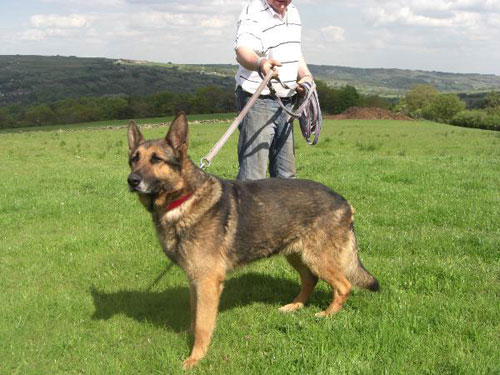 Alfie came to us from a pound again an other on his last days. we are not sure of age but he is a very nice boy kennels say they have had no problems with him since he arrived.
Tye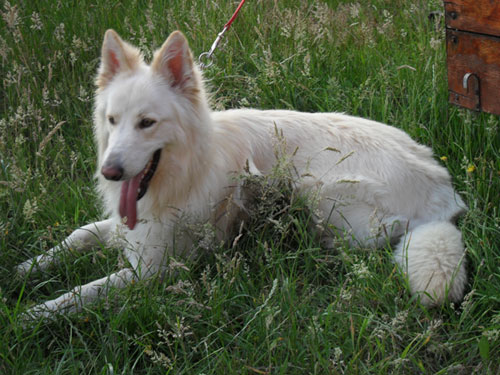 This stunning looking dog is 18 mth old, neutered male, Tye. Vaccinated & microchipped. Tye travels really well in the car and is also housetrained. Tye has had 3 homes in his life so far, through no fault of his own. He is a lively, playful dog. In foster care with several other dogs, just wants to play, no aggression at all. Fine with the cat! Tye is used to children from 3 yrs upwards, but as he is so boisterous, would rehome him with older children only. Walks well with a halti, but pulls otherwise. A fabulous dog for anybody!
Jake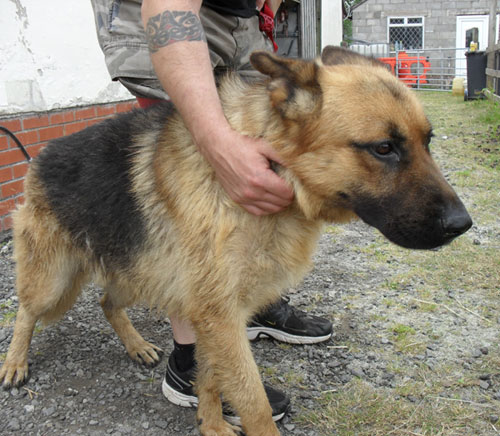 This is 18 mth old, entire male, Jake. Spent months in kennels, needs a good bath. Lovely, really friendly dog. Very playful takes treats very gently. Needs lead training.Fine with other dogs. Travelled well in volunteers car. With some training will be a fantastic dog.
Shiloh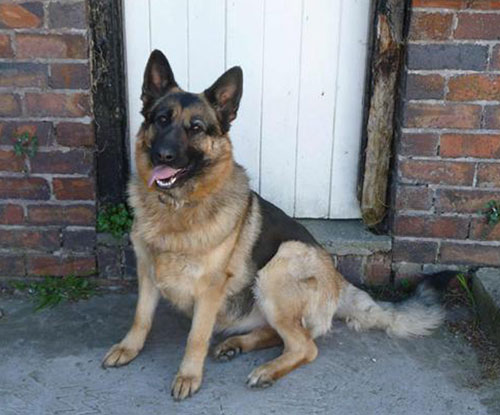 This gorgeous girl is 3 yr old, unspayed bitch, Shiloh. A beautiful, large bitch, greeted our volunteer with a lovely wagging tail & lots of licks. Shiloh travels well. Lives mainly outdoors, but is housetrained also. Microchipped. Shiloh has lived around children from 10 yrs upwards. Fine with other dogs out on walks. Shiloh was born with a deformed eye, it has been checked by a vet & her sight isn't impaired & it causes her no trouble. Shiloh loves to be groomed. Cats unknown. Just a happy, friendly dog needing a home urgently as her owners' landlord has given them notice to leave.
Sabre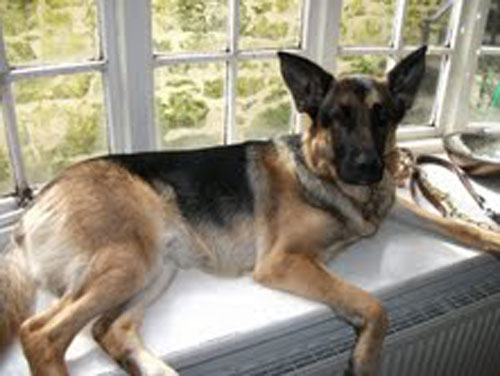 This handsome boy is Sabre, approximately 12-15 mths old and neutered. Sabre is up to date with vaccinations & microchipped. Housetrained, and loves to travel in the car. Sabre is a typical GSD, barks at strangers but when he knows them he is friendly. Sabre loves his tennis ball & is really well trained, knows a lot of commands.Sabre would be excellent at agility type activities. Sabre has lived with another dog but does bark at other dogs when on walks, he would benefit from some proper socialisation. Took treats really gently from the assessor, and relaxed really quickly after an initial bark. A very handsome, intelligent dog, with eyes that could melt the hardest of hearts!
Major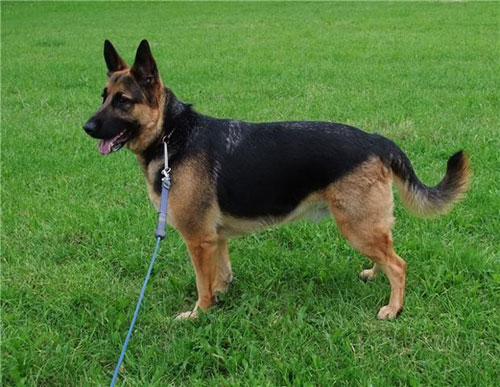 This handsome boy is 3 yr old, neutered male, Major. An absolutely stunning example of the breed with a great temperament. Microchipped, but not up to date with vaccinations. Major is housetrained, has no food or toy possession issues. Pulls a little on the lead. Major plays boisterously with other dogs, no aggression. Major loves a swim in the river! Lives with children over 7 yrs old & loves them. Just a great dog.
Donations are always welcome
Please help us by making a donation so that we can help re home more unwanted German Shepherd Dogs. Donations can be sent to Jayne Shenstone, German Shepherd Dog Rescue, Little Vauld, Marden Hereford HR1 3HA. We also accept Paypal payments - just click on the Paypal button below. Thankyou.