German Shepherd Dog News Archive 7
German Shepherd Rescue Past News Archive
---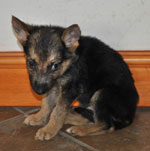 German Shepherd Cross Puppies
These little babies are 5 weeks old, just another mistake resulting in unwanted puppies.
Turned away by other rescues because they weren't purebred. Seven beautiful 3/4 GSD puppies looking for homes.
How sad that these little mites have ended up in rescue already, they didn't ask to be here. They are pretty darn cute aren't they? Mum and all 7 puppies have all been rehomed
---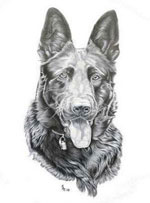 GSDR Portrait Competition 2012
This raffle is to raise funds for GSDR. The prize is a beautiful much-loved portrait of your pet by Art by Karie-Ann
The photo of your dog must be a good clear digital photo if at all possible and a close up of the head and shoulders.
In order for the finished portrait to be as accurate as possible, Karie Ann needs to be able to see what your dog looks like so little photos are no good.
Details of where to send your portrait will be given at the close of the competition. COMPETITION NOW CLOSED.
---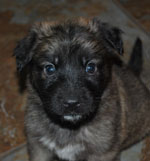 GSDR Puppies
A mum and her 7 GSD puppies let down by the RSPCA and rescued in the nick of time by GSDR. Dad is also safe too now.
The RSPCA received a complaint about mum and her pups when they were just 2 weeks old. An inspector was sent to see them and confirmed they should all be carrying more weight but as the pups were still with mum (also very underweight), there was little he could do.
So that was what he did - nothing. He went back to the office and actually closed the case as he was soon to retire from his job.? ALL REHOMED
---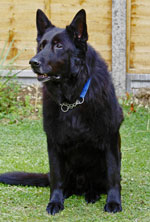 The Realities of Rescue as told by Berry.
"The Realities of Rescue" as told by Padfoot (Animagos of Sirius Black) from "Harry Potter and the Prisoner of Azkaban"
This story has been verified by the Sunday Express
Please note that sadly, neither Berry or Porridge are with us anymore. Both dogs were getting on a bit in years when they came to our rescue and both dogs had medical problems related to age.
Neither of these dogs was ever put into kennels but stayed with a lovely family foster home who cared for them both until the end.
---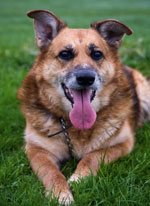 Spring 2012 Newsletter
Well as predicted we have had record numbers of dogs arrive on our books.
Unfortunately, it doesn't look like it's going to change for the foreseeable future either.
As ever at GSDR, we aim to help each and very dog who asks for it one way or another.
At this point, I would like to thank everyone for playing their part and making all this possible. You can read more aboutn what we have all been up to in our Spring 2012 Newsletter
---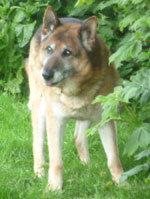 Older GSD Ben Dumped In The Pound
Ben is another lovely boy dumped in the dog pound where he faced being put to sleep as yet another unwanted dog.
This beautiful boy was in kennels for many months, he is now in foster but we think he now deserves a home.
We think Ben has a lot to offer and he should not be rejected just because he isn't a youngster.
Ben is very affectionate and loves people. REHOMED
---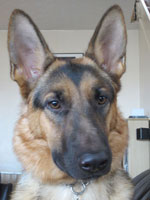 Valentines Photo Competition 2012
A chance to show off the love of your life in our Valentines Photo competition
Judges decision is final. Please remember this is for fun and fundraising.
Classes are open to dogs and bitches of any breed and include best smile, most beautiful eyes, best dressed, best kiss, golden oldies and rainbow bridge.
Closing date for all photographs to be entered is 14th February 2012
Winners will be announced Sunday 19th February 2012
---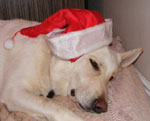 Winter Newsletter 2010
We are now down to minus temperatures all over the country and many dogs are stalk in kennels freezing to death of an evening. Is it not bad enough you have been abandoned but to be so cold as well is dire?
Could you find a space in your home for a small one? I'm sure you could if you looked hard enough, even if it was for just over the Christmas period.
Make a furry friend happy this Crimbo. Read more.
---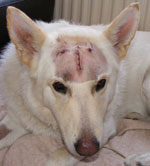 Ice - GSD With Aspergillosis
Aspergillosis is a fungal infection that develops in the nose and sinuses of dogs that have long to moderate length noses such as Collies and German Shepherds.
Most animals will come into contact with aspergillosis because it is a common fungus in the environment but usually, they are not affected by it. Dogs with compromised immune systems are more prone to developing aspergillosis but as with Ice, sometimes normal healthy dogs are affected.
The symptoms are a profuse, clear discharge from the nose with episodes of nosebleeds. The external part of the nose becomes ulcerated and the dog suffers pain or discomfort in the nose and facial area.
---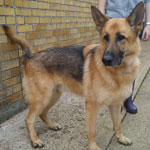 Bailey GSD Hunk Of Month
Bailey is a very handsome 4yr old neutered male. He has been living in kennels for the last 4months and really needs a place to call home.
He has been a good lad in kennels, loves his walks and has befriended all the staff.
He is very lovable and adores cuddles. His original owners surrendered him to GSDR as they were working long hours, leaving Bailey home alone and unstimulated. REHOMED.
---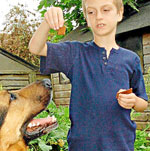 GSD Helps Aspergers Syndrome Boy
Youngster Baylee Neal, who suffers from Asperger's Syndrome, had difficulty interacting with people – until his mother rescued a German shepherd dog which has changed their lives.
Featured in The Shropshire Star
Baylee's bond with pet Sabre is animal magic. A wonderful story about a boy and his pot dog.
---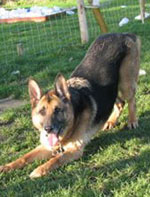 Hamish In Kennels Many Months.
My name is Hamish I'm nearly 5 years old and have been in kennels over 6 months now. I'm a lovely looking German Shepherd fit and healthy, I love to run and go for walks. I'm also neutered so I won't be looking at all the girls. Instead, I will focus all my attention on that nice caring person that will give me a home.
I have been in kennels a long time yet I have a lot of love to give. I do jump up when I get excited I know that's naughty but that is because I been deprived of caring human contact. I need a new Mum and Dad that can show me how I should behave. In return, I will protect and look after them. As I'm a big boy I might no be suitable if you have small children. Thank You, Hamish.
Hamish bagged himself a home in Guernsey.
---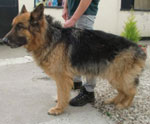 Dogs Taken From Death Row
These lovely dogs were all in dog pounds and due to be put to sleep. They are all in the care of GSDR in boarding kennels and now need loving homes
These dogs have all been picked up as strays or handed in because their owners no longer wanted them. We have the little background on them but they all need loving understanding homes.
The dog pounds are not very nice places and often once their 7 days are up, many GSD's will be put to sleep unless rescue spaces are found. ALL REHOMED
---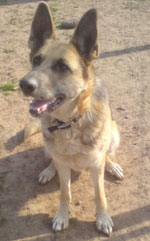 Izzy Blue Sable Girl
This is the gorgeous Izzie. A loyal, affectionate 6 yr old blue/sable girl.
She is currently in foster, is very well house trained, has good basic commands but needs work on her recall.
She is vocal with people coming to the house when her people are at home, otherwise, she is quiet when on her own.
Izzy walks nicely on a lead and will generally ignore people and other dogs whilst out on her walks.
Now rehomed.
---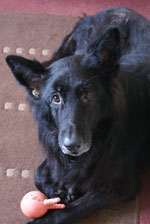 Charlie Dog Cruelty Case
Charlie was picked up from Essex Feb 13th, 2011.
Charlie and Coco two black german shepherds lived together.
Coco was picked up yesterday covered in lice and fleas. She went straight off to the vets.
Charlie couldn't be picked up until today. We can only think of a few words to say about the disgusting individuals who owned these two poor dogs - CRUEL BASTARDS!!!!!
Charlie and Coco both found loving new homes where they received the care they deserved.
---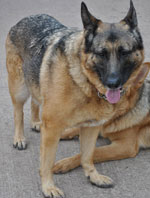 Very Overweight GSD Sha Needed A Home
This is the lovely Sha. She arrived in the rescue some 6 weeks ago and oh my goodness, was she fat?
It's so sad that people think or rather don't think that this dog looks ok.
She is not such a porker now thanks to Aunty Allison and her boys - she is losing weight and getting fitter by the day.
Sha will make a wonderful faithful companion.
She has embarked on a strict diet and good exercise routine to shed those extra pounds. REHOMED.
---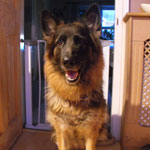 Cassie Needed Ear Canal Ablation
This is Cassie, she was found wandering the streets and picked up by the Dog Warden. After a spell in the dog pound, she was picked up by GSDR and put in kennels.
Cassie has suffered for a long time with major growths and lesions in her ears, something that should be caught early and treated before it becomes deep-seated and affects hearing, balance and basic comfort.
It is possible that the problems she has with her ears caused her to be thrown out onto the streets, her owners thinking that treatment was going to be costly. REHOMED.
---