German Shepherd Dog News Archive 4
German Shepherd Rescue Past News Archive
All of these dogs have been rehomed now
---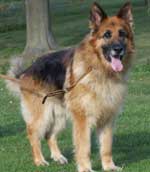 CD The Dog That The Scottish SPCA Said Was Not Rehomeable.
The Scottish SPCA had known about this poor dog for several years and had visited before. We insisted that they went again and help this poor dog.
What did they do to help him? ABSOLUTELY NOTHING!!
They claimed that he had an adequate environment and that he had all the basic requirements.
CD had been living in isolation, filth and squalor for 5 long years and despite numerous complaints by neighbours on the estate, nothing was done - until GSDR came along. This is CD after his ordeal
---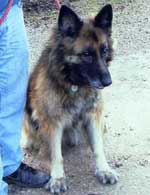 Sally - 11 years old and abandoned
Sally is an 11-year-old GSD spayed bitch. Her callous owner betrayed this beautiful old girl after a lifetime of being faithful to him.
Her owner put her in kennels some months ago when he met a new 'lady friend' who doesn't like big dogs!! He told a friend what he had done and asked her to let him know if anyone would take her.
Then a week last Sunday she got a phone call saying if she didn't find somewhere for her by Thursday she was being put down! Sally was rescued and rehomed by GSDR.
---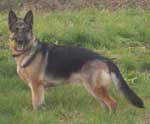 Trixie Dog Of Week
Trixie is a very affectionate Black and Tan spayed 2 yr old bitch who has been in foster for a few months now. She is very loyal and loves nothing more than laying by your feet relaxing.When out on a walk she is very active and loves to run around.
She didn't have much in the way of training so her recall was not 100% but she has improved dramatically and is very willing to learn. She is a very bright young lady that learns very quickly.
She needs someone to show her the boundaries and she will respond quickly. Trixie was rehomed.
---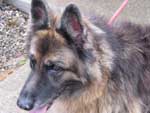 Holly Cruelty Case Signed Over To RSPCA.
She's about 7 years old, was owned by a woman high on drugs most of the time.
She was left out in her overgrown garden in Warndon Worcester, in all weathers. During the recent cold spell, there were lots of complaints to the Worcester dog warden, of her crying and whimpering all night. She actually was covered in frost in the mornings. She had to be sedated at the vets to remove her fur, which was all matted & full of wee & poo.
At the same time, the vet x-rayed her back legs & she does have bad arthritis in her back legs/hips & muscle wastage. Holly was thankfully rehomed
---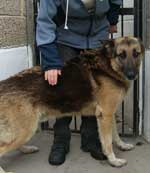 Jake Abused Then Abandoned
Jake was kept at a garage as a guard dog for 6 years when the garage closed he found himself homeless. He is very nervous of youths as a gang broke into the garage and stoned him.
He pulls on the lead, he has never been walked, gets quite excited at everything he sees. He's not been socialised with other dogs but doesn't appear to be aggressive, just unsure.
A dog in the kennels tried to attack him and he just backed off. A volunteer has been walking him and said he is a very fit dog who will flourish in the right hands. Jake found himself a lovely new home.
---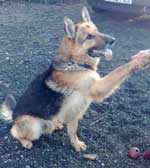 Smokey Abandoned In The Pound
Rescuing & Rehoming German Shepherds from DOG POUNDS in the NORTH EAST.
This is our Smokey who was abandoned and taken to the dog pound where he faced certain death as an older unwanted German Shepherd.
We thought Smokey deserved a second chance and removed him from the pound. Smokey has been in boarding kennels now for many months which is not doing him any good and which is also draining the rescues precious funds. We will not give up on finding him a home as we think he deserves a kind loving retirement home. REHOMED
---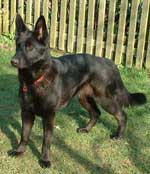 Sasha Black GSD
Sasha came to the rescue because she was not well socialised and very protective of her owners and home.
She spent a few months in kennels but is now in a foster home where she has done really well.
Sasha is a beautiful, gentle, loving, girl. She loves nothing more than to play with her foster sister of the same age (approx 18mths).
She is great with every dog she meets and would be best suited to a home with another dog (male or female) as she just loves to play. REHOMED
---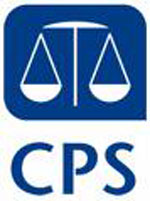 CPS take no action against RSPCA killings
RSPCA get away with the slaughter of the 10 Pontardawe German Shepherds
RSPCA figures for 2008 show that they destroyed 8313 dogs and 12,329 cats and they state that healthy animals are destroyed because they are opposed to keeping dogs in kennels for lengthy periods. How long is too long? That is a staggering 22 dogs and 33 cats per day.
The RSPCA state that 'animals of unknown origin' will be euthanised after only seven days!
---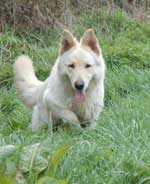 Gunner - Gorgeous White GSD
Gunner had a really bad start to his life and it has taken many months for him to learn to trust, once he knows someone.
Gunner is 16 months old and he is the most wonderful loving and adorable boy in the world when he knows and trusts you. He loves very long walks and then coming home and relaxing with you.
Outside of the home, he is a bit of a challenge so Gunner will need an experienced owner without young children. Someone is going to be very lucky to have such a wonderful dog. REHOMED
---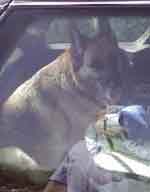 The Dangers of Leaving Dogs in Hot Cars
What bothers us is that the callous, thoughtless owners of this dog drive to a beach with NO dog restrictions, yet don't take the poor dog for a walk with them!!
How cruel is that? This poor dog must wonder what he has done wrong to deserve this.
Worse, they couldn't understand what all the fuss was about!
If you see a dog in distress in a hot car, act immediately.
---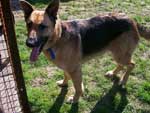 Flo Rescued From A Yard
This lovely girl was owned by a scaffolding company and kept in a yard as a guard dog with her mother. She is not much of a guard dog!
Flo was kept in a yard with her mother in terrible conditions. She has very sore skin and had lost her fur underneath because of an allergy to the straw that was used for her bedding.
According to the vet reports, the company that owned Flo had not complied with her treatment or the recommendations made by the vet to ease her discomfort. Seemingly they chose instead to let her suffer. Flo was rehomed.
---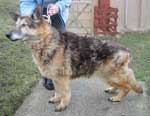 Chris Older GSD Tied Up Outside The Dog Pound
Chris is a mature german shepherd whose callous owners tied him up and left him outside the dog pound - presumably because they didn't want him anymore and they didn't want to pay to have him put to sleep. Chris is a friendly dear old boy and has obviously had a very bad life. He was given a wash and brush up and found a new home.
Proof once again that adopting older dogs and giving them a chance to have a happy retirement really is a rewarding experience. Please do not overlook our older dogs - they need homes too.
---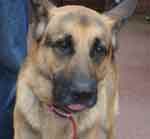 Jerry a GSD Subjected To Cruelty.
This is Jerry - we have changed his name so his previous owners will hopefully not be aware that we have him. He is the subject of a cruelty investigation. His tail has been amputated, we don't know who did this to him. ?
Jerry - no life in his face, bewildered thin and shaking like a leaf. Abused by humans!! Jerry urgently needs a home that will give him plenty of TLC to help him forget his ordeal at the hands of cruel humans. REHOMED
---
Unfortunately 2009 may not be such a good year for man's friend. Please watch the undercover video and sign the petition How much is that doggy in the window? There were no prosecutions as a result of the film and no revocation of licenses by the council.
---
A nation of animal lovers? Ask Angel.
---
The number of unwanted German Shepherds is rising every year through irresponsible breeding and we will need to step up our efforts so that we can continue to help as many GSD's as we can.
We have received several generous donations from collections made at funerals. Several families have donated money to the rescue rather than have flowers. We thank all those families for being so generous at such a difficult time.
Please help us by making a donation so that we can help re home more unwanted German Shepherd Dogs. Donations can be sent to Jayne Shenstone, German Shepherd Rescue, Little Vauld, Marden Hereford HR1 3HA. We also accept Paypal payments - just click on the Paypal button below. Thankyou.