German Shepherd Dog News Archive 8
German Shepherd Rescue Past News and Events
All of these dogs have been rehomed now
---
Mendip Gliding Club fundraising event for GS Rescue 1st August
We urgently needed a shed and building materials to erect emergency kennels
We could not understand why nobody wanted our beautiful white German Shepherd dog Harvey who had been in kennels since December.
3 loyal and faithful GSD's will die if we do not find homes for them by 30th April - SAFE
Scotland - Horrified neighbours claim cruel hermit is skinning his pet GERMAN SHEPHERDS selling their fur and dumping their bodies. FOOD for thought
Nobody wanted poor Simba. In kennels for months.
Good news to end 2007. Rosie 10yrs old and Chas the old boy from the pound found homes for Xmas. TJ and Thor found foster homes. But spare a thought for those poor dogs in the pounds that didn't make it - unwanted, unloved, surplus to requirement. REST IN PEACE
The SSPCA claim that this is a suitable 'home' for a GSD. Is this another case of a dog being betrayed by the organisation that claims to help animals in distress
A nation of animal lovers. Obviously not.This is poor Zara rescued from a callous owner
Cracker desperately needed help with an experienced owner. Cracker
VALENTINES DAY MASSACRE. Palma Council intended to close a rescue centre and slaughter all animals. Centrino Animal Centre
Loving GSD http://www.lovinggsd.com/ raising £118 for GSRescue UK 'Hi, this is from the members of Loving GSD, and we are hoping its coming to good use for your dogs, whether it's toys or food or other. Please let the members see on your website that this has happened, it would make me and all members who have done this so happy. Jessica Salman, Admin of LGSD.'
Litter of puppies at Dogsfriends urgently need homes
German Shepherd Rescue Bites Back
TJ desperately needs a foster or permanent home. He cannot be kept any longer in a kennel now that the cold weather is here. TIME IS RUNNING OUT FOR TJ. Please help
Have you ever been hungry? Who did this to poor Joe
MIDDLESBROUGH AREA: This dog did not survive her ordeal. Please help find the person that did this.
What a difference a few days makes - Molly Now Rehomed
Dublin City Council bans 11 breeds from their properties. Don't let this happen here. ACT NOW
The Hairy Bikers do it again. Fundraising for German Shepherd Rescue. A BIG THANK YOU from all of us at the rescue
Poor Sasha Loses her fight for life. Her last few months were spent in a kind and loving foster home. Read Sasha's story
'Prince' Charming is looking for a damsel in distress. Can you offer Prince a home?
Poor Prince has been in kennels for a year now so desperately needs a home. Please, can you offer this beautiful dog a forever home? We don't want this lovely boy to spend another Xmas in kennels. Read about Prince
This poor puppy was chained up all day at 12 weeks old. GS Rescue has been informed that puppy is free and now safe and well.
FLYNN. This beautiful boy needed a lovely new home and a new life. Read Flynn's sad story. Latest updates on Flynn the guard dog
This is no shaggy dog story. Shep savagely attacked by 2 pit bulls, needs a home.
Beautiful Ambra with the torn achillles tendon has found a new home.
Lovely Sasha sadly loses her fight for life
When Betsy's owner died, she lay by his body alone for a week. Beautiful Betsy needs a home. A very sad tale. Can you offer Betsy a forever home?
Can you help us find the person that did this to poor Sheba? Is she an ex-puppy farm bitch. Found Burnley area.
A very happy ending for Joyce the poor dog that had been treated so badly. A good example of why you shouldn't overlook older dogs
A happy story to end 2006 for new recruit police dog Jake
Sandra and Lynn - our dedicated ladies from the NE at it again!>>>>>>>>>>>
Forth Road Bridge Annual Sponsored Walk 2007 - Date to be announced
The Hairy Bikers Run - Sunday 26th August 11 am. Raising funds for the German Shepherd Rescue
Fund Raising Events
The rescue totally relies on the generosity of the public to fund what we do and we urgently need more money to be able to help more GSD. Our biggest expenses are kennel fees and vets fees.
Below are some of the events planned for this year. PLEASE SUPPORT US.
Forth Road Bridge sponsored walk held on Sunday 10th September 2006
Thank you to everyone that attended the annual sponsored walk and helped us to raise just over £500. Remember that we are all volunteers so all monies raised go towards helping German Shepherds.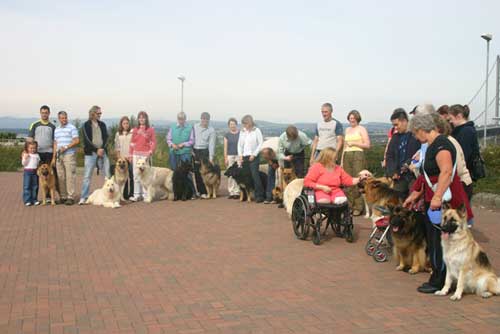 The number of unwanted German Shepherds is rising every year through irresponsible breeding and we will need to step up our efforts so that we can continue to help as many GSD's as we can.
We have received several generous donations from collections made at funerals. Several families have donated money to the rescue rather than have flowers. We thank all those families for being so generous at such a difficult time.
Please help us by making a donation so that we can help re home more unwanted German Shepherd Dogs. Donations can be sent to Jayne Shenstone, German Shepherd Rescue, Little Vauld, Marden Hereford HR1 3HA. We also accept Paypal payments - just click on the Paypal button below. Thankyou.