German Shepherd Dog News Archive 2
German Shepherd Rescue Past News Archive
---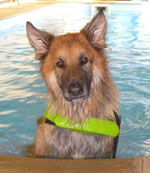 Sam - GSD paralysed by a tumour on his spine
"The harsh reality that Sammy was completely paralysed and would never walk again was confirmed after getting a referral for an appointment with a specialist neurologist.
The specialist also felt that the tumour that was removed from his spine may have regrown and as it was malignant, the prognosis was very poor.
I was also feeling the strain of looking after him. Sammy is a big fellow and trying to lift him around using a towel as a sling was virtually impossible on my own, his bladder was constantly leaking and I was endlessly washing floors, towels, bedding etc."
---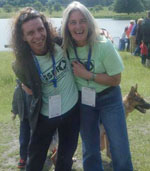 Bungee Jump Raising Funds for GSDR
June 17th - Tatton Park, Cheshire Mark and Jayne from the rescue completed a 300ft bungee jump to raise much-needed funds for the rescue.
The reasons why we need to continue to raise money so that we can keep German Shepherds safe until new homes are found.
We have raised just under £4000 but our current monthly kennel costs are now exceeding that. Please continue to support us by donating money to the rescue.
Check out those nerve-wracking videos when Mark and Jayne bungee for GSDR!!
---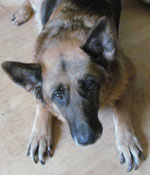 Harry Neglected Older GSD
We were asked to assess Harry by his owner as he was being evicted from his home and was going into a flat which wouldn't allow dogs so needed somewhere for his dog Harry.
We were told Harry was 9 and he had been with his owner since a pup. On arriving our volunteer Sarah was shocked and upset by what she found. Harry was in an awful state and clearly a picture of true neglect.
Harry had obviously not been walked on a regular basis if at all for a long time, but it is hard to believe he got into such a state only recently and makes you wonder how nobody else noticed or if they did, looked the other the way.? Poor Harry.
---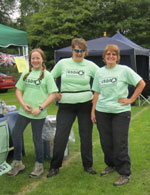 Midsummer Mayhem Fund Raise September 2012
The Midsummer Mayhem at Newcastle staffs was postponed in July because the park was a lake! September and Pam and her team were up and at the site for 0830 to put the tombola up and decorate the stall with bunting and flags!
By 1100 when the event opened they were ready! By 16.30 they had raised £205.50. well done Team GSDR.
Meet 3 generations of GSDR fundraisers - Pam, daughter Al and granddaughter Gwen.
---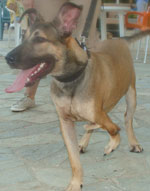 Bruno 3 Legged GSD
Bruno is a dog around 7 months old.
He was born in the yard of a repairing cars business. All of his brothers and sisters found homes, but he stayed behind because he was born with one leg in bad shape.
The people who had him put him in a small dark room where they kept their tools and had chained him to prevent him doing the place upside down. He was almost never walked. When the business was about to close, the people who had him, decided to put him in the street.
Bruno was adopted here in the UK.
---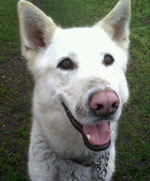 Bruce White GSD/Husky Cross
Bruce is a handsome 3yr old neutered male who we are told is a GSD X Husky. He is vaccinated and microchipped, he also has a pet passport.
He is wondering why nobody has shown any interest in him, and why nobody wants to take him home to be part of their family. Bruce would so love a running partner.
Bruce was surrendered to GSDR due to a relationship breakdown and subsequent changes in accommodation. Bruce had been in kennels a very long time before he found the home he so desperately needed.
---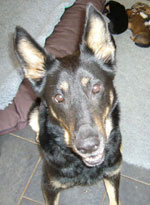 Lottie - Heavily Pregnant GSD Abandoned
How could anyone be so cruel as to abandon a heavily pregnant bitch, just before she was due to give birth to her puppies?
Fortunately, the dog pound contacted our volunteer Lynn in the NE and she came into the care of GSDR.
As we are overwhelmed with unwanted dogs, the only person who had the facilities to separate mum and pups was a volunteer in the south who got the call on Friday night 3rd August.
Saturday Lottie (as we decided to name her) had to make a long journey and travelled 250 odd miles from Doncaster to Guildford.
---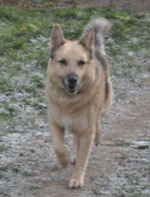 Duke GSD Advertised For 20 Pounds
One of Centrals fantastic volunteers had also seen the ad and asked if she collected him could someone house him for the night and that's how it went on.
The volunteer turned up at a filthy flat in a very rough area to be greeted by something that told her to wait there, promptly fetched the dog thrust the lead into her hand and demanded his £20 and then shut the door!
This is where Duke's life began!!!
---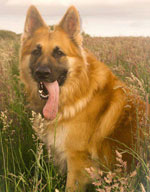 Some Cracking Photographs of GSD's
Lovely pictures of German Shepherd Dogs who are lucky to have nice homes.
We know how owners love taking pictures of their pooches and here we have some fantastic pictures for you to look at.
Here are lots more really good German Shepherd Pictures
If you have a nice picture you would like to submit, please email it to us
---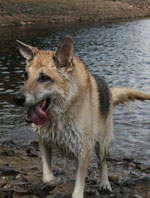 Don't Overlook Our Older German Shepherds
This handsome gent is Woody Armstrong who is 10 years young
"We wouldn't hesitate for one moment to adopt another older German Shepherd. Even if Woody's time with us had only turned out to be a week, it would have been worth it, just knowing that we made the final week of an older dog's life a happy one.
We would do it again in a heartbeat." Ruth and Paul Armstrong
NEVER overlook older dogs for adoption - they deserve homes too.
---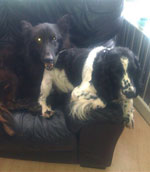 Major and Bobby the Blind Spaniel
This was a real tear jerker!
Major & Boby have just lost their owner who died suddenly at the age of 46 yrs.
Our volunteer said if he didn't already have 3 GSD of his own and a foster dog he would have taken them right there and then.
The owners' daughter has 3 small children and can't have them but doesn't want to see them PTS.
All ended well for Major and Bobby.
---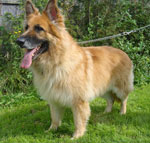 Cody Bloat Appeal
Cody had to undergo emergency surgery for gastric torsion (bloat). Whilst the vets did a terrific job and kept the bill to a minimum for the rescue, Cody's operation has cost just over £1000.00.
Obviously, this is a big chunk out of the funds for one dog with no time to raise an appeal before treatment, so We are hoping that by telling you all his story, you may all find it in your hearts to make a donation towards this cost.
You helped raise the £1000 needed to cover the vet bills for Cody - thank you
---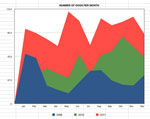 The Challenge of 2012 for Rescue
GSDR is experiencing record numbers of applications from owners wishing to rehome their dogs.
GSDR has seen a 3 fold increase in the number of applications from owners wishing to rehome their dogs from 2009 to 2011 and we expect 2012 numbers to be higher. If we are to keep dogs safe until new homes are found, we will need to have kennel spaces for up to 30 dogs.
Thanks to German Shepherd lovers, we were able to raise nearly £9000 from mid-December to the end of January 2012
---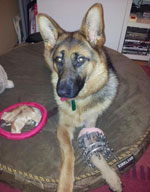 Heidi With Growth Plate Deformity
Heidi was 7 months old when she came into rescue after being left for long hours due to owners work commitments and we believe she was also being put out in the garden at night.
She has a severely deformed leg, the result of an injury to the growth plate. We are fundraising to raise the money to pay for her operation which has now been carried out by Calder Vets in Dewsbury who have been extremely generous in their offer of help.
We are looking to raise £2000 which is the contribution from the GSDR towards the cost of Heidi's operation.
---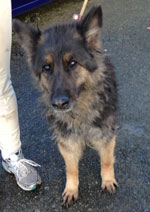 CJ, Now Called Nanna - Older GSD Badly Neglected
Nanna and her daughter were chained up in a shed lying in their own mess. The poor dogs were shivering and filthy; the smell was overpowering. Disgusting long claws because they haven't been walked in a very long time.
The reason for rehoming was given as: 'dog has not fitted into our family life as well as we would have wished.'
No dog should be treated like this but it's even more heartbreaking to think of this old girl living in such terrible conditions.
---
Please help us by making a donation so that we can help re home more unwanted German Shepherd Dogs. Donations can be sent to Jayne Shenstone, German Shepherd Rescue, Little Vauld, Marden Hereford HR1 3HA. We also accept Paypal payments - just click on the Paypal button below. Thankyou.