Abandoned Pregnant GSD
Lottie - Heavily Pregnant GSD Abandoned
This beautiful dog was in the pound near Doncaster she was picked up as a stray. When her 7 days were up, the pound realised she was pregnant and contacted Lynn our NE dog Co-ordinator.
Lottie and her puppies have all been adopted
How could anyone be so cruel as to abandon a heavily pregnant bitch, just before she was due to give birth to her puppies? Fortunately, the dog pound contacted our volunteer Lynn in the NE and she came into the care of GSDR. As we are overwhelmed with unwanted dogs, the only person who had the facilities to separate mum and pups was a volunteer in the south who got the call on Friday night 3rd August.
Saturday Lottie (as we decided to name her) had to make a long journey and travelled 250 odd miles from Doncaster to Guildford.
This is the lovely Lottie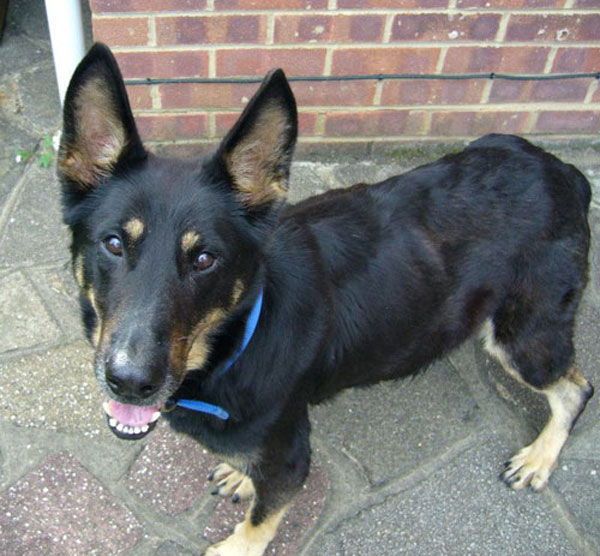 Our volunteer took her straight to her vets who were amazed at how good a condition she was in despite being so emaciated. What a lovely face Lottie has.
Lottie after her ultrasound scan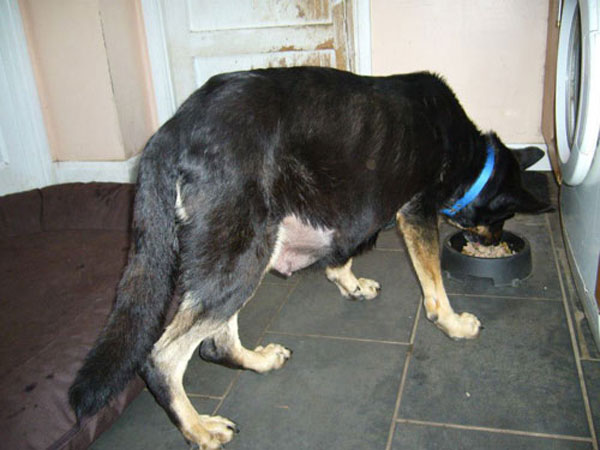 A quick scan confirmed there were pups and heartbeats and our volunteer was told they could arrive anytime. Lottie immediately integrated with our volunteers 2 dogs. Sophie seemed to realise she was pregnant so needed space but poor Bryn seemed very confused as he knew there was something different about her but didn't know what.
Our volunteer concentrated on feeding Lottie up with puppy food and she was on 6 meals a day. Our poor volunteer was a total novice at this sort of thing so was given crash courses over the phone about birthing and sent a book by another volunteer who assured her that Lottie would do it in the middle of the night. Tuesday morning 7th August our volunteer had said jokingly to a couple of volunteers that Lottie's belly had moved back and reckoned it would be tonight. All 3 dogs were pottering around the garden enjoying the sun.
Lottie plus her 6 new born puppies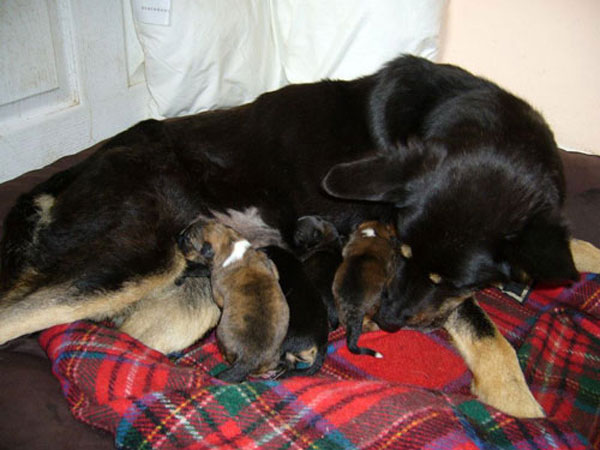 A few hours later, our volunteer noticed Lottie kept straining as if she was constipated and next thing she knew, she stuck her head out of the back door to see her straining with a pup's head out and her own 2 dogs sitting watching! Our volunteer quickly got her own 2 dogs out of the way, took Lottie to her bed and so the fun began!
A fellow volunteer was on the phone to our volunteer at each birth and as she was also watching the dressage team to do their bit at the Olympics (winning both individual and team gold), we said the pups were Olympians and we should name them after the team. We ran out of names with the dressage team so took one from the show jumping team (who also won team gold) and a couple from the eventing team (who won team silver). Hence we had Laura, Carl, Ben, Charlotte, Mary and Tina.
Laura, Carl, Ben, Charlotte, Mary and Tina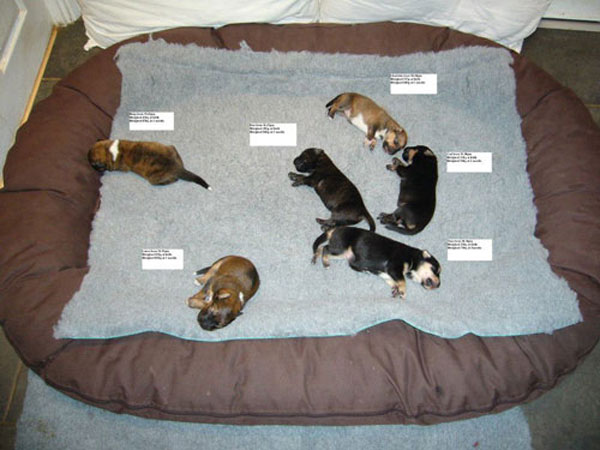 Little Lottie knew exactly what she was doing (thank goodness) and cleared the sacs, broke the cords and got the puppies clean and suckling. And what more could our volunteer have asked for having been sociable hours as well? The first pup arrived at 2.30pm and last one 8.30pm. A 24 hour check up next day and vet was pleased with pups and Lottie.
Lottie's story is featuring on the Horse and Hound Facebook page
Puppies - eyes open and now playing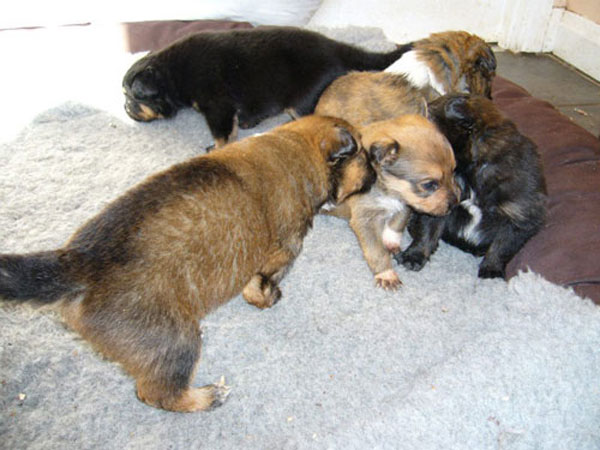 Lottie and one of her pups eating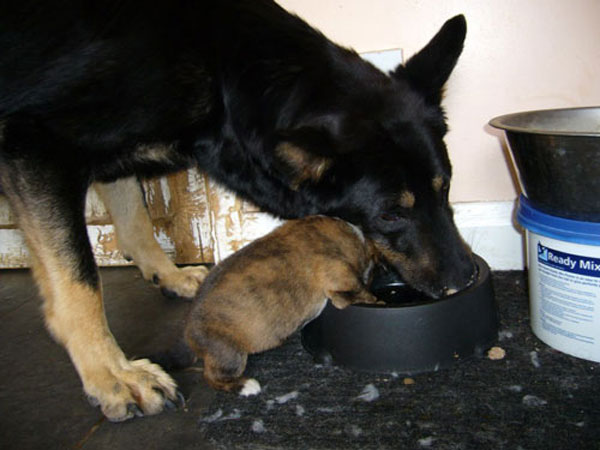 Seriously cute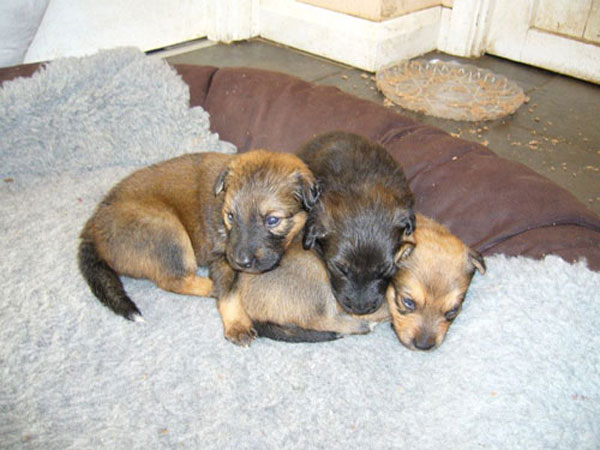 These beautiful puppies now have eyes open so lots of play, sleep and of course eating.
Lottie and puppies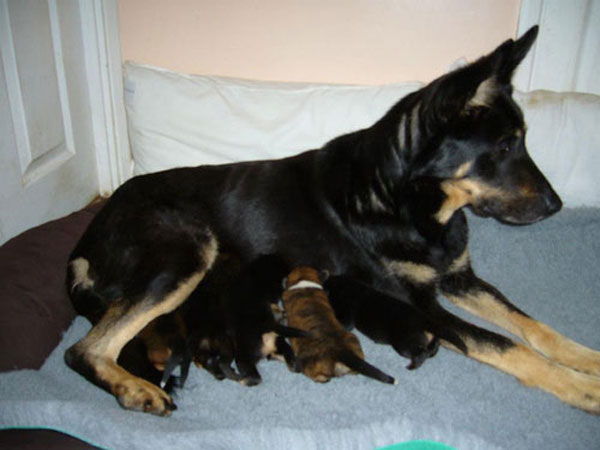 What an absolute star Lottie has been and a perfect mum to her puppies.
Playtime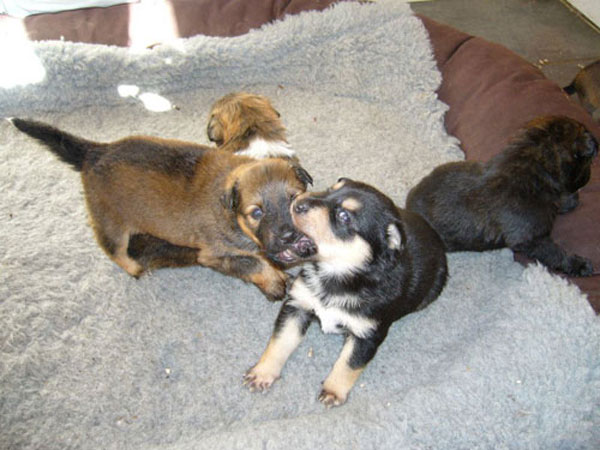 Lottie's puppies are German Shepherd crosses, but we have no idea what type of dog the father was. Nevertheless, these gorgeous puppies are going to grow into beautiful dogs, so the search begins to find both the puppies and mum, caring, loving homes.
Our beautiful Lottie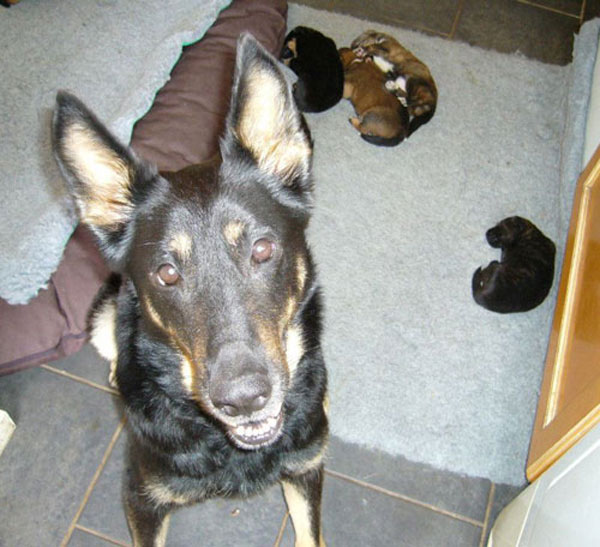 Lottie and her puppies will all be looking for new homes once the puppies are old enough to leave mum. Lottie is a very lucky girl; it could all have ended so differently. A big thank you to all the volunteers who have helped Lottie. Remember that GSDR is run entirely by volunteers and we couldn't assist dogs like Lottie without the support of the public.
Lottie has been adopted
Donations are always welcome
Please help us by making a donation so that we can help re home more unwanted German Shepherd Dogs. Donations can be sent to Jayne Shenstone, German Shepherd Dog Rescue, Little Vauld, Marden Hereford HR1 3HA. We also accept Paypal payments - just click on the Paypal button below. Thankyou.