Harry Neglected GSD
Harry - an older badly neglected German Shepherd
THIS IS WHAT REAL RESCUE IS ABOUT AND WHY YOU SHOULD NEVER OVERLOOK AN OLDIE!
We were asked to assess Harry by his owner as he was being evicted from his home and was going into a flat which wouldn't allow dogs so needed somewhere for his dog Harry. We were told Harry was 9 and he had been with his owner since a pup. On arriving our volunteer Sarah was shocked and upset by what she found. Harry was in an awful state and clearly a picture of true neglect. Harry had obviously not been walked on a regular basis if at all for a long time, but it is hard to believe he got into such a state only recently and makes you wonder how nobody else noticed or if they did, looked the other the way. The saddest fact of all was that the owner could not see the problems and what he had let happen to this gorgeous dog. The volunteer's words were, "He does not seem capable of even looking after himself". This is why dog ownership should be monitored.
This is poor Harry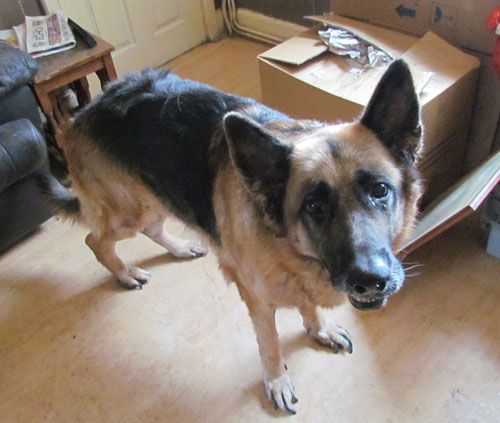 Look at his claws!!!
This is what our volunteer wrote in her comments about Harry.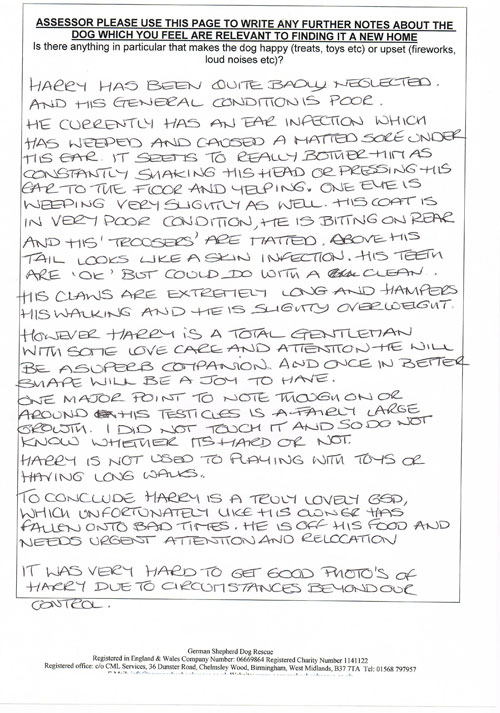 On seeing the report and the photos it was immediately arranged to transport Harry to the super kennels in Cornwall run by the fantastic Jan and Chris. Within 48 hours Harry was en route to a new life. Sarah collected Harry and met another volunteer, Paul, who took Harry to the kennels. Not a short journey for this lovely lad either as he was currently in Gloucestershire. Both fell in love with him and he stole a piece of both their hearts.
His previous owners should hang their heads in shame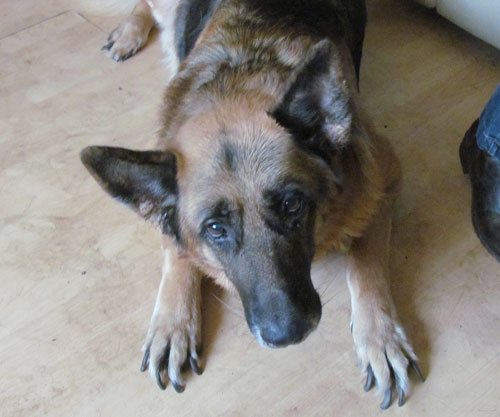 On arrival at the kennels on Friday, Jan and Chris were horrified by his condition. Jan's words were, "it's worse than the photos". It was decided that we would give him the weekend to settle down with some TLC and care and he was booked to see the vets first thing Monday morning. The truth be told, because of the growth on his privates, we did not hold out much hope that once he went to the vets he would return. Jan spent most of the weekend with Harry giving him all the love she could, which I hasten to add included a Sunday roast with all of the trimmings!
Appalling neglect of this beautiful dog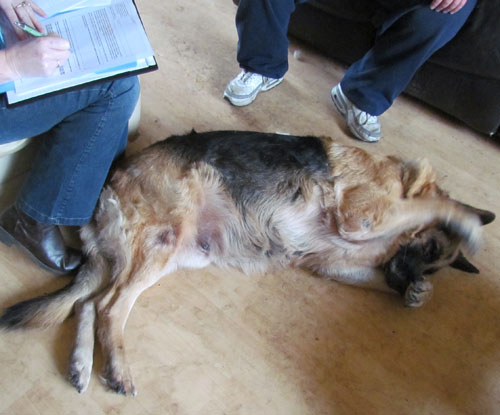 Monday morning arrived and the vet came out to meet Harry and sedate him in the car park so it was as stress-free as possible. They made it clear that they would be looking at the growth first because if this was life threatening it may be kindest to put Harry out of his misery. We waited with baited breath. The longer we didn't hear anything the more positive we felt though as this meant the vets were working on him and there was hope. Imagine the joy, and they were tears of joy when the vet called to say they had managed to completely remove the growth and had therefore neutered at the same time, and whilst his ear infection was chronic, they had completely flushed the gunk out and now just needed them to be monitored very carefully. They also gave those claws a good trim back as well!
Harry and his new friend Lady Rio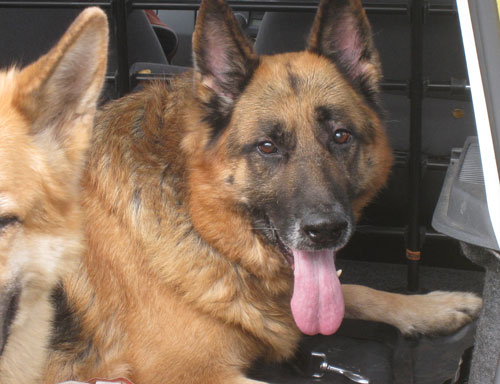 Everyone involved in Harry's rescue was elated and Paul quickly said to Jan, I want to give him a home when he is ready. Once recovered, Paul visited the kennels with his Lady Rio to ensure the dogs would get along and a couple of days later came back to take Sir Harry to his new forever home.
Harry and Lady Rio setting off for a lovely walk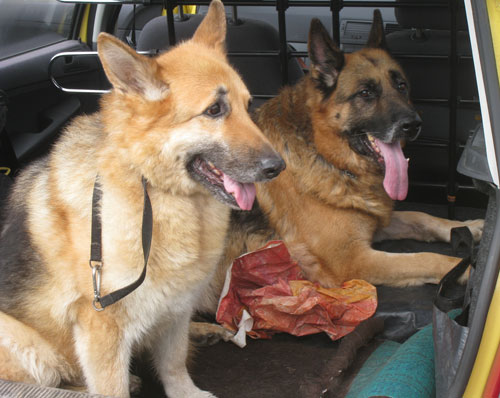 It has been a joy reading Paul's continual posts on about the settling in period with Rio and Harry and the pictures always make us smile. But I think this next clip says it all! This is what real rescue is all about and why our volunteers will go that extra mile (or 100) to help a GSD in need. Our thanks to everyone involved, Sarah, Paul, Jan and Chris and the wonderful vets who gave Harry a second chance at life! Harry is a wonderful gentleman with a real character and zest for life, and he proves that older GSD's can be just as rewarding as the younger ones.
Rio and Harry in the garden
This lovely boy is now enjoying walks and getting to know his new friend Lady Rio who is obviously keeping him in line. Well done team GSDR and a huge thank you to Paul and Lady Rio for giving Harry a wonderful home.
This is what rescue is really about. Don't dismiss an older dog as they have so much more to offer.
Donations are always welcome
Please help us by making a donation so that we can help re home more unwanted German Shepherd Dogs. Donations can be sent to Jayne Shenstone, German Shepherd Dog Rescue, Little Vauld, Marden Hereford HR1 3HA. We also accept Paypal payments - just click on the Paypal button below. Thankyou.