Sam Paralysed German Shepherd
Sam - GSD paralysed by a tumour on his spine
Written by Sam's mum Fiona: I am sure many of you will remember this appeal back in December 2010 for poor Sammy and might be interested to know what happened next in this unfortunate lad's life?
I had recently lost the last of my own German Shepherds and for the first time in sixteen years was without a dog by my side. Feeling very sorry for this poor boy, I volunteered to help with fostering and his recovery, particularly continuing his hydrotherapy so off to Kent I went to collect him.
Sammy was in the hydrotherapy pool when I arrived and as he was helped out of the water I became aware that while he had the use of his front legs, he had no control over his rear legs and could not even stand unsupported, let alone walk! He really was a pitiful sight dragging his big body around and I didn't have the heart to leave him there.
As we drove home, I really did not know how on earth I was going to cope and as the next few days progressed the outlook for Sammy started to look very poor.
Sam enjoying the garden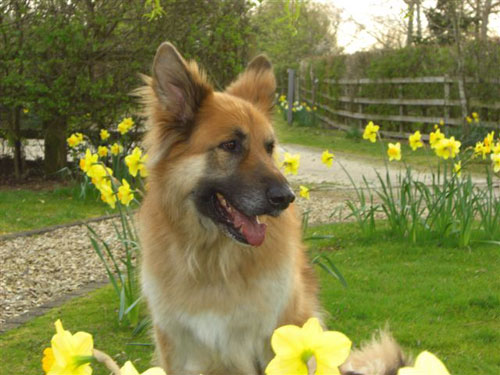 A BLEAK OUTLOOK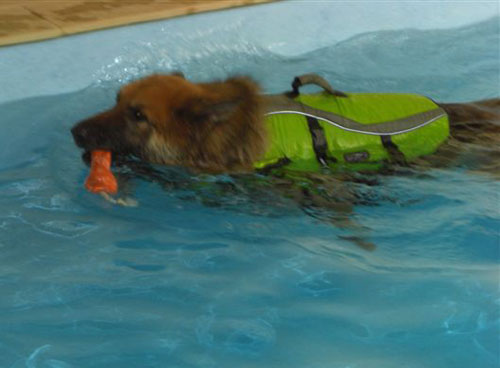 The harsh reality that Sammy was completely paralysed and would never walk again was confirmed after getting a referral for an appointment with a specialist neurologist. The specialist also felt that the tumour that was removed from his spine may have regrown and as it was malignant, the prognosis was very poor. I was also feeling the strain of looking after him. He is a big fellow and trying to lift him around using a towel as a sling was virtually impossible on my own, his bladder was constantly leaking and I was endlessly washing floors, towels, bedding etc.;
I was so desperately sad for him…. All the swimming in the world would make no difference to regaining the use of his rear legs, he was never going to be able to run around again. There was so much muscle wastage, he had a urine infection and having no control over his bowels and bladder would be prone to continuing infections as a result of this. I had to keep turning him onto each side to prevent bed sores….in my despair I knew we both could not continue like this.
A PROBLEM SHARED IS A PROBLEM HALVED.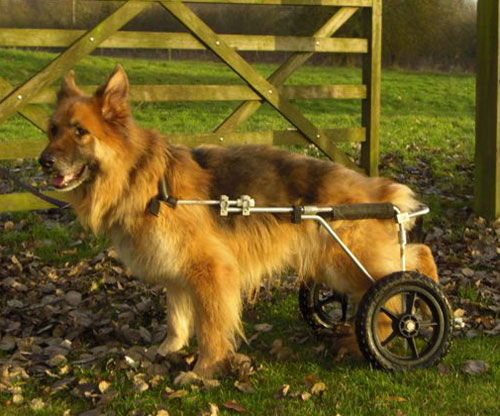 In my desperation I started searching the internet and found my knight in shining armour! His name is Jim Colla and he is the founder and owner of Dogswheels. I must mention Jim because without his help we would not have been able to carry on caring for Sammy. On hearing my plight, Jim dropped everything to adapt one of his old carts to fit Sammy and drove that evening to meet us half way so he could make any necessary final adjustments to the cart. I held my breath as Sammy was put in his cart, his little wasted legs put in the stirrups….and then he was off….for the first time in many months he was mobile!!! He took to the cart like a duck to water and we have never looked back!
WHERE THERE'S A WILL…THERE'S A WAY!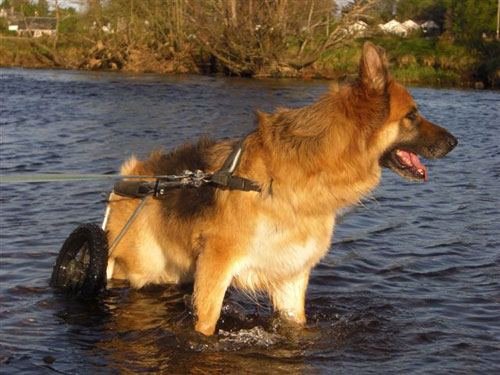 I will not pretend it is easy looking after a disabled German Shepherd and we have both had to learn and adapt to a different way of doing things. I have developed my "wheel barrow" technique to help him move around when he is not in his cart, antibiotics cleared up his urine infection and I have learnt how to express his bladder and stimulate his bowels to avoid this recurring. As well as his general welfare like just making sure he has access to water as he can't just go and help himself, he needs lots of brushing and massage, and loves when he gets a good scratch all over!
EIGHT MONTHS ON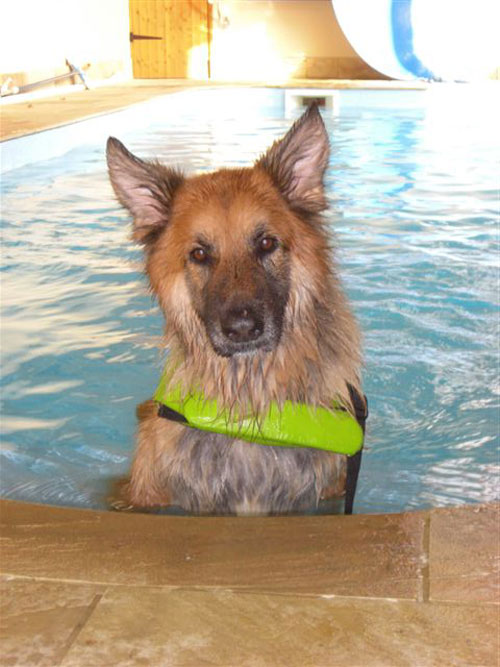 Well, Sammy is now called "Sam". He still swims which he loves, goes everywhere in the car with me and looks very pleased with himself sitting woofing out the window at everything! He has been to the beach and been on holiday with us but mostly he just loves kisses and cuddles and lots of attention which he gets plenty of!
This is what your donations can do.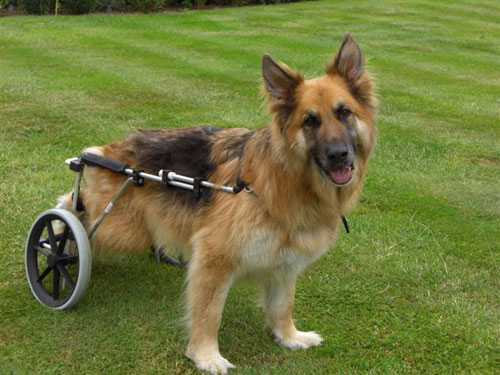 Best of all GSDR have helped provide a new custom made cart for Sam and I cannot tell you what a difference the cart has made to both our lives! Sam absolutely loves going in his cart and going out on walks together so that he can go sniffing about or finding sticks to carry like a proper dog or best of all chasing some poor unsuspecting rabbit or deer we come across!
SAM'S THANK YOU'S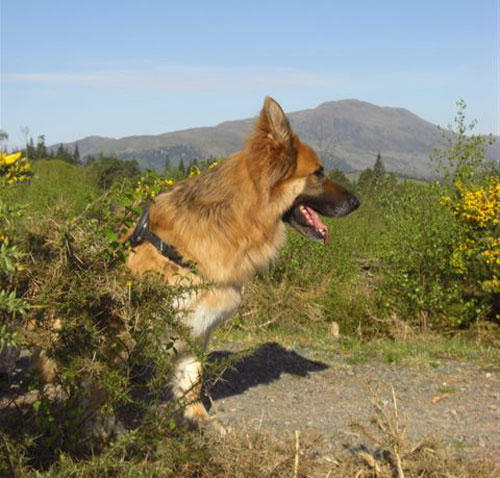 Sam would like to say a huge thank you to GSDR and to everyone who helps and supports the rescue, to Jim Colla for being there in his hour of need, and especially to his Dad, my husband for his never ending support….you have all made a difference in giving him a new lease of life and for now he is a very happy and contented boy despite his difficulties.
SAM GOES SHOPPING!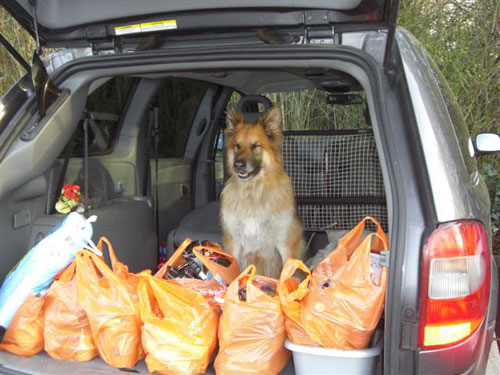 FROM SAM'S MUM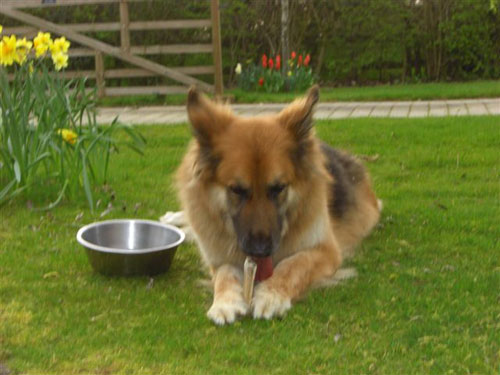 I hope this gives some of you with Sheps who have mobility problems because of hips, joints, muscle, spinal etc.; some encouragement and hope that life can still be good for them and you enjoy these pictures of my amazing boy!
GSDR would like to say a massive thank you to Sam's mum Fiona for caring so much and making Sam's life so good. There are very few people out there that would go to the lengths that Fiona has, in order to give this beautiful dog a chance. All dogs should be so lucky to find such a wonderful caring mum. This is what rescue is all about.
Please help us by making a donation so that we can help re home more unwanted German Shepherd Dogs. Donations can be sent to Jayne Shenstone, German Shepherd Rescue, Little Vauld, Marden Hereford HR1 3HA. We also accept Paypal payments - just click on the Paypal button below. Thankyou.