Mayhem Fund Raising 2012
Midsummer Mayhem Fund Raise September 2012
The Midsummer Mayhem at Newcastle staffs was postponed in July because the park was a lake! September and Pam and her team were up and at the site for 0830 to put the tombola up and decorate the stall with bunting and flags!. By 1100 when the event opened they were ready! By 16.30 they had raised £205.50. well done Team GSDR
Meet Pam and her team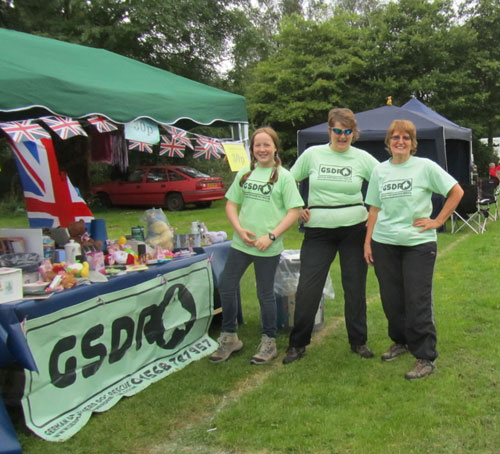 3 generations of GSDR fundraisers - Pam, daughter Al and granddaughter Gwen.
Meet the stars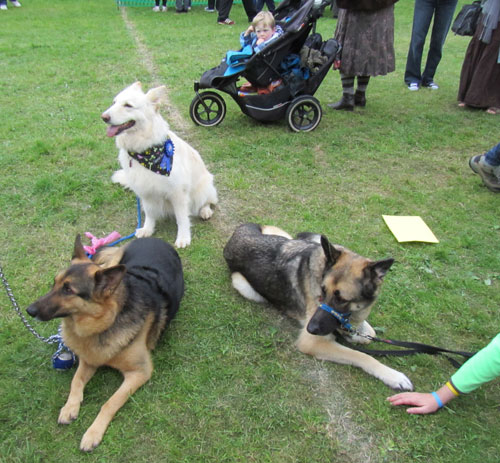 Perdy, Adi and Jake entered into the dog show class for rescued dogs (with a few others) AND they came first, second and third!!!!!!!!!!!!!! So how about that! No, they did not bribe the judge (who was not a GSD owner). All 3 dogs behaved beautifully and although Jake does not like to be close to other dogs, he excelled himself - well done Jake, and thanks to Al. Adi was a calm influence on him - thanks to Adi and thanks to his mum.
The very beautiful Perdy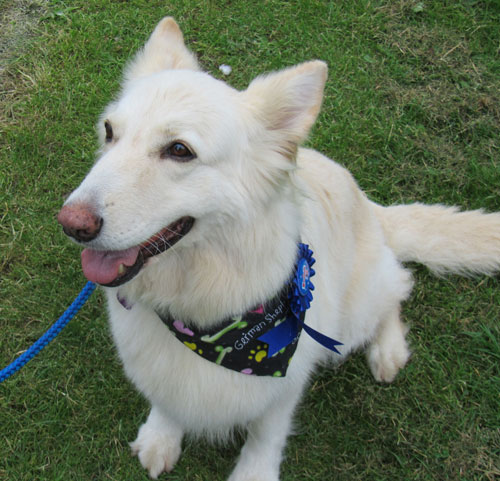 Perdy - didn't bark at high viz jackets or bikes and let people stroke her a lot. Thanks, Perdy you've come a long way.
Meet the winners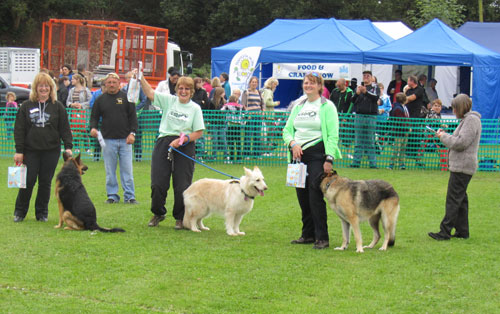 Some very happy winners there.
Adi and Jakie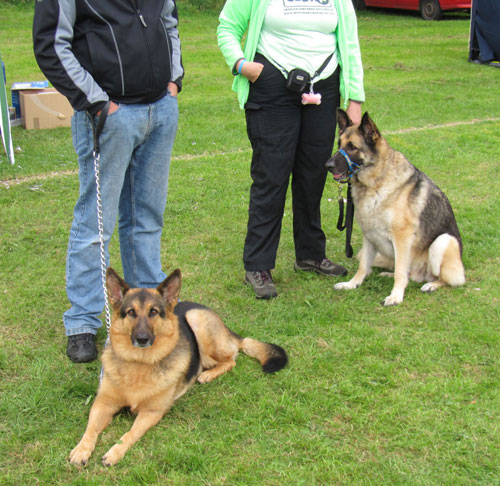 Pam's family and friends worked hard all day and with 4 children running around as well it went fantastic, they lost none of them.
They had a couple of people enthusiastic about contacting the website for a dog, and enquiries about helping GSDR as well as handing out lots of leaflets.
Thank you, everyone, for the £205.50. raised - WELL DONE.
Please help us by making a donation so that we can help re home more unwanted German Shepherd Dogs. Donations can be sent to Jayne Shenstone, German Shepherd Rescue, Little Vauld, Marden Hereford HR1 3HA. We also accept Paypal payments - just click on the Paypal button below. Thank you.
Volunteers are always welcome
German Shepherd Rescue is run by volunteers who are involved because of their love for the breed. Most have jobs and families and fit in rescue work when they can and at their own cost. Please be patient and we will deal with your requests as soon as we can. Our rescue dogs are worth waiting for!